POLO – The AFC Raiders and Polo Marcos viewed their halftime tie a little differently on Friday night.
In one locker room, the Raiders were thrilled with how they had played, and hoped to keep building on their effort in the second half.
In the other locker room, the Marcos were disappointed in their first-half performance, and felt like they had much more in them for the final 16 minutes.
Polo was able to get going on both ends of the court after the break, and used a fourth-quarter surge to pull away for a 67-49 NUIC South win at home.
"At halftime, we knew we needed to pick it up, and I think we finally got in our groove tonight in the second half," senior center Lindee Poper said. "It felt good to play our normal basketball. We ran the ball down the court well, we were communicating more. We just worked together more, and I think we had confidence as a team."
The Marcos (15-10, 6-3 NUIC South) led 45-39 heading into the fourth quarter, and AFC (11-17, 2-7) was within 47-41 with about six minutes to play.
But Polo put the game away with a 12-1 run over the next 2 1/2 minutes, led by seven points from Camrynn Jones and four from Sydnei Rahn. Poper added baskets with 2:15 and 1:45 remaining.
"We've had some close games and we've battled through, we've shown we can win these close games, and at the end we just pulled away," said Polo coach Jason Grobe, whose team outscored AFC 22-10 in the fourth quarter. "We picked it up defensively, made some good shots, and we made our free throws."
The Raiders got a spark from Alexis Schwarz in the final 3:20, as she scored three baskets and added a free throw to account for AFC's final seven points.
Taylor Jahn and Brianna Gonnerman were the catalysts for the Raiders early on. Jahn hit three first-half 3-pointers, and Gonnerman scored eight points before the break and distributed the ball from the high post as AFC rallied from a 12-8 deficit after one quarter to tie the game 24-24 at halftime.
"We had a lot of good team effort, team passing, moving the ball well. We played really good defense, and we were able to guard inside and outside," Jahn said. "It was just getting the ball to the high post, and then we have a great player who's great at passing from there, Brianna Gonnerman, and she always gets everyone the ball."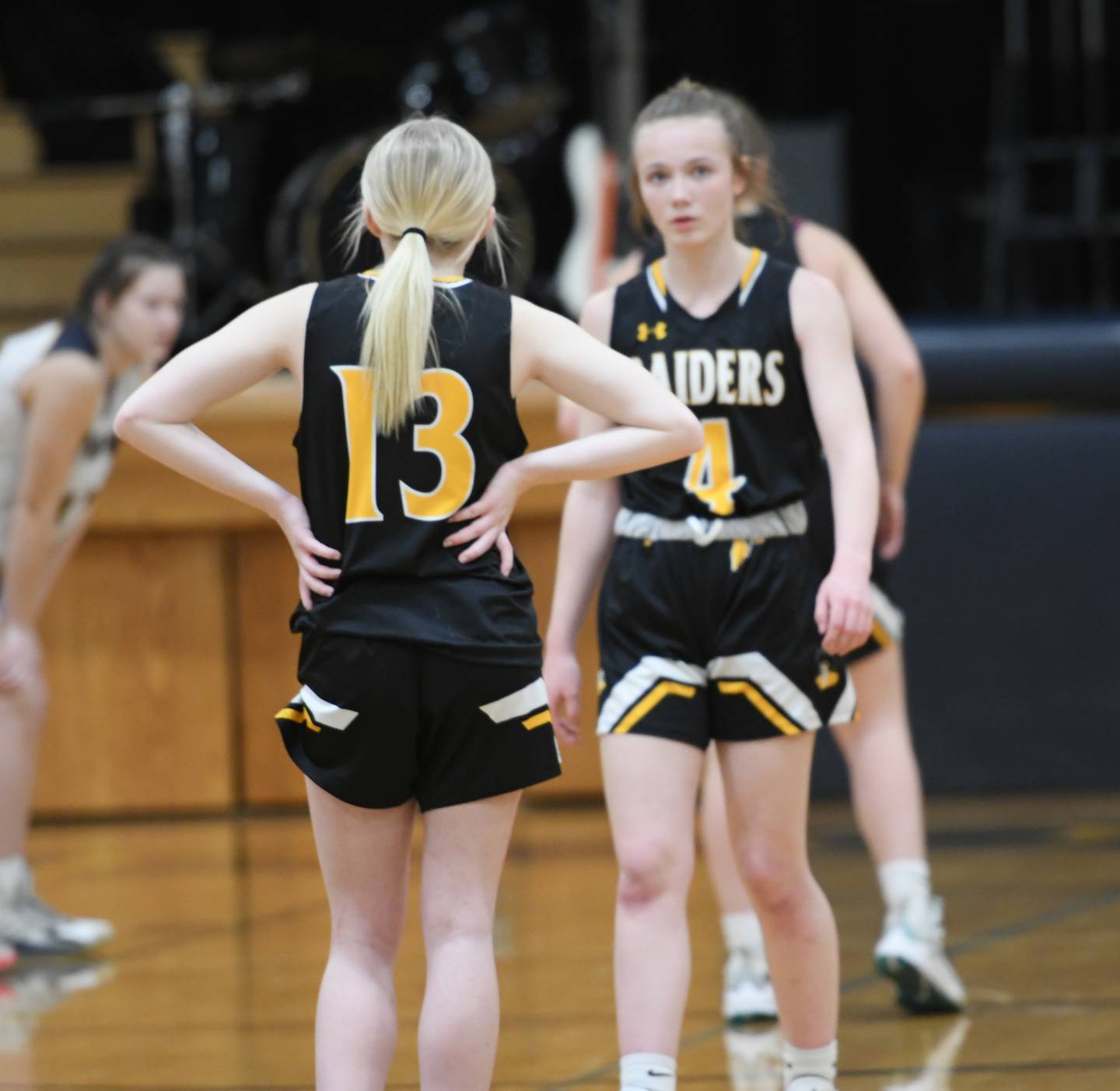 Jahn scored 10 of AFC's 15 points in the third quarter, adding two more 3s, and Reese Polk also hit from deep as the Raiders battled through foul trouble and tried to counteract 12 points in the period from Poper.
But the attrition finally caught up to them, and Polo was able to pull away.
"As a team, we played really well, a real good effort. The first half we were tied up, and everybody had good energy for us, good defense," AFC coach Chris Jahn said. "We had a tough time with Poper, of course – she's tough in there. We can't stop her, then we get in foul trouble and we had to let her score in the second half, so that was a difference. I think they shot 25 free throws, and we didn't have that many [7], so that was a difference in the game also. But a real good effort by the girls, I'm proud of their effort."
Coach Grobe subbed out each of his seniors separately – Poper, Bekah Zeigler, Annalise Stamm and Jasmyn Ludewig – in the final two minutes to let each one receive their own round of applause from the fans on Senior Night.
Poper led all players with 32 points and 14 rebounds, and Jones hit a pair of 3s and added 16 points, four rebounds and four assists for the Marcos. Rahn finished with nine points, four rebounds and three steals, Courtney Grobe hit a 3 and added nine rebounds and six assists, and Madison Glawe had three points, four rebounds and four assists. Ludewig scored a basket, Stamm added two free throws, and Zeigler chipped in four rebounds and three assists for the Marcos.
"It was a slow start. It just looked like we were kind of going through the motions, and luckily for us it was still a tie ballgame at halftime," Coach Grobe said. "So I told them in the locker room, 'Let's start from scratch and let's bring the intensity,' and we brought it in the second half."
Taylor Jahn led AFC with 19 points, five steals and three assists, and Schwarz finished with 12 points and four rebounds. Gonnerman had eight points, three rebounds, three assists and two steals, Jersey Sprague finished with four points and five rebounds, and Polk and Audree Dorn both hit 3-pointers; Polk also added three assists and two steals, and Dorn grabbed four rebounds. Cameryn Winterland chipped in a second-quarter basket for the Raiders.
Coach Jahn likes the way his team is playing with regionals just a week away.
"We've steadily improved, and I think we're playing some of our best basketball right now," he said. "We're not beating the great teams, but we're right there with them for most of the game, so who knows in the regional – anything can happen. You've only got to win three games, and we certainly feel like we can beat any team in there, so we're not afraid of anybody."
"I think it gives us a lot of confidence with postseason coming up, and for next year, too," Taylor Jahn added. "We're going to be the same nine people next year, since we don't have any seniors."