Ten days in Europe. Six basketball games. A 16U world championship.
For Dixon's Darius Harrington and Sterling's Nico Battaglia, it's been an unforgettable summer.
Last month, the rising juniors were part of the 16U championship-winning PhD Hoops USA team at the United World Games in Klagenfurt, Austria.
At the end of a 5-1 tournament run, they won a hard-fought title game, 46-45, edging MVP International Athletics, a fellow USA team, on June 25.
"It honestly didn't even feel real. We were the first team to win the gold for the PhD Hoops team for the United World Games," Battaglia said. "It felt special to win a gold medal for our country. It's almost a once-in-a-lifetime thing. The fact that I can say I won a gold medal in another country is a great feeling."
The 16U title game was an absolute thriller, and the local boys had big parts to play. With their main point guard battling illness, Battaglia and Harrington were forced to pick up the slack, and they did just that.
Battaglia opened the back-and-forth game shooting 3 for 3 from the 3-point line, and Harrington was the closer. With about 20 to 30 seconds left, the Dixon Duke hit a game-tying, catch-and-shoot 3; MVP retook the lead on the second of two free throws in the last few seconds, but Harrington answered right back on the second-to-last play of the game.
After setting a screen and sliding to the left block, as drawn up by Coach Lee Toldson, Harrington took an inbounds pass from Battaglia, drew a foul on the catch, and hit the game-tying and game-winning free throws with 0.1 seconds on the clock.
That was the greatest moment of my life, honestly."

—  Dixon rising junior Darius Harrington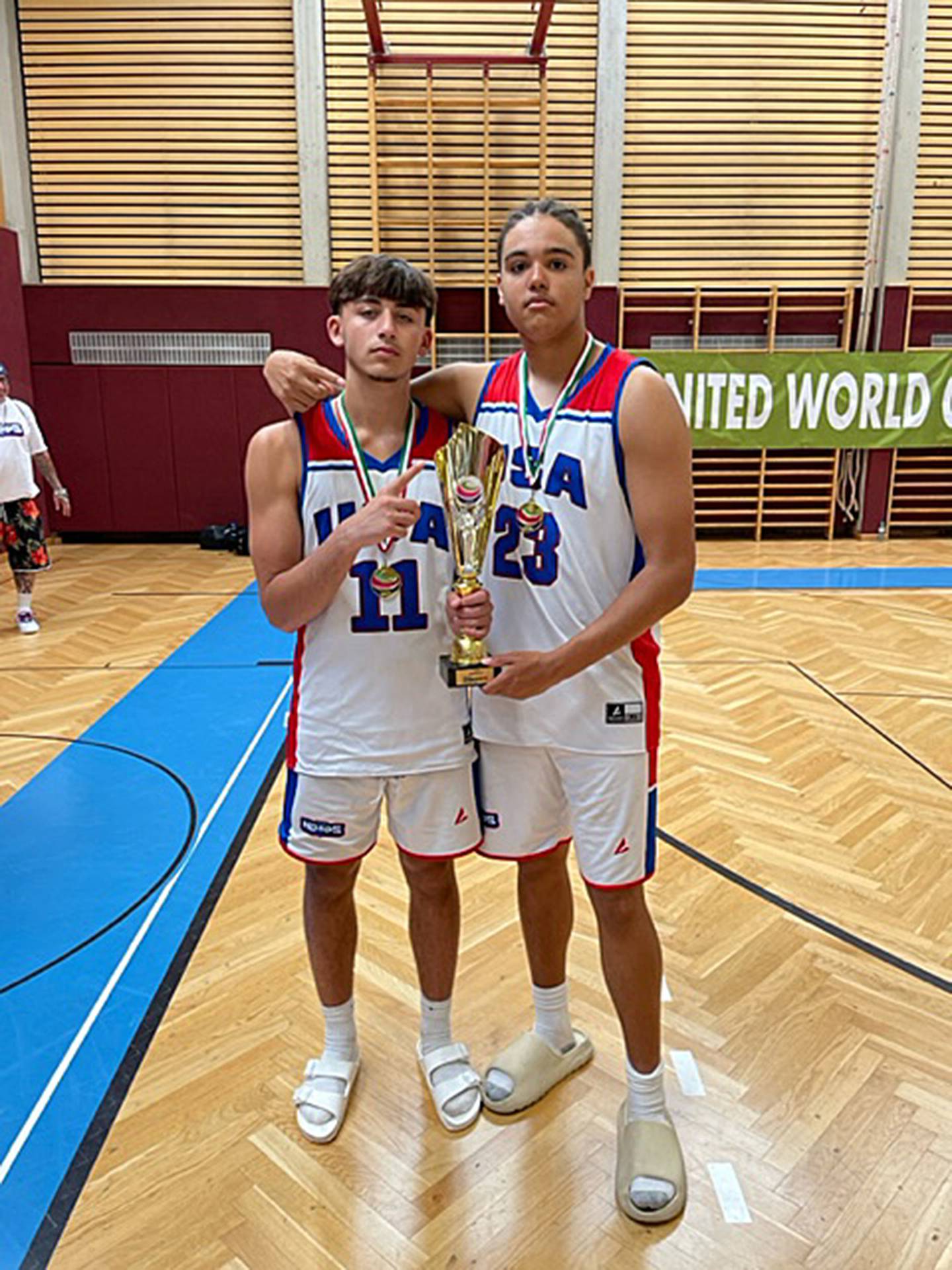 Up to that point in the tournament, Harrington had been struggling at the free-throw line, but with the championship trophy hanging in the balance – and the stakes literally as high as they could get – he finally came through.
"I was not hitting my free throws that weekend. I was struggling the whole entire time we were there, and when I went to the line, I was just nervous," Harrington recalled. "I hit the first one and just breathed a sigh of relief, thinking, 'At least the game is tied and the pressure is off.' I knocked down the second one, and I was just excited. I thought there was maybe a second left, so I rushed up and played defense on the big, and the big threw a full-court pass, like a football pass, down the court, and my other teammate caught up to it and just dribbled it out.
"That was the greatest moment of my life, honestly."
PhD's only loss of the tournament came against MVP in the seeding round. That was also a one-point game.
Going into the rematch, it knew it had a shot to win the championship.
"The championship game was crazy because the team we played in the championship, we lost to previously, so we had a harder way through the bracket," Battaglia said. "We went into it knowing it was going to be a good game because we already played them before. We went into the game knowing we could beat them because they only beat us by one before. It was crazy, it was a back-and-forth game, we went up, and they went up, and our team had enough energy to get us through and enough confidence. It came down to Darius, one of our teammates from Dixon, he hit some clutch free throws and hit a 3 before."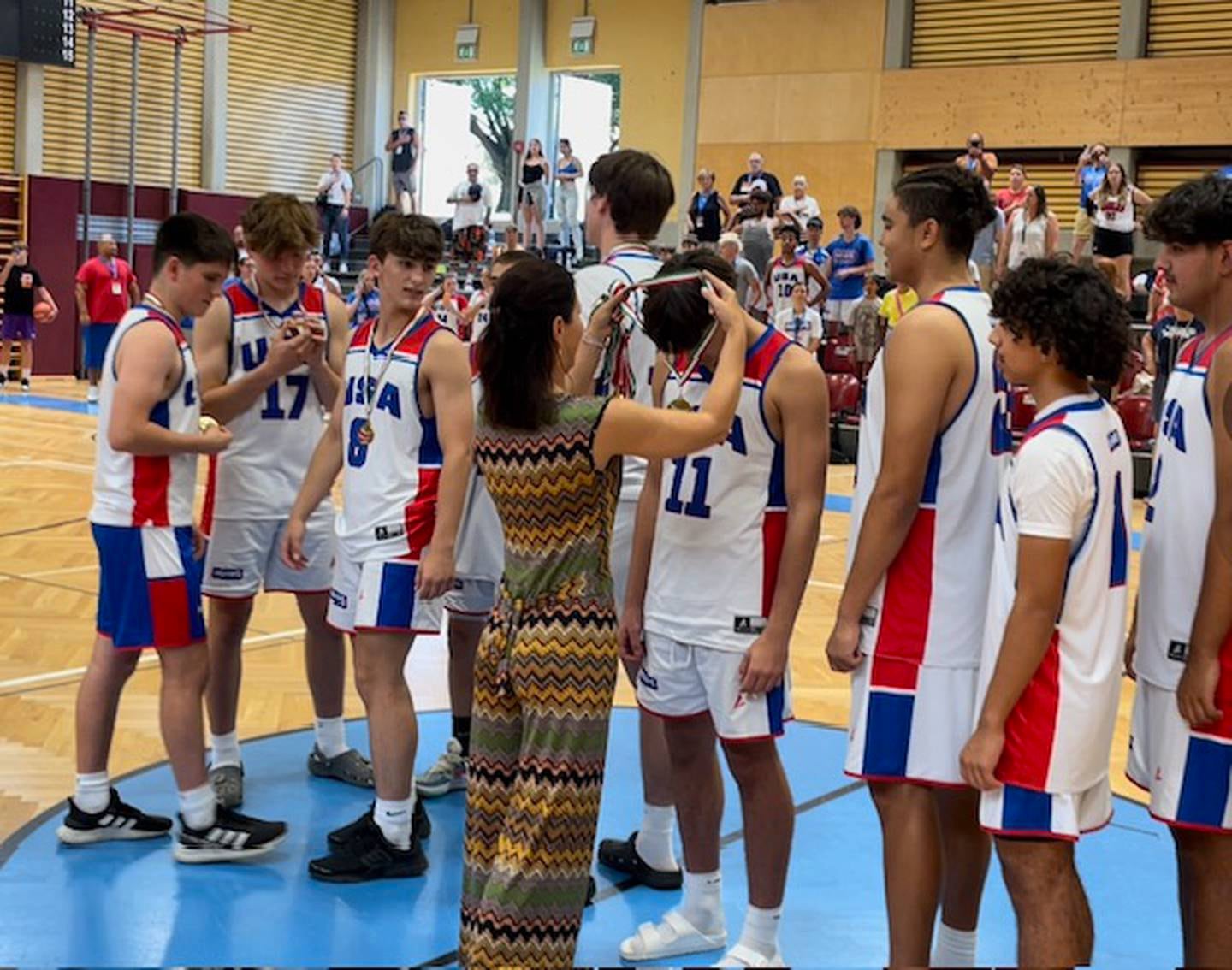 The 16U boys basketball field was comprised of 16 teams: seven from the United States, two from Wales, and one each from Austria, Croatia, the Czech Republic, Italy, India, Turkey and Slovenia.
PhD went through Wales, Italy and the Czech Republic to reach the championship game.
Going into the tournament, Harrington and Battaglia weren't sure what to expect. After it was over, they came away impressed.
"I had no idea what to expect. It was good competition, but the teams played so much differently. It was like a whole other way of playing basketball. You could tell it was like a different way of thinking over there," Battaglia said. "The teams were way more aggressive. Also, their sportsmanship was something I really noticed. They had really good sportsmanship. They'd congratulate us, and no matter the mood after playing us, they'd be really kind to us. They would tell us good luck against other teams we played against."
"I thought the teams were pretty good. They were fundamentally sound, they were very fundamental," Harrington said. "They played as a team, they didn't just do 1-on-1 ball, and they ran a lot of plays."
During the 10-day trip to Europe, there was plenty of time for sightseeing and exploration. Many memories were made off the court as well. A trip to a salt mine in Germany was a highlight for Battaglia and Harrington.
"We had lots of time to do things other than basketball. We explored the towns of each country we were in. In Italy, we went to Venice, and we went on a gondola ride," Battaglia said. "In Austria, we went around and got to the mountains, and in Germany, we explored around. The salt mine was the last day, that was in Germany. We were like 100 feet underground, if not further, and I believe it was 30 degrees, so we all had to wear safety jackets and coats. It was cold down there. We got to see how valuable salt was back in the old days, and we got to see where people dug for salt. In Austria, there was a beach, it was like a lake, and everyone there was really friendly. Everyone was like, 'You're Americans, it's so cool you're here.' And we hung out with them, and they were really friendly."
"They had salt mines there that we went to. Going to Italy, the island, and seeing the glass factory and stuff like that," Harrington said. "And honestly, going out and sitting at restaurants and talking with the teammates [were some of the best moments.]"