Dixon senior diver Laci Long saw her season end in the preliminaries at the IHSA Swimming & Diving State Meet on Friday at the FMC Natatorium in Westmont, as she missed out on advancing to the semifinals by 8.3 points.
Long finished the prelims 27th out of 48 divers, scoring 183.30 points in her three dives. The top 16 advanced to the semifinals, with Palatine's Emily Ziemba the last one to make the cut with 191.60 points. Those 16 were then whittled down to 12 finalists.
It was the second state meet appearance for Long, who won her third straight sectional title last Saturday. As a sophomore in 2019, she finished 19th in the prelims and missed the finals by just 1.05 points. The state meet was canceled last year because of COVID.
Also for the Byron co-op, Kate Schilling missed out on a swim-off for a finals spot in the 200 IM by just .03 seconds, finishing 14th in 2:05.16; two swimmers tied at 2:05.13 for the 12th spot in the finals, and had to race each other to see who would earn the berth.
Schilling also finished 17th in the 100 butterfly in 57.11 seconds, missing the finals by .86 seconds. She teamed up with Madi Groharing and Audrey Kilmer in both the 200 medley and 400 freestyle relays; Lily Swiech also swam in the 200 medley, where Byron took 24th in 1:50.52, while Oregon's Emily Marshall joined them in the 400 free relay, where the Tigers placed 18th in 3:40.15.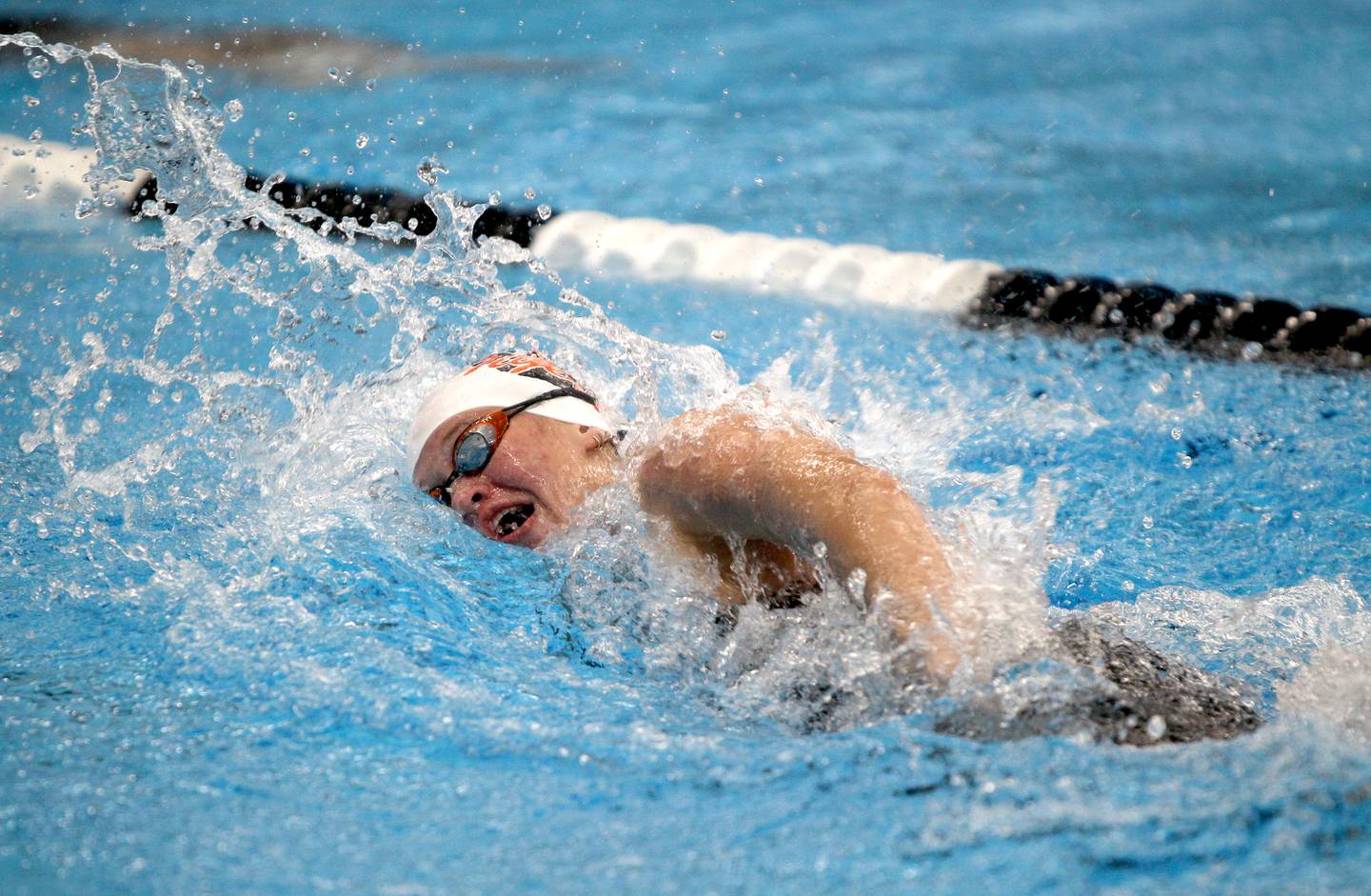 Four Warriors named all-conference: Sterling had four swimmers earn spots on the all-Western Big 6 team, the league announced Friday.
Freshman Madison Austin was a first-team selection, while sophomore Payton Purdy and freshmen Kate Austin and Sammie Knox were named to the second team.
Moline senior Clara VanNote was named conference MVP.
Cross country
Sterling places four runners on all-WB6 team: Led by first-team pick Dale Johnson, the Golden Warriors had four runners – three boys and a girl – earn all-conference nods, the Western Big 6 announced Friday.
Johnson, a sophomore, was one of 10 first-teamers. Sterling senior Cameron Taylor and junior Thomas Holcomb were named to the second team. Quincy senior Fiker Rosen was the league MVP.
Junior Kylie Nicklaus was the lone Sterling girl to earn all-conference honors, as she was a second-teamer.
Girls golf
Pink earns all-conference honors: Senior Maddie Pink was the lone Sterling golfer, boys or girls, to earn a spot on the all-Western Big 6 team.
Quincy senior Lacy Novosel was the league MVP.
THURSDAY'S LATE RESULT
Boys bowling
Mendota 2,939, Dixon 2,757: The Dukes dropped a dual against Mendota at Plum Hollow Lanes on Thursday afternoon.
Cody Geil led the way with a 550 series and a 200 game. Wyatt Miller rolled a 498 series, David Laird had a 495, and Ethan Tate added a 492. Josh Coss (403) and Derek Fitzanko (319) also bowled for Dixon.
Landon Bauer's 592 series and 225 game led the Trojans.