Former Crystal Lake South softball coach Scott Busam kept seeing the same job posting for a JV assistant coach at Prairie Ridge in the fall and was intrigued.
"It was just staring me in the face," said Busam, who coached at South for 15 years. "I was like, 'I don't know. Should I?' I reached out and talked to [Prairie Ridge athletic director] Mark Gilbert, and we talked for an hour. I never worked with Mark before, but I got a good vibe from him. At the end of the conversation, I agreed to take the JV part-time position."
Little did Busam know that he'd be talking to Gilbert about another position less than a year later.
Busam expressed interest to take over the program entirely, and, at last week's Community High School District 155 school board meeting, the 1996 Marengo graduate was hired as the next varsity coach at Prairie Ridge.
"Honestly, I'm a really competitive person, and I missed the day-to-day," said Busam, an English teacher a South. "I missed being around other really competitive people, from the girls to my staff to coaches in the conference. Being back in the third-base box just felt so natural. I couldn't say no."
Busam replaces Jim Summaria, who led the Wolves to a 17-29 record over two seasons. Summaria was not a district employee, and any certified staff member, such as Busam, has an opportunity take a position not occupied by a non-staff member.
In 15 years at South, Busam led the Gators to a 285-167 record, becoming the all-time winningest coach in team history. His final season at South was in 2019, a memorable year in which the Gators won their first 19 games, won the Fox Valley Conference outright for the first time since 1986 and set the school record for wins in a season, going 32-3.
"I think he has a passion and enthusiasm for the game, but also in his approach to team building," Gilbert said. "He wants to build a program from the bottom up and keep everyone involved. I think that approach could help draw kids back to the program and keep them involved. I'm really excited to see what he can do."
Busam also will bring back his former assistant from the Gators, Mark Hardie.
The two already have poured over last year's stats.
"Mark and I spent hours and hours looking at every number from every game last season, and there is absolutely talent," Busam said. "We scored a lot of runs. Defensively, we gave up an extraordinary amount of unearned runs. There are things to do, but the core group of girls that are coming back are hardworking and dedicated. We truly believe the trajectory for this team is high right now."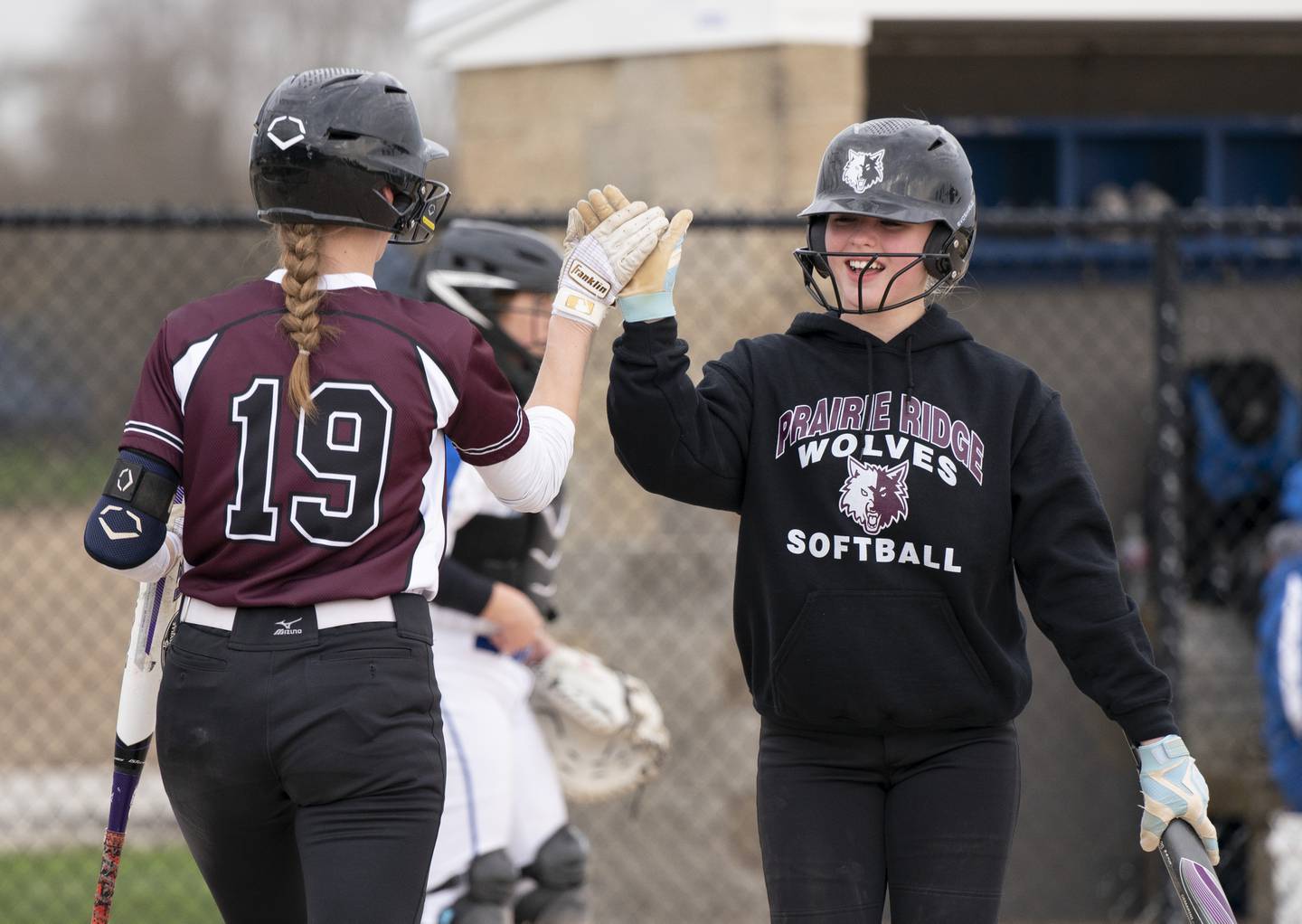 Prairie Ridge, which was 10-16 and 7-11 in the FVC in the spring, will return the majority of its lineup.
Shortstop Adysen Kiddy hit a team-leading .506 with 13 doubles, four triples, seven home runs, 25 RBIs and 39 runs scored, and outfielder Emily Harlow hit .481 with six doubles, a triple, seven homers, 32 RBIs and 23 runs. Both were named to the Northwest Herald All-Area second team as underclassmen.
Busam hopes to bring a winning culture to the Wolves.
"When I took over at South, I wanted to build a program with tradition," Busam said. "I wanted it to be a part of the school culture, where graduates talked about their experiences and could look back at good memories and, on top of that, have a competitive winning environment. I really want to build that at Prairie Ridge, where the girls can look back and be really proud that they got to be a part of something special."
The thought of facing his former team makes Busam both nervous and excited.
"Silver and maroon is going to be a whole different look for me, but I've got to tell you, I'm really excited," Busam said. "I'm really grateful that [Gilbert] and [Prairie Ridge principal] Steve [Koch] have faith in me to take over and make this school proud."