Berkley Mensik's return to high school soccer was historic.
The Dundee-Crown senior came back to play soccer for the Chargers this season for the first time since she tore her left ACL during her freshman year in Spring 2019. Mensik played for the Eclipse Select soccer club during the last two years.
The Notre Dame signee made a splash in her first two matches by scoring seven goals and never looked back, taking hold as one of the most-talented players in the Fox Valley Conference. Mensik controlled all aspects of the match, whether she scored goals, drew attention from opponents' top defenders or set up plays to help her teammates score.
She set school records in goals scored (36) and assists (12) while also earning Illinois High School Soccer Coaches Association (IHSSCA) All-State and All-Fox Valley Conference honors.
Mensik was a leader on and off the pitch and helped the Chargers win their first regional title in program history and advance to the sectional-final round.
For her efforts, Mensik has been named the Northwest Herald Girls Soccer Player of the Year as selected by the sports staff with input from area coaches. Richmond-Burton's Reese Frericks also was considered for the honor.
Sports reporter Michal Dwojak had some questions for Mensik, including what it was like to return to high school soccer, her dream job and her hidden talent.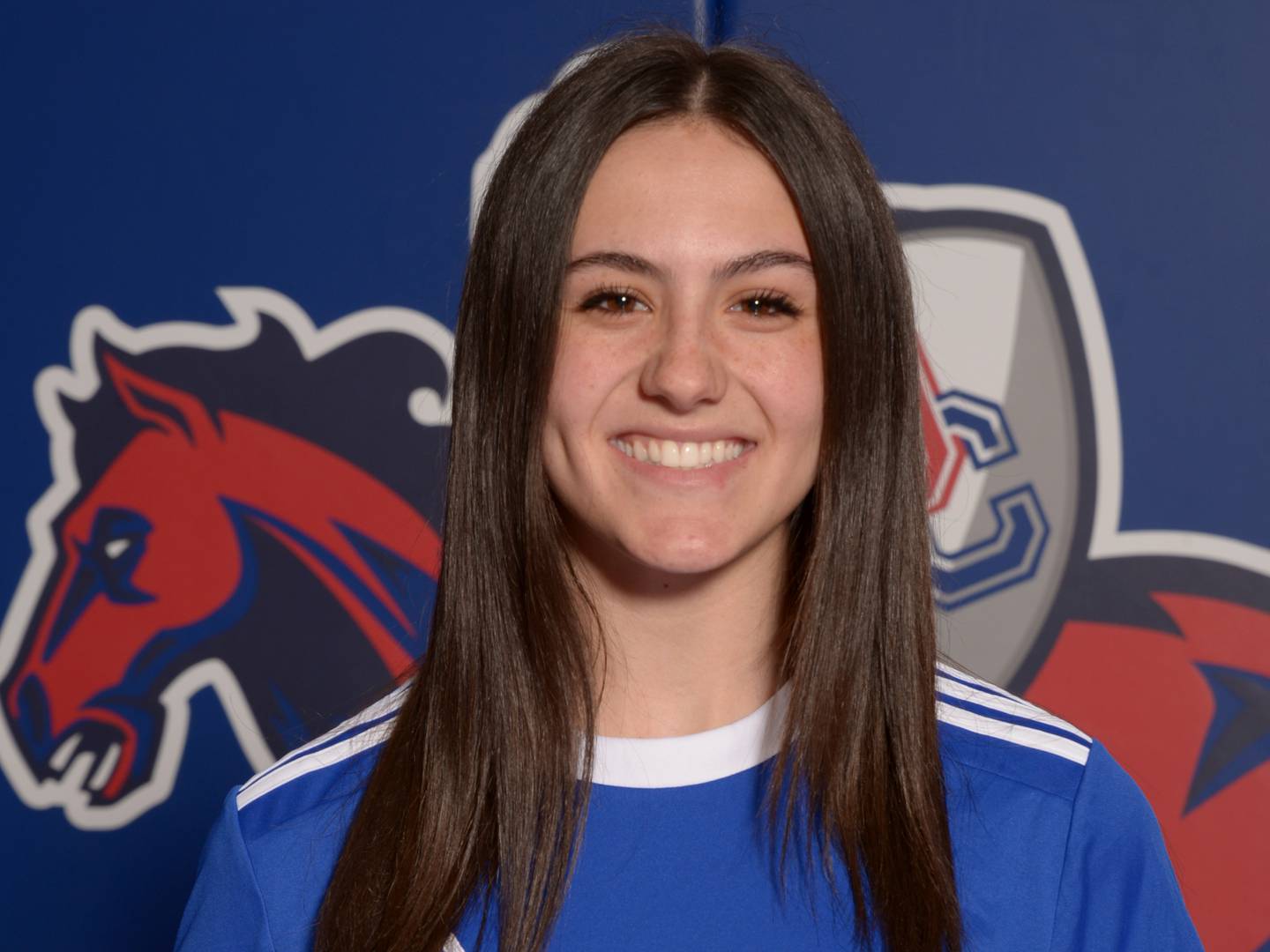 What will you remember the most about your senior season?
Mensik: I think the memory I'm going to remember the most is winning regionals. Dundee-Crown has never won a regional or made it as far as we had. I think that accomplishment of winning a regional for my team and my coaches, especially assistant coach Rey Vargas, who's been coaching soccer for 22 years and he's never won a regional. Just seeing Vargas' face and the excitement in the players, the parents is a memory I'll remember forever.
What was it like coming back to play high school soccer after only playing club soccer?
Mensik: It was definitely a different game, but for me, I liked it so much because I got the opportunity to be a little more selfish with the ball, which is something in club that I'm not able to do. I think that definitely benefited me as a player as I gained a lot of confidence with the ball. It was a great experience and I don't regret it at all.
How excited are you to play soccer at Notre Dame?
Mensik: Words cannot describe how excited I am. It's just something that I still haven't realized is actually happening. I'm still under the impression that it's not actually happening, the realization hasn't hit me yet that that's the next chapter of my life. I'm just so excited.
What would your dream job be?
Mensik: My dream job is actually to play professionally in a different country. I don't have a specific country but it's just something as a little girl that I've wanted to be able to live and experience a different life in a different country. So my goal is to play professional soccer in a different country in Europe.
What musical act would you like to see in concert this year?
Mensik: I would like to see Kanye West.
What's the last good book that you've read?
Mensik: The one I just recently read, "Sold." It was a realistic book about sex trafficking in India and it really struck me and was sad. I'm really into nonfiction novels. Those books where you get to see what's really going on in this world really strike me.
Who is your favorite professional soccer player?
Mensik: As cliche as it might sound, Lionel Messi is someone that I've always looked up to as a little girl. Because I'm really similar to him and very small and fast, so he's always been a role model to me because I've always wanted to be just like him with the speed and the small body.
Who was your favorite Disney character as a kid?
Mensik: It was definitely Sven from "Frozen," the reindeer.
What celebrity would you most want to hang with for a day?
Mensik: Michael Jordan, he's my biggest role model in my life. Just the opportunity to meet him would be absolutely incredible.
What would you change about soccer if you could change one thing?
Mensik: I would want to change the uniforms. I'm not too much of a fan of the tight-women's fit. I love the game itself so obviously I would change the uniforms.
What sport are you not really good at?
Mensik: I'm actually awful at swimming, it's not my highlight. I can't swim laps, like to this day I still doggy paddle. I love to swim, I will always swim when my friends want to; however, if we're racing, I'm losing.
Do you have any hidden talents?
Mensik: I'm really good at cooking. I really love to cook and not many people know that because I don't cook much, but when I have the opportunity or the mood to cook, I'm like let's go cook, I'm cooking the best dish. My go-to is this pasta salad thing.
If you celebrated a goal like NFL players celebrate touchdowns, what would you and your teammates do?
Mensik: I would have our teammate Kate Raby get in the middle and we could circle around her and do like what Cristiano Ronaldo does where they all circle him. Raby is just the center of attention.