Alex Johnson has half of the girls track and field state titles in Huntley school history.
In 2021, Johnson joined Omo Tseumah (Class 3A high jump, 2013), Jessica Miron (Class A triple jump, 2002) and Meaghan Byrd (Class A shot put, 2001) as Huntley state champs when she won the long jump.
Johnson added two more titles this season, winning the 3A long and triple jumps at the IHSA Girls Track and Field State Meet.
The Red Raiders junior is the Northwest Herald Girls Track and Field Athlete of the Year, selected by the sports staff with input from area coaches. Johnson, who also was ninth in the 100 meters at state, edged out Prairie Ridge's Rylee Lydon for the honor.
Lydon, who was 3A high jump champion, along with third in long jump and seventh in the 400, was the 2021 winner.
Johnson was the first area girls athlete to win two state titles since 2011, when Woodstock's Kayla Beattie won the Class 2A 1,600 and 3,200.
Johnson had some of the best competition in the state in her own conference with her younger sister Dominique, a freshman who was state runner-up in the triple jump, and Lydon.
Johnson answered a few questions from Northwest Herald sports writer Joe Stevenson about her standout season.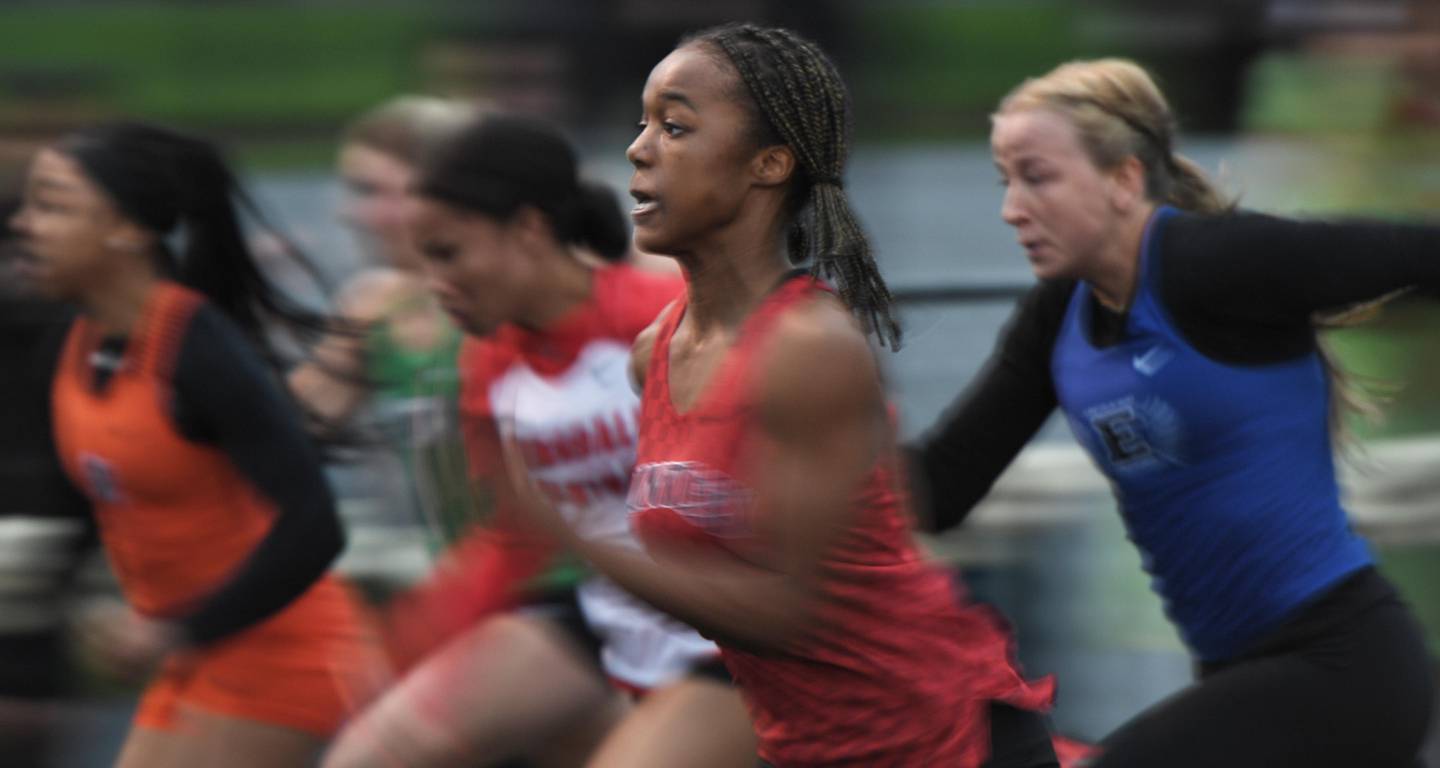 What will you remember most about this season?
Johnson: Hands down, the most memorable moment for me is jumping 20 feet in long jump (at the Fox Valley Conference Meet). It has been my longest-standing goal, and it came at a time I felt I was becoming stagnant, and just in time for state. Hearing that 6.1 (meters) for the first time was a moment that can't be matched, and something I had been yearning for since freshman year.
What is your best sports fashion tip?
Johnson: It would be that you should try to look cute, but in a practical way. I remember one time I had my hair up in two pigtails and I thought I looked very good, but after a long jump I rewatched my video and saw that my hair went back and touched the sand. I lost precious inches. Since then I keep my hair back and down. There are many ways to keep your unique style while also not letting it affect your performance. Whether that be headbands or bracelets or colorful hair.
What are three of your favorite sports movies?
Johnson: My No. 1 pick is definitely going to be "King Richard." The movie was so good and it reminded me so much of me, my sister, and my dad. Since we were in elementary school my dad has said he wants us to be the next Williams sisters, so seeing this movie all these years gave me a lot of nostalgia from working out with my dad young. A very close second is "McFarland USA." The movie made me very emotional, and I always love a good underdog story. I really connected with all the characters, and I loved that it was based on a true story, and also, of course, I felt more connected to it because it was about running. Next would be "Jump In" because it again brings me so much nostalgia because it used to be my favorite movie. I love the music that the movie has and I love the characters. Even though I suck at jumping rope, the movie will always have a special place in my heart.
What do you hope people say about you when you're not around?
Johnson: I really hope that people just think I am a good person and memorable. I don't want people to think I am boring. I want to be remembered by everyone I meet. I want to leave some type of mark on everyone. It's one of the reasons I like track so much, it gives me something to be proud of, and it makes me feel unique.
What is your favorite class in school?
Johnson: My favorite class is English. I have always loved writing, and the fact that English leaves room for creativity more than other subjects do. I also really like reading and talking about different perspectives about a book.
What sport that you don't play would you be good at?
Johnson: I think that I would be very good at basketball. It is my favorite sport outside of track and I find it very exciting. I used to do it before high school and I always had so much fun playing it. If I wasn't on track I would 100% be in basketball. I wasn't the best player in the world, but loved the athleticism and teamwork that the game takes.
If you could see any musical act this summer, who would it be?
Johnson: I would probably go see "Hamilton" because my sister got me hooked on it a few months ago. I know pretty much all the songs by heart and I think that it would be really cool to see it in person. I have never really been a musical person, but "Hamilton" definitely changed that for me.
What do you consider can't-miss TV?
Johnson: I am 100% a reality-TV girl, so anything in that realm has me hooked. My favorites at the moment are "Married at First Sight," "Survivor, Love Island," and "Are You The One?" I know that reality is very predictable, and not the most intelligent form of media, but it's just so addicting and I love it.
Who was your favorite Disney character when you were younger?
Johnson: My favorite was definitely Tiana (from "The Princess and the Frog"). I always loved princesses. When I was younger my mom would buy me little dresses that matched each princess. Of course, I feel more connected to Tiana though because she was a princess that looked like me and lived in Louisiana just like I did. I liked going to New Orleans as a kid, so seeing it in a princess movie made me happy.
What was the last really good book you read?
Johnson: "The Outsider" by Stephen King. I am a huge fan of everything Stephen King and I love mystery books so this book was perfect for me. It had so many twists and turns and it had me literally on the edge of my seat the entire time. I love books and movies that have an ending I did not expect at all and, "The Outsider" did just that. 100% recommend.
What is the best part of competing in sports?
Johnson: It is reaching goals. No feeling compares to the feeling you have when you hear a time you've been waiting to hear all season, or finish a jump you know hit the mark you wanted before it's even measured. All the hard work you put in is validated and made worth it when you meet a goal, and competing well can make you feel so much better about yourself.
If you could spend a day with anyone from history, who would it be?
Johnson: I'd probably spend my time with suffragette Alice Paul. She seems like such an interesting person and very hard core. She went to jail after one of her protests and refused to eat in jail as another protest. I respect a woman who is stubborn in her beliefs, especially after having powerful men trying to take you down.
What scares you?
Johnson: My biggest fear is kind of random, but it elevators. I am fine going on them, but when we go past the fifth floor I get anxious. I've always had it in the back of my mind that I would get stuck in an elevator and then it would fall down a bunch of stories, so that scares me. I refuse to get in elevators that seem old or malfunctioned, and I'll choose to take the stairs if it's an option.