CHARLESTON – A little more than a year ago, Huntley junior Alex Johnson needed some convincing from her father Alvin to stay with the triple jump.
Johnson loved the long jump, but was not the natural at triple jump that her freshman sister Dominique was.
But Alex Johnson listened to Alvin, who coaches his daughters, and learned from watching Dominique. And on Saturday at the IHSA Girls Track and Field State Meet, Johnson took home Class 3A state championships in both the long and triple jumps from Eastern Illinois University's O'Brien Stadium.
Johnson repeats as long jump state champion and became the area's first girl to win two individual state titles in the same meet since Woodstock's Kayla Beattie won the Class 2A 1,600 and 3,200 in 2011.
Prairie Ridge's Rylee Lydon won the high jump, took third in long jump and seventh in the 400, a race she won last year.
"I do like [triple jump] a little bit better now. It grew on me," Alex Johnson said. "I stayed at it and worked on it. I was watching my sister, her form's better than mine.
"Being able to watch her a little bit better and helped me focus on my form a little bit more. Being around my sister definitely helped me get better. I'm older and a little faster and stronger than her."
Alex Johnson won the triple jump at 12.33 meters (40-5 1/2 feet) and Dominique Johnson was second at 12.17 (39-11). Alex Johnson won the long jump at 6.0 meters (19-8 1/14).
Alex Johnson (100) and Dominique Johnson (long jump) each had a ninth-place finish. Huntley also got points from its 4x200 relay team of Vicky Evtimov, Dominique Johnson, Jessie Ozzauto and Melissa Aninaguyei-Bonsu.
The Red Raiders finished fifth in the team standings with 33 points. Whitney Young won the 3A team title with 53, followed by Homewood-Flossmoor (44), Prospect (43) and Evanston (41).
In Class 2A, Richmond-Burton's Lilly Alberts finished her high school career with a fourth place in the 400 and a seventh in the 200.
Burlington Central's Paige Greenhagel took home three Class 2A medals, grabbing fourth in the high jump, ninth in long jump and taking eighth with Izzy Solomon, Danica Wiegel and Kenzie Andersen in the 4x200 relay.
Marian Central's Bella Zecchin was eighth in the Class 2A long jump and teammate Lily Bures was ninth in the high jump.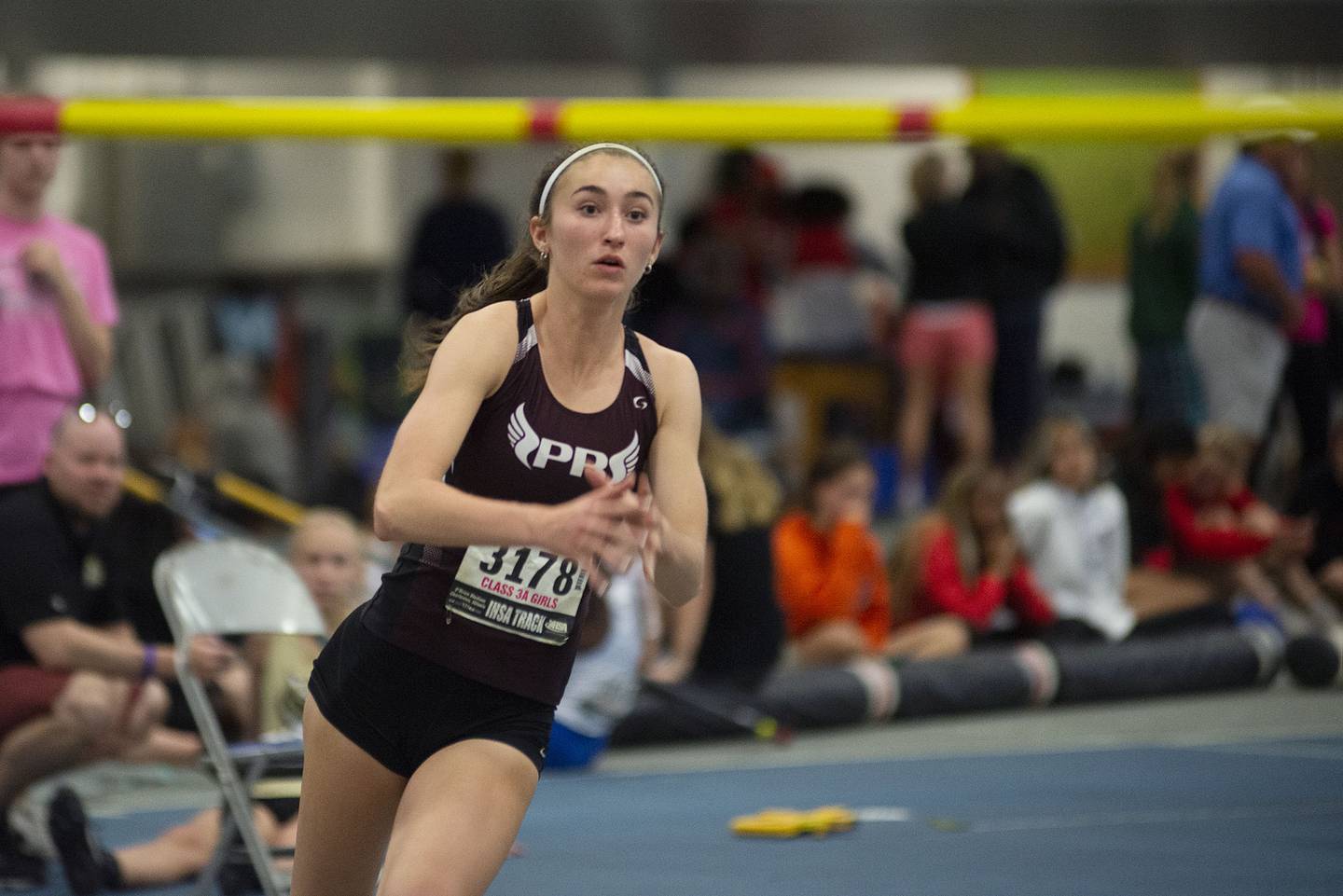 In 3A, Lydon narrowly missed winning the high jump with her 400 title last year. On Saturday, she cleared 1.68 meters (5-6 1/4) on her first attempt to seal first place. Lake Zurich's Baelyn Zitzmann made the previous height on her first jump and Lydon made it on her second, putting Zitzmann ahead on fewer misses.
The rest of the competition all missed at 1.68.
"It definitely wasn't my best day for jumping," said Lydon, who made 5-8 3/4 this season. "My legs were feeling a little heavy from yesterday with all the running. It was more survival of the fittest. Thankfully, I cleared 5-6 on my first attempt to seal up the win. I was super-happy about that."
Lydon started long jumping this season and recorded her career-best jump at 5.74 (18-10) in Friday's preliminaries for third.
"I wasn't going to take my final attempt yesterday because I knew I had already qualified, but I'm glad I did because that one got third place," Lydon said.
Huntley's 4x100 team went into the finals as a top-five seed, but was disqualified when Evtimov was called for a false start. She flinched in the blocks, reset, but the Raiders were disqualified.
Evitmov walked to the side of the track and hugged with Alex Johnson, then later received plenty of support from her teammates, coaches and family. The Raiders came back to run 1:43.73, their second-fastest time to take seventh in the 4x200.
"We ran well. I was a little nervous before, because of unfortunately the 4x1," Evtimov said. "I was a little nervous getting back into the blocks, but I trusted myself. I'm confident, I've done it a thousand times, I can do it again.
"They all told me they supported me and I could get back at it. I just had to move on and focus on my next race, and that's what I did."
Aninagyei-Bonsu, who will run and jump at Illinois next year, was on the 4x100 team with Evtimov.
"We talked about how it happens," Aninagyei-Bonsu said. "I false started four times in my high school career. I know what it feels like. It's something you can't always control. She's young, she's a sophomore. She'll have a thousand other chances to do it and she's a really solid starter anyway. We'll come back next year and show them how it's done."
Alberts ran her fastest 400 time of her career in Friday's Class 2A 400 prelims (58.22) and came back with a 59.12 in the finals.
"It was more competitive for sure," Alberts said. "Everyone was going for it in the beginning. I was a little more nervous this time, but I still felt really good.
"I wanted to keep an eye out for the other girls in my heat, knowing they were going to be really, really fast and attacking the first curve to set the tone for the rest of the race."
Zecchin jumped 5.23 meters (17-2) in the prelims, which earned her eighth place. The jumps were held inside because of rainy weather on Saturday.
"Going indoor was a challenge because I've never jumped inside," Zecchin said. "I loved the heat [on Friday]. It was fun, I love it here."
Greenhagel cleared 1.63 meters (5-4 1/4) in the high jump for fourth and improved by 4 inches in the long jump.
"Usually inside you can't have spikes [inside], but in here we were allowed to have them. So it was pretty even," Greenhagel said. "I just worked on my [long jump] steps. Yesterday my steps were off and I really wasn't hitting the board. I tried to improve that and work on my speed."
GIRLS TRACK AND FIELD
Class 2A State Meet
Local finals results
4x200 relay: 8. Burlington Central (Izzy Solomon, Danica Wiegel, Kenzie Andersen, Paige Greenhagel) 1:46.63.
400 meters: 4. Lilly Alberts (Richmond-Burton) 59.12.
200 meters: 7. Alberts (R-B) 26.73.
Shot put: 8. Chloe Benz (Jbg) 11.18 (36-8.25).
High jump: 4. Greenhagel (BC) 1.63 (5-4.25), 9. Lily Bures (MC) 1.57 (5-1.75), 11. Lexi Hansen (Woodstock North) 1.52 (4-11.75), 15. Michaela Almeida (Mgo) 1.52 (4-11.75).
Long jump: 8. Bella Zecchin (MC) 5.23 (17-2), 9. Greenhagel (BC) 5.16 (16-11.25).
Triple jump: 10. Madelyn Mucci (BC) 10.66 (34-11.5).
Class 3A State Meet
Local finals results
3,200 meters: 23. Breanna Burak (Hunt) 11:17.63, 24. Bella Gonzalez (CL South) 11:24.22.
4x100 relay: Huntley (Vicky Evtimov, Alex Johnson, Jessie Ozzauto, Melissa Aninagyei-Bonsu) DQ.
100 meters: 9. A. Johnson (Hunt) 12.73.
4x200 relay: 7. Huntley (Evtimov, Dominique Johnson, Ozzauto, Aninagyei-Bonso) 1:43.73.
400 meters: 7. Rylee Lydon (PR) 57.18.
1,600 meters: 10. Rachel Soukup (PR) 5:04.45.
Discus: 10. Ally Panzloff (Hunt) 36.13 (118-6.5).
High jump: 1. Lydon (PR) 1.68 (5-6.25).
Long jump: 1. A. Johnson (Hunt) 6.0 (19-8.25), 3. Lydon (PR) 5.74 (18-10), 9. D. Johnson (Hunt) 5.52 (18-1.25).
Triple jump: 1. A. Johnson (Hunt) 12.33 (40-5.5), 2. D. Johnson (Hunt) 12.17 (39-11).
Pole vault: 13. Haylee Yelle (PR) 3.00 (9-10.25).