Huntley resident Savannah Lincoln wanted to create a place for people to gather and thought a coffee and wine bar was the place to do it.
After she and her family created Lincoln Farmstead on the outskirts of town, the family, and especially Savannah, wanted to pursue a new project. And when a spot opened in Huntley's downtown, it felt like a great chance to offer a "welcoming space" where people could spend their day, Lincoln said.
"The [Lincoln Farmstead] venue sees people on one of their most important days," she said. "We want this to be more a part of everyday life."
With summer arriving, the Lincoln House and Co. Coffee and Wine Bar, along with several other new businesses and developments, are slated to open this summer in downtown Huntley, as part of the village's long-awaited downtown revitalization efforts.
"It was all part of a plan to have it culminate together at the same time," Huntley Village President Timothy Hoeft said. "We wanted to go through the mess once and have it all done."
As a community that loves to gather in the downtown area, the additions will help current businesses, and bring in new ones too, Huntley Area Chamber of Commerce Executive Director Nancy Binger said.
"So much is in the works right now and everyone is just being patient for it to launch," Binger said.
One such development is the old Catty Property at 11117 S. Church St., which is being transformed into a 38-unit apartment complex called The Cornell, named for the Cornell Brothers Milk Condensing Factory that used to be housed there.
When Wauconda-based True North Properties took over the spot, it was dilapidated with much of the interior needing replacing. More than a year later, workers are putting finishes on the apartment in the form of light fixtures, cabinets, paint and counters, developer Nicholas Ieremciuc said Wednesday.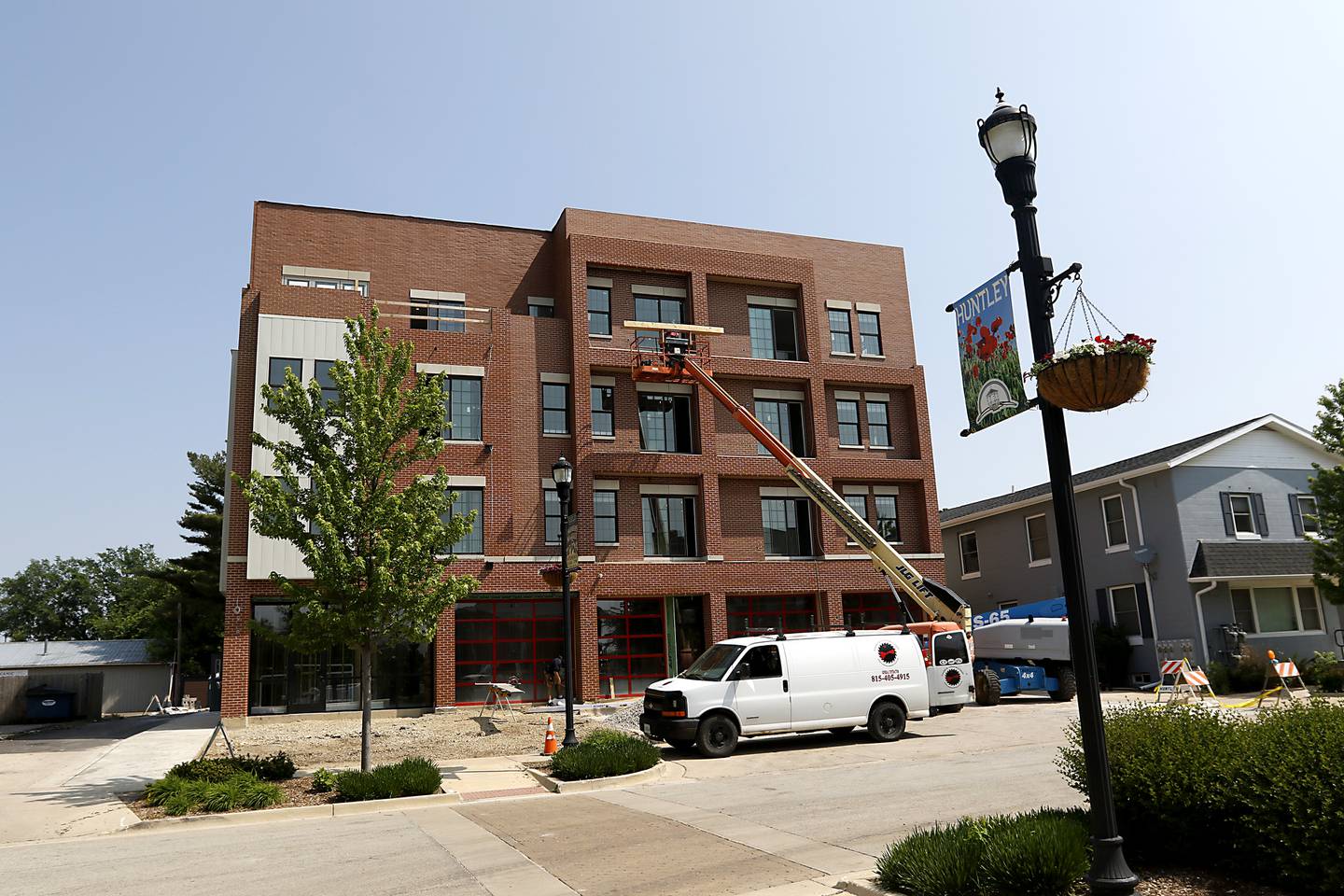 Ieremciuc said he was glad True North was able to preserve the building – which last housed a packaging company before sitting vacant for years – while also bringing new apartments to Huntley's downtown. Starting out as something that "many referred to as an eyesore," he thinks the building will be in good standing for decades to come.
"I think this project will show the village is willing and excited to hold onto those memories while still opening up a way to provide a nice future for Huntley," Ieremciuc said.
Meanwhile, sitting not too far away from The Cornell is Huntley's old fire station building, which is being transformed into a four-story building with a D.C. Cobbs on the ground floor and apartments up top. However, unlike the old Catty building, the fire station building had to be torn down and rebuilt.
"I think the village is on a good pace. ... They're looking for things people want but also welcoming people who want to start businesses in the area. I don't think it's stopping any time soon."

—  Huntley Area Chamber of Commerce Executive Director Nancy Binger
Of all the ongoing downtown projects, the fire station was the first approved by the Village Board. Huntley entered into a development agreement with Billitteri Enterprises LLC in March 2022, requiring the developer to invest at least $5 million into the site.
While both the fire station and The Cornell were expected to be substantially completed by the end of June and July, respectively, officials with both projects requested extensions on their agreements' timelines from the Huntley Village Board.
An item to extend both project's timelines would need to be approved at the next board meeting, but trustees Thursday said they were supportive.
If the extensions are approved, both projects would have until August to finish building, but developers said they were confident they wouldn't need the entire extensions.
The Irie Cup, billed as "the ultimate tea-lover's café," also opened a location in December in Huntley's downtown after a few years of selling exclusively at farmers markets. Co-owner Joe Lewis said expansion of downtown is evident, and the village is "really buzzing."
"The community response has been great," he said. "We have so many people telling us they're happy we're here. It's exciting to be a part of."
To pair with the new developments and businesses, Huntley is also building out a couple new parking lots and recently passed a new parking plan that includes more than 560 spaces for guests to visit, or downtown residents to park their vehicles.
As part of that, the village is building out a parking lot to include 137 parking stalls at The Cornell for $2.3 million. They are also planning to improve parking near the former fire station. Both of those are expected to be completed at the same time as the developments, Hoeft said.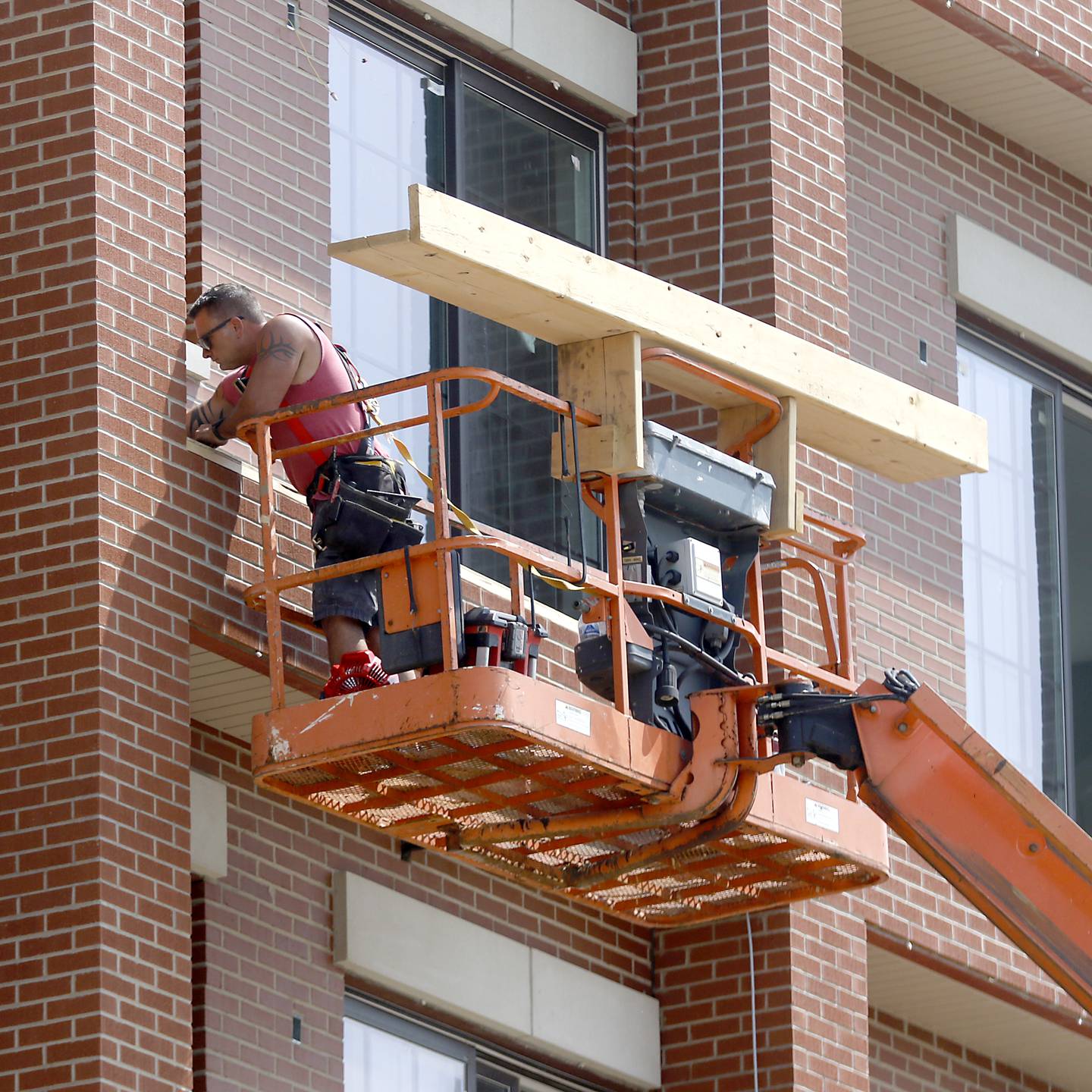 While summer will see many long-time plans wrap up, more will be coming to Huntley's downtown, Hoeft said.
A concept to convert Huntley's Old Village Hall into a restaurant received initial support from the Village Board in April, but will have to go through the village's approval processes before any concrete steps are taken.
Other spots, such as the Huntley Shopping Center along Route 47 near Kenneth Avenue, and the Marlowe site, a vacant acre of land north of Main Street and Route 47, are also available for development, Hoeft said. Neither has seen any interest from suitors up to this point.
A couple of public spaces could be installed in downtown, too, with one already set up next to Lincoln House, Lincoln said. It includes a firepit with patio space, greenery, flowers and some round deck chairs.
For Binger, she described the mood from the community as "curious." With the new additions and more to come, questions about how will it change the downtown, what will it be like to have more people living in the area and how the new businesses will be are piquing people's interest.
"I think the village is on a good pace," she said. "It's not all going to come at one time. ... They're looking for things people want but also welcoming people who want to start businesses in the area. I don't think it's stopping any time soon."