Huntley picked up a close Fox Valley Conference win last week against Hampshire and was pushed to three sets for the first time Wednesday in a 25-15, 29-31, 25-19 win against Barrington.
The Red Raiders, with four NCAA Division I commits and a strong supporting cast, have taken a liking to being the team to beat in the FVC and have responded with a perfect 10-0 record.
Huntley's win against Barrington, which was 14-0 before Wednesday and No. 4 on MaxPreps.com's Class 4A Illinois rankings (Huntley is No. 6), was a big statement for the Raiders.
Ally Panzloff (16 digs, four aces), Avary DeBlieck (four blocks), Morgan Jones and Georgia Watson (three blocks) all finished with eight or more kills in the victory for Huntley.
"Every team we're going to play this year is going to give us their best," Huntley coach Karen Naymola said. "If we're being realistic, the pressure's on us. Hampshire came out playing hard with nothing to lose, and we weren't passing well, which kind of threw our offense off.
"They were digging extremely hard defensively. We stayed composed, kept swinging and found ways to score on offense. I thought our defense did a great job of helping our hitters out, telling them where to go. We kind of just pecked away at the score and finished it."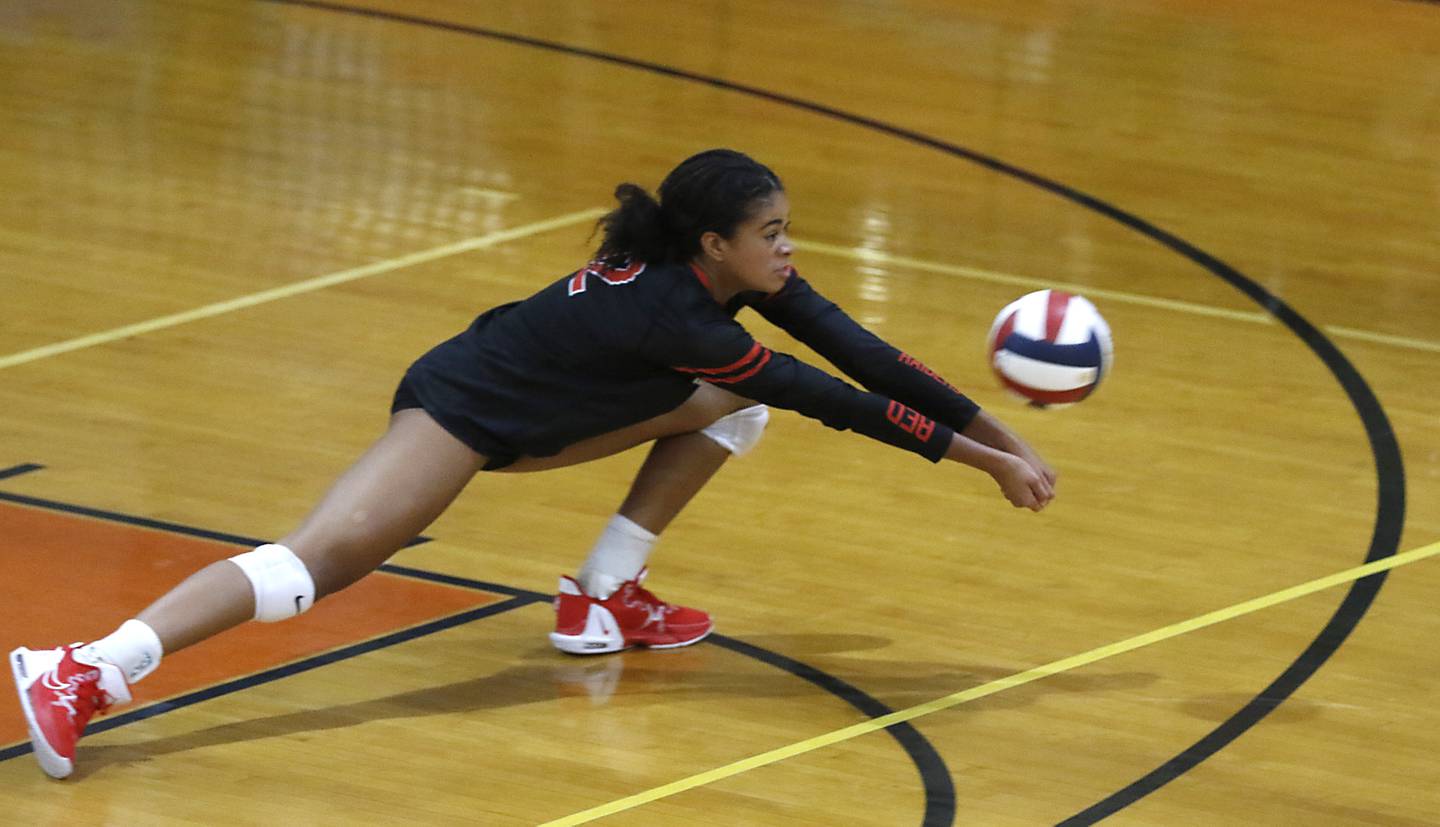 Running the show for the Raiders on offense is senior Maggie Duyos, who has been the team's top setter for three years. Some of her best performances of the season have come in the past week. She had 30 assists and eight digs against Barrington.
"Maggie's such a great leader, she knows who to get the ball to and helps them out as much as they're helping her out," Naymola said. "I think that's one of the big characteristics of a leader, they're never going to ask anything from you that they wouldn't do themselves.
"If you watch Maggie in practice, she's hustling for every ball. And I think there's a sense of comfort for our passers, where they can relax on serve receive. If they don't put up a perfect ball, Maggie's going to do a pretty good darn job of putting up a good set for us."
This year's team, with such a talented roster, has led to some tough lineup decisions.
But the Raiders remain focused.
"There's just a sense of closeness this year," Naymola said. "They've played together for three or four years, and they're one of the most unselfish teams I've coached. I feel like everybody understands their role, and maybe they're not always happy with it, but they're a bunch of kids that are willing to do whatever they can for the team."
Wolves enter first half on a high: Prairie Ridge coach Stefanie Otto called Tuesday's FVC win against Crystal Lake Central, 26-24, 25-22, the "best match I've seen from us all season."
The Wolves (8-8) came back from a 22-19 deficit in the first set and staved off two set points to end the first half of the FVC schedule with a 6-3 record. With the win, Prairie Ridge tied Central for second place in conference play.
Senior outside hitter Katya Flaugher shined with 14 kills, but Otto said it was a complete-team win and the most consistent she's seen her team play.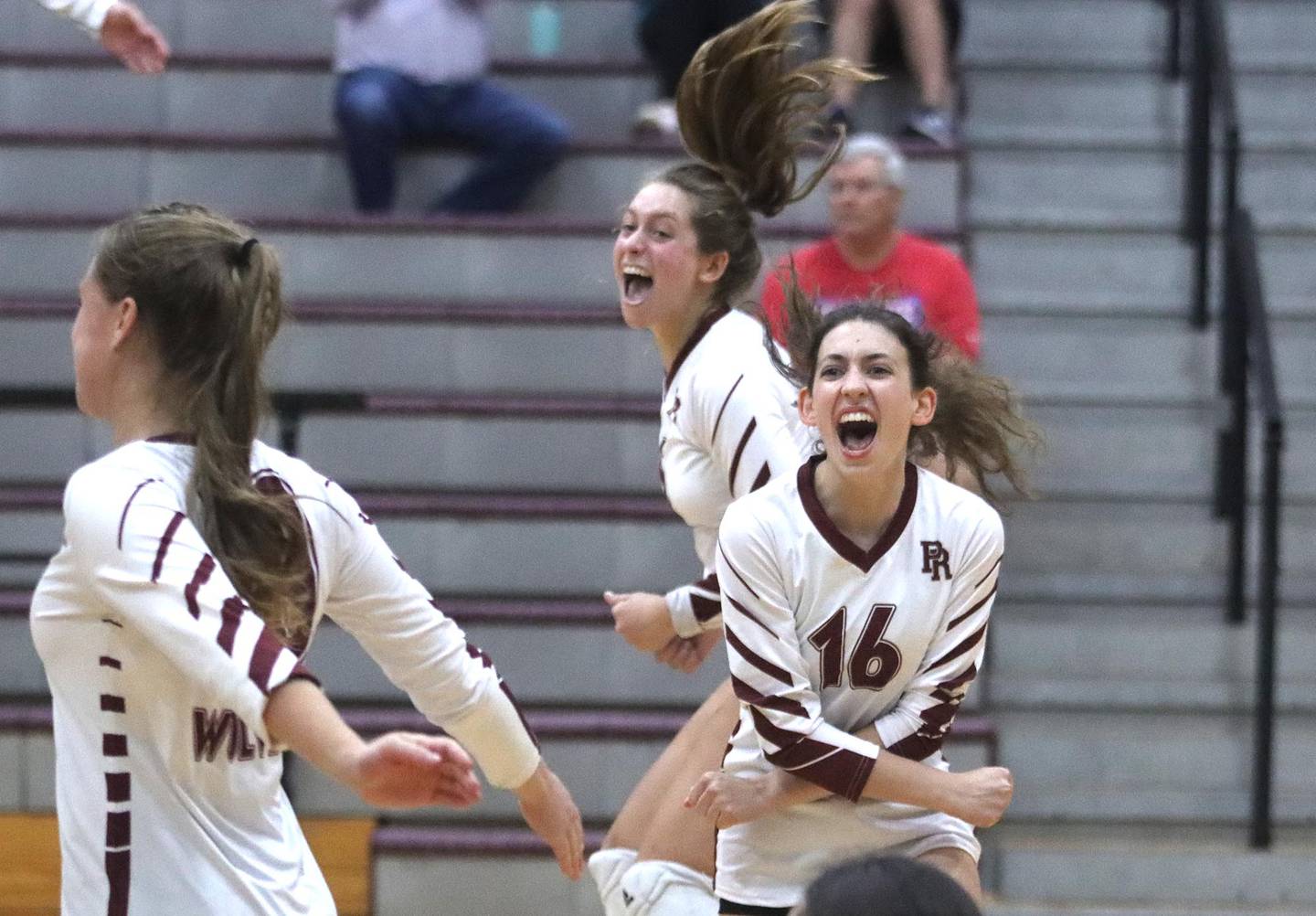 Otto has noticed her team working harder in practice.
"I just feel like they're starting to focus more," Otto said. "We had a really good practice [Tuesday], and some of them even stayed extra to work on some stuff. I think when you have that mindset and you really want to push to be good, you're willing to put in that extra time, and that shows through your performance. I thought it was the most consistent we played, for sure."
Still, Otto admits the first half has been a struggle at times.
"The first half was inconsistent," Otto said. "All those six wins haven't been good wins. They've been a struggle, so I'm hoping this continues for us, and we'll continue playing stronger."
Tigers happy with first half: Crystal Lake Central (10-5) ended the first half of the season in a second-place tie with Prairie Ridge in the FVC. Last year's Tigers were 13-22 overall and tied for sixth in conference at 8-10.
Central coach Amy Johnson said her team has shown it can compete with anybody.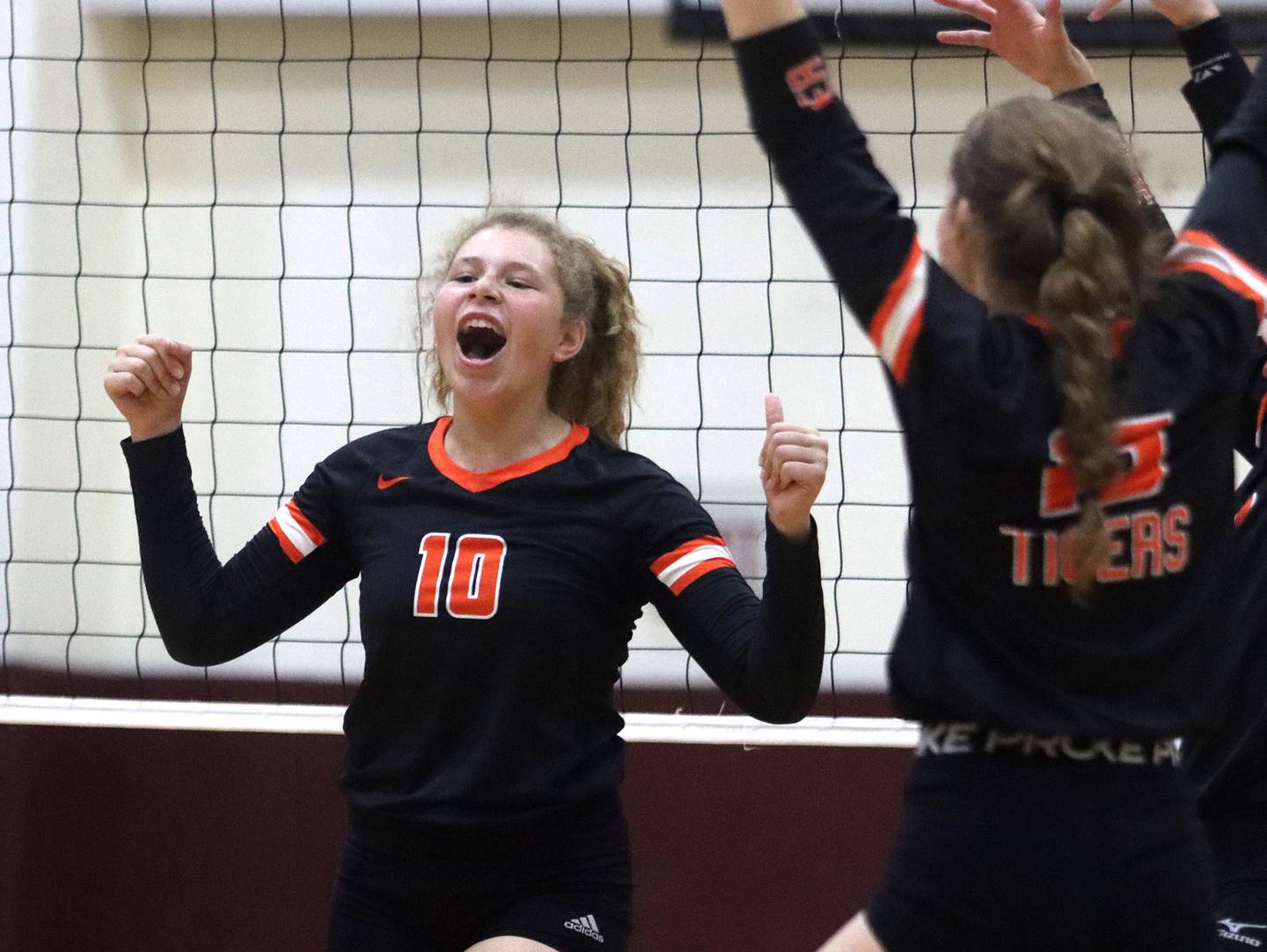 "I can't believe that it's halfway over," Johnson said. "I think we learned a lot about our team the first time around. I wasn't really sure what to expect with the youth of our team, and I think we definitely proved that they have a lot of fire and they can compete with a lot of teams, but you have to show up every single night."
The Tigers will get back to work and try to improve for the second half.
"We've been trying to pick apart little things that we need to improve upon in practice and narrow our focus to more technical stuff," Johnson said. "I do see that we're improving in a lot of different areas, but so is everyone else at the same time, so you've got to keep it up."