CRYSTAL LAKE – Nobody was stopping Prairie Ridge outside hitter Katya Flaugher on Tuesday night.
The Wolves senior had a memorable performance against crosstown rival Crystal Lake Central, putting down 14 kills – including the match-winner – to lead the Wolves past the visiting Tigers 26-24, 25-22 in their Fox Valley Conference match.
No matter where she was on the court, Flaugher was a mismatch for the Tigers. Her final five kills came after her team trailed 18-17 in the second set.
"I don't know if I've seen an outside hitter like her yet this year, she was unbelievable," Central coach Amy Johnson said. You can make some adjustments, but tonight she had the kind of night that I don't think anybody was going to stop her."
Flaugher (five digs) had six kills in the first set and then really got going in the second set, adding eight more. Her match clincher might not have been her hardest hit ball of the night, but it got the job done.
"I was just really excited," Flaugher said of her final point, which came from the back row. "I was kind of surprised at first because I kind of wasn't ready for the set. But then I was like, 'Oh no, I've got to go.' Once I got the point, it was a great feeling because Central's a good team to beat. They're a really good team."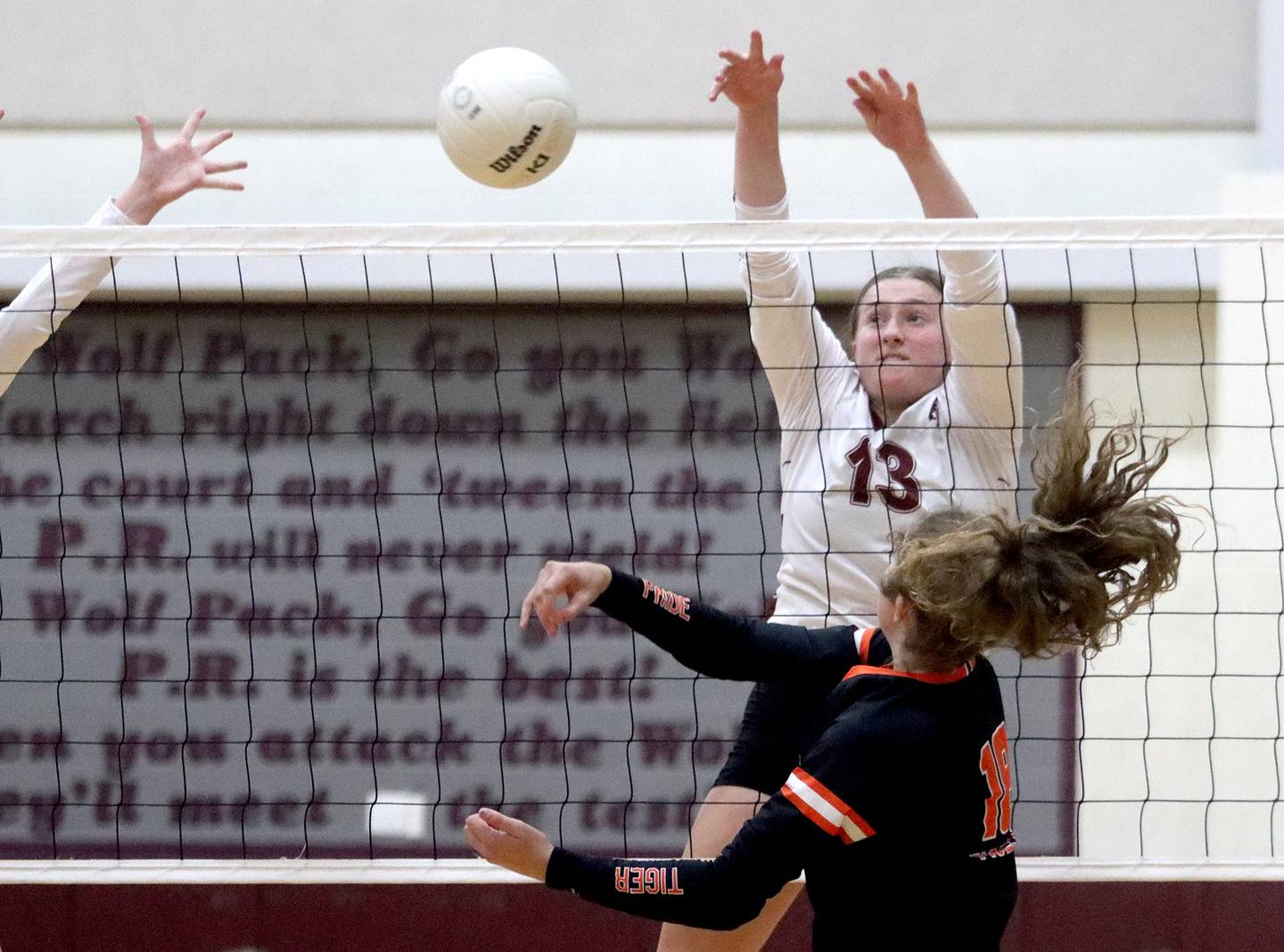 Wolves coach Stefanie Otto lauded the play of Flaugher.
"She really helps balance out our offense," Otto said. "When you have that big piece, that big element, she pulls all of that attention to her and that opens up the floor for everybody else, too. She had a great night."
Prairie Ridge (8-7, 6-3 FVC) had to battle back from a 22-19 deficit in the first set and staved off two set points for Central at 24-22 and 24-23.
Back-to-back kills from Prairie Ridge's Brielle Schulze and Grace Jansen (11 assists) tied the first set at 24-all. The Wolves then won the next two points on a kill from Ashley Steifer (four kills) and an ace from Julia Reina (eight assists).
Prairie Ridge finished with five aces, including two from Schulze. Aubrie Held, Mackenzie Schmidt and Schulze all added three kills.
"I was really impressed with the girls," Otto said of coming back to win the first set. "They didn't get rattled, they stayed focused and they persevered. Serving was incredible on that run. I think our serving really made a big difference in that match."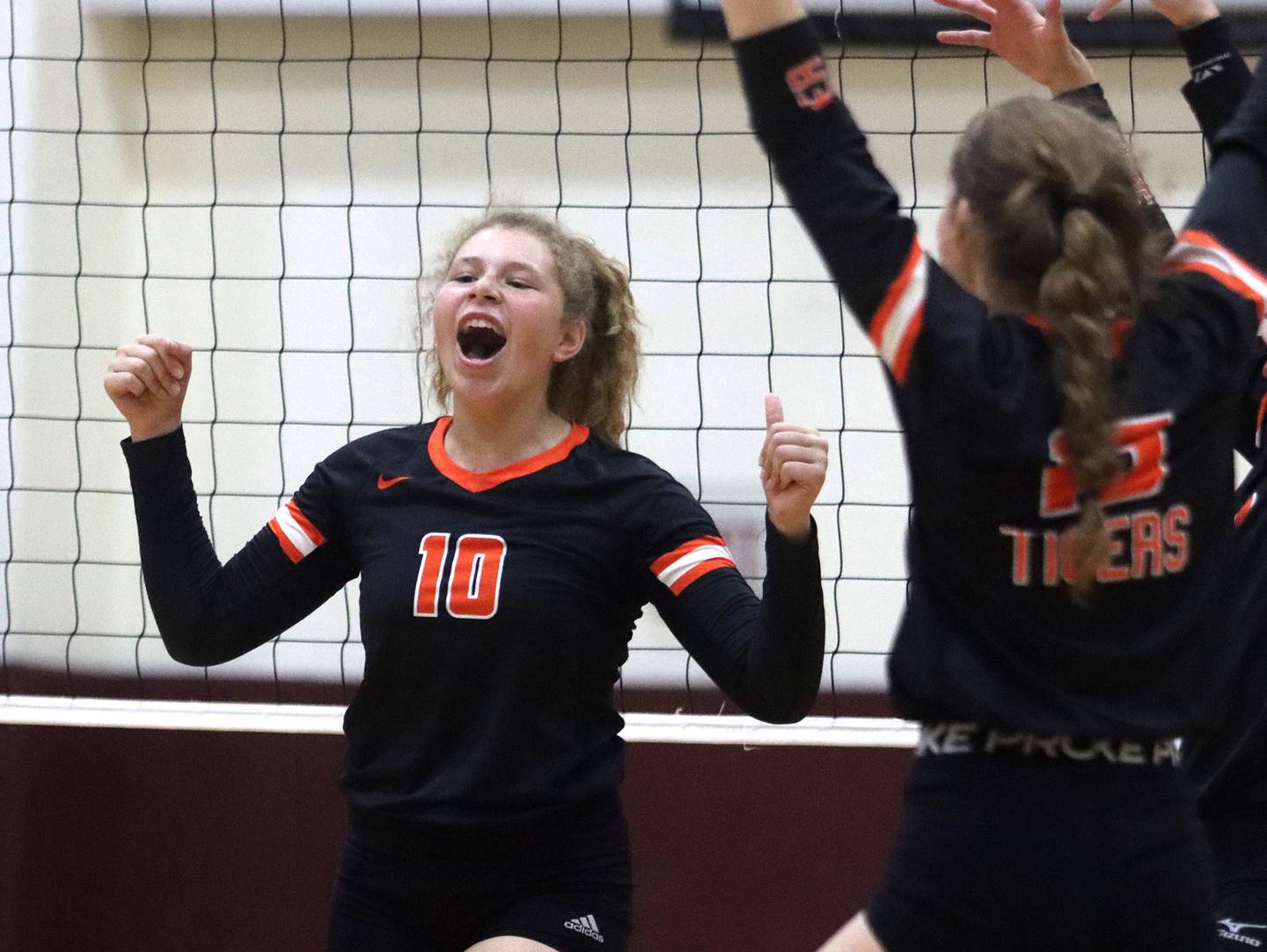 Central (10-5, 6-3) was led by Mykaela Wallen with five kills and Bree Hubacher (eight digs) and Anna Starr with three apiece. Vivian Akalaonu and Siena Smiejek had two blocks apiece.
Johnson thought the Tigers, who had won three straight matches entering Tuesday, looked a little off.
"We were a little discombobulated from the start," Johnson said. "We didn't seem to be firing on all cylinders like we have been. We had the correct game plan, we just had a little trouble executing what we needed to do.
"I thought our setter did a good job of mixing up our offense, but [Prairie Ridge] had us on our heels a lot in serve receive, and that messed up the cohesion for our team."