CRYSTAL LAKE – U.S. Rep. Bill Foster, who now represents much of McHenry County, talked climate change and political division with his constituents on Sunday during a town hall in Crystal Lake.
Much of the event featured a panel, where four panelists asked the Democratic congressman questions, and then Foster, of Naperville, gave an update on his thoughts about how things are going in Congress.
The panelists included John Kavalunas and Bob Schroyer, both of the grassroots advocacy social and civil rights group Indivisible Northwest Illinois' leadership team, and Katherine Rosch and PaTrice Dewey, both affiliated with Moms Demand Action, an advocacy group that works for gun law changes they say would improve safety and address gun violence. Indivisible advocates for an end to racial injustice, social inequality and also advocates to elect progressive political candidates to Congress.
Foster talked about Congressional gridlock, an issue which attendee Marc Sparber said he was concerned about.
"I hate how nothing's getting done in Congress," Sparber said. "Things aren't being addressed."
Sparber also said he was concerned about what he called "culture wars" that he feels political leaders focus on.
"Let people be who they are," Sparber said. "That's not what Congress is supposed to do."
Topics also ranged from gun laws and bipartisan division in Congress to the debt ceiling bill that President Joe Biden signed in June. Foster also spoke about the U.S. Supreme Court.
The legislation Biden signed on June 3 suspends the debt limit until 2025 – after the next presidential election – and restricts government spending, The Associated Press reported. The bill also gives lawmakers budget targets for the next two years in what officials have said are aimed at assuring fiscal stability as the political season heats up.
"I found that people are, are really interested in the idea of being represented by scientists. They understand that technology is moving rapidly. And almost every issue that we face has some technological component to it."

—  U.S. Rep. Bill Foster, D-Naperville
Attendee Mary Ernest said she was concerned about the state of the political climate.
"I'm alarmed at us going backwards," Ernest said.
The town hall event was sponsored by Indivisible Northwest Illinois. Evelyn Malone, the chair of the local Indivisible group, said the group coordinated with Foster's staffers to plan the event.
While many attendees at Sunday's town hall expressed concerns about the political climate, some had high praise for Foster after the event.
"Bill Foster is a man of unparalleled integrity, intelligence and commitment to public service," Ed Gogol said.
One of Gogol's biggest concerns, however, was with the changing climate. Gogol said leaders need more urgency to build up renewable energy resources.
"I'm not going to live to see the worst of it," Gogol said. "We need to build solar and wind power at Manhattan Project speed."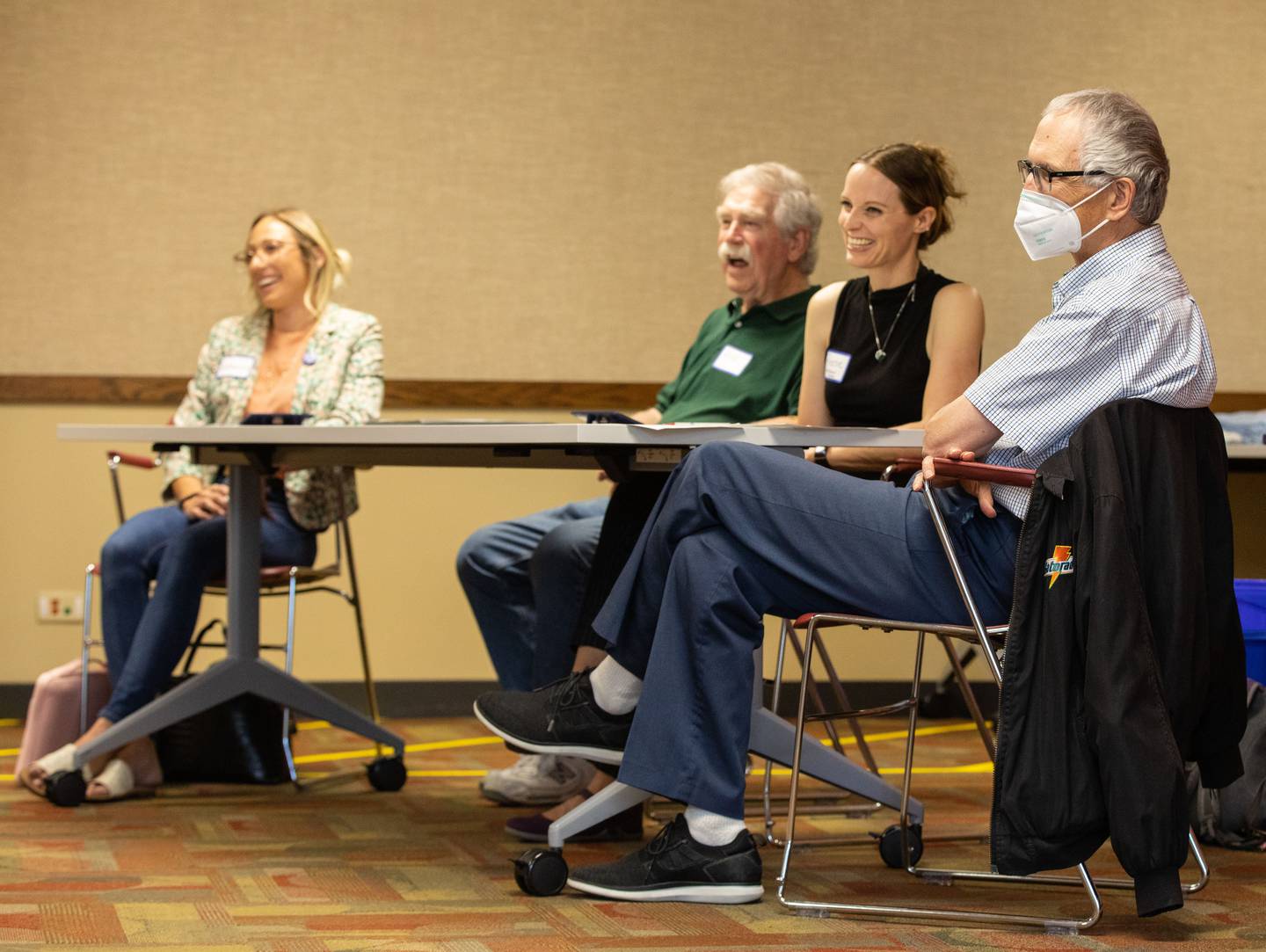 Kavalunas, who was a panelist, also said climate change was an issue that he is concerned with, especially in light of air quality alerts that have impacted much of the U.S. in recent weeks stemming from raging wildfires in Canada. The alerts have come as heavy haze and smog settled around much of northern Illinois in late June and July, creating low visibility and unhealthy outdoor air.
"I never had air quality like that," Kavalunas said.
Foster was first elected to Congress in a March 2008 special election, and was re-elected the following November, both times defeating Republican Jim Oberweis. After losing reelection in 2010, Foster ran for election again in 2012 in Illinois' new 11th district and has been representing that district ever since.
The latest round of redistricting following the 2020 census changed the 11th district's boundaries to include parts of McHenry and Lake Counties.
The 11th District now includes portions of Kane, DuPage, McHenry, Will, Lake, Boone, DeKalb and Cook counties. Batavia, Aurora, St. Charles, Geneva, Lily Lake, Elburn, Campton Hills, Crystal Lake, Naperville and Lisle are among the municipalities in the district.
Foster recently announced his reelection campaign, but is facing a challenger in the Democratic primary, Qasim Rashid, according to the Federal Election Commission.
Rashid, an attorney who lives in Naperville, previously ran for Congress in Virginia's first district in 2020, losing to incumbent Congressperson Robert J. Wittman.
A third person, Charles Kim, has filed to run for the seat as a Democrat, according to the FEC candidate page.
Foster said he believes being an effective congressperson will help his reelection efforts.
"I've always thought the best defense in politics is just do your job as well as you can," Foster said.
While Foster may be a new face for many McHenry County residents, he grew up in Madison, Wisconsin, and said he sailed on lakes in Northern Illinois while growing up.
"I grew up racing sailboats, in the lakes of southern Wisconsin and Northern Illinois," Foster said. "I'm very familiar with the area, sort of culturally."
While the area he represents in Congress has changed, Foster said his old constituencies and new ones share some similarities.
"The suburbs have a lot in common," Foster said. "People move out here because they like a nice environment, they like to have a quiet neighborhood with good schools."
Foster, who worked at particle physics Fermilab in Batavia before running for Congress, said his constituents also appreciate having representatives who have a science background.
"I found that people are, are really interested in the idea of being represented by scientists," Foster said. "They understand that technology is moving rapidly. And almost every issue that we face has some technological component to it."
The Associated Press contributed.