ORLAND PARK – Doing it all on the field for Lincoln-Way Central, Grace Grundhofer's main responsibility lies with leading a back line that has yielded only five goals this season.
But on Tuesday, it was another aspect of her game that sent the Knights to the state semifinals.
Notching a pair of second-half assists with her long flip-throw, the senior led Lincoln-Way Central to a 2-1 victory over Glenbard West in the Class 3A Sandburg Supersectional.
In improving to 24-1 on the spring, the Knights advanced to state for the first time since 2007. They will take on Metea Valley at 7 p.m. Friday at North Central College in Naperville.
"I love knowing I have people ready to get on the other end of those balls," Grundhofer said. "This is unbelievable. I'm so happy and thankful that we work for each other and very grateful for the opportunity we have.
"It's crazy, just crazy to think about it. We've worked so hard for it and I feel like we deserve this."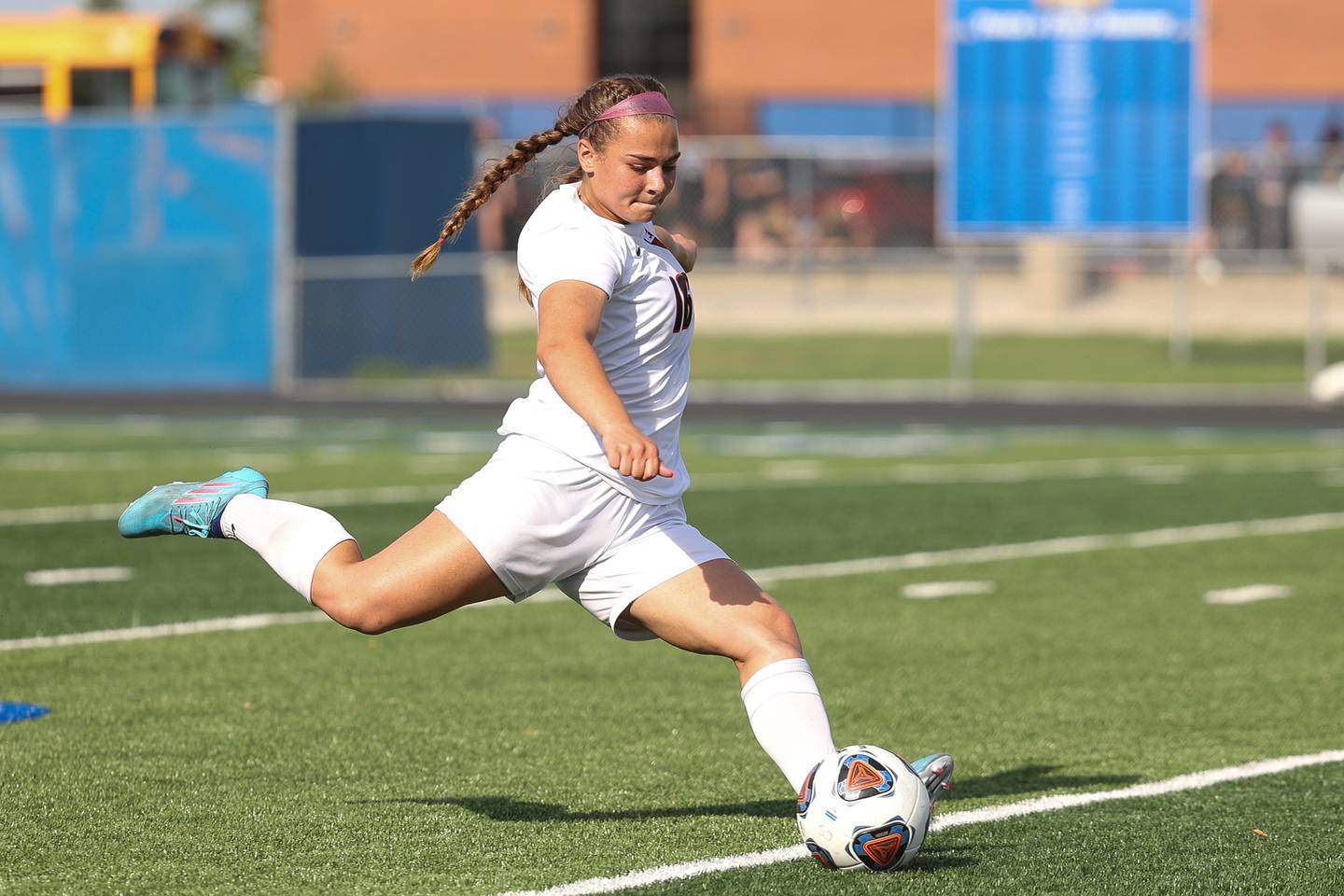 Her throws came from nearly the same spot, just a couple of feet away from the corner flag. Emma Vogler got her foot on the game-winner that came with 28 minutes remaining.
Her other found the head of Madi Watt, who opened the scoring less then seven minutes into the second half.
"It's great," said Vogler, who scored her sixth goal of the year. "We all knew we had to get another one in. I had a feeling in my heart, we just had to get on the back of [her throw-in]. I was trying to watch the ball and then just tried to get a foot on it. It's so exciting to get to state."
In between the Knights' goals, Emmie Roberts had tied the score for the Hilltoppers (15-7-1) off a through pass from Gwen Johnson that set the Loyola recruit up with a breakaway.
"That was a a great through ball by Gwen," Roberts said. "That got us right back in the game, and that is what this team has done all season. We fight until the end. As seniors, obviously you want to go as far as you can; a sectional title is nothing to sleep on. I'm proud of all of us and what we did.
"Since freshman year, we've been building blocks each year. Our team and our coaching staff has gotten stronger and stronger through each year and coming into this season, we knew our potential. And today we were in it until the end. All you can ask is to give it everything and that is what this team does."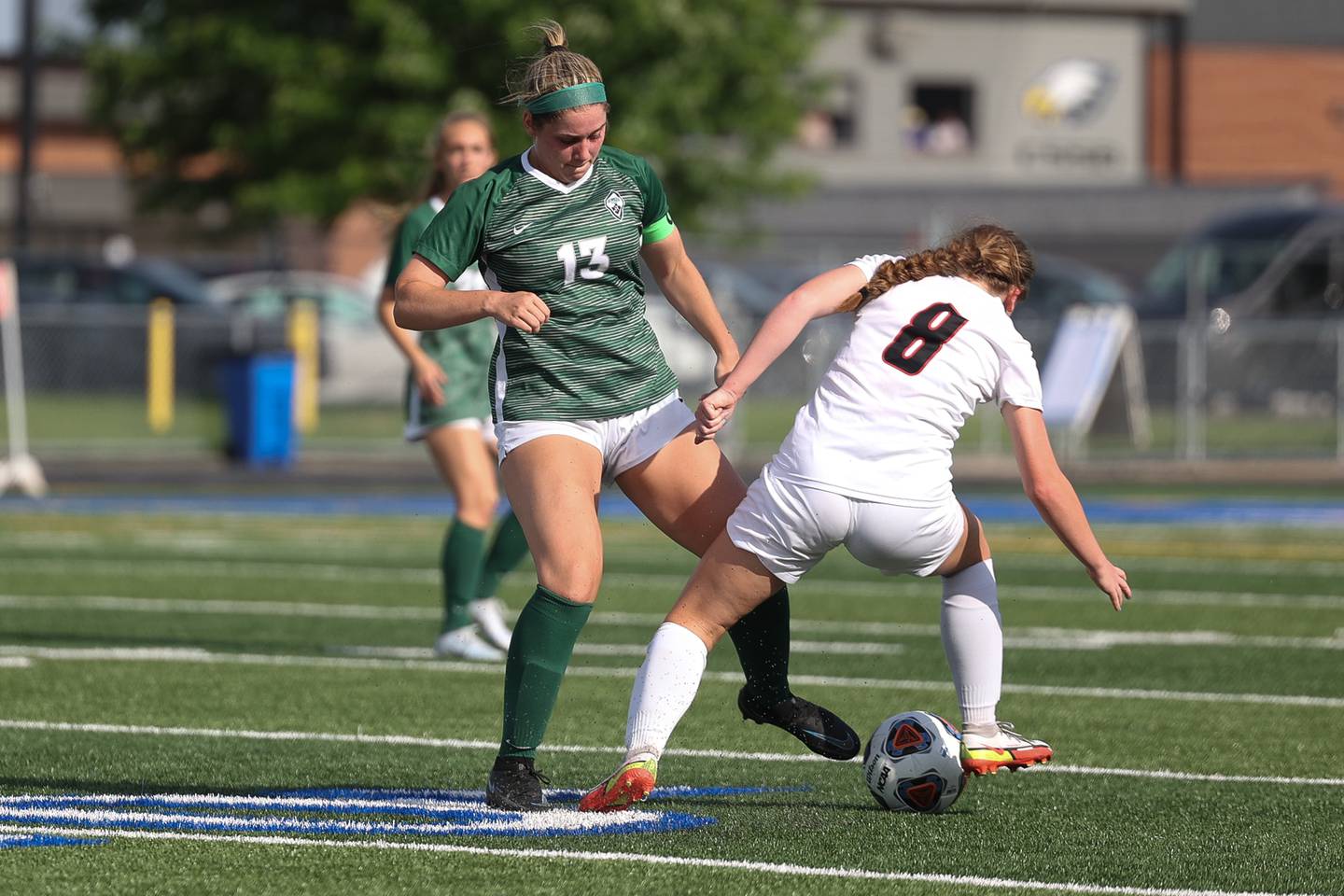 Alexa Hadley made three saves in goal for Lincoln-Way Central, winners of 14 in a row, including a pair in the final five minutes. Joining Grundhofer on the back line is younger sister Chloe, Abby Sudkamp and Christine Erdman. The Knights have posted 21 shutouts this season.
"Our whole back line deserves a week off," Knights coach Sean Fahey said. "But they will rest up and get ready for Friday. They are so well-organized back there, they are tough and physical and they work well together.
"This is crazy. It takes a lot [to get to state], and it goes way before the season ever starts. These kids are up early [in the offseason]. They take pride in that. Everything we tell them to do they do it as hard as they can and sometimes with a smile."
Ava Callaway also made three saves for Glenbard West, which had knocked off Lyons in penalty kicks to reach this point for the first time since 1997. The Hilltoppers also captured their second consecutive regional title.
"The bond these girls have is incredible," Glenbard West coach Adam Szyszko said. "The way they play for one another, the way they work for one another, how well they get along, their spirit – it's amazing. It's a fun group to be around and it is sad to see the ride come to an end.
"This group has set the bar so high for groups following them, just in terms of the quality human beings they are and the way they play. It was one of those magical seasons."