NAPERVILLE– Montini midfielder Sawyer White spent her senior year trying to be the best leader she could be.
She set a high bar.
White capped a stellar high school sports career Saturday by helping the Broncos win their first state trophy in girls soccer. She converted the first penalty kick in the shootout of Montini's 3-2 comeback victory over Normal U-High in the Class 1A third-place game at North Central College.
White, who finished the season with 10 goals and 19 assists, will play soccer and basketball at Illinois Wesleyan. She was captain in both sports at Montini this year.
"In both basketball and soccer, I've had some pretty good leaders as past captains," White said. "I was just taking bits and pieces from those captains and kind of putting it all together and creating what kind of captain I wanted to be.
"I think it's really important to include and be a great captain for all those girls coming up, because you want to set a good example and better the program for the future."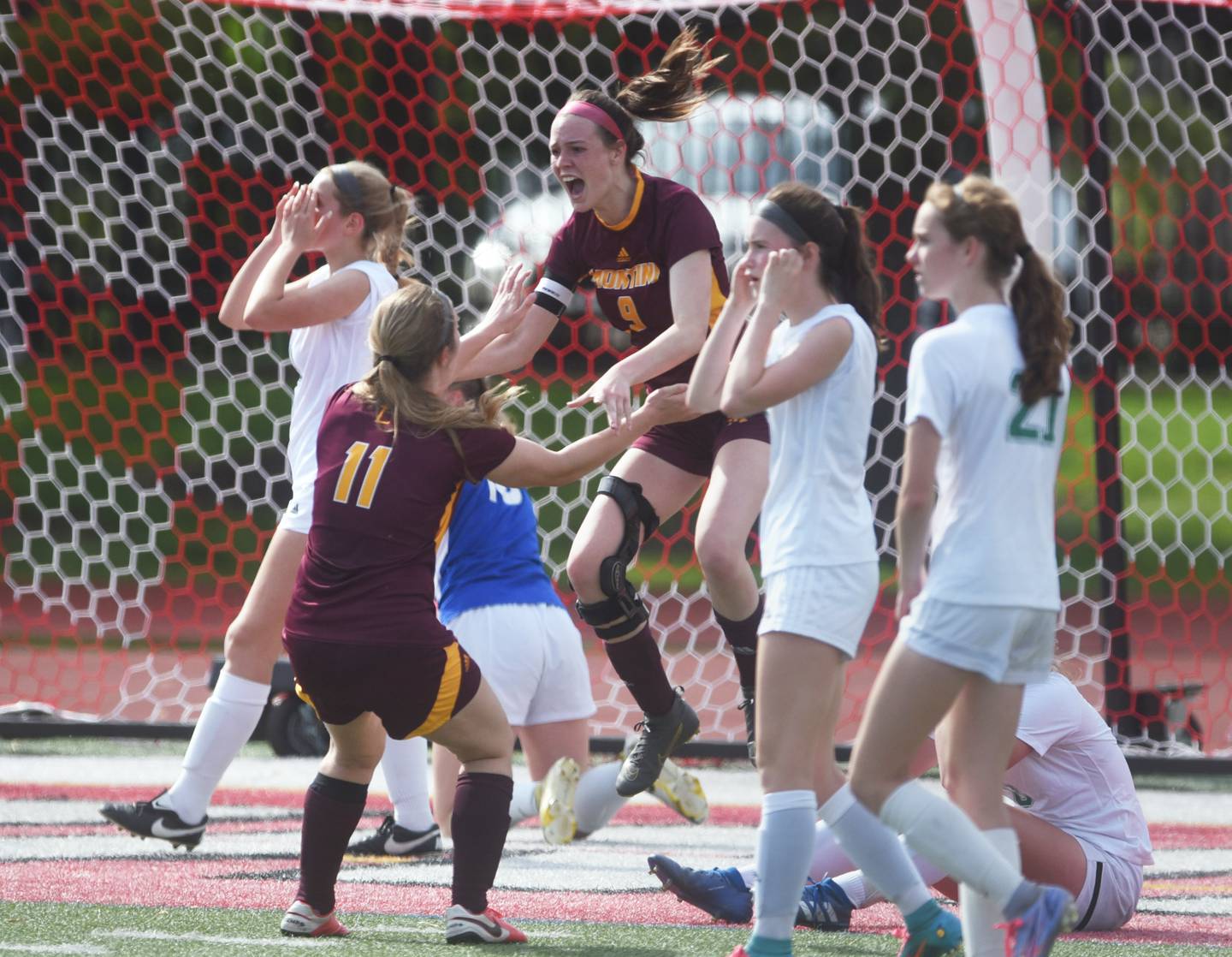 White accomplished that mission. The Broncos (14-5-1) had never won a sectional before this season but advanced to the state finals with a roster stocked with 12 freshmen, six of whom started.
"Sawyer is an incredible kid and the girls are all drawn to her," Montini coach Kate Perry said. "She brought everyone together and created the family atmosphere."
Junior forward Maren Hoovel, who scored 26 goals to lead the Broncos in scoring for the second straight season, served as a co-captain with White and senior defender Anna Carrigan this season.
"She is one of the best leaders I've ever had in any sport," Hoovel said. "I've loved getting the chance to play with her in both sports for the past two years."
Like White, Hoovel also plays basketball. She sat out this winter while recovering from a torn ACL suffered a year ago, but returned to the soccer field better than ever and scored twice Saturday after Alyssa Brown and Alison Heller scored on breakaways to give Normal U-High (16-11) a 2-0 lead in the first half.
Hoovel put the Broncos on the board with 12:40 left in the first half. She beat a defender into the left side of the box before poking a right-footed shot inside the right post for her 25th goal of the season.
Even so, Montini was on the brink of defeat when White heaved a throw-in toward the middle of the Pioneers' box. Hoovel got to in the middle of a scrum and rolled a shot inside the right post to tie the game at 2-2 with 2:50 to go in regulation.
"Sawyer threw her big throw-in and I was just kind of fighting for it," Hoovel said. "It was really crowded in the box.
"I couldn't really see anything I just kind of kicked it."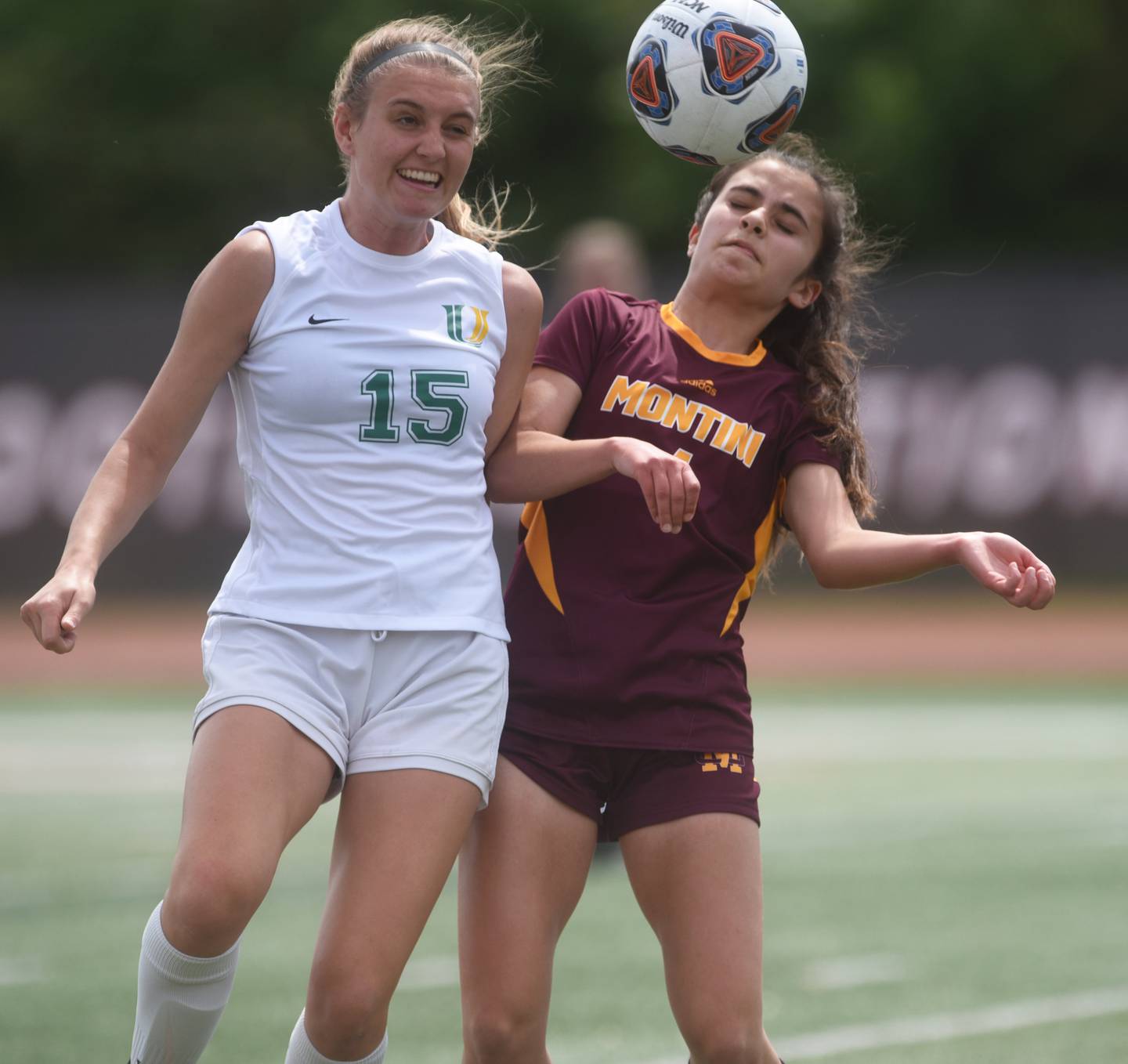 The ball got past U-High goalkeeper Olivia Checchi, though it took a moment for Hoovel to realize it.
"I'm going to be honest," Hoovel said. "I didn't even see the ball go in the goal.
"I just heard everyone start cheering and I got really excited. I was really happy for us."
The Broncos were even happier after winning the ensuing shootout 4-2. White, freshman Naomy Gonzalez, Hoovel and junior Jillian Parrilli converted penalty kicks for Montini, while freshman goalkeeper Natalie Gartland stopped two of U-High's four attempts.
Perry, who is the assistant coach of the women's team at North Central, said it was a surreal moment.
"This place means a lot to me, so to have the opportunity to coach here with a different team, the girls kind of rallied behind that because they knew that I work here," Perry said. "The comeback was awesome.
"Our motto this whole playoffs is 'Don't leave anything to chance.' They did that today. The girls made history."
The Broncos' unprecedented success was the result of great leadership and a solid work ethic.
"This team has worked extremely hard this year," White said. "The past few months we've created this fun environment where we can learn and work hard but also have fun at the same time.
"It's really correlated to our games where we're extremely happy for each other all the time, just doing whatever it takes to help our team secure a win."
Securing a win in dramatic fashion in their final game of the year made it even more special.
"It felt incredible," Hoovel said. "I was just so proud of our whole team.
"We didn't give up on ourselves. We kept fighting. We knew we could pull it off if we worked hard enough and gave it everything, and we did."