Recent Glenbard West graduate Audrey Allman's unpredictable and often interrupted girls track and field racing season climaxed as planned at the Class 3A state meet.
Her final state race was her greatest ever.
Allman captured her first state championship with a personal-record 4:49.81 in the 1,600-meter run that won the race by 7.33 seconds. The Vanderbilt recruit previously earned five top-nine all-state medals.
"For sure [my best race]. I've obviously been dreaming about that [title] for a really long time, continuing the legacy Glenbard West has at state, particularly the mile. I just think kind of accomplishing that and also a PR on top of that was so huge," Allman said. "I've had my fair share of seconds, thirds, fourths and fifths. Finally grabbing first place, where it really matters, which was the goal, was super refreshing and super exciting."
For her accomplishments this season, Allman is the 2022 Suburban Life Girls Track and Field Athlete of the Year.
This was the first season that Allman ran the 1,600 at state. She previously became the Hilltoppers' only multiple all-stater in the 800 with a fourth as a freshman (2:14.59) and sixth in 2021 (2:14.27).
Allman now joins the incredible list of Glenbard West elite runners who have captured 11 of the past 18 Class 3A state titles in the 1,600 or 3,200 – 2020 graduate Katelynne Hart (seven titles), 2014 graduate Madeline Perez (three) and 2018 graduate Lindsey Payne (one).
"When the biggest races came, [Allman] was ready to go," said Glenbard West distance coach Paul Hass, husband of head coach Kelly Hass. "She ran that [1,600] all by herself at state. Not only this year, but throughout her career she's had ups and downs with illness or injury. She had to take basically two weeks off this outdoor season. It was so nice to see her reward herself with that great effort. You had some of the top runners in the state and to see her run away with it, literally, was pretty incredible."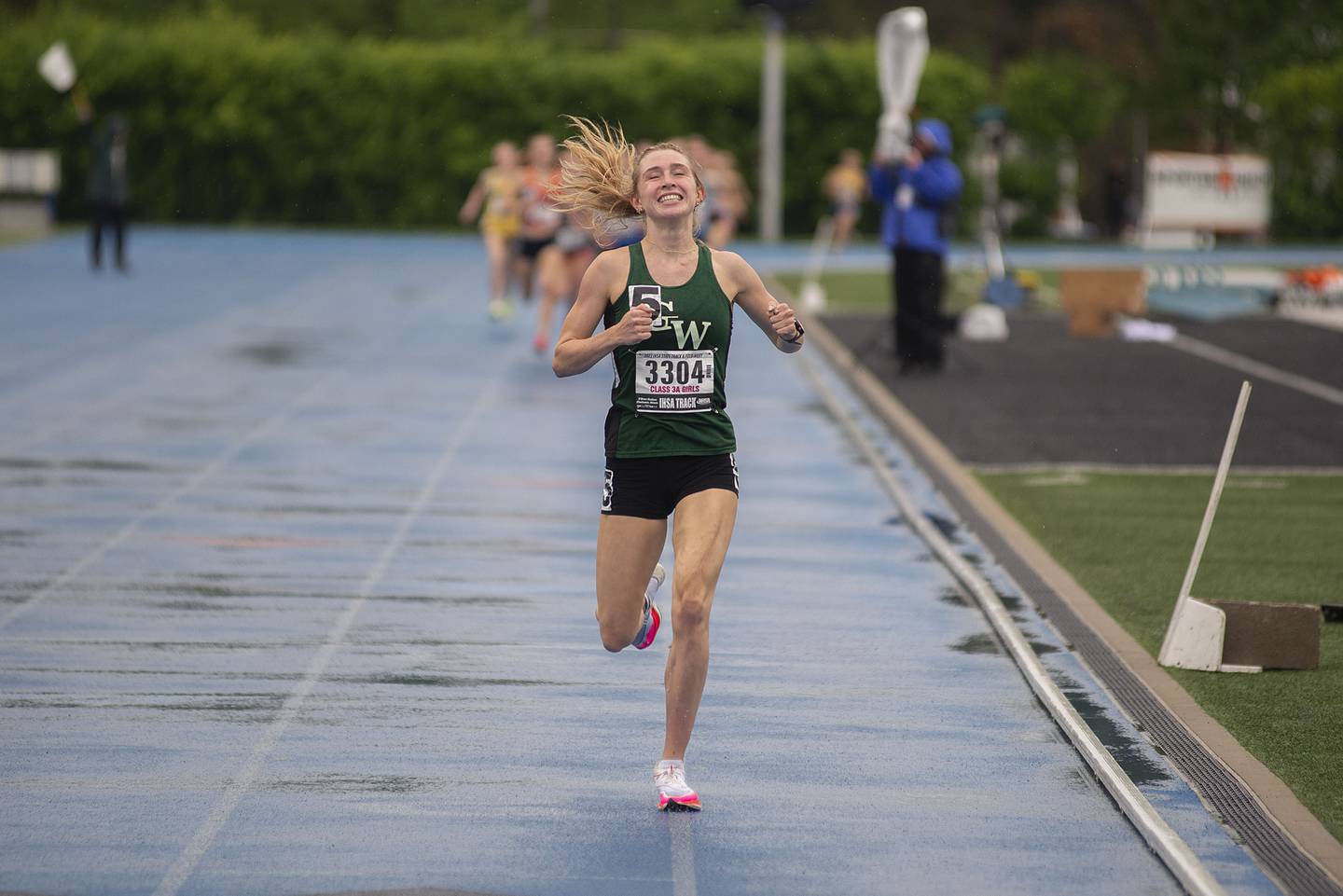 Allman's state focus detoured toward the 1,600 after a then personal-best 4:55.10 indoors. At the Arcadia Invitational on April 9 in California, Allman won her mile section in 4:50.77 – a 1,600-converted 4:49.08 – following a lifetime-best 2:12.94 in the 800.
"If you were going to ask me if I'd win a state championship in any event, I'd have said the 800 until the first [1,600] this season," Allman said.
Adversity struck again at the conference meet. Battling shin pain intensified by cold weather, Allman was third in the 800 (2:16.43) and scratched from the 1,600. At the Lake Park Sectional, Allman scratched the 800 and won the 1,600 (4:56.25) with the state's fastest sectional time.
"Honing in on the [1,600 for state] was the best decision. That's what made me a lot more confident, knowing I wasn't going to double, that I'd run the [1,600] fresh," Allman said.
Allman was the only 1,600 top-six state finisher not previously in the 3,200 or 800 final. Nationally rated Normal sophomore Allison Ince, the defending 3A champion in the 1,600 (4:40.85 in 2021), decided to instead defend her 800 title, won the 400 and anchored the third-place 4x400 relay.
"We thought [Allman] could be state champion, especially running fresh and considering how strong she is. With her shins the way they were, focusing on one race obviously worked out really well," Paul Hass said.
Allman ran Glenbard West's No. 2 personal-best 1,600 time behind Hart and ranks No. 3 in the 800. Her six all-state medals shares fourth most in program history.
Allman credited a great support staff of coaches, teammates such as Carlin Hass and Elayna Boeh and her mother, Julie (Krebsbach), a former runner for Glenbard West and there since her 1-mile race debut in first grade.
"She wanted me to do what I wanted to do. I think just being a runner over time made the experience more meaningful. It's nice to carry on that legacy," Allman said. "Running with Katelynne Hart really fueled me, encouraged me to think this is possible. Knowing the Hasses knew what they were doing. I trusted them. A lot of running is mental. It's critical to tell yourself what you want to do can happen. On top of that [was] having such great girls along the way, teammates and competitors alike."