DOWNERS GROVE – Senior Elle Kowalski was an important part of Downers Grove North's greatest girls track and field team ever last season.
Despite graduating several all-staters and key contributors, the Trojans soon realized this year's team could be pretty good, too.
[ Photos: West Suburban Silver girls track meet ]
"We did lose a few amazing athletes, of course, but our team persevered through," said Kowalski, a returning state qualifier. "There were a few losses. There was no perfect season, but overall our positivity and attitude toward this season is what keeps us going."
The continuously improving Trojans rose to the occasion at their home track May 6 to win the competitive West Suburban Conference Silver title.
Downers North (125 points) won over York and Oak Park-River Forest (91 each), Lyons Township (83), Glenbard West (66), Hinsdale Central (60) and Proviso West (41).
"It's been an exponential growth in amazingness," Kowalski said. "We just started doing better and better as the season went on. Hard work is definitely paying off."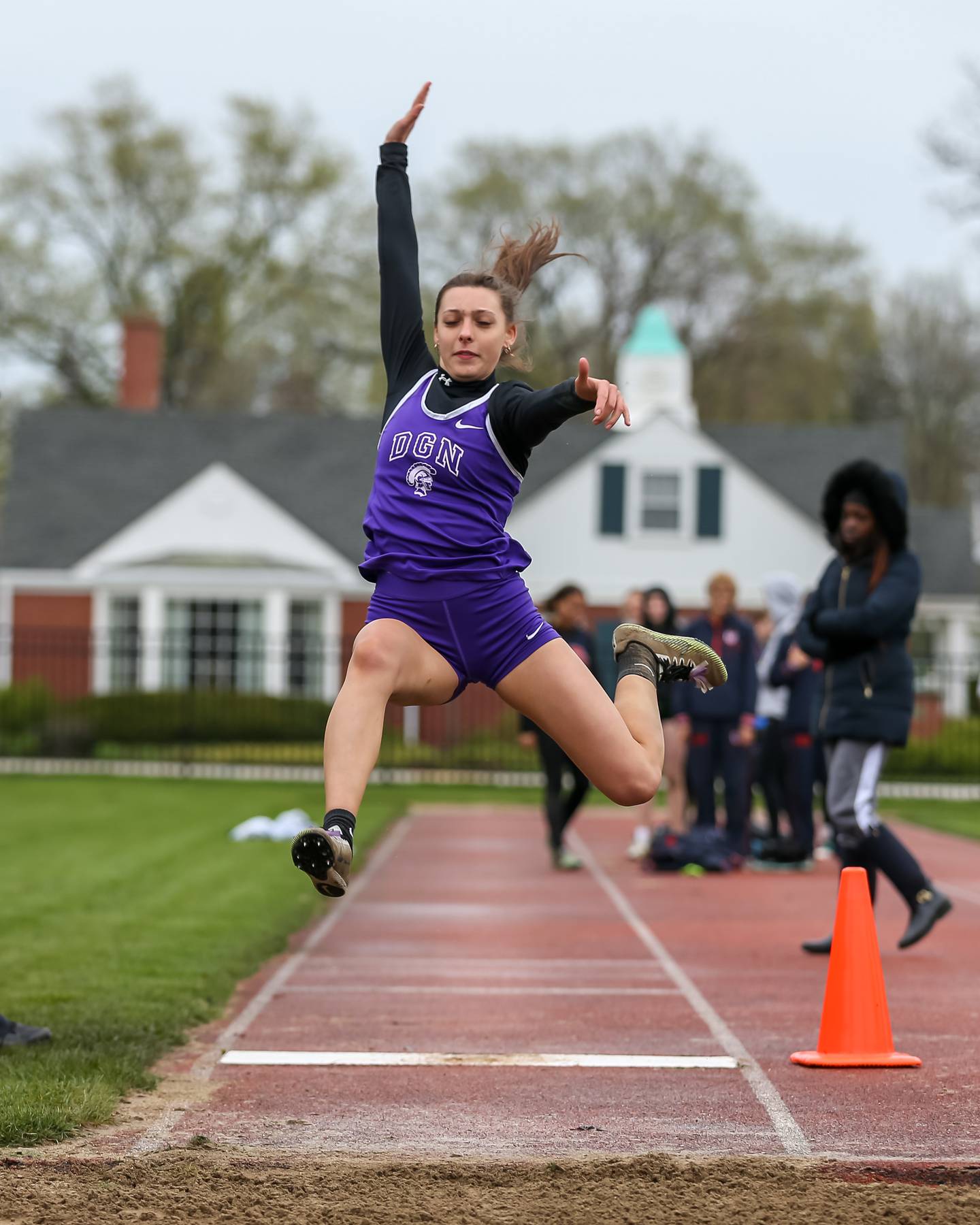 Kowalski was part of the Trojans' strong start that set the tone. She won long jump (5.28 meters) as part of the team's 1-2 finish in that event with Cherylin Parrilli (5.05 meters) taking second. The Trojans also went 1-2 in triple jump, which was won by Amelia Hansen (10.30m). Teammate Allie Steiner was second (10.19m).
Kowalski later teamed with Allison Leach, Emily Wittmer and Dakota Washington to win the 4x200 relay in 1:47.54.
Grace Edwards was second in shot put (33-6 1/2) and discus (100-5) for Downers North. Kathleen Crilly (300 low hurdles) and the 4x800 relay (9:39.01) also were second.
"Coming in and not being seeded in almost every event is definitely nerve-wracking, but it just makes it feel like more of a competition," Kowalski said. "You really accomplished something. Obviously, last season was amazing, but honestly it was easy. Now we're working for the title and proving that we deserve it."
Cold and windy conditions could not deter the conference's premier middle and distance runners.
In the 3,200, York senior Katelyn Winton (outdoor best 10:51.20) and junior Bria Bennis (10:56.48) finished 1-2 in Bennis' outdoor 3,200 debut.
"The wind on the backstretch was a little tough but coming back to the finish line, it felt good. The wind was pushing me," Winton said.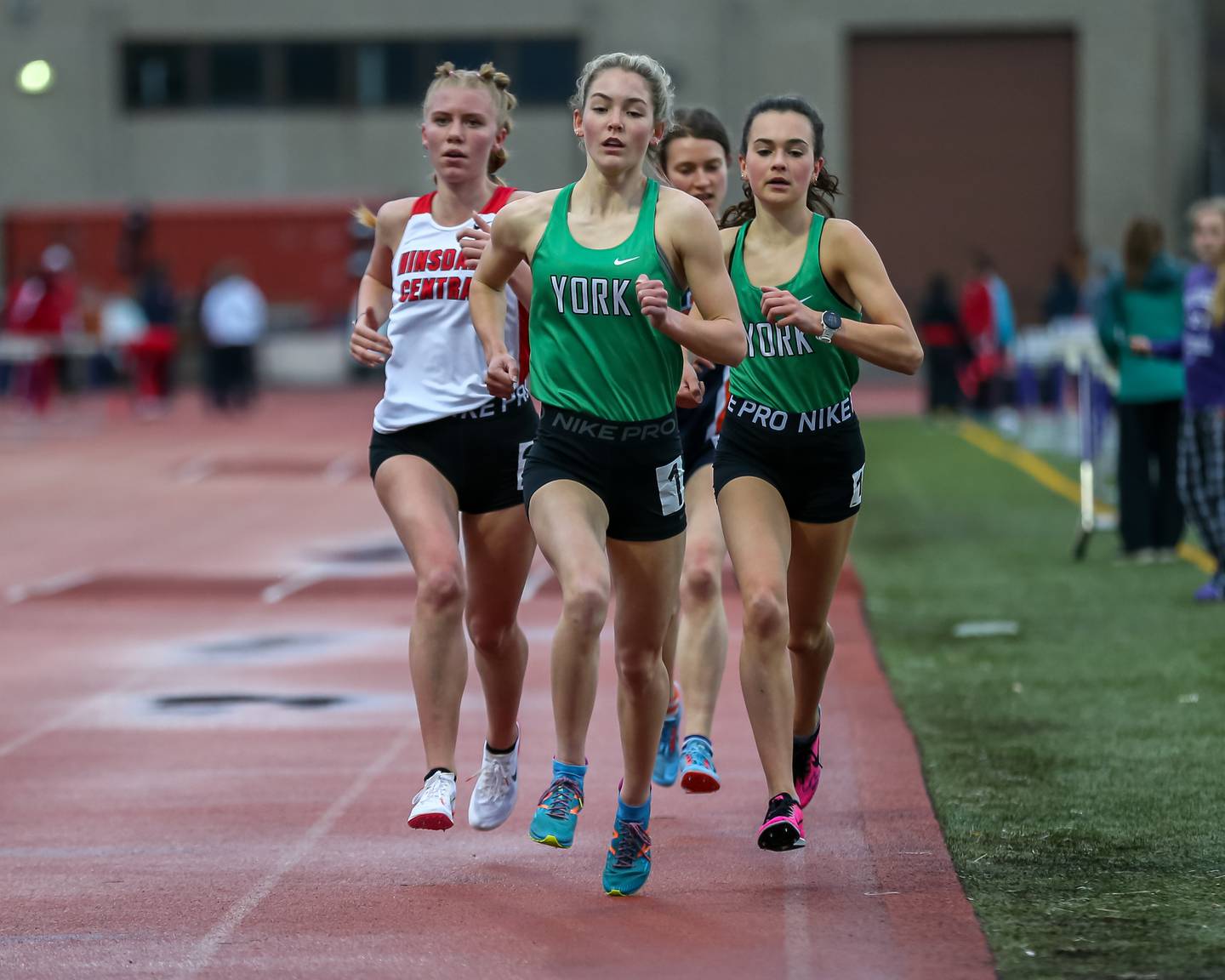 Hinsdale Central junior Catie McCabe won outstanding races in the 800 (2:14.76) by .19 over York's Brooke Bennis and the 1,600 (5:06.29) by .25 over Lyons' Catherine Sommerfeld. McCabe anchored the winning 4x400 relay in 4:04.96 with Ana Hodneland, 300 hurdles champ Elyssa Chandler (48.24) and Isabella Terry.
"We always talk about on our team how we feel worse after the race if we didn't do well than the pain you feel during the race," McCabe said about her close individual victories. "I think I always have that in the back of my mind."
York's Ava Glabus won high jump (1.50 meters).
Glenbard West senior Nina Wintermute won pole vault on fewer misses at 10-6. She's the Hilltoppers' first Silver champ in the event since 2003, the third season that girls pole vault was an IHSA event.
"That feels amazing. That's crazy. That's before I was born," Wintermute said. "It feels amazing, especially because this is kind of crappy weather for a meet."
The Hilltoppers' Ella Maas was second in 100 high hurdles.
Glenbard West's Audrey Allman (2:16.43) and York's Katherine Klimek (5:08.68) had impressive third-place 800 and 1,600 times, respectively.