DOWNERS GROVE – Allowing on average of just over 25 points per game this season, Downer Grove North's defensive acumen is well-chronicled.
On Wednesday night, the Trojans showed how well they can shoot it too.
Connecting on nearly 60% of its' attempts from the three-point arc, Downers Grove North pulled away to a 43-31 victory over York in a West Suburban Silver showdown between two of the teams – along with Lyons Township – that tied for the conference title last season.
[ Photos: Downers Grove North vs. York girls basketball ]
The Trojans (9-1, 2-0) made eight 3-pointers, three by Ryann Wendt, who led all scorers with 16 points. The team has now won five games in a row, with the only hiccup so far a 29-24 defeat to Schaumburg on Nov. 23.
"Our defense plays into how we play offense," said Wendt, one of three Trojans in their fourth year on the varsity. "We know if we can get stops, we can make plays at the other end. We know each other so well; we know our personnel so well and we get people shots we know they can make.
"We are going to try to keep it rolling. We take it one game at a time and just try to get that 'W' every time out."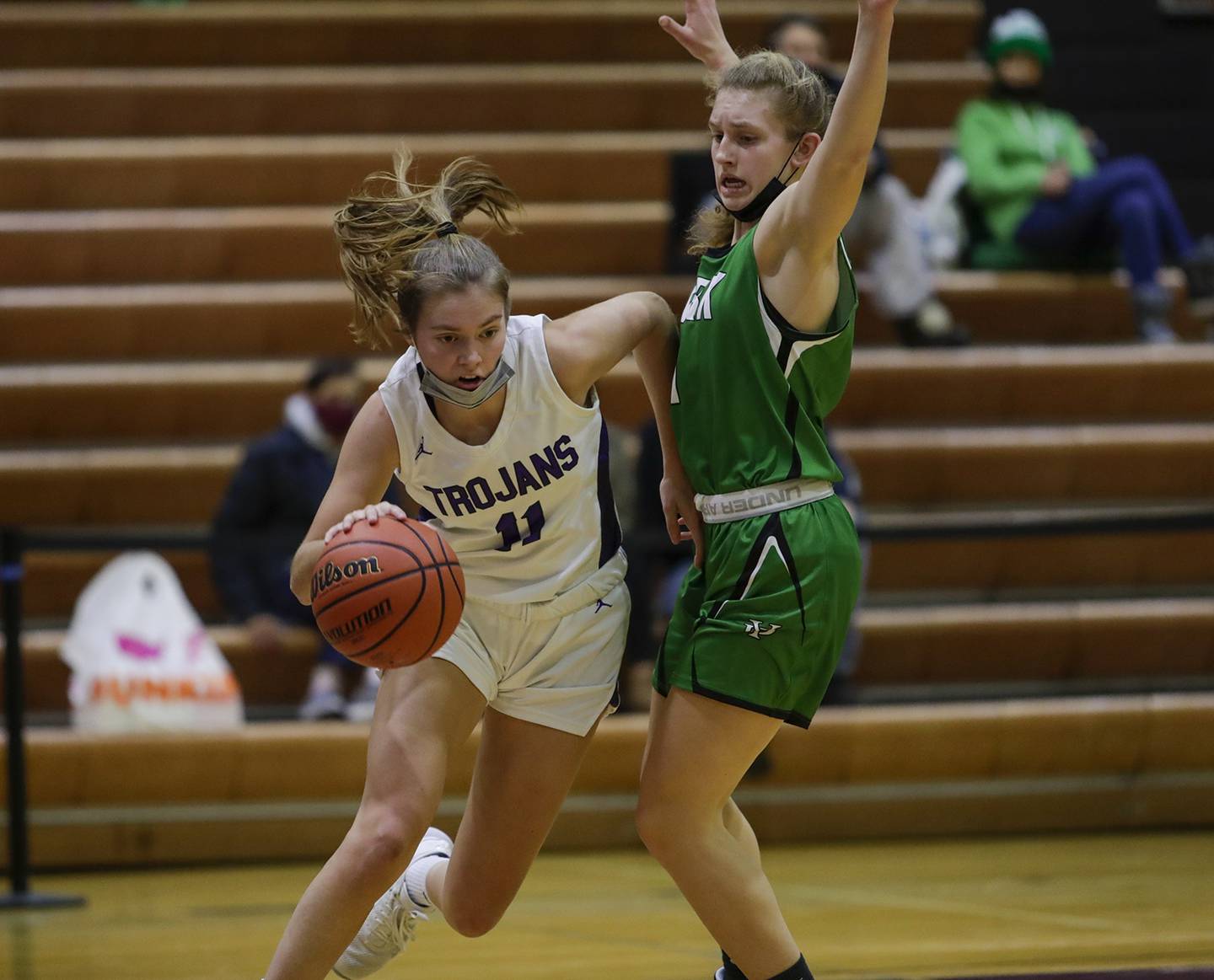 On the other end of the court, the home team was up to its usual tricks, yielding just one made field in the second quarter. That allowed Downers Grove North to turn an 11-all tie after eight minutes into a 21-13 lead by halftime. Kate Gross tallied five of her eight points during that 10-2 spurt.
"We talk about it (defense) all the time," Gross said, "about ball pressure and making sure there are no easy passes for anyone and help defense. We do the same basic defensive drills every day and it makes a huge difference in the games. It's great to see us rewarded. We try to keep teams to less than 30 points, it's hard to beat us that way.
"It's been so fun, getting to play with your best friends. And I love that our team is so unselfish, whichever girl is on, we get them the ball. We are so competitive as a program, when someone needs the ball, we get it to them. Ryann was on tonight and we got her the ball."
Gross finished with eight points and Maggie Fleming had seven points and eight rebounds. Fleming made a pair of baskets as part of a 12-3 spurt to begin the fourth after the Dukes had closed to within 30-24.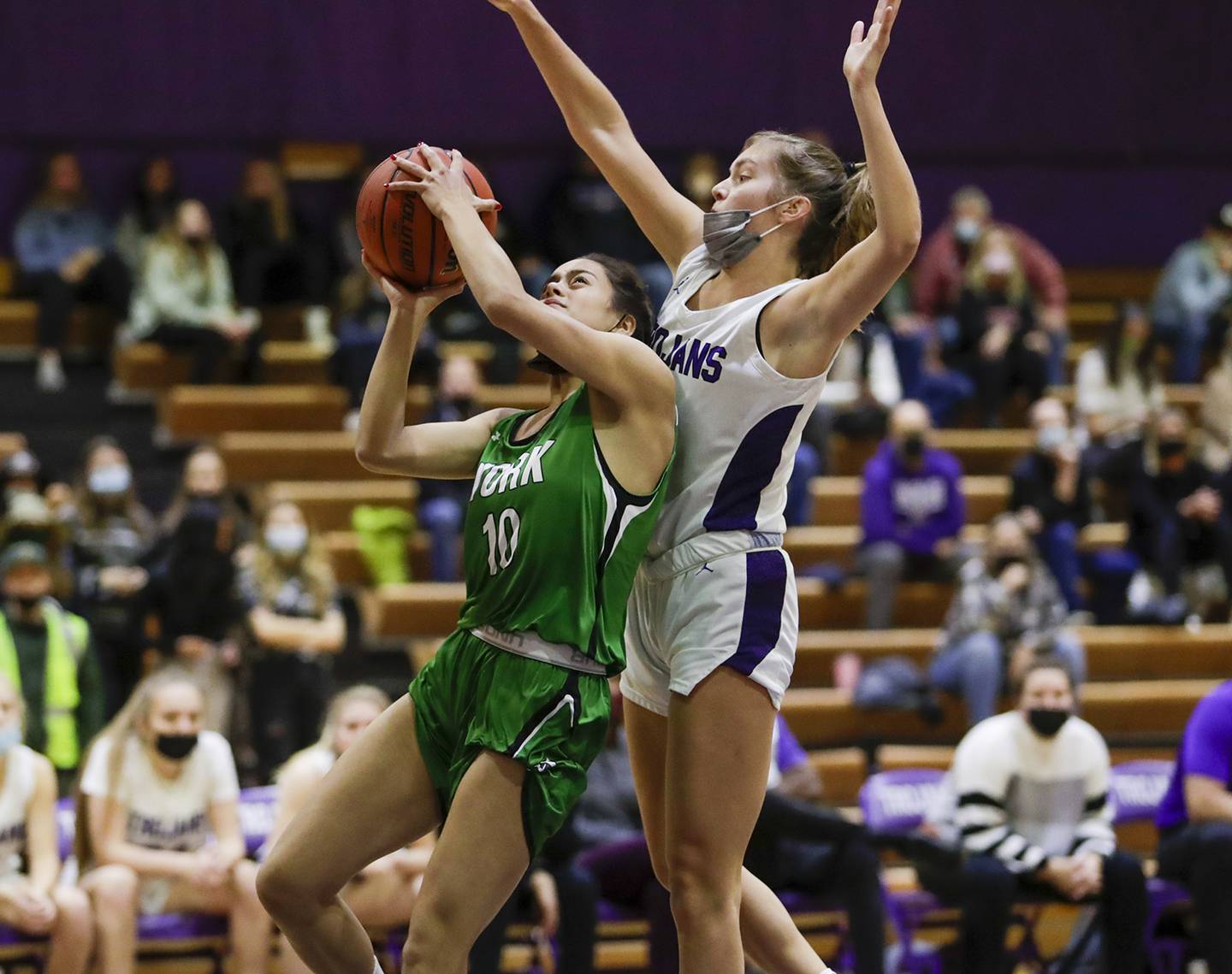 Ella Sebek scored five and Eleanor Harris had four.
"Defensively we did a really nice job," Downers Grove North coach Stephan Bolt said. "On offense, I'm proud of the kids for executing the game plan. They were finding each other and knocking down shots. And we didn't force anything, we shot shots that we wanted and that was awesome to see.
"Having everyone back, we were able to hit the ground running. They know what we do and they've had the chance to get better executing it. They believe in each other and they share the ball. It makes us a dangerous team, you never know who is going to knock down the shots or make the plays."
York (6-2, 2-1), which entered on a four-game winning streak, was led by the 13 points of Lizzie Baldridge. The junior point guard scored seven consecutive out of intermission, pulling the visitors to within three. But the Dukes were held to a pair of field goals by Baldridge and two free throws in the fourth quarter to thwart any comeback hopes. Stella Kohl added eight points and Mariann Blass had six.
"They shot well," York coach Brandon Collings said. "They hit their open looks and that makes it tough when you are playing as good of a defensive team as them. You can't get down to them, they won't allow you to get back in the game."