Center Morgan Demos will be Benet's unquestioned senior leader this winter.
The Downers Grove resident will be a leader of a different sort a few years from now.
The 6-foot-2 Demos recently committed to Navy, becoming the second girl in program history to commit to play for a service academy. Her sister, Madison, a junior forward at the Merchant Marine Academy, a Division III school in Kings Point, New York, was the first.
Madison, who played only half a season of varsity basketball at Benet before missing her senior season with a torn ACL, was a major influence on her younger sister.
"She was definitely an influence because she was the one who gave me all the information to help make my decision," Demos said. "She thought about doing military when she was a sophomore or junior in high school, so I would hear about her day at the Merchant Marine Academy.
"She told me the benefits of going into the military, the service academies, so I owe it to her because she really did it for me. She did say it's not for everybody, so make sure it's what you want to do. She made it very clear from the beginning, if you go into the military academy it's not because I told you to, it's because you want to."
Attending the Naval Academy is a prestigious honor that requires a commitment that goes far beyond basketball. Upon graduation, Demos will be required to serve five years on active duty.
"I chose Navy because I love that they teach about leadership and they endorse it and I find that amazing," Demos said. "I know that the service academies have a special kind of personal growth and I want that personal growth for myself.
"I honestly found that very intriguing because you are serving your country and you're figuring out what you want to do, at least for the first couple years. They let you experiment on what areas you want to go into, and I absolutely love that they give you room to figure it out. They trust you to make that decision."
Demos doesn't yet know what she will study at Navy but she said the academy is strong in math and science, which match her strengths in the classroom. Her basketball strengths also match up with the Midshipmen.
"[Navy coach Tim Taylor] wants me to play multiple positions, the 4 and 5 and maybe the 3," Demos said. "That's what intrigued me.
"I feel like I have a lot more room to grow and I want to expand on my game and improve on it because there is always room for growth."
Benet coach Joe Kilbride has no doubt that Demos, a four-year varsity player, will continue to grow.
"She's a really hard worker, so she's a kid that's going to be better a year from now and even better a year later," Kilbride said.
While Demos is versatile enough to play on the wing, Kilbride will continue to use her at center, where she averaged eight points and 8.7 rebounds as a junior. Demos also had 20 steals and 17 blocks in 12 games, helping the Redwings go 11-1 and win the East Suburban Catholic Conference championship for the fourth consecutive season.
"She's just a force," Kilbride said. "She dominated games last year at both ends.
"She'd only have eight points but she'd have 10 rebounds and four blocks and forced the other team to double-team her on every catch, so other kids are getting open looks because Morgan is drawing so much attention.
"She's incredibly strong. The kid is a horse in terms of holding her spot, and you're not going to move her off the block."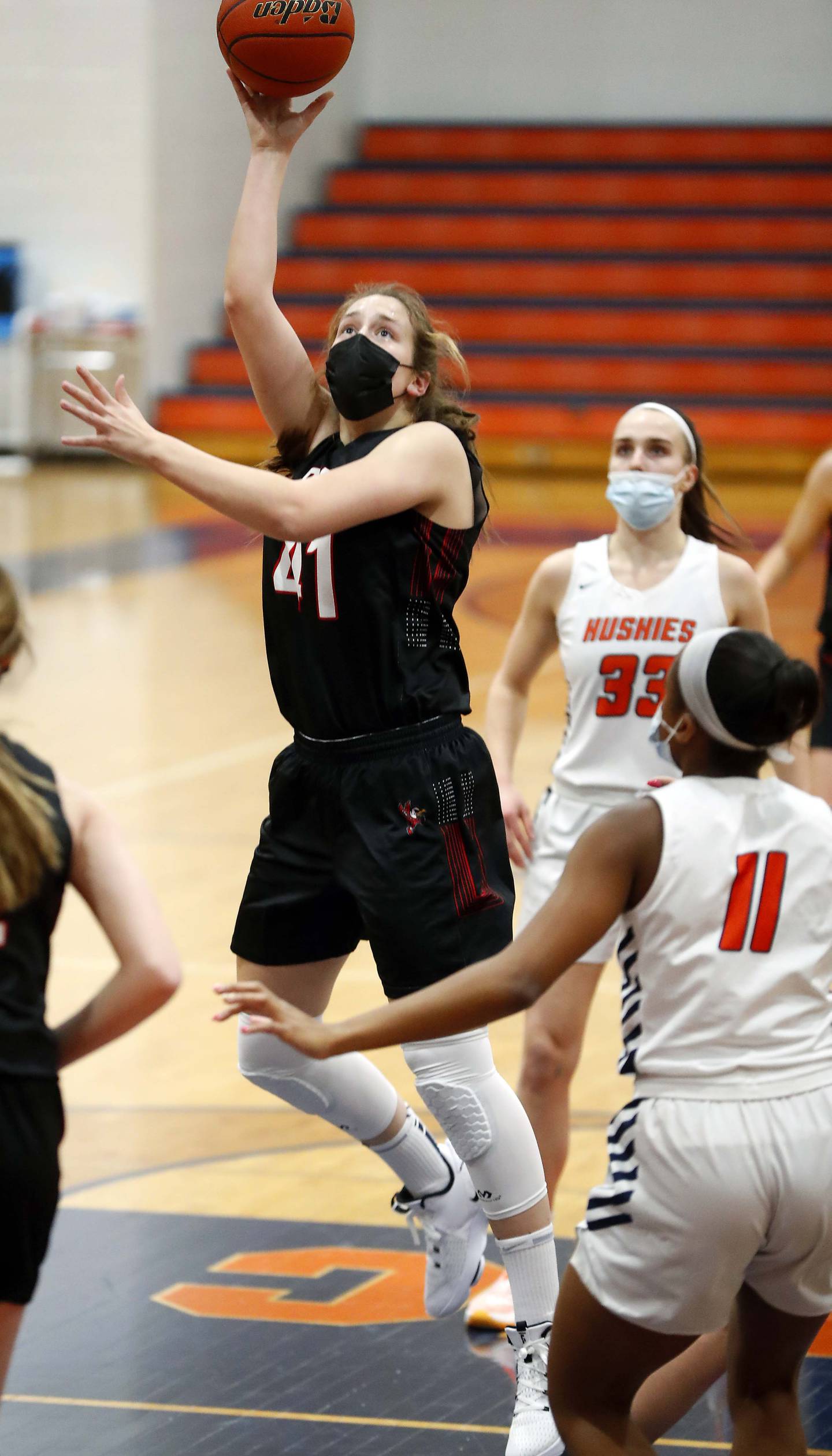 Demos moved into the starting lineup as a junior and is looking forward to moving into a leadership role this year.
"I have high hopes for this year and I'm so excited for the newcomers on the team," Demos said. "I never really took on that role as the oldest on my team. I've always felt like I've been the youngest because I have been with so many upperclassmen from first starting athletics.
"It's honestly a great feeling because when they ask you a question, you know what to say because you've been there. It's awesome to help them through the process and to remember that you were in their shoes at one point, too."