Wheaton North seniors Audrey Brcka and Paige Syswerda quickly found their first inseparable bond as sophomores.
Their golden doodles.
Brcka's Bentley, now age 11, and Syswerda's Sadie, 7, were practically twins.
"We just started sending pictures of our dogs for fun. I think when you're a dog person, you like seeing other dogs. Then we were like, 'We have dogs that kind of look alike.' " Brcka said. "We just have fun together and do silly things and not take life too seriously."
The third-year varsity standouts are among the top dogs for the ascending Falcons (16-8). Wheaton North is about to surpass last season's 18-19 finish and should have its best season since the 25-13 Class 4A regional champions of 2017.
A 6-foot-1 outside hitter, Brcka earned 2021 All-DuKane Conference honors and has verbally committed to William and Mary. Syswerda, a 5-10 setter, recently became the Falcons' first setter to surpass 1,000 career assists. She hopes to play in college if the school fits her pursuit of nursing.
"We had fun together and we just got close through that," Syswerda said. "We just love our dogs. I swear we're always snuggling with them. They're just a big part of my life. I think it's the same for [Audrey]. A friend that's always there."
Because of COVID-19 restrictions, the girls' 2020-21 sophomore season was an abbreviated spring schedule with no playoffs. During that time, Syswerda's family added Reese, a 1 1/2-year-old black Bernadoodle (Bernese Mountain Dog and poodle).
"She loves to snuggle. She leaps on the couch and thinks she's a puppy, even though she's about 80 pounds," Syswerda said.
The Falcons' 0-8 spring inspired the returnees to improve by the fall of 2021 with Justin Hineman becoming head coach. Brcka (322 kills) and Syswerda (649 assists) emerged as category leaders. As seniors, Brcka (217 kills) and Syswerda (352 assists) have continued that trend.
"What makes [the program] really special is we're all hungry for something, all hungry to win," Brcka said. "I've kind of assumed this leadership position but I've tried to take a lot of volleyball out of it and become friends with people. I've kind of focused on the culture of the program and not the numbers."
Hineman said although the seniors' career statistics are incomplete, they surely rate among the Falcons' all-time leaders.
"Even though some stats are missing, I know I've done all I can contributing to the program. It's exciting to see what it's been, what it is now and what it will be," Syswerda said.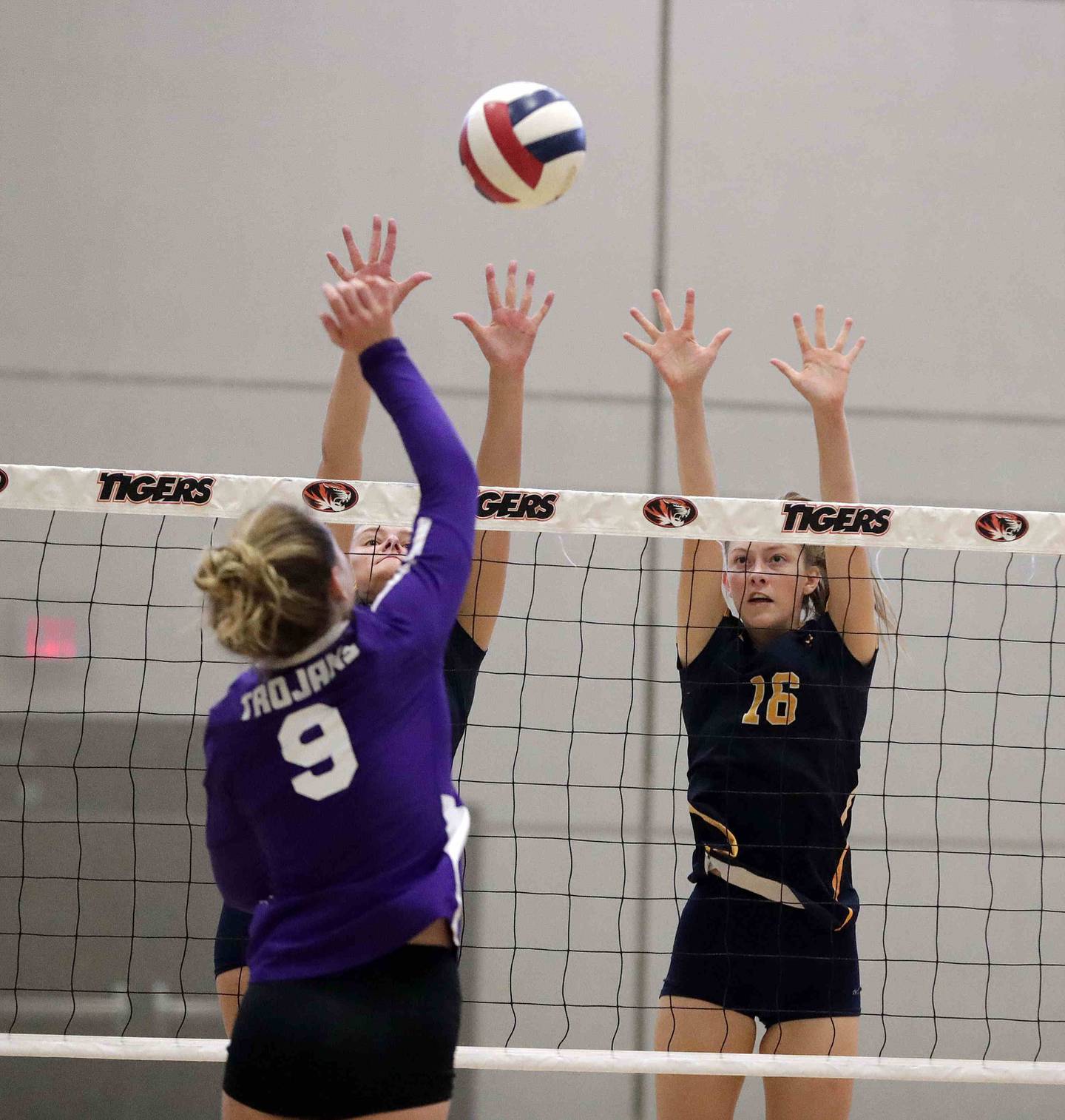 Downers North's balancing act
Downers Grove North's offense has undergone quite a transition after the graduation of All-Stater Gwen Wolkow and her 1,000-plus career kills. Sharing the kills have been freshman Kelley Crowley (77), seniors Emma Barton (60) and Colleen Engstler (47), junior Cailyn Myers (35) and sophomore Jenny Buehler (59).
"It's a little different but definitely we have a better chemistry and we are still really focused and want to win," Myers said.
Returnees are Barton and Myers, who has overcome a back injury that sidelined her half of last season. Buehler was promoted for the postseason.
"That's one of the biggest opportunities because I got to see [Wolkow] play and she truly inspired me," Buehler said. "I'm happy that we have such a strong connection and we're all there together."
Also new is a two-setter offense with senior Riley Fera (138 assists) and junior Lauren Hill (138).
"It's really about who we can present offensively and the fact that we have two capable setters," Downers North coach Mark Wasik said. "I'm most pleased with the composure of our younger players. They just come out here and have gone after our opponents. I think that's a function of our chemistry."
Wasik said one benefit of the two-setter offense is the Trojans' two left-handed attackers – Myers and Engstler.
"It's a strength because not all teams have lefties," Myers said.
Conference front-runners
As of Sept. 27, there's Benet and Marist (3-0) in the East Suburban Catholic, IC Catholic Prep (3-0) in the Metro Suburban Blue, Glenbard West and Lyons Township (3-0) in the West Suburban Silver, Willowbrook (3-0) and Hinsdale South (2-0) in the West Suburban Gold and Lemont (8-0) in the South Suburban Blue.