ST. CHARLES – The last rebound secured proved to be the fitting final act for Geneva.
After a missed St. Charles North 3-point attempt in the final seconds, Lauren Slagle, a Geneva senior forward, was the one to corral both arms around the ball – something she did plenty of times in the Vikings' 54-46 victory over the North Stars on Jan. 26.
Slagle, who tallied 21 points and 11 rebounds in the first meeting between the teams Dec. 9, had a commanding 16-point, 14-rebound second act on the road.
All the evidence needed to know how active the Grand Valley State recruit was could be found in the redness and scratches all over her arms entering the locker room at halftime.
Slagle, a consistent physical presence underneath the basket, was rewarded on the stat sheet.
"That's the game of basketball," she said. "You're going to get cuts. You're going to get scratches. You just have to push through it. The student section is going to yell at you, but you kind of just have to block everything out."
Geneva (20-3, 10-0 DuKane Conference) had only a 31-26 lead at the half despite outrebounding the North Stars 21-9.
"We talked about it at halftime," Geneva coach Sarah Meadows said. "That was one of our musts: We beat them on the boards the first time and we wanted to do that again. ... [Second-chance rebounds were] a huge difference."
"I told her at halftime she was just tough tonight," Meadows said of Slagle. "She was flexing. Her arms were all scraped up and she's like, 'Yeah, earning it!' She just played tough. Solid game for us."
With the North Stars battling some foul trouble, junior standout Reagan Sipla – who was unavailable during the December contest because of an injury – scored 10 of her 18 points in a seesaw third quarter.
The North Stars were able to claw to within a possession a handful of times. And when Geneva appeared to be running away with the game after Rilee Hasegawa's 3-pointer with 3:39 left in the third quarter, St. Charles North had a response.
Sipla (18 points, five rebounds) hit a layup followed by Alyssa Hughes' steal and score. Sipla nailed a 3-pointer to pull North to within 41-39, but Vikings senior Cassidy Arni (13 points, five rebounds) countered with one of her own to stop the North Stars' momentum.
Geneva took a 48-41 lead into the final quarter. Arni's baseline runner with 1:10 left put the Vikings ahead 54-46.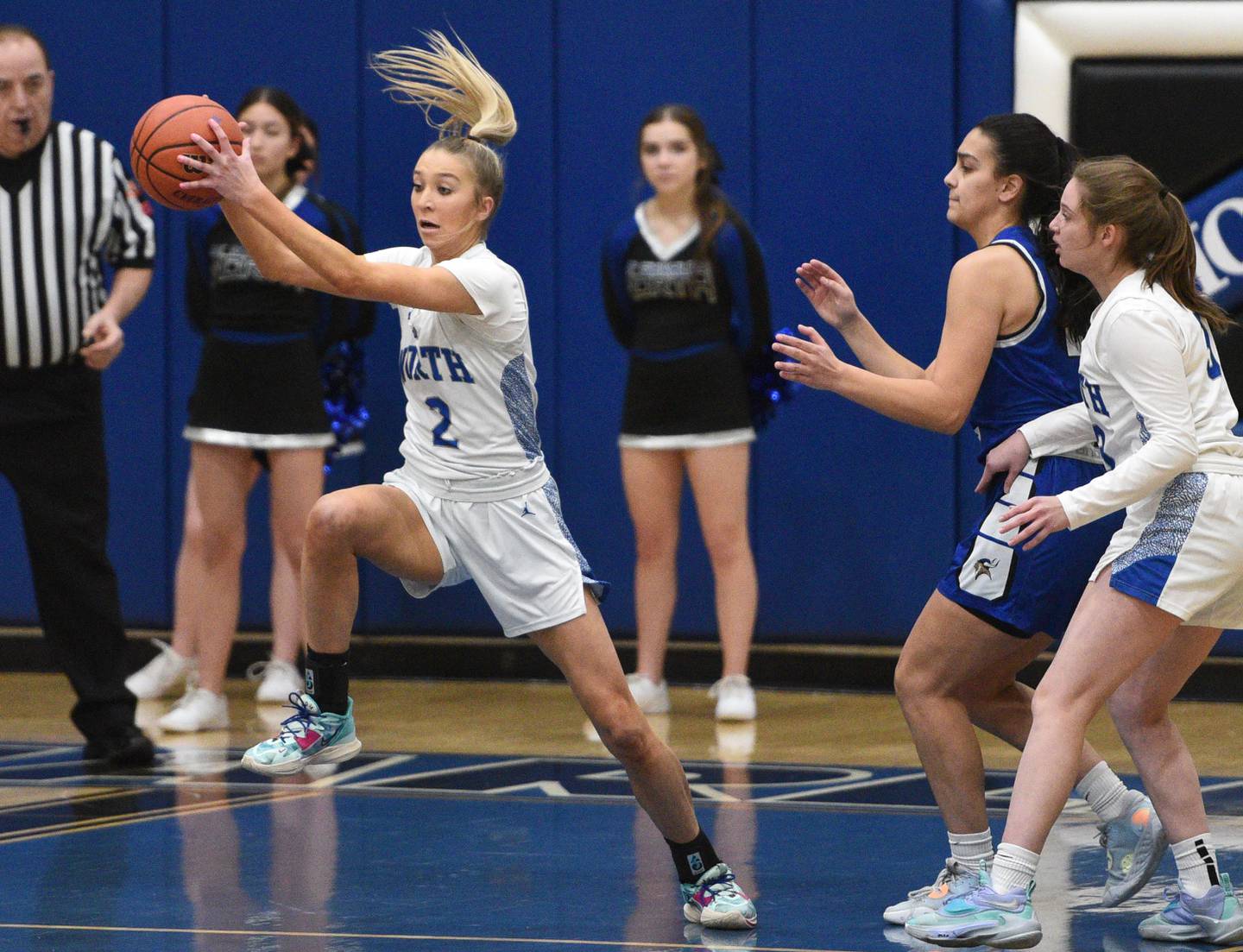 Hasegawa had 13 points and four rebounds and Leah Palmer had 12 points and six rebounds to pace Geneva, which outrebounded the North Stars 34-21.
"They're big and they're strong. We knew that," North Stars coach Mike Tomczak said. "That was no surprise. There were some things we talked about in practice specifically technique-wise that we didn't do a great job executing. But they're big and strong. They're tough for a reason. It was the glass. It was absolutely the glass.
"[Slagle] is terrific. I thought her and Arni killed us the first time we played. I thought it was more of a balanced effort this time, but [Slagle] takes up space, she hit a 3. ... We need to do a better job of closing out and not giving her that baseline because that really hurt us a couple of times and it forced [Katrina] Stack to rotate over and got her in foul trouble early. That's tough. She's such a huge anchor for our defense."
St. Charles North (20-5, 9-2) was paced by Hughes' 16 points. Julia Larson had four points, two steals and two rebounds.
"Something we said [postgame was] the first time, it was not competitive, largely," Tomczak said. "This time, that was a really good high school basketball game. That was four quarters of going toe-to-toe with, for my money, the best team in the state.
"So our girls know now that they can play with anybody, and if they didn't before, they do now."