PLANO – Burlington Central coach Brett Porto cut the final strings of the net before draping it over the Plano Christmas Classic championship trophy.
The image, perhaps, could be considered a bit of a precursor to the type of finish at season's end that Burlington Central aspires to reach in the elusive sectional final and beyond.
Step one, though, was employing a swarming defensive presence en route to a 58-41 win over Marmion.
The Rockets repeated as tournament champions in Plano. Burlington Central became just the third four-time champion in the 59-year history of the event.
Belmont recruit and tournament MVP Drew Scharnowski led the way with 26 points and six rebounds.
"It's just what we do," Scharnowski said. "Year after year, we have young guys who come paying it forward. We have seniors who just want it all the time. We're going in, we're making each other better in practice every single day and it's paying off."
The Rockets (10-3) defeated tournament nemesis Peoria Notre Dame in the semifinals and spoiled Marmion's bid to become tournament champion for the first time since the program went back-to-back in 1974 and 1975, the last time the Cadets played in the Classic.
Scharnowski played in last year's exciting overtime final against Peoria Notre Dame.
This time, Scharnowski turned in another solid performance against Marmion. The Rockets also were sparked by Nick Gouriotis' six rebounds and nine points in the first quarter as they built a 20-4 lead.
"Absolute dog," Scharnowski said of senior teammate Gouriotis. "Just going in there, no regard, just going in there to get the board and scoring. I love that. Same with my other teammates: Matthew Lemon, Caden West, Nolan Milas, all those guys. Just going in there and just getting those boards."
The margin was 24-14 at halftime.
"We wanted to be the more physical team and I thought we did that earlier on, especially on the boards," Porto said. "We rebounded the ball really well on both ends and that set us up for easy looks and got our confidence going. I thought we did a really good job with their guards."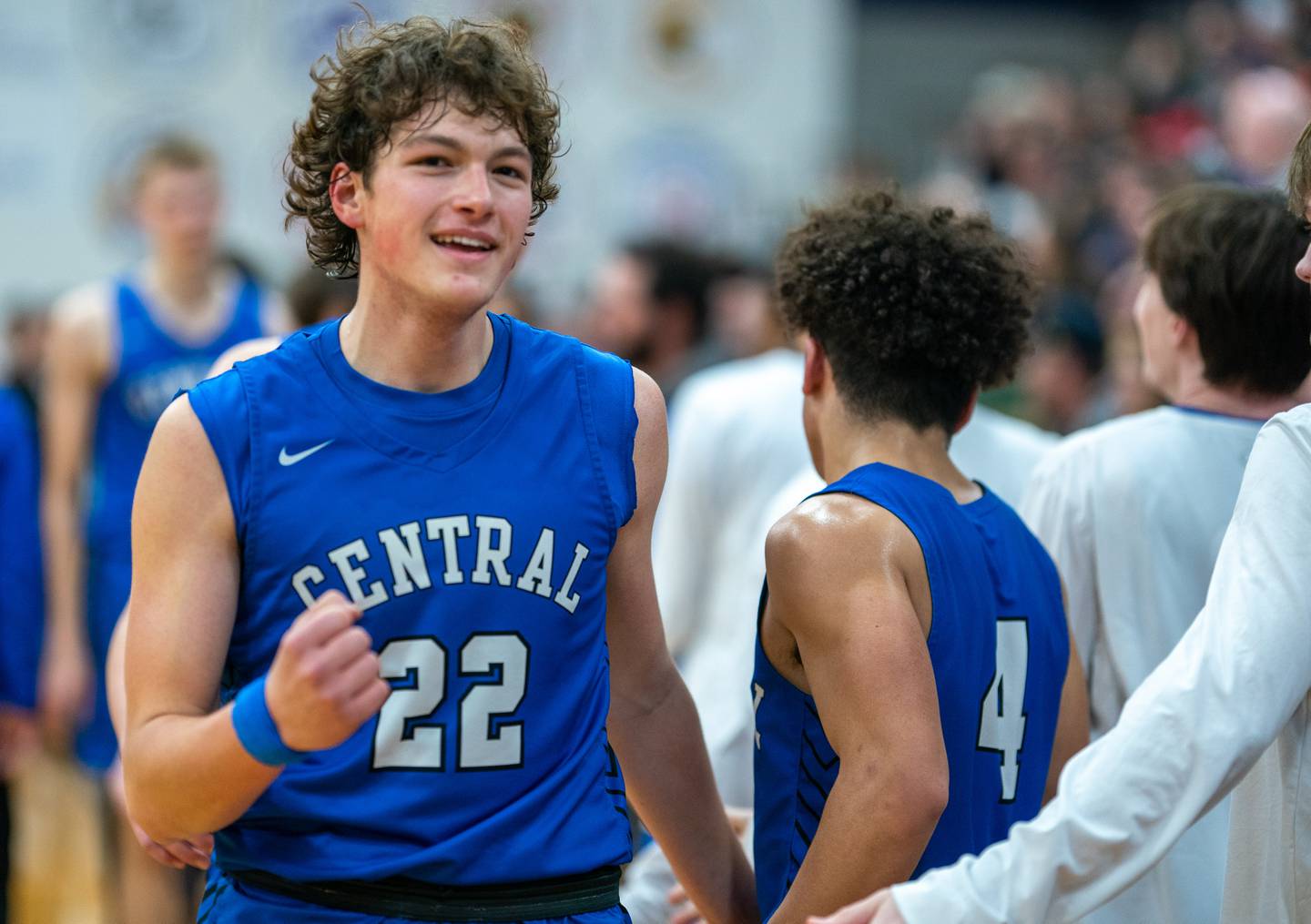 The Rockets pulled away in the third quarter with a 9-0 run sparked by Scharnowski and Lemon hitting 3-pointers.
"We've come a long way in a short time," Porto said. "We've had to change things personnel-wise and we've had to change things schematically. They've all hit it in stride. Hopefully, we can build off of this and have a good last couple months in the season and use this as a jumping point."
Gouriotis finished with 13 points and 10 rebounds. Lemon had six points, Jake Johnson had seven points, and West had four points and five rebounds.
Marmion (11-4) again was without standout guard Jabe Haith, who suffered a sprained ankle earlier in the week. The Cadets had been able to find shooting magic in their semifinal win over Kaneland on Dec. 29, but struggled to find it against Burlington Central. Collin Wainscott, who scored 26 points against Kaneland, was limited to 10 points against the Rockets. Trevon Roots had 12 points.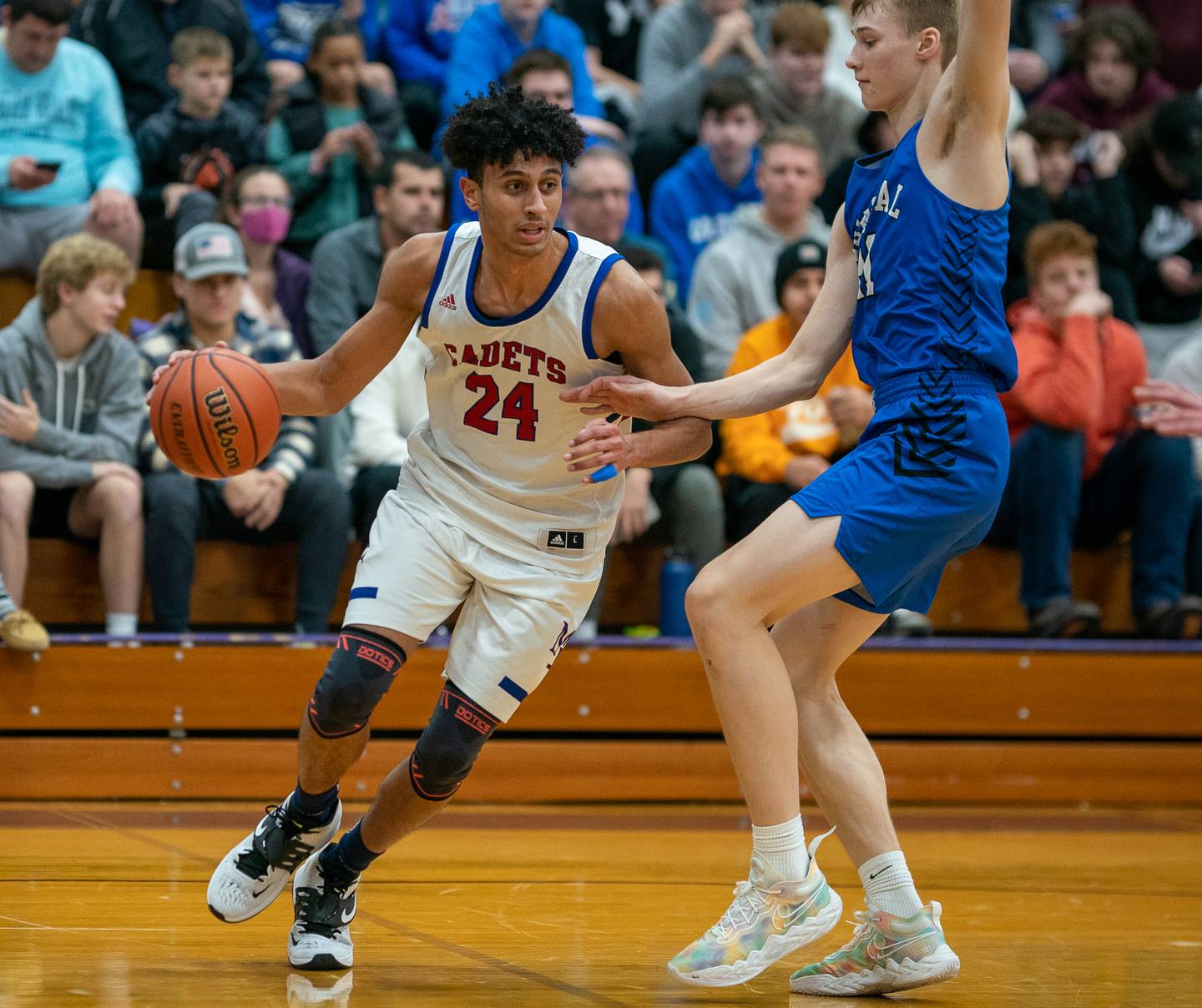 "[Rebounding] is what we talked about beforehand. They are really aggressive rebounding and give them all the credit in the world. They execute their game plan," Marmion coach Joe Piekarz said. "They're a very good team and if you don't do exactly what you need to do to stay with them, they can do that to you."
Wainscott and Roots made the all-tournament team for the Cadets.
"This whole tournament is a great experience for Marmion basketball," Piekarz said. "Our sophomores won the whole thing and we came in second. We learned a lot of good things. We got a lot of great lessons. This tournament is a great tournament. We are very disappointed we did not come out on top, but we did a lot of really good things this tournament."
In the third-place game, Peoria Notre Dame rode 27 points from standout forward Cooper Koch to a 55-48 victory over Kaneland.
Kaneland (13-3) was paced by Gevon Grant's 17 points. Troyer Carlson had 15 points, and Freddy Hassan added eight points.