BATAVIA – Geneva appeared ready and locked in from opening tip Dec. 16.
Defensively, Geneva forced 15 Batavia turnovers and made life difficult shooting-wise for three quarters in handing Batavia a 47-32 loss.
"We just knew what we had to do," Geneva senior guard Mick Lawrence said after his 12-point effort. "Just come out, be in the passing lanes and make them drive. When they drive, collapse [defensively], you know? They had a few good shooters that we knew we had to be out on. Other than that, the game plan was set and we just did what we were supposed to do."
Geneva had a 21-11 halftime lead, just one indication of Batavia's overall turnovers and shooting woes.
Lawrence, Tanner Dixon and Co. then went to work offensively.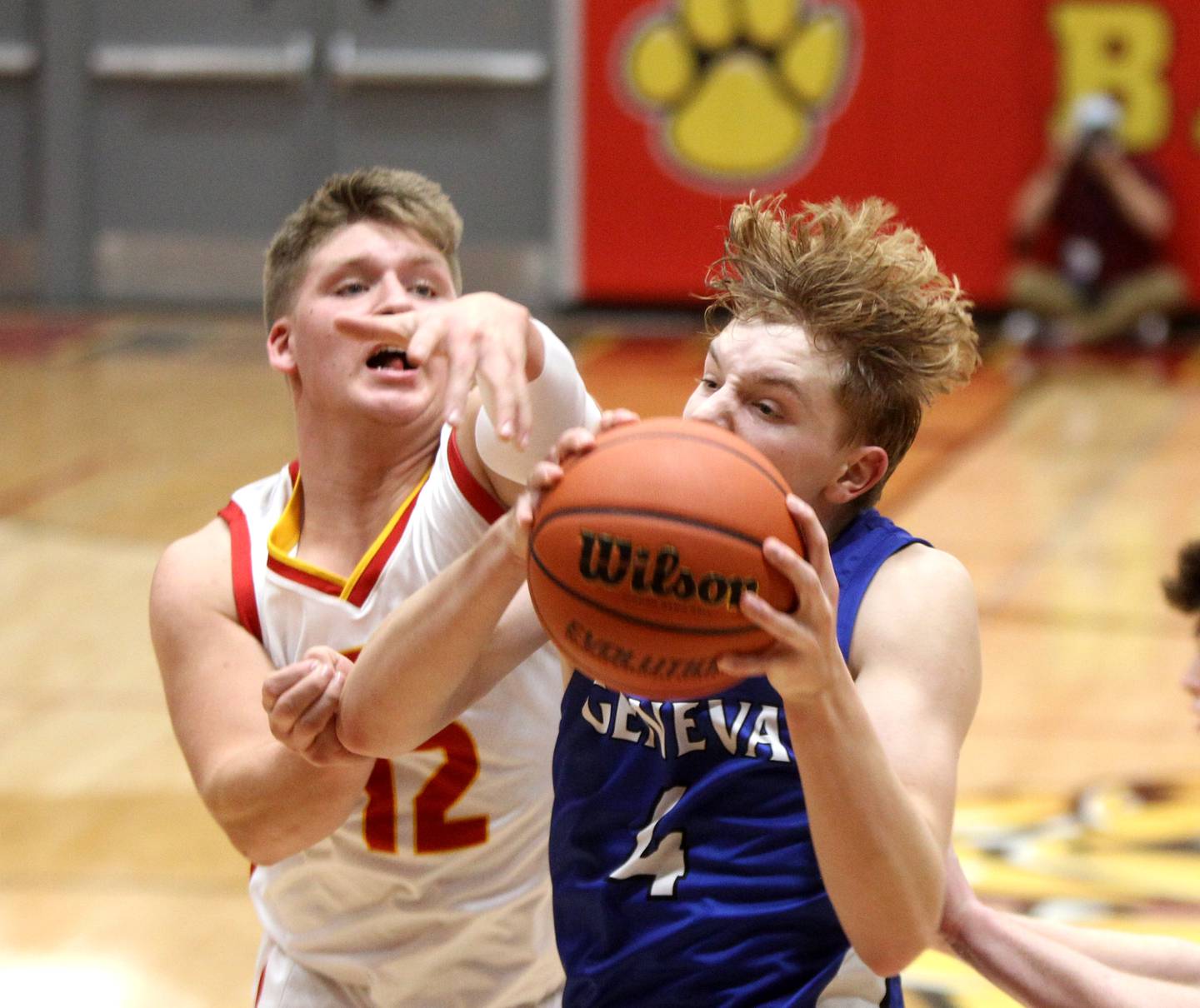 After Batavia came out of the half with two quick buckets from JP Chaney and Jackson Kelso, Dixon fired back with a 3-pointer. After another Batavia miss, Dixon provided perhaps the highlight play of the night.
Underneath the basket, Dixon was able to hoist the ball with his left hand for a tear-drop layup, plus the foul, which made it a 27-15 Geneva lead with 1:20 left in the third quarter.
"I thought we rebounded well. We got some second chances," Geneva coach Scott Hennig said. "I thought Tanner Dixon, again, was outstanding. We had that little lull, then he hit that big three. I thought Mick controlled the game."
Lawrence missed a 3-point attempt in the final seconds of the third quarter, but Tommy Diamond backed him up with a rebound and layup to close the third quarter with a 29-15 Vikings lead.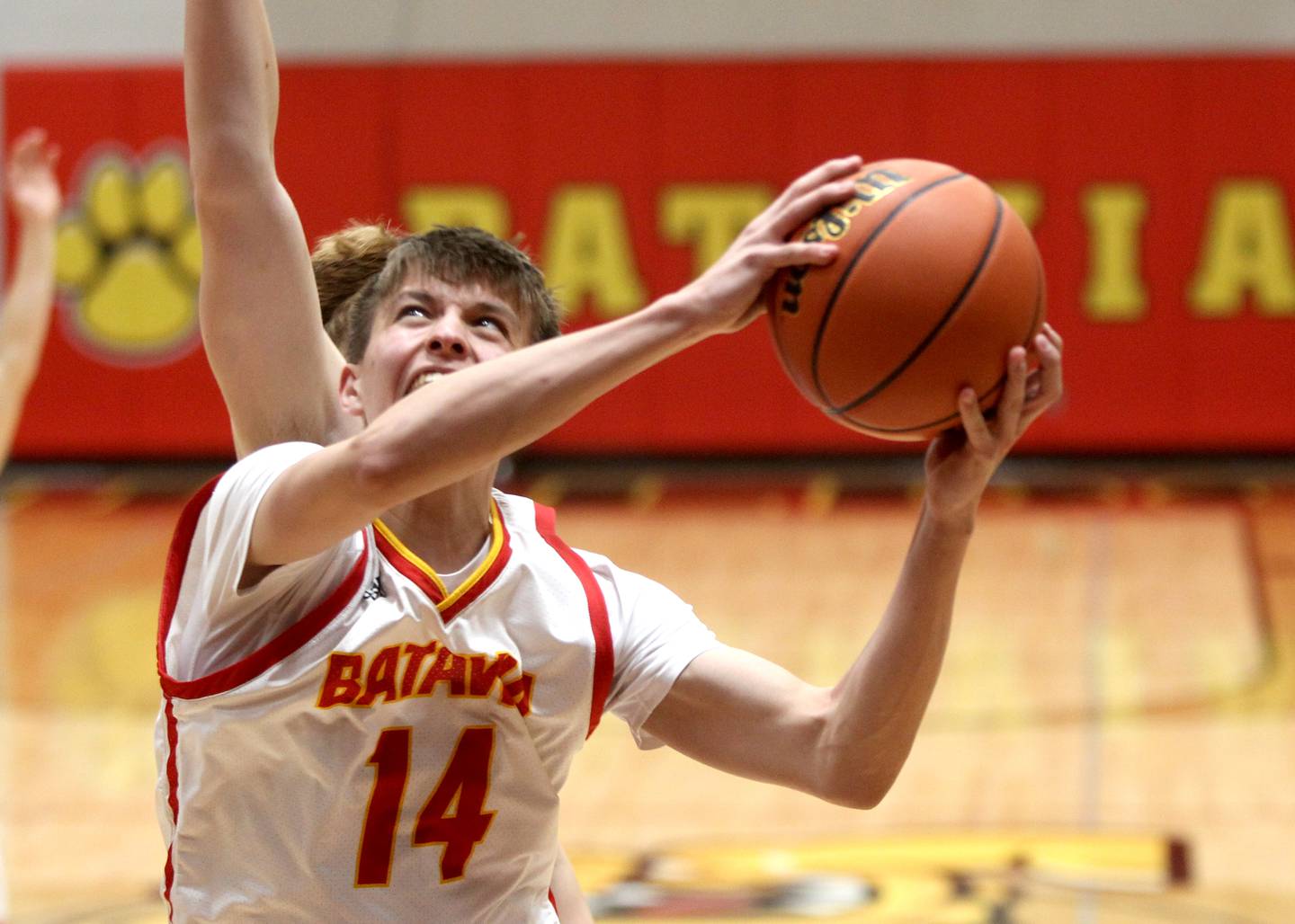 Batavia (3-7, 1-2 DuKane Conference) managed to pull to within 11 with 1:16 remaining, but Geneva's work in the first three quarters ensured its lead was safe.
"First of all, I want to say Geneva played really well," Batavia coach Jim Nazos said. "Geneva did a lot of things really good. I thought they defended good. They did a lot of good things. A lot of credit goes to Geneva."
Improving an offense that produced only 11 points by halftime figures to be a top priority for the Bulldogs moving forward.
"I think just a lot of things that you've got to do a little bit better," Nazos said. "We have to cut a little harder. We didn't really get offensive rebound to help ourselves. Some of the things we do, we can get out in [fast]break and we can get some shots. We had trouble getting stops so we can't get on break. We're grinding out through there. There's a lot of little things that can lead to others. It's moreso than just good shooting. They'll all be the first ones to say it. We turned it over more than we'd like.
"We're a team that's been averaging under 10 [turnovers a game], like around eight, and all of a sudden, we spike up to 15. It's a team effort with things."
The Vikings (7-3, 3-1) were paced by Dixon's 15 points and four rebounds, followed by Jimmy Rasmussen's 10 points.
"I thought Jimmy played a good floor game," Hennig said. "He didn't score [much], but I thought he did a good job rebounding. Once he got back in the game [after foul trouble] in the second half, I thought he played a good floor game. It doesn't show up on the scoreboard, but I thought he did some nice things.
"All seven guys that played, I thought we were crisp. We were able to execute. [Batavia is] always good defensively. I know they didn't score great tonight, but Batavia is always tough. Bumping cutters, physical man-to-man, I thought our guys handled it pretty well."
The Bulldogs' leading scorers were Chaney with eight points and three rebounds, CJ Valente with five points and two rebounds and Jack Ambrose with four points and three rebounds.