GENEVA – Tanner Dixon's arrival to the varsity lineup this season is bringing solid returns for Geneva.
It's perhaps just the beginning for the budding Vikings senior forward.
"He didn't play at all last year [on varsity], so this offseason, he made a goal," Geneva senior guard Mick Lawrence said of Dixon after Geneva's 61-45 victory over St. Charles North on Dec. 9 in the DuKane Conference.
Dixon finished with 17 points and four rebounds as the Vikings got back on the winning track three days after a loss to Wheaton Warrenville South that was within a pair of possessions deep in the fourth quarter.
"He really wanted to play some more," Lawrence said of Dixon. "He really put in that work. He came out [this season], worked on his shot [and] really got bigger. He's been playing with way more confidence."
Lawrence saw Dixon beginning to emerge during a 58-55 loss to Bartlett on Nov. 29.
"He started to get in his own groove," Lawrence said. "He started getting aggressive ... so [it's] been kind of carrying on ever since then and being way more aggressive."
Geneva coach Scott Hennig echoed many of those sentiments.
"He's just a kid, who, first of all, had a great offseason," Hennig said. "He got stronger. He got quicker. Put a lot of time in and it's starting to show on the court. Thought this was [his] best game so far. He's had some moments. He played really well over at Bartlett. I don't think he played terrible against Wheaton South. I thought he was a presence."
Dixon deferred a bit of the credit back to his team's collective performance.
"I feel our team did a good job moving the ball and getting it inside," Dixon said. "We attacked a little more than we did against Wheaton South and other zone defenses, so I just think that's a main part of it. We all helped each other out tonight. It was pretty evenly distributed."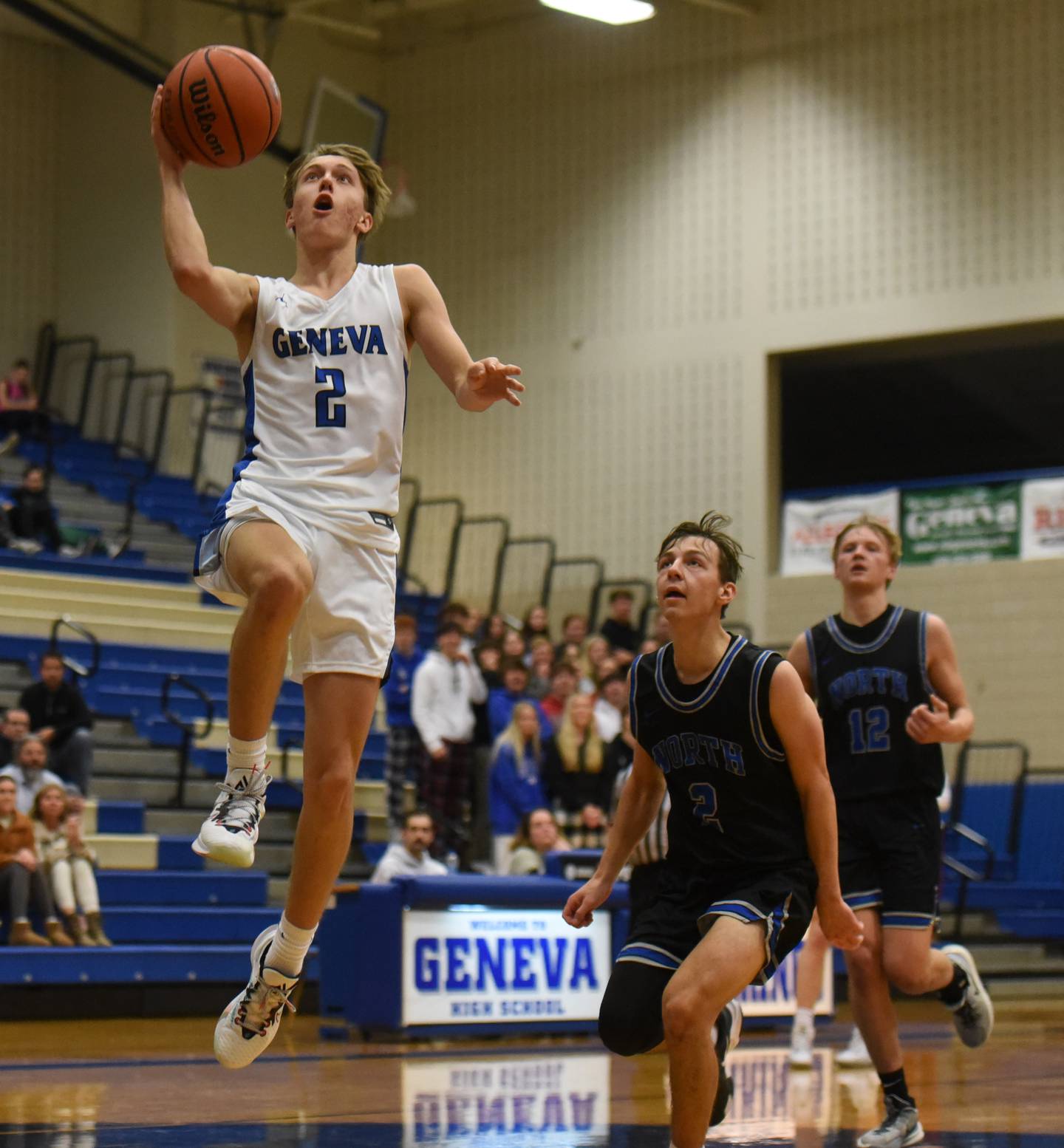 Geneva (5-3, 2-1) took a 27-25 halftime lead on Tommy Diamond's putback in the final seconds before the intermission.
Dixon then went to work. He scored on a quick layup and hit 4 of 6 free-throw opportunities for a six-point lead with 5:11 left in the third quarter.
St. Charles North answered with a five-point spurt on Luke Holtz's layup and Mason Siegfried's three to pull to within 35-34.
Diamond and Hudson Kirby made layups, followed by another basket from Diamond to help Geneva start to pull away. Siegfried hit another three, which was answered by Lawrence with a three of his own for an eight-point Vikings advantage with 47 seconds left in the third quarter.
Dixon sank a 3-pointer to open the fourth quarter and balloon the Vikings' lead by 10. Geneva kept the comfortable lead the remainder of the way with strong efforts on the defensive end.
Lawrence had 16 points and five rebounds, while Jimmy Rasmussen had 12 points and five rebounds. Diamond had eight points and three rebounds for the Vikings.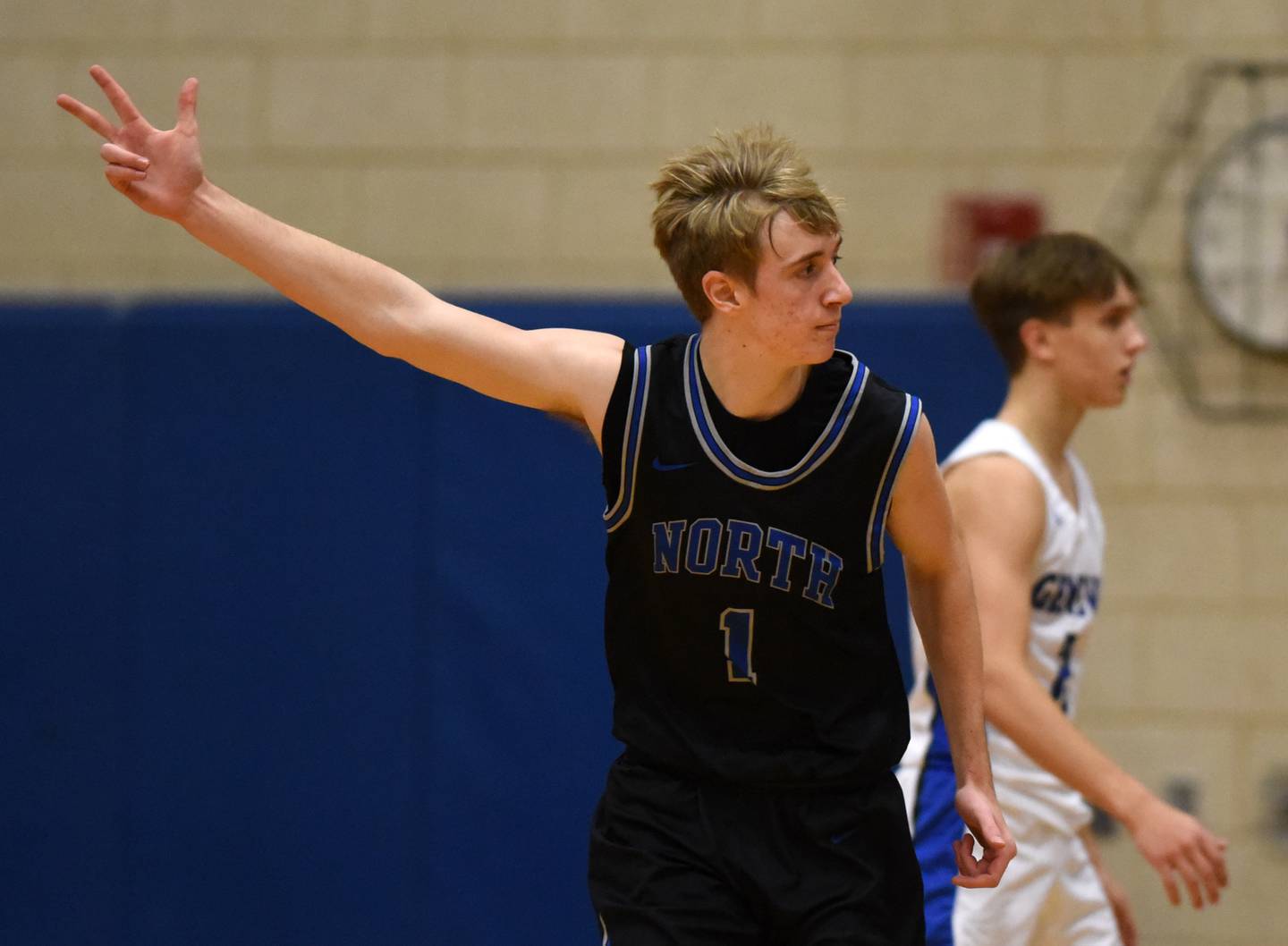 The North Stars (2-7, 0-3), while perhaps showing a more spirited effort in their third conference loss, are still learning "winning basketball."
"We're trying to figure how to play winning basketball," North Stars coach Tom Poulin said. "We were much better today than we were against Wheaton North [and] we were much better than we were against Wheaton South, so this is called progress. That's what we're trying to do."
The North Stars were paced by Tyler Settelmyer's 11 points and four rebounds. Siegfried had 10 points and Parker Reinke had nine points and nine rebounds. Luke Holtz had 13 points.
"We're trying to make progress each and every single day," Poulin said. "These kids did a great job the last two days in practice and today, we put together a really solid [first] half. Tons of fouls there in the third quarter kind of set us on our heels, but we're better than we were. If we can keep [Geneva] off the offensive glass, they were a really physical team. If you can keep them off the glass, if we can be tougher, if we can take care of the basketball ... we just got done saying these are all things we're capable of doing and they're all correctable."