GLEN ELLYN – Months before Glenbard West ever took the field for the Class 3A regional final, Kyle Rossy and Andrew Moody threw bullpen sessions to each other on their home field with nary a spectator.
With all eyes on the upset-minded Hilltoppers against St. Charles East on Saturday, the star-studded pitching duo's work paid off in a 5-3 eight-inning win over the top-seeded Saints.
It was Glenbard West's second regional title since 2019.
"Going into the week, we said, 'Saturday, it's going to be you and me,'" Rossy said. "It's just what happened."
[ Photos: Glenbard West vs. St. Charles East ]
Glenbard West (17-10) faced Lake Park in the sectional semifinal Wednesday at Elgin Community College.
Rossy, a University of Central Florida recruit, went 6 1/3 innings, striking out 10 and limiting the Saints to two runs on five hits to give the Hilltoppers a chance.
"Kyle really just came to play today," Glenbard West coach Andy Schultz said. "He struggled [his] junior year. His first couple starts this year were not real good. His last three starts and one outing of relief, he's gotten better every single time and we felt great about giving him the ball today.
"He pitched like the ace today. He was really outstanding. We were really impressed by St. Charles East's lineup. We knew it was filled with good hitters and it was going to be tough. Kyle just went pitch for pitch with them and did outstanding."
With the Hilltoppers holding a 3-2 lead in the bottom of the seventh after Rossy left with two runners on, Moody surrendered a sacrifice bunt by St. Charles East's Eddie Herrera to bring home Mike Sharko in a squeeze situation to tie the game.
Moody shut the door on more damage, getting Ian Paprocki to pop out to end the threat.
The Hilltoppers, who had come back from an early 2-0 hole after St. Charles East's Jake Zitella and Seth Winkler combined for an RBI triple and RBI single, respectively, in the fourth, had one more rally in them.
Jack Desmond led off the top of the eighth with a walk and Erik Morgan sacrificed him to second. Danny Nash struck out, but Nolan King followed by smoking an RBI double for a 4-3 lead. Trevor Metz hit a hard grounder to short, but the throw to first was offline and Paprocki couldn't hang on as the ball skipped away to bring in King for a 5-3 lead.
Moody made quick work of the Saints (21-7-1) in the bottom half of the inning to finish the job, getting Zitella on a groundout to complete the upset.
"[Moody] is one of my best friends," Rossy said. "I've known him for so long and we've come really close over the last year. … I couldn't be happier for him. He put in so much work. He was on the B team freshman year and now he's a varsity starter. He's one of our best pitchers. Won all-conference. Couldn't be more happier for him."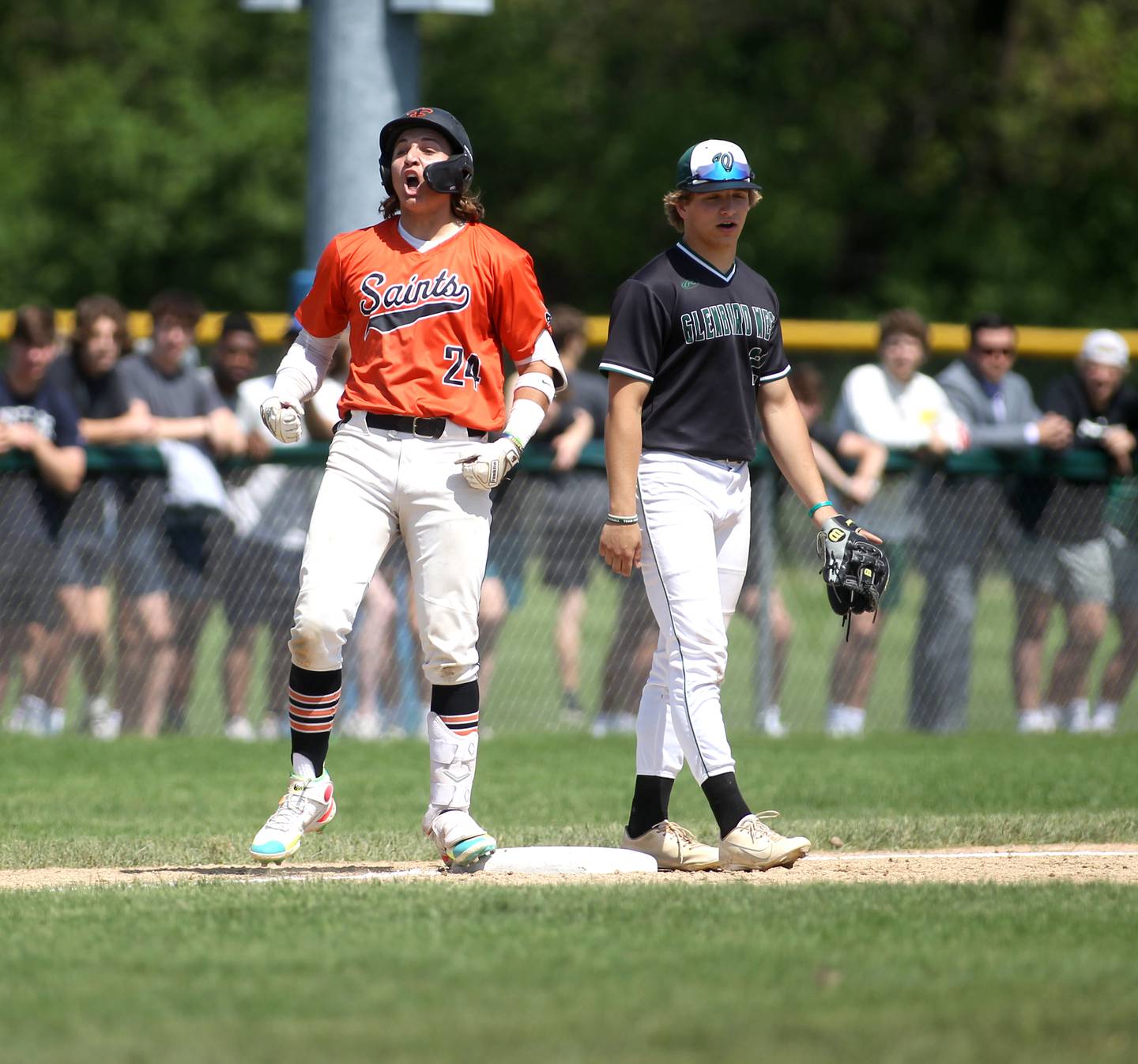 Michigan State recruit Gavin Sitarz started both the semifinal and final for St. Charles East. In the curtain call of his high school career, Sitarz left after four innings with three strikeouts and a 2-0 lead.
With the bases loaded in the fifth, Winkler rose up to the moment in the high-leverage situation in relief to allow no runs. The Saints junior struck out Chase Krueger and Jake Glynn before forcing Jason Valdez to pop out.
"It was huge," Saints coach Len Asquini said. "Both of those guys threw in some real high-pressure [spots]. Every pitch was like that pressure situation. Gavin had an awful lot on him because of his last outing to come in, find that zone and stay there. He did that and it was great to see him back in there."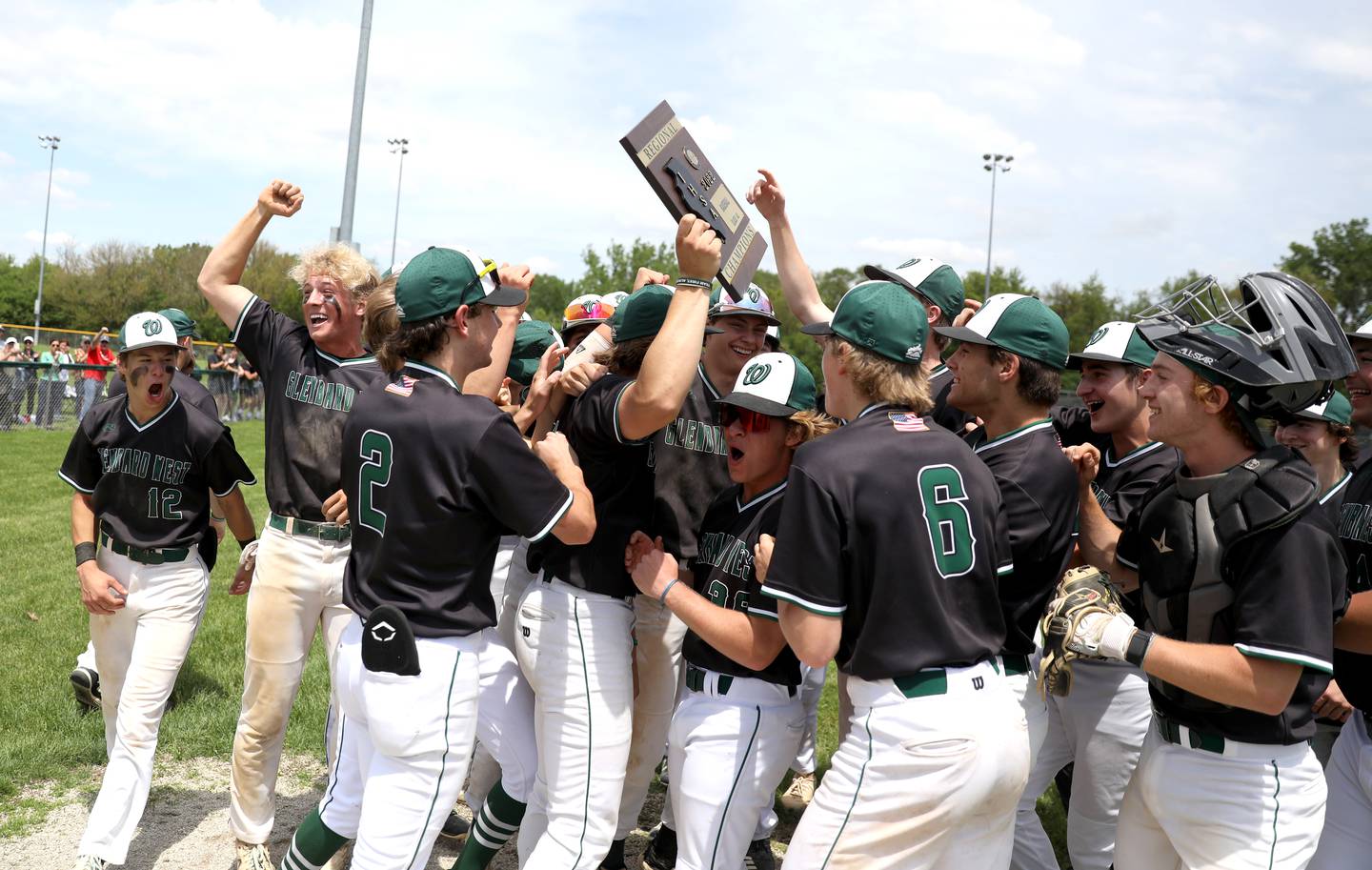 In the sixth, Glenbard West pushed across three runs on an RBI double by Billy Frantzis, King's sacrifice fly and an RBI single from Metz to set the stage for the extra-inning drama.
St. Charles East was able to get Clay Jensen on base with a walk to open the sixth, but Glynn cut down the steal attempt – his second similar play in the game – to end the momentum.
"Seth, obviously, came in a tough situation and shut the door there so that was really awesome for us," Asquini said. "We just got to make a couple plays there and that's the difference right there. We weren't able to do that. [Rossy] was really good on the mound. [Any pitcher can be hit or miss depending on the day] and he was a hit for sure. He did not miss, that was the other thing. We need to do a better job at the plate on that, but kudos to him because he was good today."