Students in Kane County school districts are heading back to the classrooms beginning next week, and some districts have made changes for the new school year.
St. Charles District 303 starts Monday Aug. 14, while Batavia Public School District 101, Geneva Community Unit School District 304, and Kaneland Community Unit School District 302 all start Wednesday, Aug. 16.
St. Charles School District 303
The school year starts earlier in St. Charles this year, when students head back on Monday, Aug. 14.
"We're preparing for another great year in D303," Superintendent Paul Gordon said. "We have incredible educators and staff who are here to support students and their families, so we're excited and we're ready."
Gordon said the start of a new school year is one of the special things about working in education, that always brings a strong new energy to the district.
"In education, there's this weird renewal," Gordon said. "Not too many other professions have this really cool opportunity to restart each year anew."
In D303, most kindergarten through fifth grade students remain in the same building throughout elementary school, so their first transition to a new school is in sixth grade. Tina King, the senior director of learning and teaching, said the sixth graders are always excited to have their own lockers for the first time, and to have a choice in which elective classes they take.
"It's always helpful that students have a regular routine that includes lots of sleep," King said. "Especially when we're transitioning to new schedules."
It will also be the first time they are on a bell schedule and get to change classrooms throughout the day.
Incoming high school freshman will see the biggest changes, King said. They will have a lot more power over which classes they take, and will work with a school counselor to help them develop their four-year plan and prepare for the future.
All schools' start and end times will be the same as last year, except high school students will have early release every Wednesday this year. Returning high school students will also see a slightly different bell schedule.
Batavia Public School District 101
This will be Superintendent Tom Kim's first school year in his new position, and he said he is excited to see everyone in action.
Kim said while he has met some of the teachers and been working with administrators, he's ready to see all the learning and growth once students are back in classes.
"I'm really pumped to see what our kids do," Kim said. "That's the best part about it."
Kim said he can relate to some of the new students in the district, as his excitement is also building for the first day.
"I've always felt that before the start of the year; that buzz of energy," Kim said. "If you don't feel that excitement and positive outlook towards what the year could bring, there's something wrong."
Chief Academic Officer Brad Newkirk said the beginning of every school year is exciting. He said when the kids leave in the spring, while administration is still working, the district doesn't have the same energy as when class is in session and students are around.
Newkirk said one of the biggest transitions each new year is for sixth graders, as it's often the first time riding the bus, having their own lockers and changing classrooms throughout the day.
To help students into their new routine and ease some of the apprehension about the first day, the district held a locker move-in day on Aug. 9, and on Aug. 10, held a practice day for their incoming sixth graders, who rode the bus to school, explored their classrooms and met their new teachers.
Kim said he had a lot of fun at the locker move-in day meeting families and welcoming students. He said growing up, his schools didn't have opportunities like orientation days, and he loves that they are able to offer them for students today.
Incoming freshman will see another big change, as they will be on a block schedule of four classes per semester, and will have a much wider array of choices in which classes they take.
Newkirk said the incoming freshman are always looking forward to having fewer classes per day, as well as the new clubs and extracurriculars like homecoming and football games.
He said besides minor curriculum improvements, students shouldn't expect any major changes in their classes.
"Readjusting those behaviors and that use of technology is one of those things parents can do now, so it's not such a shock on Aug. 16, when they can't have their phones out or playing games all the time," Newkirk said. "If those things aren't possible, that's okay. Our staff will be ready to help your child learn and grow starting on Aug. 16."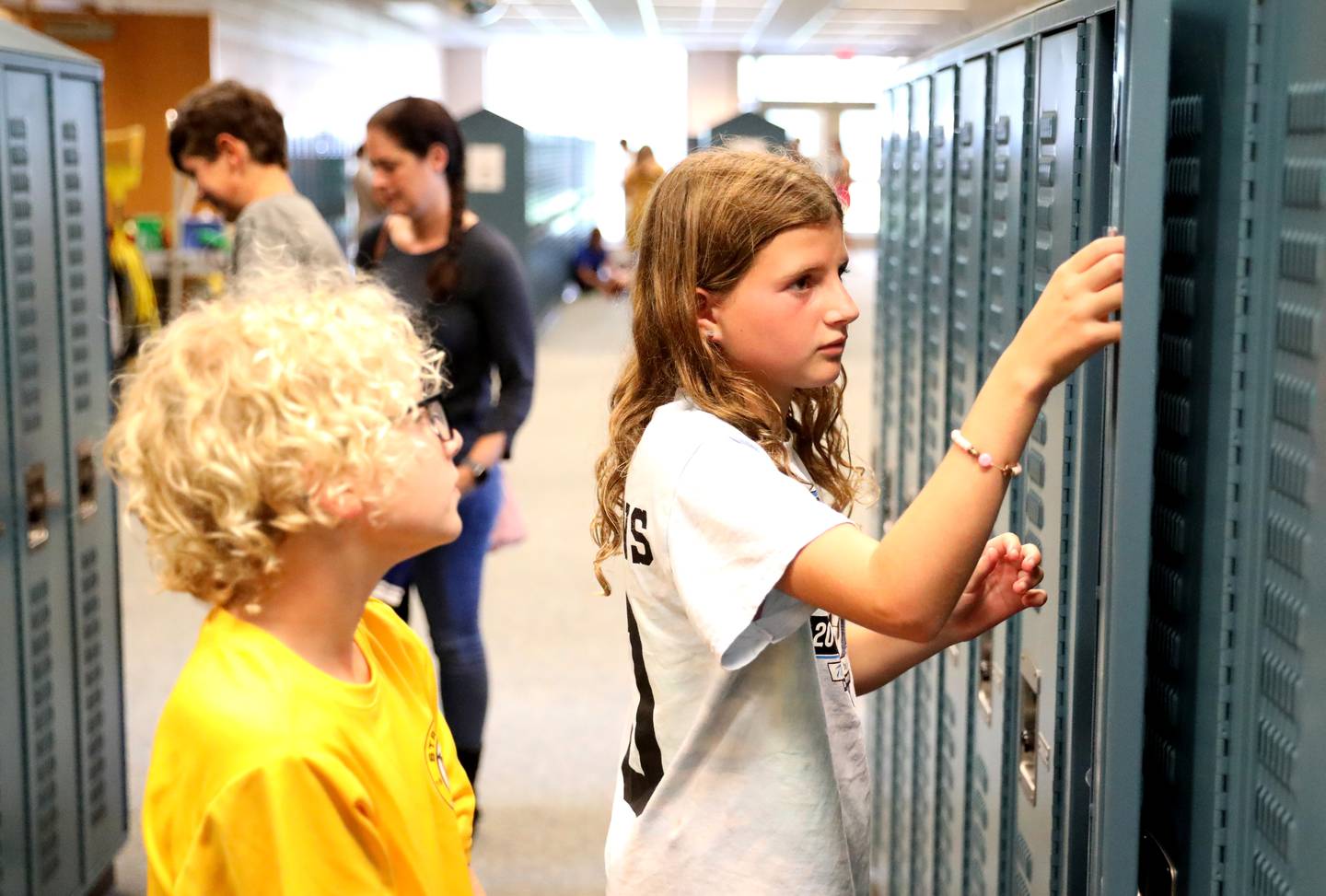 Geneva District 304
In Geneva, the middle schools held orientation days for students to find their lockers and classrooms.
Principal Terry Bleau and Assistant Principal Daniel Jones stood in the main hallway outside the library, fist bumping students they knew and saying "hi" to new ones – as well as helping the newbies and their parents navigate.
"We are always excited when the kids are coming in, meeting the new kids and seeing the old kids, seeing how much they've grown over the summer," Bleau said. "It's great also, we see the high school kids coming, introducing their younger brothers and sisters to us. This kind of night is a very family-orientated night. We like it."
Bleau said they will be doing it again on Monday and a little bit on Tuesday, so students are all prepared for their first day.
"It really makes it so on the first day of school, everybody knows how to open their locker, everybody knows where they're going, so we don't waste instructional time," Bleau said
A parent of a sixth grader, Katie Kaltz, and her son Brennan, 11, were inside navigating their way through the library.
"We found his classes and his locker already, so now we're looking for the extras," Kaltz said.
The one thing Brennan said he was most interested in was the offering of 3D art.
Kaltz was excited for her son to make the transition to middle school.
"To be more independent and manage your own schedule and stuff," Kaltz said.
Another parent, Dawn Krog and her son, Charlie, 12, had just finished finding his classrooms and locker as he will begin eighth grade this year.
"It's going to be real fun because it's to be my last year here and I have one of my football coaches as one of my teachers," Charlie said. "I'm really excited to finish eighth grade and move on to high school."
This is the first school year in the role of superintendent for Andy Barrett, who took over the role from former Superintendent Kent Mutchler in July. However, Barrett isn't new to the district, as he's been with D304 since 2006 in various roles, most recently as assistant superintendent.
Kaneland District 302
When Kaneland District 302 welcomes students back on Aug. 16, it will include the official opening of its IgKnight Learning Academy with an opening ceremony from 7:45 a.m. to 8:15 a.m. to celebrate the launch of this innovative new school.
The new stand-alone school was designed to provide personalized education to learners for students in third through eighth grades, located in the former middle school building, which also houses the Fox Valley Career Center.
Laura Garland, the district's personalized learning coordinator, said IgKnight – pronounced ignite – will provide a less structured, more student-led education.
The departure from traditional education is that the students will partner with their teachers to personalize their learning, Garland said.
"We are recognizing that everybody is unique," Garland said.
"The concept that every fifth grader learns at the same pace … is not predetermined: 'The unit will last two weeks because that is what we do in fifth grade.' The students will progress within their own rate," Garland said.
And that is not to say that there will be less rigor or that they won't have to master the same content as all other students, she said.
What it means is that students will partner with teachers and advocate for themselves as to what they need across all content areas.
Some people are more visual learners, some require concrete ways to illustrate a math concept, she said.
"We have 102 students starting this year with third through eighth grade and we are still planning on expanding each year on toward high school," Garland said. "We will add on ninth grade and continue next year and each year, add another year of high school."
One message Garland wants to be clear is that every school in Kaneland provides an excellent education.
"This is just a different way to engage with learning," Garland said. "You're still learning the same content, standards and rigor. It's not what they're learning, but how they are doing it.