MAPLE PARK – It was hard to miss No. 17 off the outside edge for the Kaneland volleyball team this fall.
Maddie Buckley made sure of it with her dominant play.
Buckley, Kaneland's senior outside hitter, was one of the driving forces on a team that went undefeated in Interstate Eight Conference play for two consecutive seasons, won a regional championship and was at the doorstep of winning the program's first sectional title since 1977.
Buckley had 343 kills, 146 digs, 30 blocks, 20 aces and a near-95% serving percentage this season.
"She doesn't let things bother her," Kaneland coach Cynthia Violett said. "She can learn how to play the next ball; she's not going to let it affect her. Even that [Class 2A regional semifinal against Glenbard South] when she had a [poorer] game, she's the type that texts me that night and says, 'Coach, I'll never disappoint you again'. [She's] that kind of player."
For her accomplishments, Buckley is the Kane County Chronicle Girls Volleyball Player of the Year.
Buckley, an all-conference selection who soon will move on to play Division I volleyball at Ball State University in the fall, had a bright spotlight to manage.
"[High expectations were] definitely something I had to take into consideration, but I really had to focus on myself," Buckley said. "That's not necessarily being selfish – in a way it is – because you can't worry about everything. You can't worry about what everybody else thinks but focus on ... what can I do for my team?
"Just focus on: I know what to do. I know how to do it and I just need to go out and execute."
One of the team's primary motivations for the successful season was not being able to compete in a postseason last year because of the pandemic.
"We had to establish what continuing our postseason play looked like," Buckley said. "We had [one version of a team talk [early in the season] about 'Everyone likes the idea of continuing on and going to state, but what does that look like? ... What can everybody do to contribute to our success?' I think that after the conversation we had, it made it clear that everybody has a role on this team that contributes to our success and how important that is."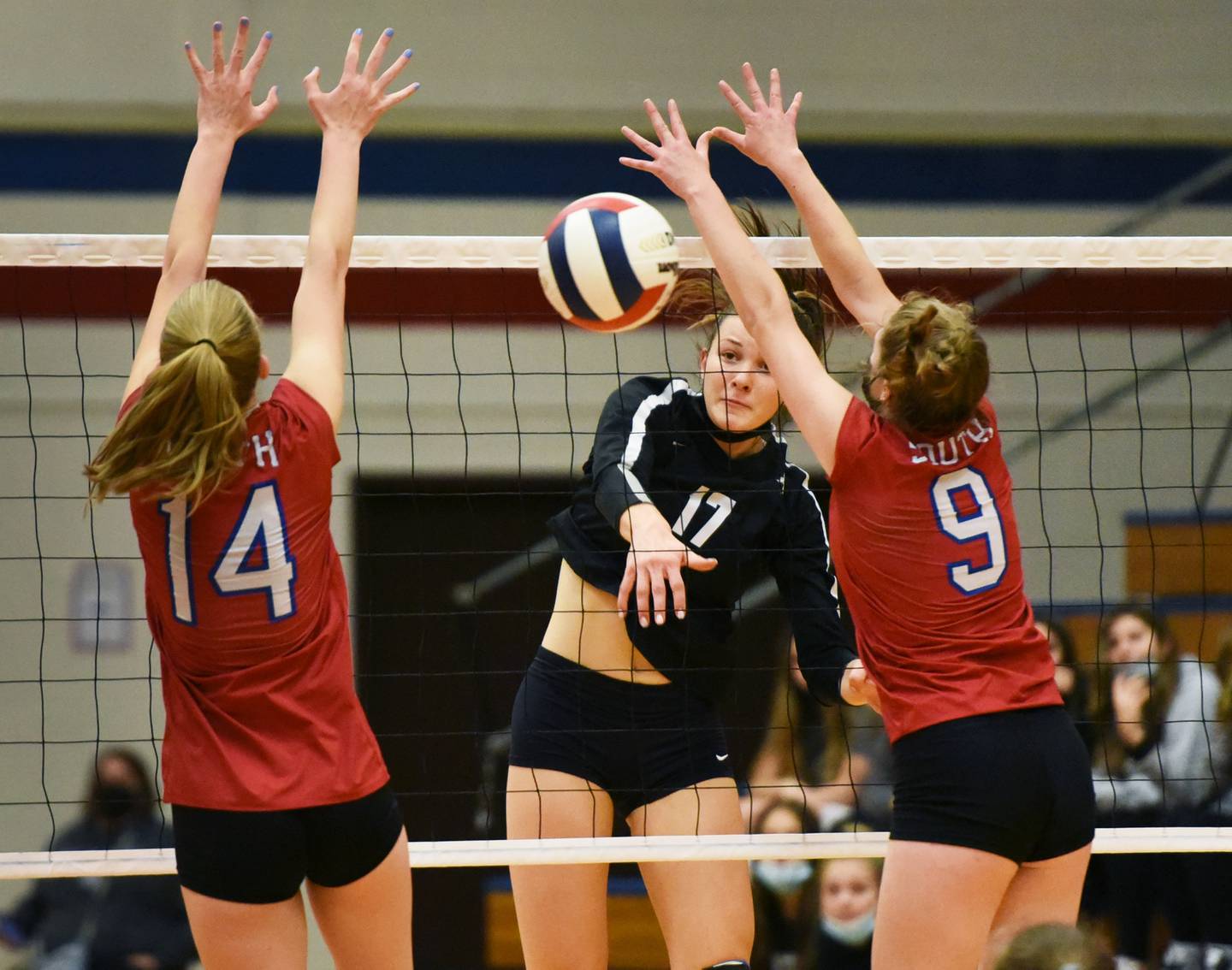 In her eyes, what was her role?
"I said that my role is to be the best teammate possible and be fun to play around," Buckley said.
Top performances from seniors Meghan O'Sullivan, Bella Rio, Mackenzie Ewen and Buckley helped mold achievements such as defeating conference rival Sycamore three times, including the third time in the regional final.
"Everyone was [saying] 'It's really hard to beat a team three times,' " Buckley said. "We used that as motivation like, 'Let's go. Let's get this done'. That was my favorite match by far because I feel like we proved so much and what we were capable of."
Buckley spent her freshman season at Rosary before transferring back into the Kaneland school district for the next three years.
"Everybody says this: 'The community, the community' but I had never felt it as strong as it was this year," Buckley said. "This year, we had so many students come out to our games. That just meant so much and it made it such a fun atmosphere to play in. People [would] congratulate you, 'Hey, great job in the game' ... That means so much, just everybody showing how much they care."