Beyond accolades and records, it is faith that drives Paige Greenhagel to be the athlete she has become.
"I try to honor God using the talents He gave me by being the best person and athlete I can be," Greenhagel said. "I've always been very driven and part of that comes from the support I get from my coaches and teammates. Being a multi-sport athlete, with basketball as my second sport, teamwork has always been a priority for me."
Greenhagel, a Burlington Central senior, was fourth in the high jump and anchored the Rockets' eighth-place 4x200-meter relay at the Class 2A girls track and field state finals last May.
On Friday, Greenhagel will return to Charleston for one more shot at glory. The Liberty commit carries plenty of momentum back to state. She won the 400-meter dash, high jump and long jump, and anchored the Rockets' winning 4x400 relay, at the Sterling Sectional last week.
"Paige's ability to compete at a high level across all her events shows her strength, endurance, competitiveness and maturity," Central coach Vince Neil said. "Paige constantly transitions from one event to another and gives her team 100% effort in everything that she does. Next year, she will compete at Liberty University as a heptathlete."
"Her ability to keep her composure under stress and multiple events has been the most impressive thing for me this season," Neil continued.
It could be hard to believe, then, track wasn't Greenhagel's initial go-to sport.
"When Paige first came out for track, we as coaches had to talk her into it," Neil said. "She was a basketball player as her priority sport, so track was something she said she would do to 'test' it out. Her first season was cancelled due to Covid, and in her first full season of track the next year, she qualified and medaled in multiple events at state."
"...Paige is an exceptional athlete and is a perfect athlete to compete in the heptathlon next year. She can do anything she sets her mind to," Neil continued.
Greenhagel will be joined in Charleston by several Burlington Central teammates including senior pole vaulter and high jumper Tia Brennan; junior triple jumper Madelyn Mucci; senior disc thrower,Tiana Foreman; and, the 4x200 and 4x400 relays.
"Our success this year has been dominated by our field events," Neil said. "We have some heavy hitters in the field...We have opportunities to score in multiple events down state, so it will be a fun weekend once the field event scores start rolling in."
Kaneland qualified two in pole vault, Jessica Phillipp and Cora Heller; triple jumper Amari Eddington and 300-meter hurdler, Olivia Pastovich.
Rosary qualified in four events: Libby Saloga in pole vault, Grace Loy in high jump, Chiara Surtz in the 3,200 meter run and the Royals' 4x400 relay.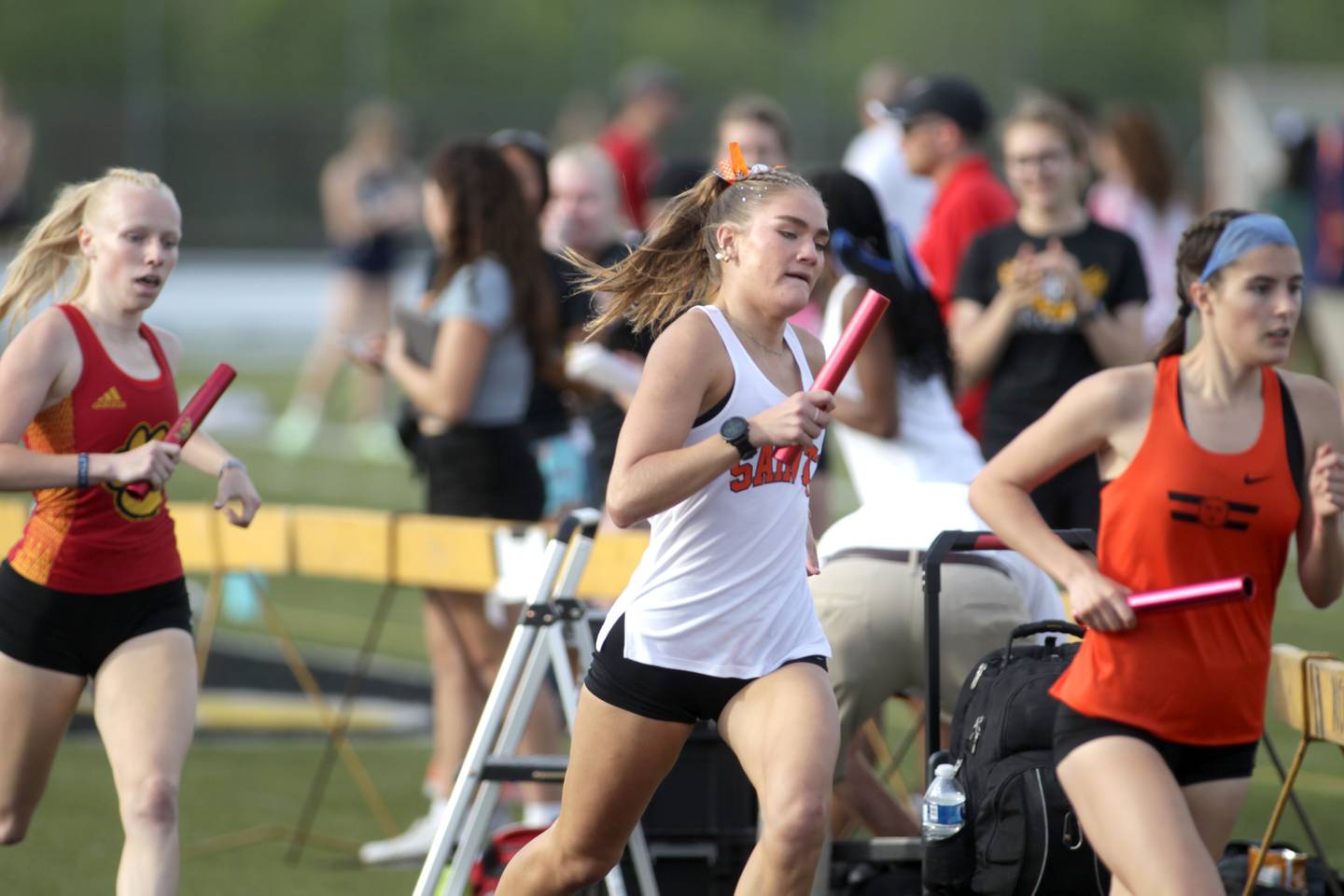 St. Charles East junior distance runner, Marley Andelman, headlines the Saints' contingent in Class 3A. For the first time since 2015 in the Saints' girls program, Andelman was the sectional 1,600 meter champion.
"Being the first sectional champion in eight years is an amazing statistic to hear," Andelman said. "It was really exciting to have everything come together at sectionals and be able to compete with some of the best, having that competition there to push me was great."
The Saints are also sending their 4x800 relay consisting of Andelman, Morgan Sandlund, Lauren Lewison and Claire Van Lue.
"I'm feeling really excited for the weekend," Andelman said. "I'm excited to be racing at the most important meet of the year when I'm feeling my best and fresh. I feel that our [4x800] performs really well under pressure, so mentally going into the meet we are as strong as ever. I have the same mindset for my mile, just ready to go down and leave it all out on the track."
Batavia is sending senior long and triple jumper, Bridget Kosky; senior pole vaulter, Morgan Hutchens; and three relays: 4x100, 4x800 and 4x400.
Geneva qualified Bridget Hecker in the 400 meter dash. St. Charles North is sending senior pole vaulter and high jumper, Hannah Wallace, and senior disc thrower, Jocelyn Kane.
"Hannah is an incredibly hard worker who is always looking for ways to perfect her craft," North Stars coach Michael Ivlow said. "She gets top notch training from her pole vault coach, Hailee Stay, but she also travels to RISE Pole Vaulting every Sunday, as well. Hannah is always looking for ways to become better."
"Jocelyn just cares so much," Ivlow continued. "She's been a leader for us this past year, and has always been receptive to pointers and corrections from our throws coach, Phil Carter."