CHARLESTON — St. Charles North's Natalie Buratczuk achieved part of her goal on Saturday afternoon.
Buratczuk cleared 1.67 meters in the high jump competition at the Class 3A state girls track and field meet to become among the final three competitors.
But Buratczuk set her sights on a bigger goal: Winning a state championship. As the tallest competitor among the final three finalists, which included Warren senior Annika Bynum and Prairie Ridge sophomore Rylee Lydon, Buratczuk's towering presence and athletic prowess put her in a position to become the first state champion in program history.
"I felt good because I've been wanting this for so, so long just to come here to state," Buratczuk said. "I felt pretty good other than my back hurting a bit but the adrenaline made me jump (good)."
Buratczuk fell shy of winning a state title after not clearing 1.70 meters in her three attempts. Bynum captured the state championship with a flair for drama, soaring over 1.70 and 1.73 meters on each of her third attempts.
Buratczuk had to settle for a solid consolation prize, earning a third-place medal and becoming the third athlete in program history to notch a top-three medal. Stephanie Strasser finished third in the Class AA 3,200-meter run in 2007, while Hannah Schilb also placed third in the 3A long jump in 2016. St. Charles North senior Kaylee Hopp also managed to finish fourth in the triple jump (11.91 meters) and 12th in the long jump (5.17 meters).
"I just want to come back next year and win this event," Buratczuk said.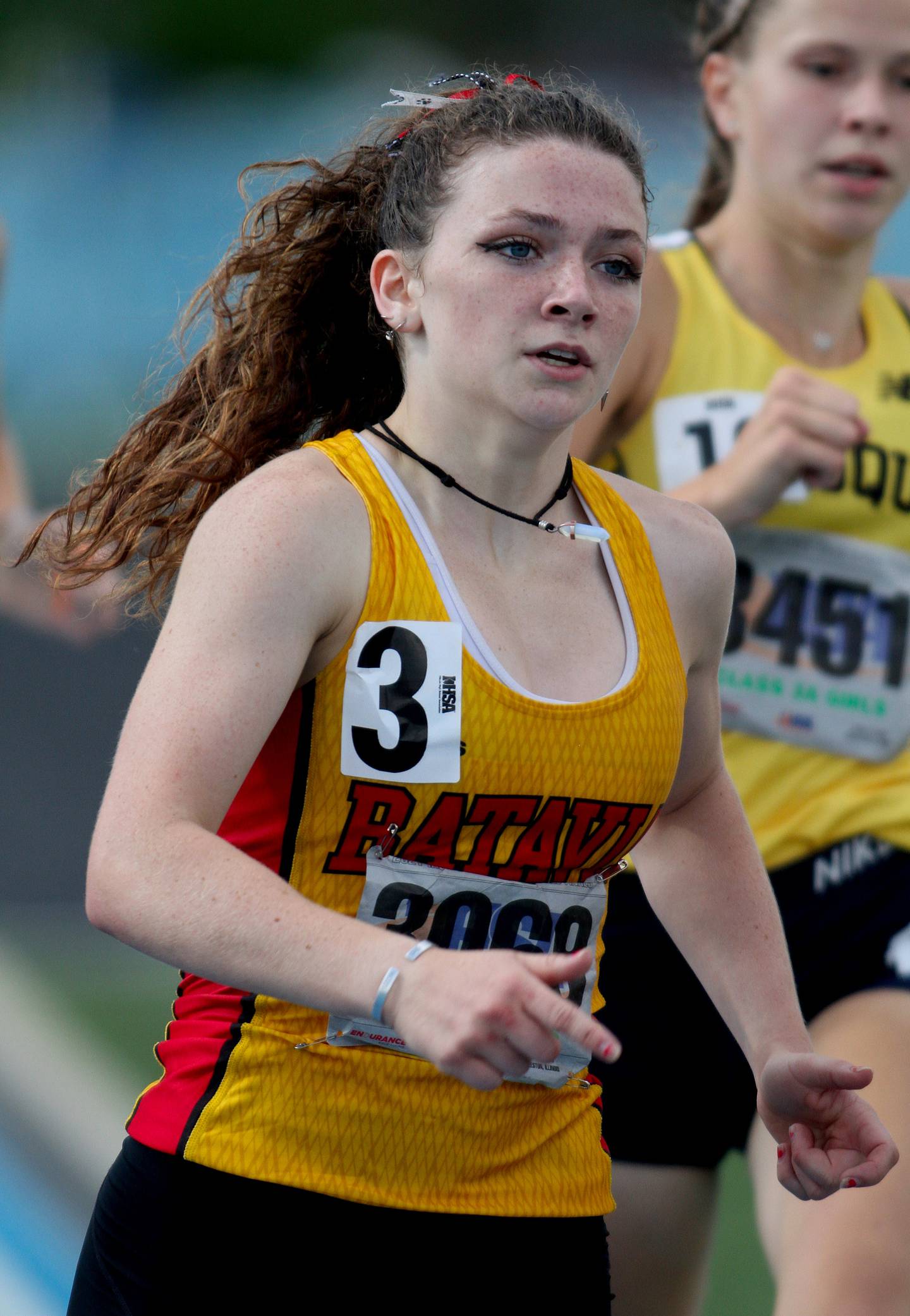 Batavia had a number of inspiring performances on the track and in the field events to tally 15 points to finish in 16th place.
Batavia senior Mackenzie Benkers earned all-state honors in the pole vault, placing fourth with a personal record of 3.48 meters.
Batavia junior Katrina Schlenker bounced back following a disappointing 11th-place showing in the 800 (2:19) to collect a sixth-place medal in the 1,600 in a time of 4:52.99. After finishing the 800, Schlenker walked away in frustration over her performance. Nearly five hours later, after a lightning delay, Schlenker took advantage of the extra rest period to recharge mentally and physically to perform at her best under the lights.
"My legs didn't feel right in the 800," Schlenker said. "I didn't get off the gun very well. My legs felt heavy. I was very disappointed and wasn't happy. I had to take a step back, and realize running isn't the basis of your success.
"I just took my time after the 800, and the delays helped since I don't really like the heat. I wasn't feeling my best today. I was definitely happy with my 1,600."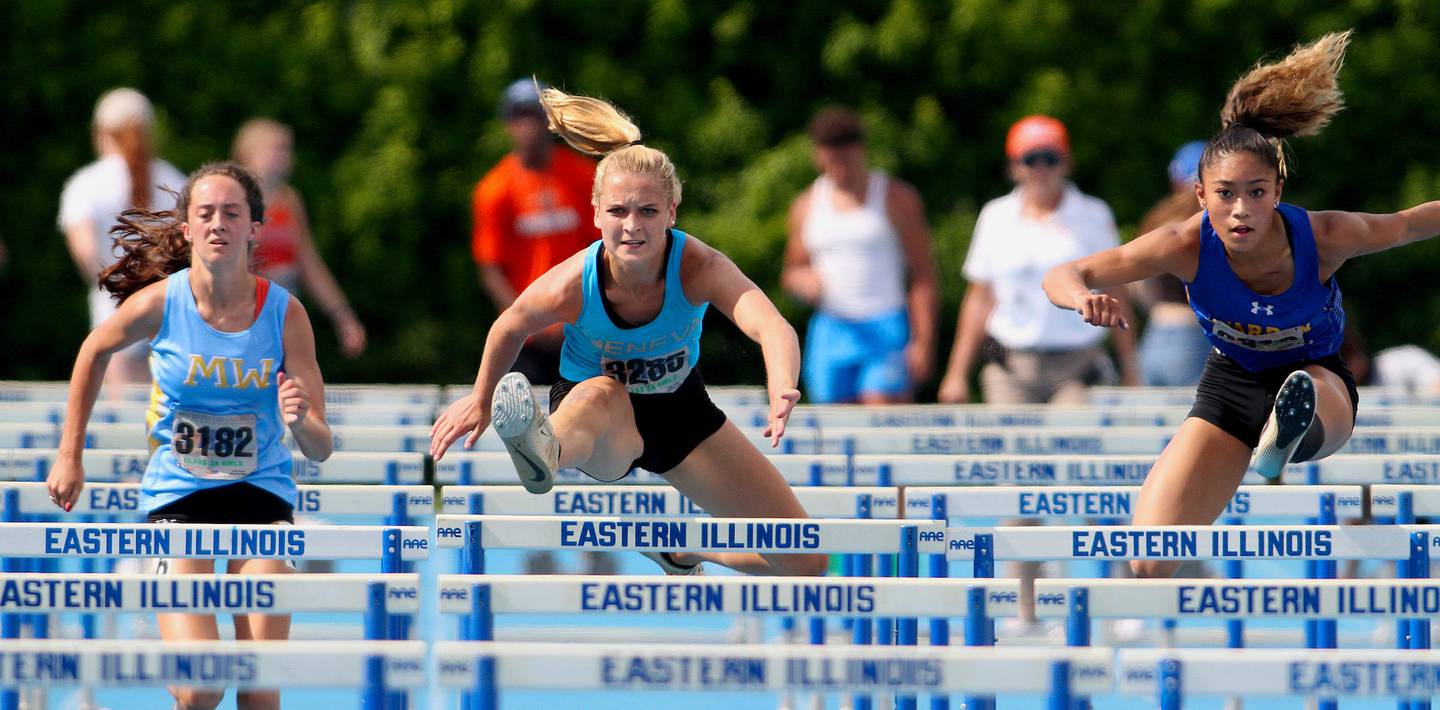 Batavia senior Sophia Bruzga was seventh in the shot put with a throw of 11.89 meters tossed a 10th-place effort in the discus (35.52).
Batavia senior Jenna Schifferer placed 13th in the 3,200 in a time of 11:25, with teammate Kayla Williams also ending in 13th place in the 100 hurdles (15.66).
Geneva's best placing came in the form of Kelly McCloughan, who took sixth in the triple jump with an effort of 11.69 meters and clocked an eighth-place time of 46.33 in the 300 hurdles.
St. Charles East's Lauren Swartz took seventh in the 300 hurdles with a PR of 45.76 seconds. Swartz, Lexy Sayasane, Makenna Brown and Victoria Kortan took eighth in the 400 relay, clocking in 48.41 seconds.