HAMPSHIRE – Shortly after sinking a deep 3-pointer only minutes into the first quarter, Burlington Central senior guard Elana Wells added another lifetime achievement in her storied high school career: entering the 1,500-point club.
"I wanted to come out with a lot of energy [and] get our team going," Wells said after Bartlett's 58-55 victory over the Rockets on Friday. "I knew that Bartlett was a good team, so I just wanted to get our team going energywise and offensively."
The Rockets originally were scheduled to play Dundee-Crown, but that game was canceled. It provided a chance for one of the top teams in Class 3A to battle with an experienced Bartlett squad from Class 4A.
Wells opened the first quarter with perhaps an additional layer of competitive intensity, streaking coast to coast for her first layup and then sinking the deep 3 for the milestone.
Wells is only one of three players in program history with that achievement, joining former teammate Kat Schmidt, who now plays at Lewis University.
"With a last-minute game that was put together yesterday, obviously both teams didn't have much time to prepare for what each other [was] going to play," Wells continued. "I think coming out and just playing our game was the best thing that we could do."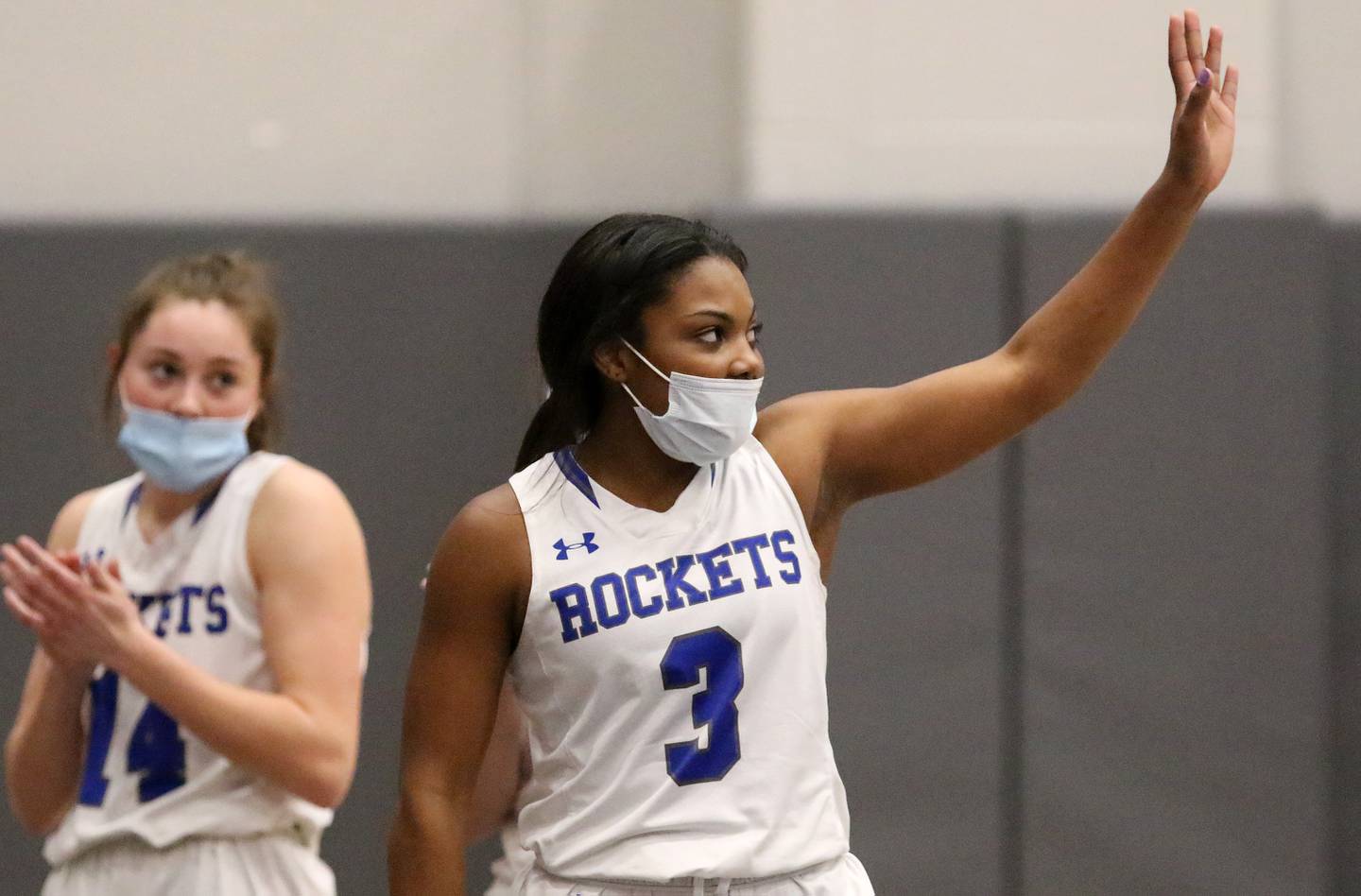 Mackenzie Hare and the Hawks, however, played spoiler.
Hare, the St. Louis University recruit, poured in 26 points – including eight in the fourth quarter – to ensure a victory. Bartlett (7-3) built a 12-point lead in the third quarter, but the Rockets (7-1) were able to whittle it to within one point three times in the final minutes.
Bartlett senior Lexie Sinclair hit a crucial layup, plus the foul to put the Hawks up 54-49 with 2:25 left, but Rockets junior Becca Carani sank a 3-pointer with just over a minute left to set the stage for an interesting finish.
Hare hit a layup, but Wells responded quickly with a 3-pointer with 35 seconds remaining. Hare, undeterred, snuck in another layup with 16 seconds left. Wells' 3-pointer at the buzzer clanked off the rim.
"It was a fun [fourth quarter]," Hare said. "We haven't had too many of those close games, so it's just fun to get out and compete and have a close game like that; where we can be on the floor together and all work toward that one goal of winning."
Sinclair finished with 13 points, seven coming in the final quarter. Bartlett was also paced by Kylie Walker's eight points and 11 rebounds. Trinity Reyes had eight points and four rebounds.
"These are the games we play this season for and this was a late add to our schedule," Bartlett coach Kristi Ragan said. "We're lucky to play every night, especially against teams like that. To be able to finish it and come out with a win – and stay calm, keep our composure – these games just make us better."
"Central made the plays they needed to make, but we were able to keep our composure and get the stops when we needed to," Ragan continued. "...We didn't play our best game [Thursday] against Fenton as far as rebounding goes and we really focused on just boxing out. Kenzie, Trinity, Dani [Hedeen], their box outs and the effort they put there make a huge difference in the game."
The 3A-4A matchup reminded Burlington Central coach Collin Kalamatas of Central's bout against Geneva in a Thanksgiving tournament championship game last season.
"It's hard to be upset after being down [12] and being able to battle back," Kalamatas said. "They're so talented on that Bartlett team. I just looked: I can't believe Mackenzie Hare had 26 points; I thought we guarded her so well, but she still found a way to get 26," Kalamatas laughed.
Samantha Origel provided a huge lift for the Rockets in the fourth quarter by sinking two 3s. Origel finished with eight points. Carani had 13 points, while Taylor Charles had five points and 11 rebounds.
"We were positive in the locker room. We like where we're at still and this isn't going to change anything," Kalamatas said.