The DuKane Conference has attracted much attention – with good reason – during the boys track and field season.
Not only is its league champion, Batavia, the top-ranked program in Class 3A, sprinters such as Josh "Otis" Duncan and Reece Young occupy elite positions on the dash leaderboards.
But the two weightman events figure to have equally compelling contributors from the league as the sole preliminary to the two-day state finals next week conclude in coming days.
"This conference is for real," St. Charles North senior Paolo Gennarelli said of the shot put and discus combatants.
Gennarelli, third in the shot put last June, broke the magical 60-foot barrier earlier this spring to further increase his school record in the event.
Lake Park has the top-rated discus contender in the state in Lucah Jones, who has exceeded 193 feet, and fellow senior Cooper Cerese is right behind Gennarelli among elite shot putters.
"(Jones) was a very humble guy," Gennarelli said of his encounter with him at the conference meet last Friday.
Gennarelli enters the North Stars' sectional on Friday night ranked third in the state among Class 3A competitors in the shot with his career-best mark of 60 feet, 3.5 inches earlier this season.
The West Point recruit also will look for a state finals berth in the discus; as Gennarelli is ranked No. 8 among large-school throwers with his season-best mark of 166-8.
"I am pretty happy going to sectionals," Gennarelli said of his degree of satisfaction with his regular season. "I want to get the best marks I can."
Duncan, who holds the top dash times in the state at 100 and 200 meters, is also attending the famed military academy next fall.
Gennarelli, however, plans to be a two-sport athlete at West Point.
"I was recruited for football but am going to be doing both," Gennarelli said. "I have already talked to the head coach and throws coach about it."
Gennarelli captured the DuKane Conference shot put title on Friday in Wheaton and settled for third in the discus.
A central motivation for Gennarelli in the North Stars' closing stretch was his failure to sweep the two Kane County titles at Geneva.
In a storied duel in the discus, Batavia senior Spencer Prats had a career-best throw of 161-06 to win the title.
Kaneland senior Eli Pflipsen was runner-up as his county-best mark of 160-6 edged Gennarelli by an inch.
"I wasn't happy with my performance at county at all," Gennarelli said.
"I was super excited about winning that," Prats said. "I had an even better throw that we measured later at 169 but scratched. We know we have a lot more in the tank."
Pflipsen, the unofficial indoor state champion in the shot put, ranks in the top five in the discus in the Knights' return to Class 2A.
"I think I can be a state finalist (in both events), which would be real nice," said Plipsen, who bettered his personal record by more than 15 feet in placing runner-up in the discus at county.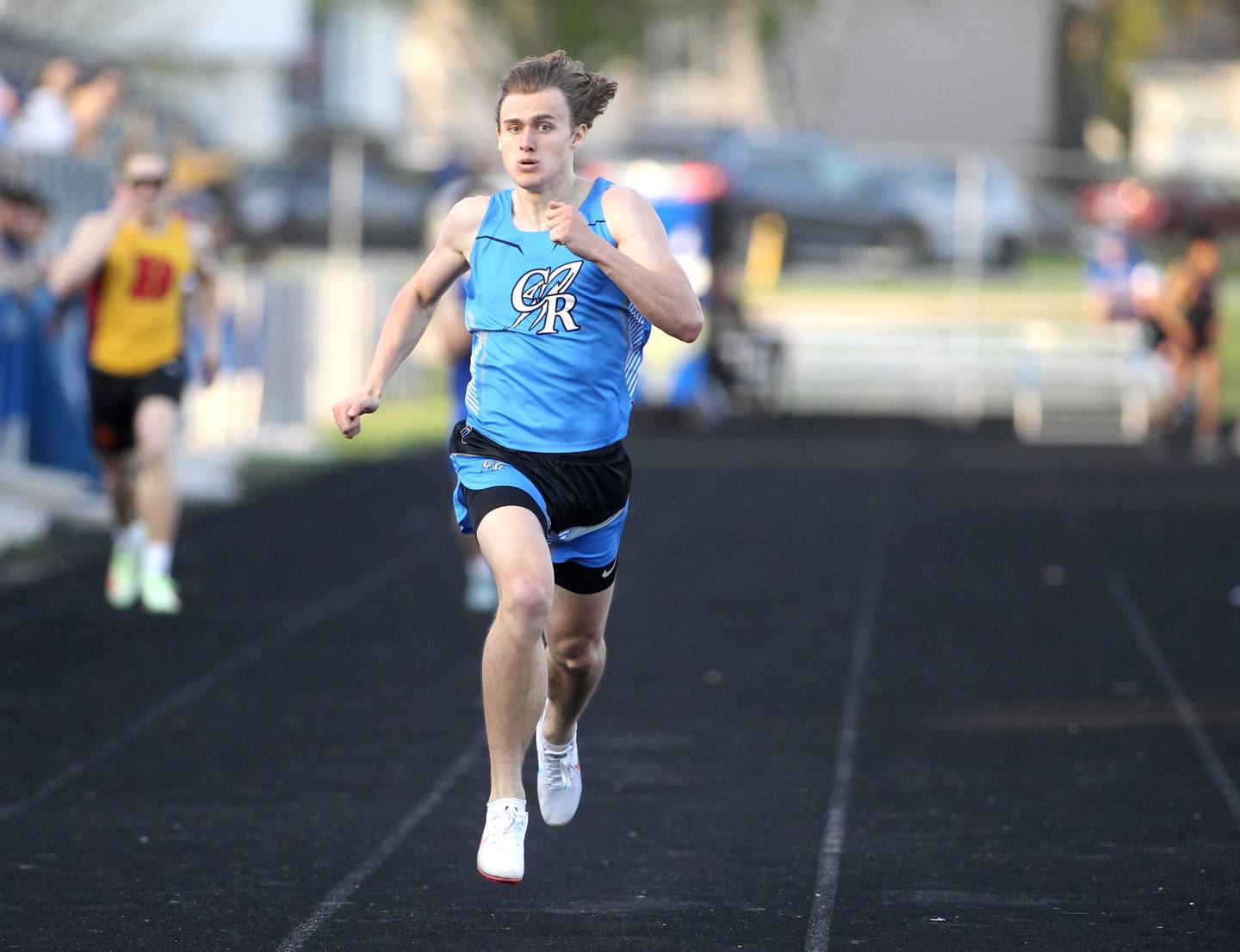 Schmidt powers Rockets to Fox Valley title
Zac Schmidt has become synonymous at two distances during his four-year stay at Burlington Central.
The Rockets have been a force at the Class 2A state level his entire time in the bookend relays at 4x800 and 4x400 meters.
In the middle, Schmidt, who will attend the University of Wisconsin-Milwaukee, has been a mainstay in the open 400.
Schmidt was state runner-up in the metric quarter-mile last year.
"Those have always been my three (events) that I always try to do as best as I can," said Schmidt, who will look to advance out of the Class 2A Rochelle Sectional. "I am doing everything I can to prepare my body to see what I can do downstate. I am always looking for better times."
Wilson prepares for title defense
As the reigning state champion in the two longest races of the school year – the 3,200 in track and the 3-mile cross country state meet – St. Charles East senior Micah Wilson has had a peculiar lead up to his final track state meet.
The Wisconsin-bound Wilson has yet to run a 3,200 on Illinois soil this spring.
"His goal was to go out to Arcadia and break nine (minutes) – and he did," St. Charles East cross country and track distance coach Chris Bosworth explained. "He has run so many 2-miles in his career that he knows what to do. We want to focus on – if you want to call it a weakness – his speed."
Wilson toured the eight laps at the Arcadia Invitational in early April in 8 minutes, 57.4 seconds in his only outdoor race at the distance.
Wilson has the third-best time in the regular season among Class 3A athletes as New Trier senior Nicholas Falk posted an 8.53.44 time at the same suburban Los Angeles meet.