WHEATON – St. Charles North missed its first 13 shots until Max Love finally put one in the basket with 2:07 left in the first half Friday.
During Wheaton Warrenville South's ultimate 50-23 victory over the North Stars to open DuKane Conference play on Friday, the North Stars didn't even get on the scoreboard until junior center Steven Litteral hit one free throw two minutes prior.
At one point, the North Stars had more turnovers (12) than field goal attempts (10). By the half, they trailed 29-8. Seven of those points were from Love.
That all can be attributed to the style of harassing defense Tigers coach Mike Healy expects from his group.
"Coach Healy really preaches 'got to fly around' defense," said Tigers senior guard Matt Sommerdyke, who had seven points and three rebounds. "Sometimes, your shots aren't going to fall; sometimes guys aren't going to be on that are on. Tonight, we could've done some things better offensively, but I think defensively, we really showed who we are. We got a lot of things to get better on, but it's still early in the season."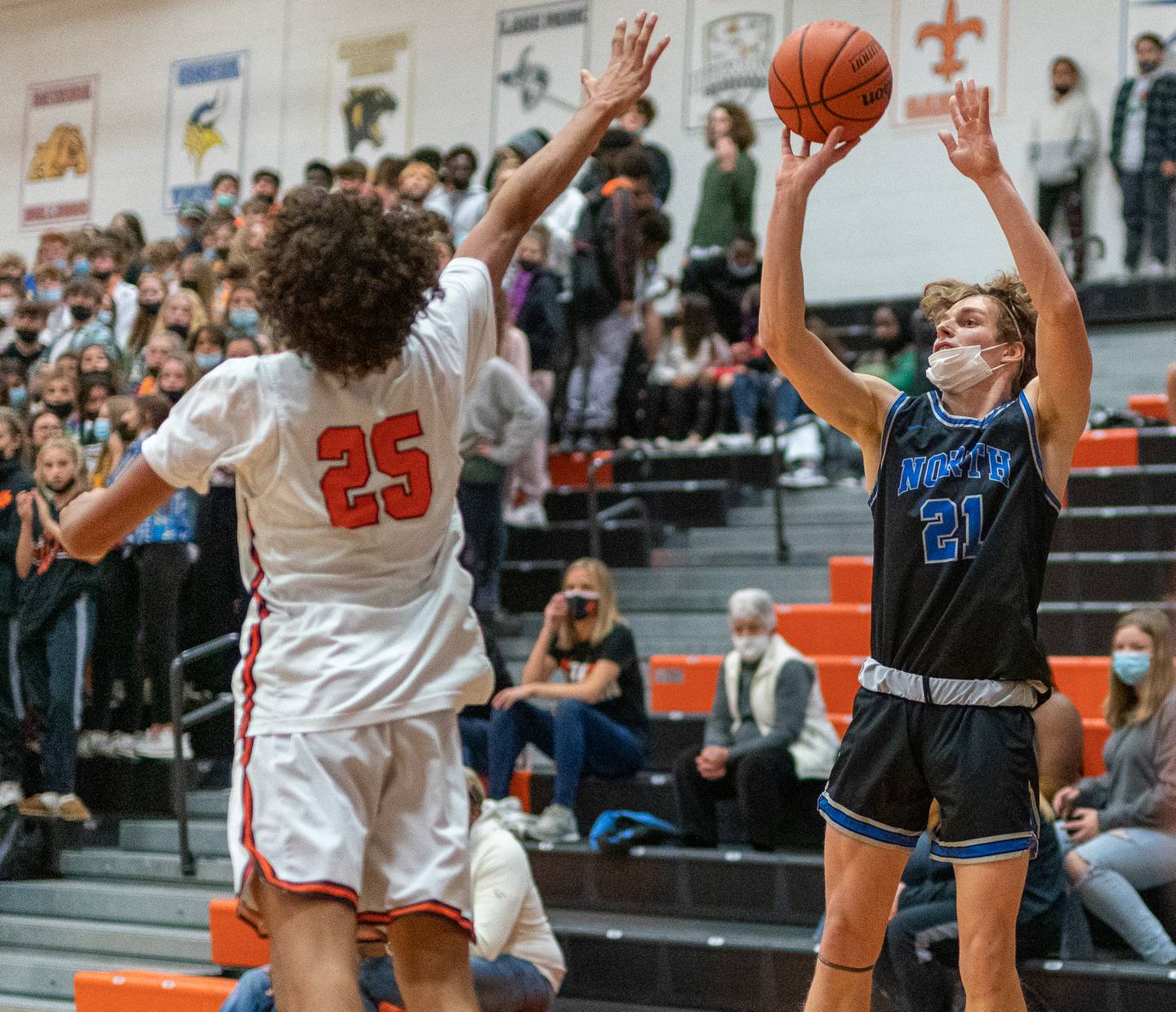 Healy, too, had to admit it: "We were flying around."
"We may not have been in the supposed right spots in ball press, [but] kids were flying around," Healy said. "They were making shots difficult; they were making kids put the ball on the floor. Their effort was great. I hope we can learn from it because that was as good a effort as we've had all year defensively. Hopefully, that becomes kind of a staple for us."
Love, for his part, couldn't remember being a part of a scoreless offensive team output like the North Stars experienced.
"You just can't let it bother you," Love said following his seven-point, four-rebound performance. "You got to keep playing and figure out how to win out of that. We didn't, but that's what we're looking to do in the future."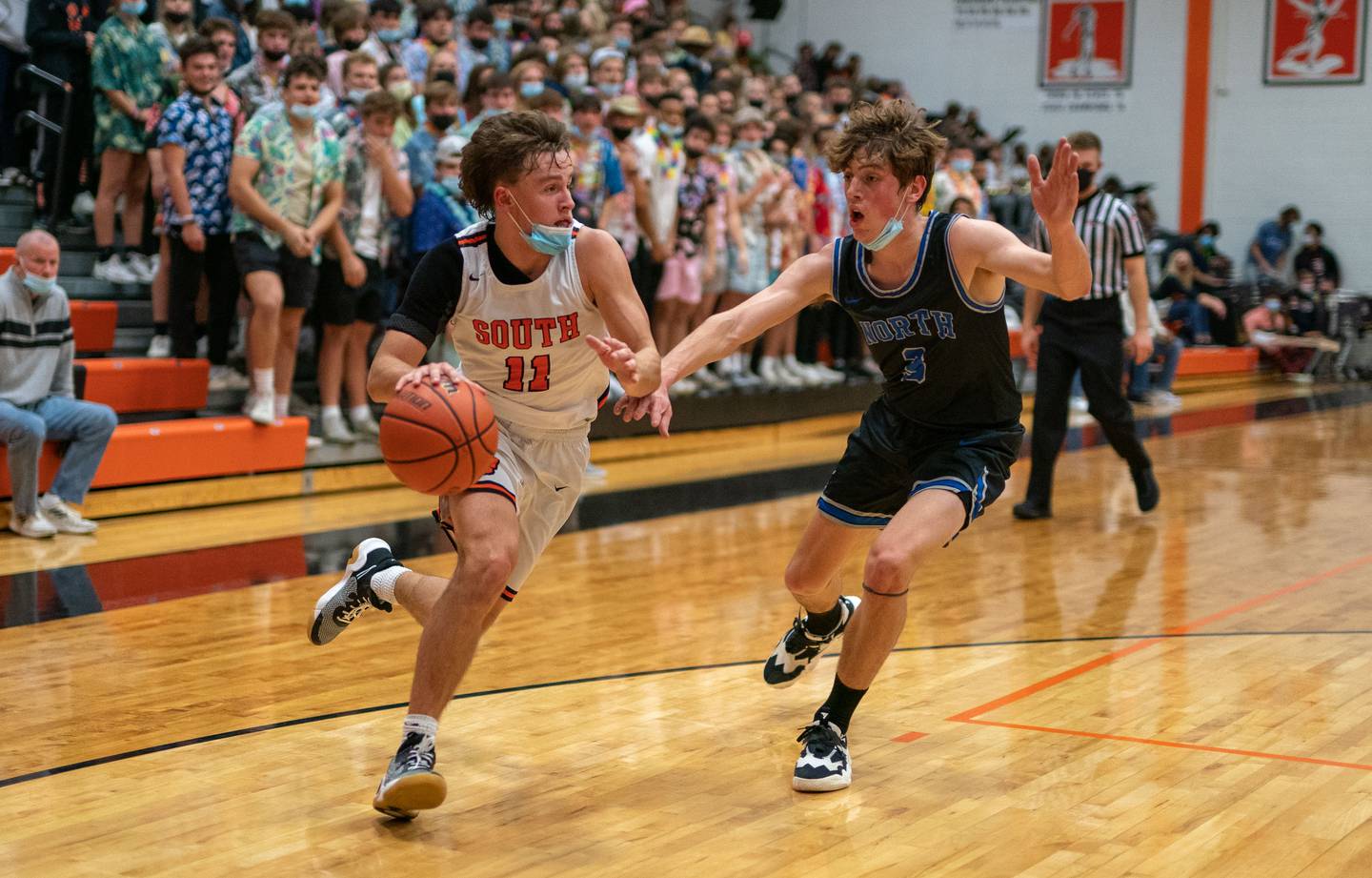 The North Stars (2-3, 0-1) bring back a heavily experienced starting lineup headlined by Max and Jude Love, Ethan Marlowe and Justin Hughes.
That group was held to 2-of-16 in that ugly first half.
"Hats of to Wheaton South; they were tougher. They were more organized," North Stars coach Tom Poulin said. "Their aggressiveness put us on their heels. We didn't react real well. We weren't able to execute the game plan that we had at the level that it needed to be executed. We kind of got out of our comfort zone."
"Everything was caused by Wheaton South," Poulin continued. "They're a fantastic basketball team and our job now is to improve to the point where [when] we see them at our place, it's a different story."
It's a quick turnaround for them, as they'll face South Elgin on Saturday.
"…We're going to go out there; give 110%. Always communicate to each other, watch film to get more dialed [in] in practice. Stay focused; focus on the little things and just figure out how to win," Love said.
WW South (5-0, 1-0) earned solid contributions from a variety of players including Tyler Fawcett (13 points, two rebounds), Colin Moore (nine points, two rebounds), Rourke Robinson (eight points) and Danny Healy (five points, three rebounds).
"We had a great game plan coming in; we had a full week off," Sommerdyke said. " We had a [good amount of time] to talk about their star players like Ethan Marlowe and [Max] Love. The crowd [being] there was just a big difference than last year."