The boys basketball season tips off this week. Here are previews of teams from around the DuKane Conference.
Batavia
Coach: Jim Nazos
Last season's record: 9-5
Top returning players: Trent Tousana, sr. (G, 5-10); Austin Ambrose, sr. (F, 6-9); Ethan Ivan, sr. (F, 6-7)
Top new players: Jack Ambrose, jr. (G/F, 6-5); JP Chaney, jr. (F, 6-1); Grant Wardynski, jr. (G, 5-11)
Worth noting: Batavia appears primed for a big season, and it starts with Tousana building off his promising junior season. A three-year starter, Tousana is a highly-athletic guard that can score and dish plenty of assists. He'll be flanked by a pair of forwards in Ivan and Ambrose – both Wisconsin Parkside commits – who are scoring threats. Batavia always has a deep bench and Nazos will have plenty to choose from as the rotation solidifies. Keep an eye on Ambrose, who Nazos has said has "improved tremendously."
"This will be a senior-led team. A lot of returning experience. A lot to look forward to and can be best summed up as saying there is 'guarded optimism'," Nazos said. "We are looking to be competitive in a very competitive conference. The schedule will be extremely tough, but this is a group that will look forward to any challenge."
Geneva
Coach: Scott Hennig
Last season's record: 8-8
Top returning players: Chris Suger, sr. (F, 6-8); Ryan Husky, sr. (F, 6-4); jr. Mick Lawrence (G, 5-10)
Top new players: Hayden Vostal, so. (F, 6-3); Colin Hasty, jr. (G, 5-10)
Worth noting: Geneva is certainly going to have to find scoring this season. Nate Valentine, an electric guard last season, graduated, so which set of guys to fill that void will be interesting to see play out. The Vikings also graduated starters Dylan Fuzak, Brian Wrenn and Quinn McNeive. Suger, a good three-point threat, and Husky will be primary contributors on a nightly basis, but the rest of the roster is unproven. Keep an eye on Vostal – a tremendous goalie in soccer – as an athletic option off the bench.
"[The] DuKane Conference should be very strong again," Hennig said. "We have a young group at Geneva which look to improve throughout the season."
Glenbard North
Coach: Kevin Tonn
Last season's record: 1-13
Top returning players: Payton Bowser, sr. (G, 6-2); Donald Davis, sr. (G, 6-3)
Top new players: JJ Hernandez, so. (F, 6-4); Josh Applewhite, sr. (G/F, 6-1)
Worth noting: Glenbard North is in a bit of a re-tooling mode, led by first-year head coach Kevin Tonn. Bower and Davis are both three-year varsity members returning and will lead in several aspects on the floor. Hernandez is an intriguing player at 6-foot-6, who figures to earn a lot of varsity minutes. Add in a bevy of seniors and juniors looking to get into the mix, the Panthers hope to push for competitive play within the DuKane Conference sooner rather than later.
"[The] senior and junior class[es] [will help] round out the rotation. [The] new varsity coach, Kevin Tonn, and Glenbard North look to be competitive and build consistency in the Conference," Tonn said.
Lake Park
Coach: Billy Pitcher
Last season's record: 7-9
Top returning players: Desmond Horton, sr. (G, 6-1); Vito LaGioia, sr. (G, 6-0); Sebastian Blachut, sr. (G-6-1); Matt Zakic, sr. (G, 6-0)
Top new players: Tommy Rochford, so. (F, 6-5); Cam Cerese, so. (G- 6-1); Dennasio LaGioia, so. (G, 6-1); Josh Gerber, jr. (G, 6-1)
Worth noting: Lake Park returns a pair of high-caliber scorers in LaGioia and Blachut to be the anchor for its nucleus. As juniors last season, LaGioia was unanimous all-Dukane conference with 14.5 points per game, while Blachut was honorable mention at 10 points per game. Rochford, Cerese and Dennasio LaGioia are all sophomores who were top scorers on the sophomore team last year. They figure to factor into to consistent varsity minutes early on.
"...We're short on size again this year but make up for it with speed and improved strength. [Blachut] and [LaGioia] are great leaders who have worked their tails off in the weight room, playing AAU, doing training and showcases," Pitcher said. "I'm always optimistic about a group when the hardest worker is also your best player."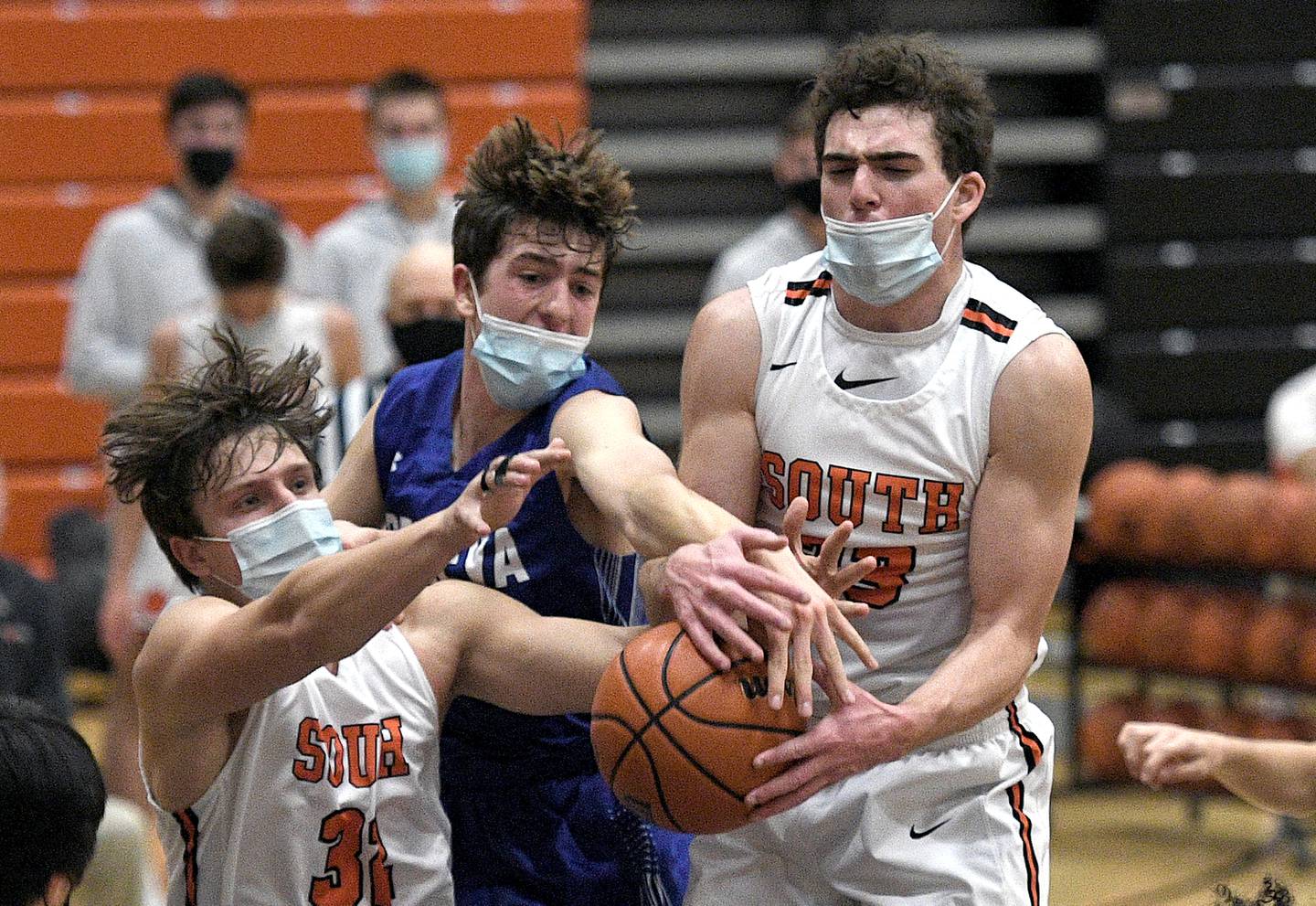 St. Charles East
Coach: Pat Woods
Last season's record: 3-11
Top returning players: AJ Gaca, sr. (G, 6-0); Rahul Gor, sr. (F, 6-6); Trent Warren, sr. (G/F, 6-4)
Top new players: Jack Borri, jr. (G, 6-0); Eddie Herrera, jr. (F, 6-2)
Worth noting: Don't let a down shortened season fool you: The Saints should be much better this season than what that record on the surface indicates. Gor, Warren and Gaca are back and should get the Saints back into the conversation for potential conference title aspirations. Gor shot 45% from three last year and will be a big-time threat again. Keep an eye on Borri, who is expected to be a very good shooter and will be a weapon for a team that likes to push down the gas pedal and wear teams out physically up and down the court.
"...I think [Gor] has added a couple other things to his game as well. He's gotten in better shape, too, so looking forward to that," Woods said. "Warren is the other one kind of opposite side of him. Gor is 6-6, Trent is 6-4, so we have a little length there that can shoot from the outside as well get in the inside. Then you throw AJ's motor in with the bunch and Mike Weaver, I think that corps of guys will lead us going forward. I'm actually really impressed with our juniors, to be honest."
St. Charles North
Coach: Tom Poulin
Last season's record: 10-5
Top returning players: Ethan Marlowe, sr. (F, 6-8); Max Love, sr. (G, 6-5); Jude Love, sr. (F, 6-4)
Top new players: Mason Siegfried, jr. (G, 5-11); Steven Litteral, jr. (C, 6-6)
Worth noting: St. Charles North has a starting rotation that should roll them out of the gate fast and with victories. Marlowe, the Love brothers, Justin Hughes and Ned Hayes are all players who project to have solid seasons. Hughes is a tremendous three-point threat, while Marlowe and the Loves can shoot from all over the court – but Marlowe is probably the centerpiece of team. Siegfried is a player who will look to play a much bigger role, perhaps at point guard. The North Stars are looking for their third regional title in a row.
"[We] have multiple shooters, experience and length. We have put together a very challenging schedule – Bolingbrook, Hinsdale Central, Stevenson, Glenbard West and the DuKane Conference is as tough as any," Poulin said. "...[It's] a solid group that has played together for years. Unselfish, team first guys who have been working hard. As always, it will come down to defense and rebounding."
Wheaton North
Coach: Dave Brackmann
Last season's record: 11-5
Top returning players: Robbie Bonga, sr. (F, 6-5); Seth Kortenhoeven, sr. (G-F, 6-2); Noah Froebe, sr. (G, 6-0)
Top new players: Eamon Kane, sr. (G/F, 6-1); Jack Speers, so. (G, 6-1)
Worth noting: While Wheaton North is competing for a state title in football this coming Saturday in DeKalb, the Falcons' depth will be tested as a large chunk of its varsity roster is finishing the football season. The Falcons are missing 10 total players, seven on the varsity roster. That being said, Kortenhoeven , Bonga and Froebe are the Falcons top three players. Bonga and Kortenhoeven are said to have solid summer basketball seasons. Wheaton North is looking for its ninth consecutive winning season.
"We hope to improve as the season progresses and be able to compete well in a very good DuKane Conference," Brackmann said.
Wheaton Warrenville South
Coach: Mike Healy
Last season's record: 13-1
Top returning players: Tyler Fawcett, sr. (F, 6-5); Danny Healy, sr. (G, 5-11); Rourke Robinson, sr. (G, 5-10)
Top new players: Braylen Meredith, jr. (F, 6-4); Colin Moore, jr. (G, 6-1); Nick Brooks, jr. (G, 6-0)
Worth noting: There was no questioning the Tigers' might last season, cruising to a conference title behind Parker Brown, Jaylen Brown and Tyler Fawcett. WW South will be well-equipped again to contend behind Fawcett, who is projected to be healthy after missing the football season with an injury. Healy is an athletic guard who can shoot and distribute, while Robinson showed his strong shooting ability in minutes he earned.
"Our goal is to improve daily. Our kids play hard so we need to keep improving and I think we can compete with teams," Healy said.