BARTLETT – It hasn't taken long for Henry Burlage to ascend toward the top of the individuals within the DuKane Conference.
Burlage, a Wheaton Warrenville South sophomore, finished third with a 73 to headline the Tigers winning the conference tournament Tuesday at Bartlett Hills Golf Course.
Wheaton South took down Geneva, which had won the tournament the past three seasons.
"Throughout this whole season, we felt like a family," Burlage said. "I was on JV last year as a freshman, but this year I got pulled up as a sophomore. At the beginning of the season, I was kind of nervous. I just didn't know what to expect. But a lot of the upperclassmen just brought me in, took me under their wing. Overall, it feels like I have a ton of brothers on the team."
Also contributing for Wheaton Warrenville South were junior Charlie Gilligan (74), senior Luke Webber (74), junior Callen Fahey (75), sophomore Michael Johansen (77), senior Chris Myers (84), junior James Murphy (91) and junior Quinn Colquhoun (92).
Wheaton Warrenville South (296), St. Charles North (306), Batavia (310), St. Charles East (316) and Geneva (320) were the top five team scores.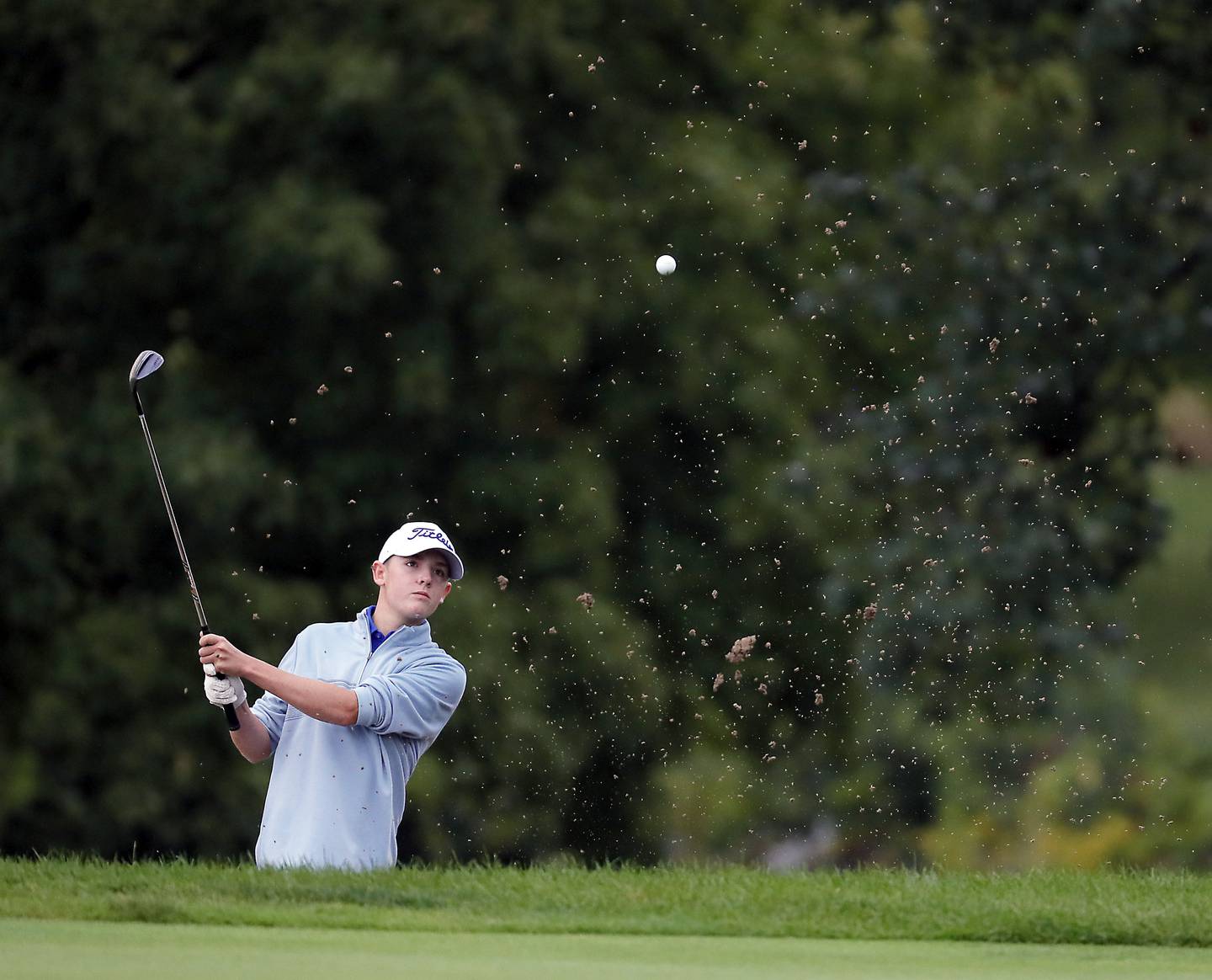 "Overall, I put in a lot of work in the offseason," Burlage said. "I've been a pretty consistent golfer, shooting high 30s and low 40s, right in the 38 to 39 range. My tee shots and my irons have probably been my strongest parts on my game throughout the season, but today, I think it was my short game that kind of kept me alive.
"Last year, it hit me that I want to stay with golf whether it's in college or business or something. Overall, I just want to maintain golf, so at the end of last season, I knew I needed to be more of a consistent golfer. I did a lot of training with [The Player Service in Downers Grove] and they helped me a lot with my irons, drives [and short game]."
St. Charles North senior Clay Heilman, who fell in a playoff last year to decide the medalist at the conference tournament, could leave Bartlett with a much greater feeling Tuesday. Heilman shot a 2-under-par 69 to capture medalist honors.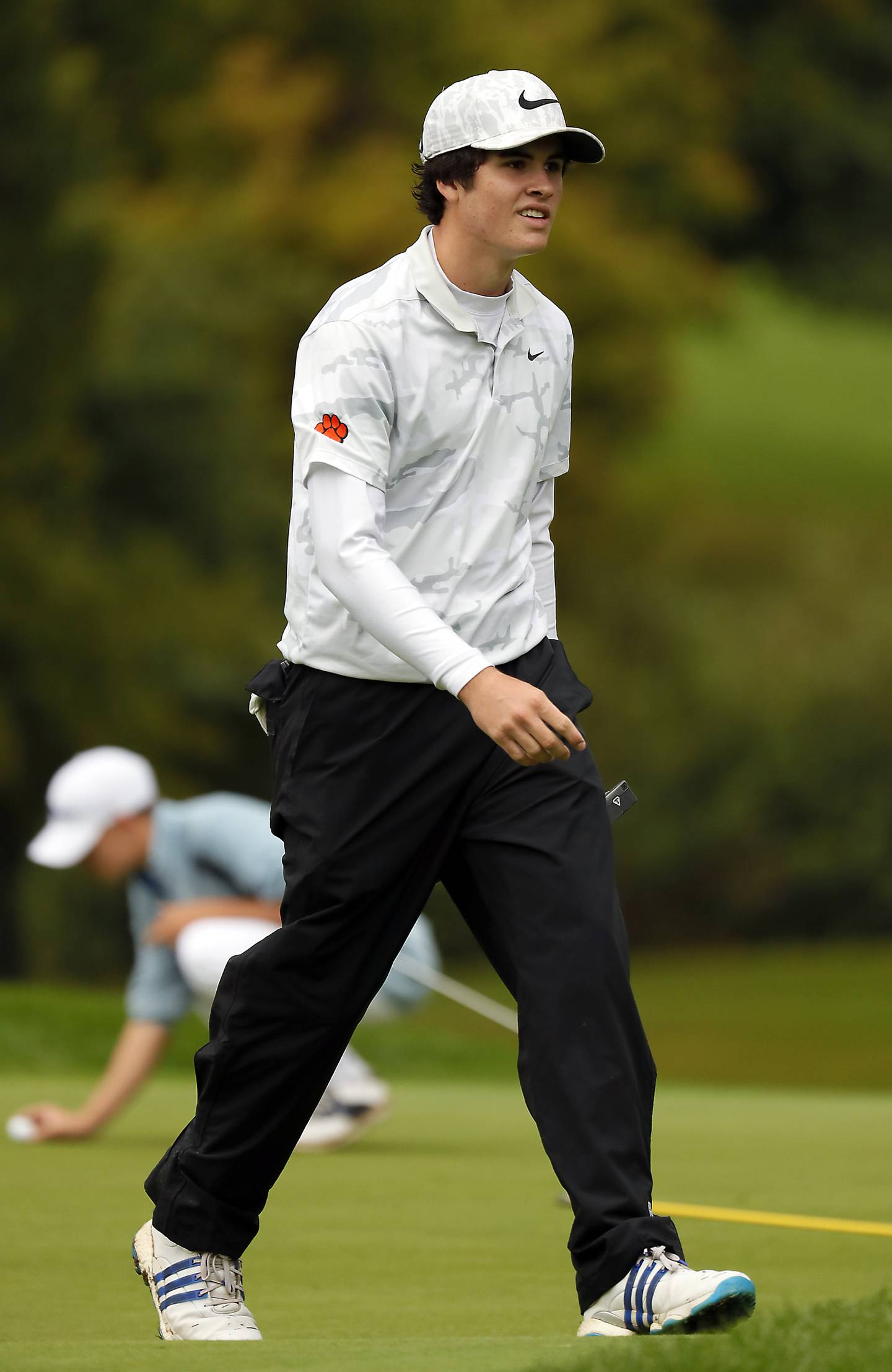 "I was happy with how I played," Heilman said. "I mean, I started off a little bit slower than I expected. I was just happy to keep going."
Heilman, who was announced as the conference's boys golfer of the year at the conclusion of the tournament, stopped his stream of consciousness.
"What am I saying slow? I chipped in birdie my first hole," he said. "I completely forgot about that. After chipping in, I just held it straight, getting up and down and rode the wave. I had a bogey on par-3. It is what it is. I got it back to even, but made it [to] the back nine, was wrapping around making some pars and making eagle on 16.
"It feels great. I'm just happy that as a team collectively we've been doing a little bit better. Then just coming out here, being able to get under par and make some more putts that I've been, it's great to see my work paying off."
The top 10 individuals were Heilman, Lake Park sophomore Abhi Patel (71), Burlage (73), St. Charles East sophomore Anthony Solare (74), Wheaton North senior Mason Oleniczak (74), Gilligan (74), Webber (74), Fahey (75), Johanson (77) and Batavia senior Andrew Freedlund (77).
Lake Park (322), Wheaton North (326) and Glenbard North (362) finished out the team scores.
"I've seen a lot of growth," Solare said. "I'm getting better off the tee, putting, everything. The team has gotten better. It's a better atmosphere."
Improvement has been Solare's largest motivator.
"[I'm] trying to, hopefully, talk to colleges soon and just try and win some tournaments this year," Solare said. "We started off a little shaky [as a team to begin the season]. We started to get it together and became a lot better as a team throughout practices and getting closer with the guys."