ST. CHARLES – Jennie Kull received three roses at a time as players passed through the pregame handshake line.
Kull, the St. Charles High School/St. Charles East coach since 1997, held dozens of blue, black and orange roses by the time the line was over. It was a small token – and image – of the hundreds of high school volleyball players she has coached in her 36-year volleyball career.
Kull, who is retiring at season's end, had her "last dance" regular-season match against St. Charles North on Oct. 4. Feet away on the same sideline stood North Stars coach Lindsey Hawkins, who played for Kull on the Saints' state-winning team in 2001.
"It was just a beautiful ceremony," Kull said after the North Stars' 25-17, 26-24 victory over the Saints. "There is no possible way I could ever thank the parents of North, [East] and Lindsey – everybody – for putting on that amazing tribute. I'm dumbfounded. I couldn't even talk."
Before the first serve, Hawkins gave a speech that preceded a several minute tribute video from former players and coaches Kull worked with over the years.
The country music song "I Hope you Dance" by Lee Ann Womack played in the background during the video. Upon the video finishing, Hawkins shared Kull played that song for the team before they won the state match 21 years ago.
"All day, I was just thinking about my speech, making sure everything was set for tonight because I did want this to be very special for her," Hawkins said. "She means a lot to me and she's done so much for volleyball in this entire community. Some of my girls have played for her in club. I've coached some of her girls in club. There's just so much love between these two programs that we wanted to make sure that she was celebrated."
On the court, the North Stars (21-6, 5-0) took care of business in a battle of top DuKane Conference foes.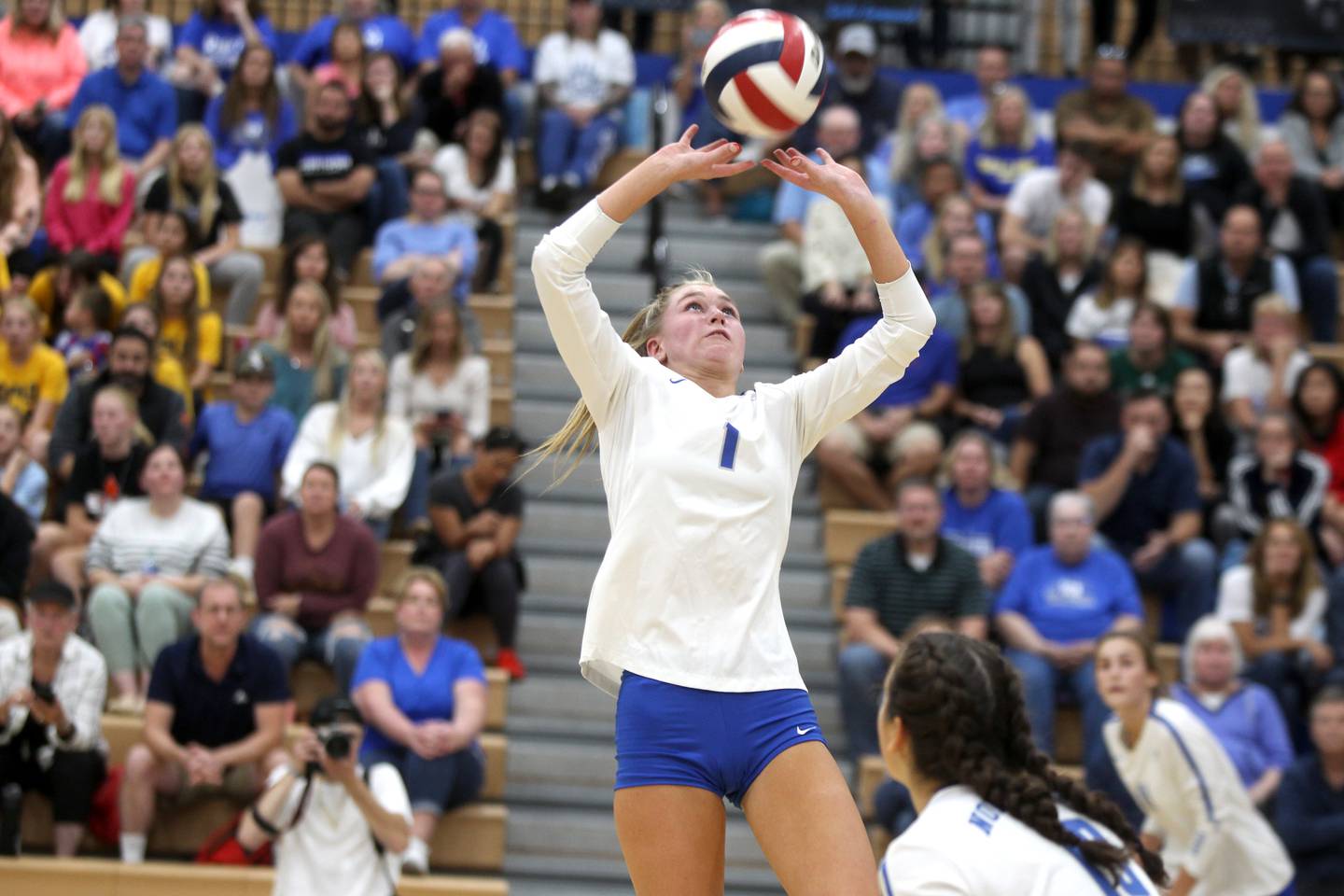 Led by the three-pronged attack of Haley Burgdorf (eight kills, two aces), Jessica Parker and Katie Scherer (nine kills), the North Stars maintained their undefeated home court record.
After a comfortable 25-17 first-set win, St. Charles North jumped out to a 15-5 advantage in the second set.
The Saints erased the advantage and took an 18-17 lead on the attacking efforts of Lexi Crossen, Kate Goudreau and Natalee Rush and passing from Lia Schneider to set it up.
The North Stars jumped back ahead 23-20 on Burgdorf's fifth kill of the match. Rush's two kills cut the lead to within one. The Saints followed with an attacking error to set up match point, but Goudreau's kill and an attack error tied it at 24.
Alexis Bardouniotis put down a convincing kill to make it 25-24 before Crossen's swing went cross court and out of bounds for the final point.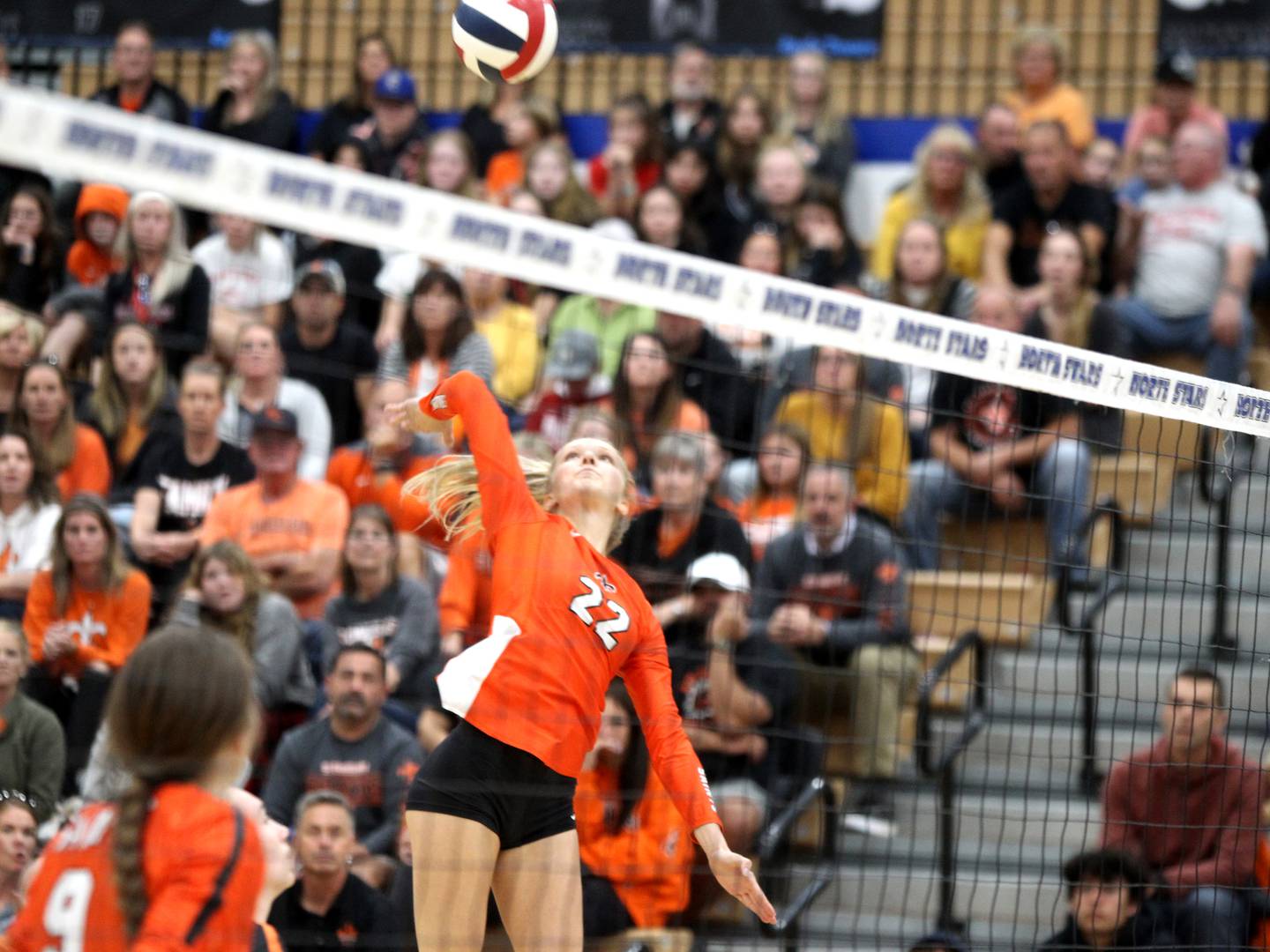 St. Charles East (17-4, 3-2) had its four-match winning streak snapped. The Saints were led by Goudreau's seven kills. Rush had four kills.
"That's a great learning lesson because we've ... got to learn how to play through emotions once we get to the playoffs," Kull said. "This is great lesson for us to learn."
"I'm happy for them [North] because they're taking a different [postseason] road and we won't have to see them anymore [in a regional or sectional bracket]. The next time we'd see them would be in the state finals and could you imagine – that would be a fun time. For the kids, I wish they would've played better, but it's a great learning lesson and that's what we have to take away from this."
St. Charles North is riding a three-game winning streak and closes the season with Cary-Grove, Glenbard North and Batavia all on the road before the postseason begins.
"We're pumped. We're really ready for postseason and to keep working hard," Parker said. "We have a really good dynamic going right now and, yeah, we're pumped."