ST. CHARLES – Ben Davino's meteoric rise continues to skyrocket.
Davino, a St. Charles East junior, already is arguably among the most decorated competitors in the Saints' wrestling program's history. Armed with two individual state titles, Davino has only lost once in his high school career, at the Walsh Ironman in the finals last November.
To date, Davino is 70-1. He just added another achievement to his budding resume, winning the 126-pound Fargo National championship in July. Davino is the first wrestler in Saints' program history to achieve it – and he did it out scoring his opponents an amazingly 59-0.
"I was having fun," Davino said. "I was enjoying every moment I wrestled. Right when I stepped on to the mat, I was ready to go. I was excited."
Davino defeated Landon Robideau of St. Michael-Albertville High School (Minnesota) 3-0, who was the runner-up in the 1260-pound division at Fargo last year and a two-time Minnesota state finals runner-up.
Davino went 7-0 over the three-day tournament.
"I knew he was bigger. I knew he was going to be stronger," Davino said of Robideau entering the finals. "He was coming down from 132 pounds from World Team Trials."
"I was kind of patient [during the match]," Davino continued. "I just played the game a little bit. I was up 1-0 at the first break…in the second period, he got in on my leg, [but] I scrambled out of it and got a takedown."
Davino has future plans to enter the 'Super 32′ tournament, an elite opportunity for high school wrestlers that is hosted in Greensboro, N.C., in October. Davino has lost both times in the wrestlebacks, so he hasn't placed yet.
"That's a tournament I've never had much success at," Davino said. "I'm super excited to go back there, hopefully get a belt, and then [get ready] for the high school season."
"It's a really good tournament," Davino continued. "There's tons of Fargo champs that go there, tons of state champs, Ironman champs, [etc.]. Last year, I had 15 ranked kids in my bracket."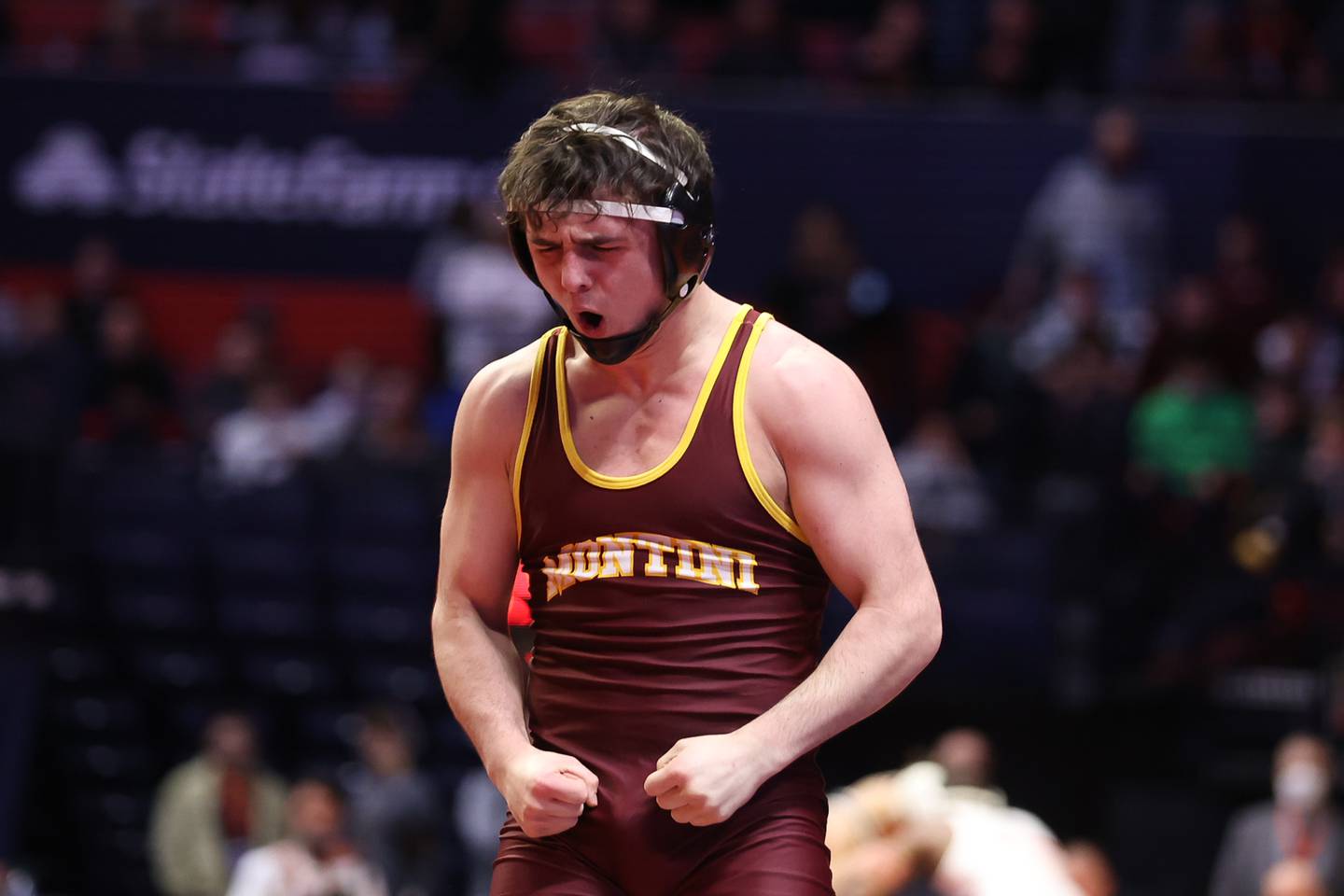 St. Charles East teammates Anthony Gutierrez and Jayden Colon also joined Davino at Fargo, but in the Greco division. Gutierrez took fifth in the 160-pound bracket and earned all-American status.
Colon, who transferred to St. Charles East this summer from Montini after winning the Class 2A 145-pound IHSA championship in February, took second in the 145-pound division. Colon lost to Brennan Van Hoecke of Florida.
"What I took away from the experience was just to have fun and not to worry about wrestling on the big stage, worry about the crowd and the lights," Colon said. "Just to go out there, have fun and trust the process with your training and everything."
Coming off his storied individual season, Colon had more to prove. Colon also is planning on attending the Super 32 tournament, but is still deciding between staying at 145 pounds or dropping down to 138 pounds.
"I just wanted to prove that I'm up there with those top guys," Colon said. "Since Covid kind of took a year off from [my] freshman year, I didn't really get to wrestle. So coming in, after I won state, I wanted just to prove that I'm still up there with those high school guys."