CAROL STREAM – St. Charles East lifted the DuKane Conference wrestling championship trophy for the first time in program history after holding off league powers Glenbard North and Batavia Saturday afternoon in Carol Stream at tourney host Glenbard North.
The Saints used bonus points from nationally ranked Ben Davino (120 pounds, 28-1 record) and teammate Tyler Guerro (132, 23-5) in their finals. They also received a key comeback victory from Lane Robinson (14-7) at 152 to dash the hopes of Glenbard North claiming a 33rd conference title.
[ Photos: DuKane Conference wrestling meet ]
"We knew coming in (this) tournament was a three-team race with Glenbard North and Batavia (and) we were hoping it wouldn't be as close as it turned out to be, but we earned bonus points all throughout, and used a couple of big wins here and there (especially) Lane at (52)," Saints coach Jason Potter said.
Robinson found himself chasing Wheaton North junior Devin Medina (32-7) 5-0 after two periods. He then staged a sensational late charge to earn a 7-6 victory.
"I was in big trouble with one period to go (but) once I got that first takedown, my confidence grew, and I knew I could win my match, and help my teammates," Robinson said.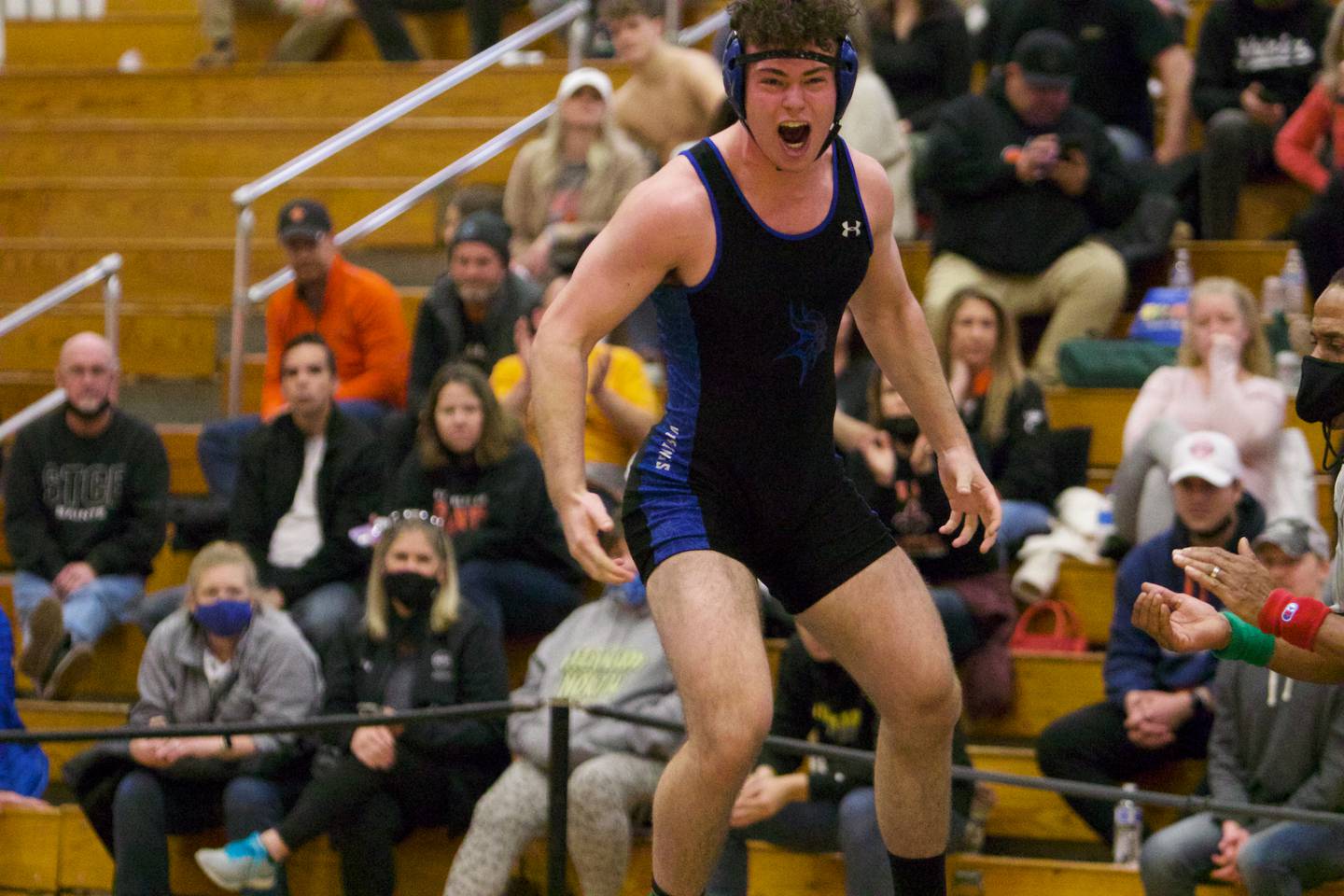 The host Panthers, who fell eight points short of the Saints (256-248) in the final scoreboard, collected five overall individual titles, one more than third-place Batavia, which finished with an impressive 225.5 overall points.
Dominick Marre (113, 25-3), Paul Woo (126, 26-5), Cody Dertz (170, 14-6), Blake Maday (220, 2-0) and Paulie Robertson (23-1) — the No. 2 rated heavyweight in the state — won titles.
"Winning the DuKane Conference is always one of our goals. We fell a little short today, so we'll all have to get back to work (and) get ready for regionals next weekend," said Robertson, who recently committed to play football next fall at Division II Saginaw Valley State University.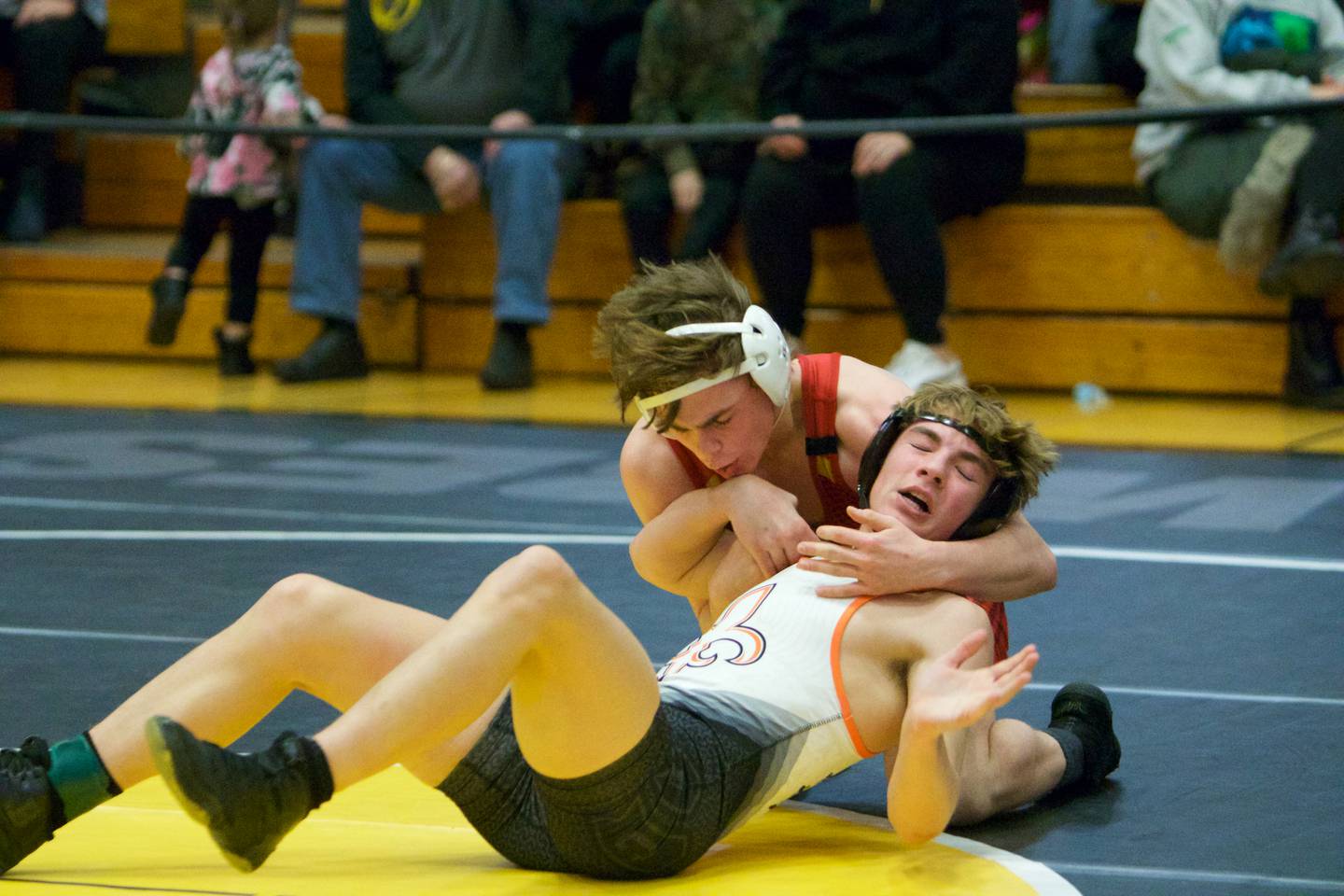 Inspired from championship runs from Ino Garcia (31-4), who dominated at 106, Kaden Fetterolf (138, 31-5), Cael Andrews (145), and Jordan Tonkovich (22-3) at 182, Batavia was strong all throughout. The Bulldogs showed they will be a force next weekend at the DeKalb regional, where St. Charles East, North and Geneva will all appear.
"Just a real terrific effort from the entire team, a real credit to all of them after the recent death of Clint Arlis, one of the all-time great wrestlers in Batavia history," Bulldogs coach Scott Bayer said.
Tom Arlis, father of Clint, is a longtime coach in the Bulldogs program.
"The boys went out and wrestled hard today, so we'll get back to work, and get ourselves ready for regionals next weekend," Bayer said.
Geneva junior John Schmidt (31-13) earned himself a hard-fought title at 195 with his 7-3 decision over top-seed Anthony Chiara (St. Charles East, 16-7).
Joey Olade (24-2) claimed the lone individual title for Lake Park following his 8-4 decision over sophomore Brody Murray (St. Charles, 22-5) at 160.
Olade's win is his fourth major title of the season thus far.
The Panthers trailing eventual champion St. Charles East early on, closing within 193.5-188 and then 224-216 at the lunch break. But a quarter of second place medals, plus five third place medals proved enough to end the day on a high note for Potter's club.
"It was a real good day for us, especially 13 in our lineup today (so) all of the guys stepped up and did what we asked them to do to win ourselves a conference championship," Potter said.