GENEVA – The activity stations in Sara Consdorf's Little Vikings Preschool class at Geneva High School were loud and fun and full of learning.
Not only were the preschoolers tie-dying T-shirts, matching upper and lower case letters and learning yoga moves, the high school students working with them were learning how to become teachers.
"I love being able to work with young people," Consdorf said. "I feel like as a teacher our jobs really matter and make an impact on the next generation. And I especially love teaching family consumer sciences. Those areas are all related to real life and give students real-life skills."
Consdorf recently was honored as the Illinois Family and Consumer Sciences Teacher of the Year by the Illinois affiliate of the American Association of Family and Consumer Sciences.
The organization recognized Consdorf for starting three new classes at Geneva High School – Little Vikings Preschool being one of them. She also started Introduction to Education and Early Childhood Education, both dual credit with Waubonsee Community College, and she does Teaching Internship.
'What it means to be a teacher'
Now in her 15th year – 13 of them at Geneva – Consdorf said that when she started out, she faced a regular classroom of rows of desks.
Not her cup of tea.
"I knew I wanted to start a preschool program because I knew how important the opportunity is for students to work with young children," Consdorf said. "The first class I was able to get approved was Early Childhood Education."
That's a second-level class. Students have to take Child Development first.
She built upon that to have a three-hour preschool twice a week on Monday and Wednesday.
The children stay, but a different group of high school students cycle in every half hour, teaching numbers, letters, science concepts, experiments and classroom procedures.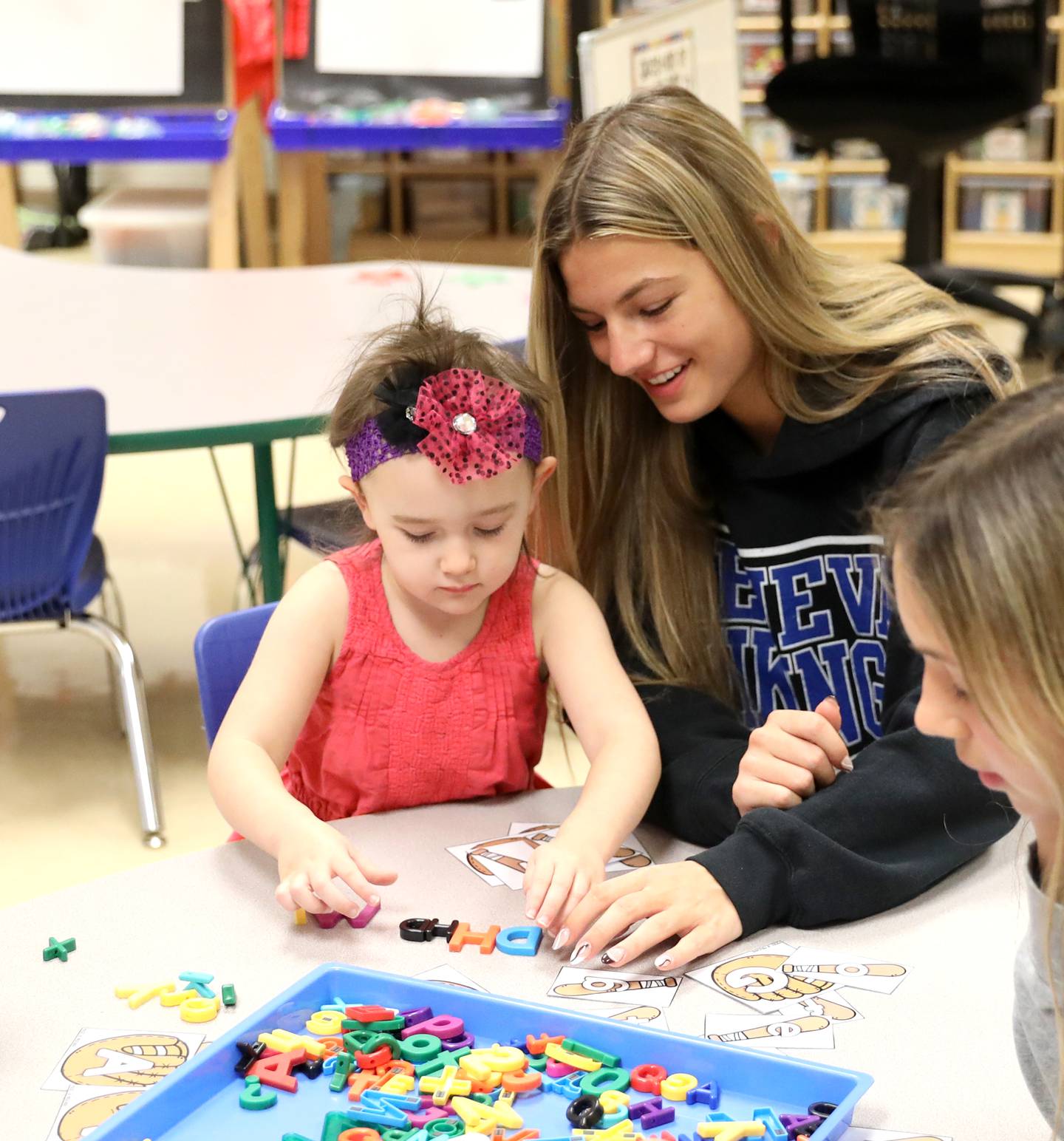 The dual credit classes with Waubonsee started in the 2019-20 and 2021-22 school years.
Introduction to Education leads students to explore careers in education, Consdorf said.
"We talk about diverse student needs and how to write lesson plans and trends in education," Consdorf said. "And what it is to be a teacher. … I love all of them [the classes] but I love seeing this one in action."
After this semester of preschool, the same students will be paired with a teacher in an elementary school and complete 45 clinical hours of study, she said.
"They will be working with a Geneva teacher in their class. Oftentimes, the high school student might be leading a small group or doing small group instruction," Consdorf said.
Eventually, they create a professional portfolio and she observes them teach a lesson.
The goal is for them to feel confident about what they want to do when they go to college "because they had such great experiences working with students," Consdorf said.
"And at the end of the year, we have a future teacher signing ceremony, really trying to recognize, support and celebrate those future teachers," Consdorf said. "Teaching really is an art and it takes time and experience to really get good at it. It's such a rewarding job."
Future teachers
Two 18-year-old seniors – Kurin Garcia and Isabella DiNovo – are following the path to becoming teachers. They praised their experience in Little Vikings Preschool.
"I am really interested in teaching," Garcia said. "When I was younger, I was really impacted by my teachers, especially my elementary teachers. They were so sweet and had a lot of care for me. They were always willing to help me when I was struggling or being emotional."
DiNovo said she really likes the preschool class.
"I think the preschoolers are a lot of fun," DiNovo said. "They are just very eager to learn. That's what makes them special."
DiNovo comes by her desire to teach naturally. Her mother is a fourth grade teacher in Itasca.
"My whole life I helped her decorate her classroom and grade papers," DiNovo said. "I'm thinking about becoming a teacher and as I'm going off to college, this class is a great opportunity to do that. I also really love working with kids and this is a great way to learn how to be a teacher."