GENEVA – Geneva School District 304 is facing a slow, steady reduction in its enrollment, prompting the recommendation for a formal demographic study, Superintendent Andrew Barrett said during a presentation Nov. 13.
Barrett said Geneva's declining enrollment mirrors a national trend in schools across the nation and the last demographic study the district did was in 2006. A new study would help the district with its strategic planning process, he said.
"We've been talking about this a little bit over the last several meetings and so I just thought it would be important to share a little bit of a deeper dive into some of this," Barrett said. "And share this context with the board – and then actually the community – and talk about some of the steps we think we want to take here."
Board President Larry Cabeen said any decision about closing elementary schools would be premature at this point.
"Long-term, we'll have to analyze it," Cabeen said. "The demographic study will point out if that's a possibility."
Using the district's analytical tools, Barrett presented charts and graphs to illustrate the reduction in student enrollment.
The district had 2,007 students in 1984. Enrollment increased to 5,723 students by 2004. Enrollment now is down to 5,048 students, according to the presentation.
The slow but steady decline in enrollment is attributed to several factors, Barrett said, including that millennials – those born between the early 1980s and the late 1990s – are having fewer children and older people are aging in place.
Ten years ago, elementary enrollment was 2,400. Now it's 2,100, he said.
Enrollment is spread across six schools based on a neighborhood model, he said, with some schools bigger than others.
Middle school enrollment went from 1,400 to 1,200. High school enrollment went from more than 2,000 to 1,600 in the same time period, Barrett said.
The data also said that students who start in the district tend to stay in the district, Barrett said.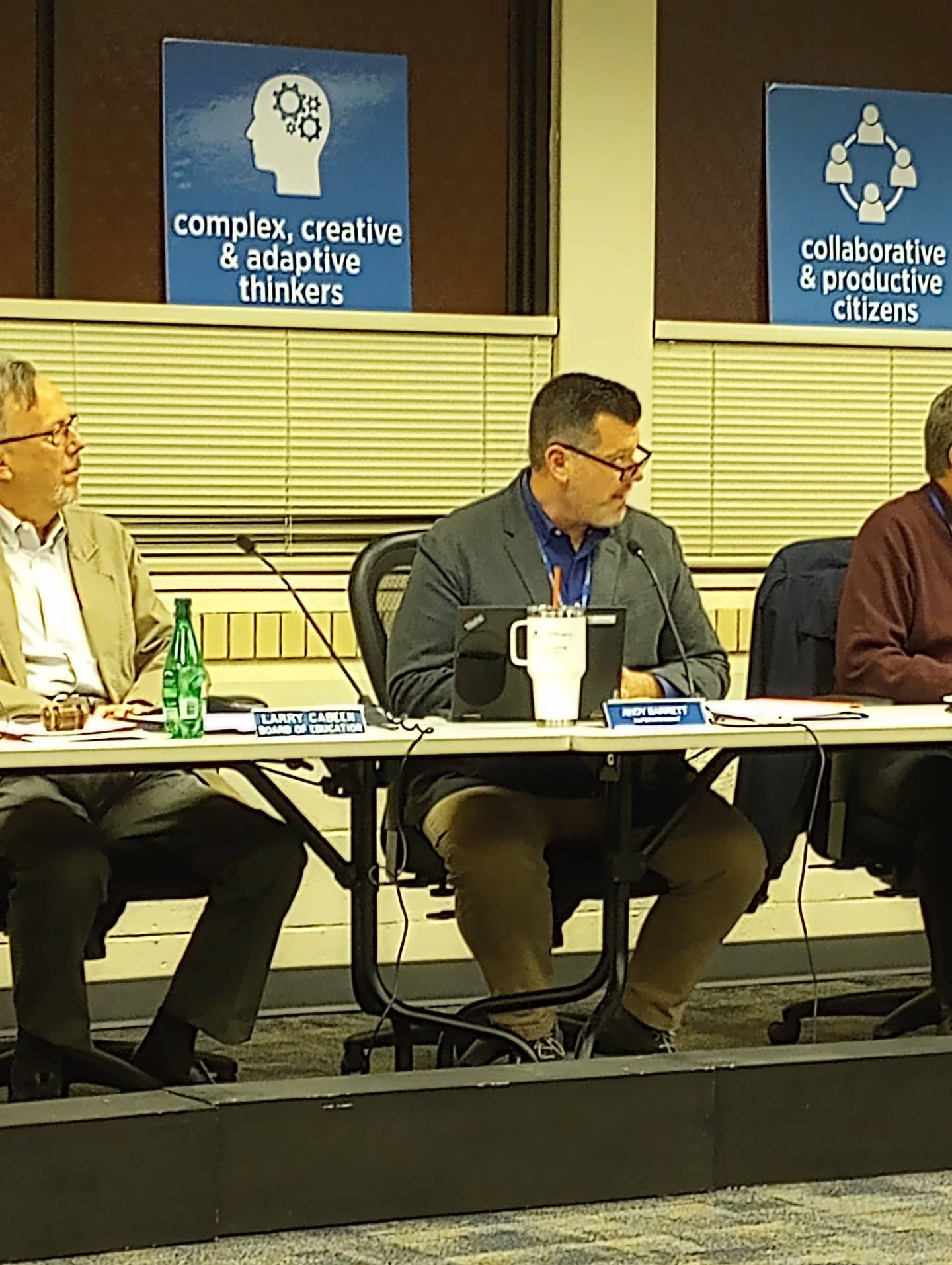 With fewer students, there are smaller classes and fewer sections of classes. English I at the high school might have had 24 sections in the past, but now it may be only 16 or 17, he said.
While core class sections have declined at the high school, the high school offers more courses and electives than ever before, he said.
Students also have increased needs and support, he said. There are more students enrolled in special education and more students who seek psychological support, he said.
"We are going to continue looking at this just like we are," Barrett said. "We are going to continue the practice of making adjustments as appropriate."
Administrators will continue real-time evaluation of enrollment trends and implications and work with the newly formed Class Size Committee, he said.
The first step in seeking out a demographer would be to check with neighboring school districts to see if they also are looking into this issue.
Cabeen said the district has a lot of tools at its disposal.
"There is a lot of concern in our community," Cabeen said. "I agree … it's important to plan with good science-based information."
Board member Paul Radlinski said the district has to look at the issues connected with declining enrollment, especially in light of its $56 million seven-year capital spending plan to address its aging facilities.
"We need to take a look at this," Radlinski said. "The buildings are getting older. We're having to make significant investments in them. We have the largest capital spending program we've had in years. … I don't know what the answer is at this point. We need data in order to do that."