ST. CHARLES – Paige Murray was 20 minutes removed from yet another signature performance in relief.
Murray, the St. Charles North sophomore, had left the circle a number of times with high-energy yells and fist pumps. With the waning sunset on the horizon, though, Murray was the lone player cleaning the final seven softballs from the bullpen following the North Stars' 8-7 victory over Fremd in the Class 4A St. Charles North Sectional semifinal on Tuesday.
After a strong four-inning stretch from Ava Goettel, Murray – as she's done plenty this season – finished the job in grand fashion.
Murray gave up a two-run single to Fremd's Avery Sadorf on her second batter after coming on in relief, but rebounded with six strikeouts and ultimately held on to lift the North Stars to Friday's sectional final against either Lake Park or South Elgin.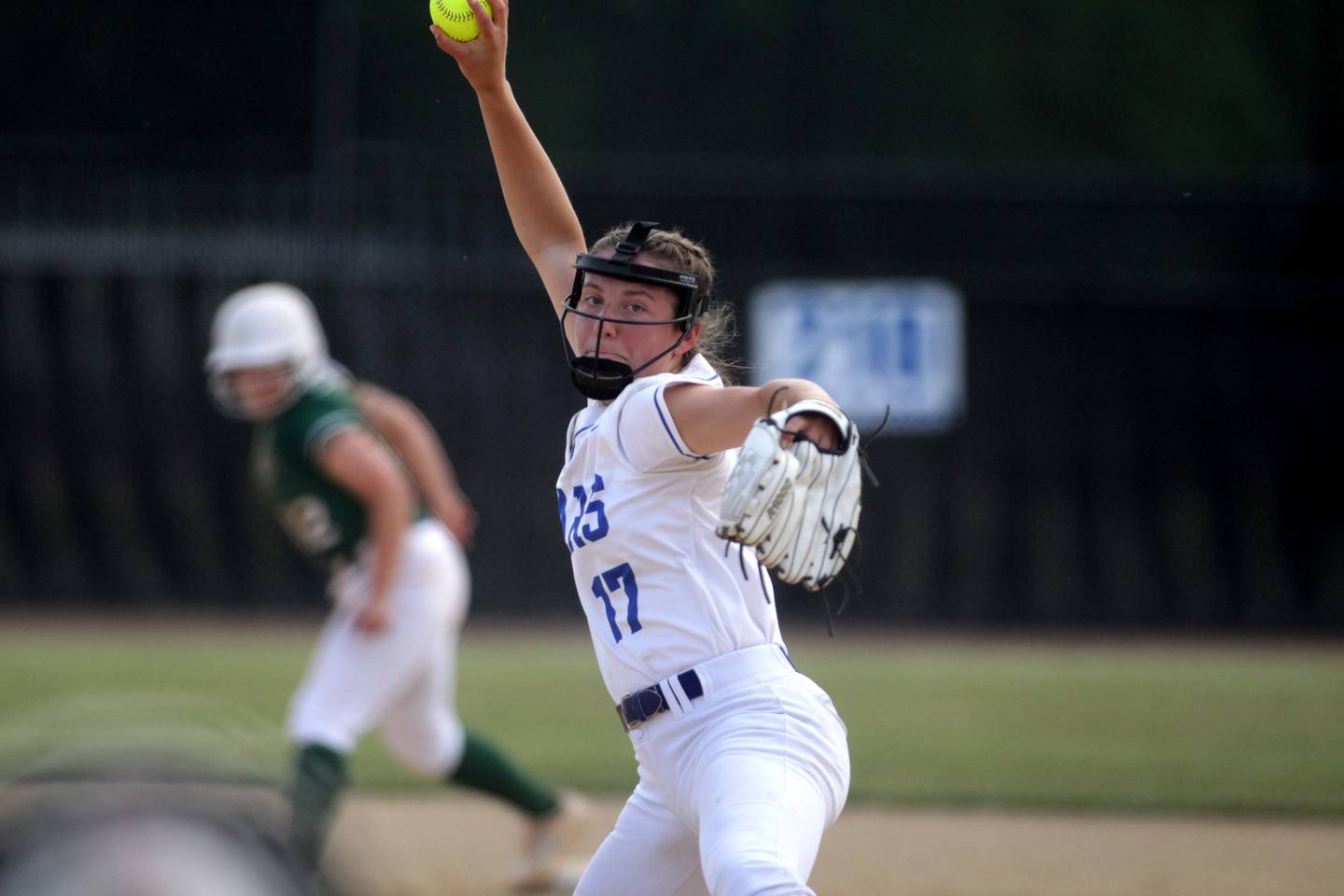 "She just comes in and is just as tough as they come," North Stars coach Tom Poulin said. "She's such a sweetheart outside the field, and then you see her screaming and all fired up after a strikeout – I was just saying that to her father – and it's great to see. Because she's so into it. Her heart is in everything she does."
Murray is no stranger to relief appearances in high-leverage situations, as that dates back to last year's state title run. The North Stars have simply rode the wave of routine that has worked again and again.
"I had full faith in Paige," Goettel said. "I told [coaches] before the inning started 'If a couple runners get on, please don't give up the game just to keep me in."
"I feel like since last year, we've just gotten a groove of it," Murray said. "I got comfortable coming into this year doing that and I think me and Ava have just got such a good rhythm. It just works."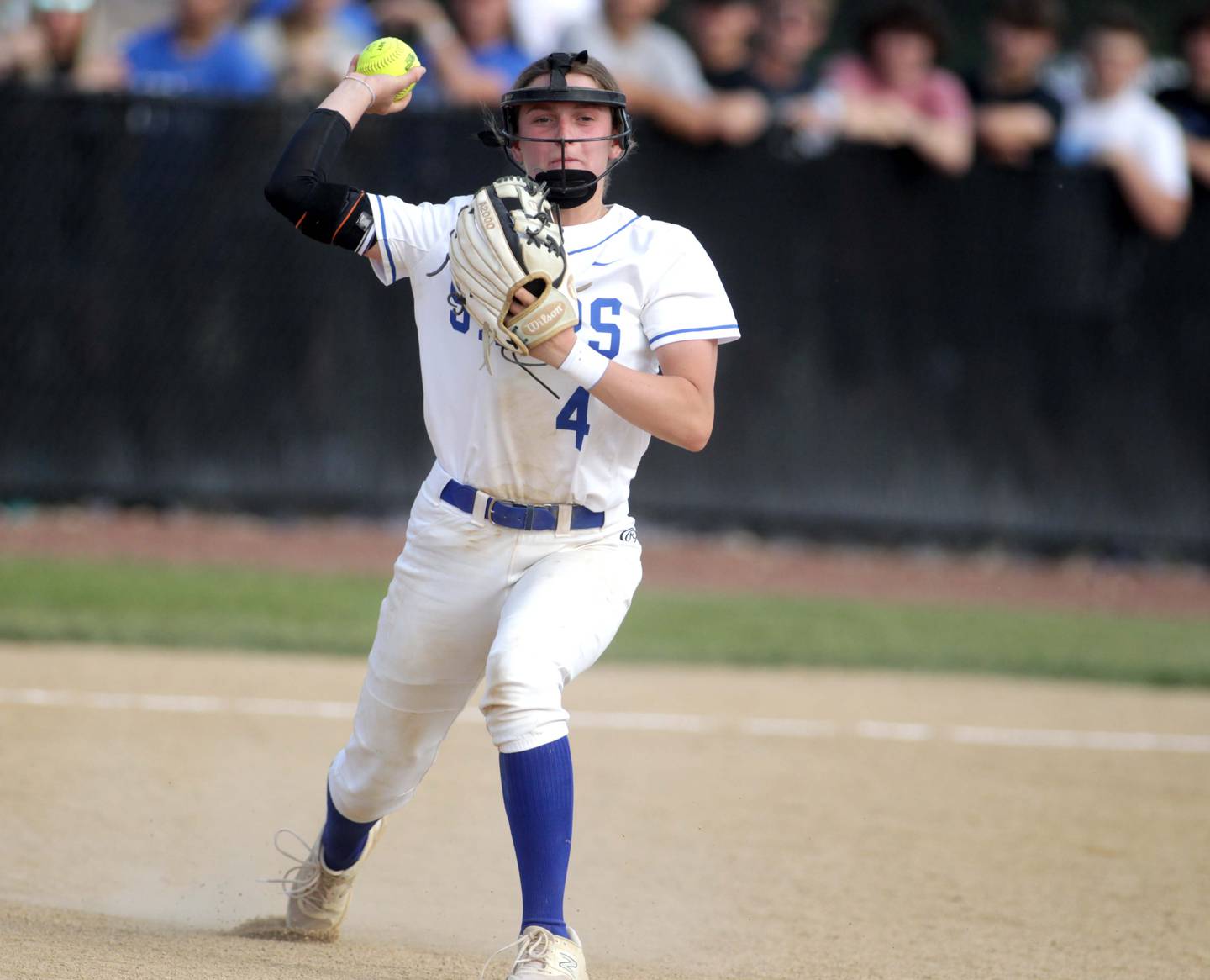 Fremd (24-10) put St. Charles North (23-6) on notice early by taking a 2-0 lead in the first inning on a single by Hailey Lucas to score Taylor Piento. Sadorf drove in a second run on an RBI groundout.
The North Stars responded with Maddie Hernandez's infield RBI single, and Megan Bauwens reached on an error that allowed two runs to score for a 3-2 North Stars' lead.
In the second inning, Leigh VandeHei added an RBI single, and later scored herself on a passed ball. Sophia Olman later smacked a solo home run to give the North Stars a 6-2 advantage.
In the fourth, Fremd's Ryanne Goodwin had a three-run shot off of Goettel to close the gap to 6-5, but Goettel responded with her sixth strikeout and a groundout to end the threat.
St. Charles North again responded with a rally that began with two singles from VandeHei and Julia Larson to start off the pivotal stretch. With Olman at the plate, a successful double steal was executed to move them to second and third, respectively, which Olman then cashed in on an RBI groundout to make it 7-5. Hernandez followed with an RBI single to prompt Lucas to pitch in relief of starter Lauren Graham, who shut down the North Stars.
"...We dialed in the pitches that we wanted and what to expect," Hernandez said of her crucial at bat. "We were fixing where we were standing so doing more on our end to try and make [ourselves] more successful for us to get this win. I think that's huge and I think that's crucial for us to be able to point that out."
In 10 total batters faced, Lucas struck out eight.
"We've told our pitchers all year long that no one game is going to be dominated by one pitcher," Fremd coach Josh Teschner said. "Admittedly, they've both have times where that's not true. But today, with a lineup like that – where they've got seven or eight batters are going to make you fight and do everything you can possibly do to stop them – we knew it would take two pitchers."
"We knew Hailey would be a good matchup for us, against them, late in the game if we could get there," Teschner continued. "And, we did and gave ourselves a shot."
Murray, however, went toe-to-toe and had two strikeouts and forced a pop out in the seventh to finish the game.
"It is a group that is relentless, whether it's starting the year with a couple of really big wins against Lockport, Warren, beating Lincoln-Way [Central] a week and a half ago," Teschner said. "...They're just a group that does not give up on each other. They don't give up in an at-bat, on a play, they just keep coming."