ST. CHARLES – St. Charles North's storybook run to a state title last season is a page long turned. It doesn't mean the elite pitching formula that boosted the North Stars there has any reason to change, though.
Senior pitcher and reigning Kane County Chronicle Softball Player of the Year Ava Goettel sets the tone for multiple innings of shutout work. Once the North Stars are ready to turn the reins over to sophomore Paige Murray, they'll roll with another power arm to finish the job.
The North Stars' 2-0 victory over St. Charles East on Monday was just another example of the tried-and-true duo. Goettel and Murray combined for seven innings of shutout ball, allowing only four hits and striking out nine Saints.
"Ava and Paige handled a pretty potent offense," North Stars coach Tom Poulin said.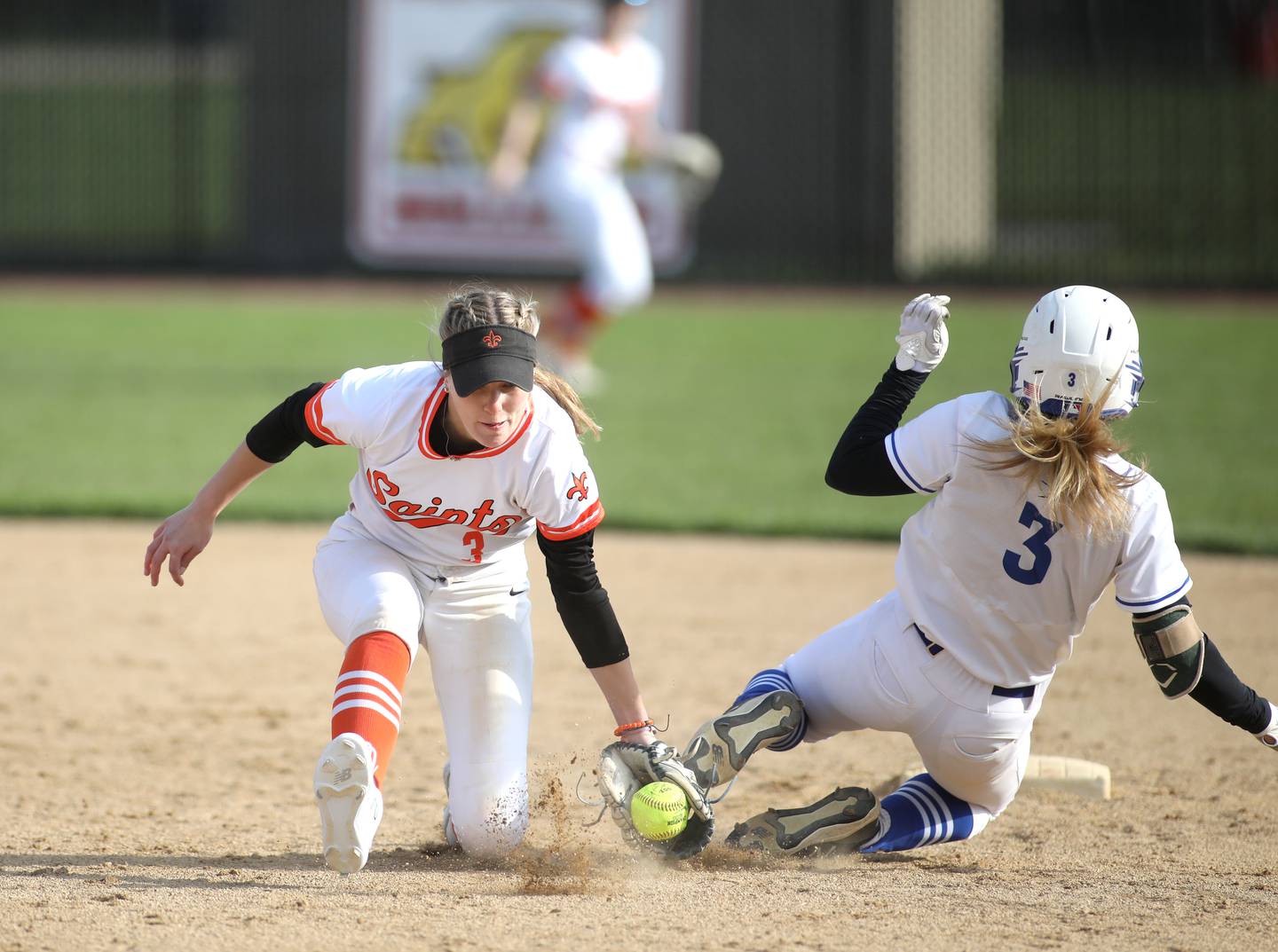 Goettel lasted 4 2/3 innings and managed to pitch out of jams in the second and fourth innings.
In the second inning, Valparaiso commit and Saints senior Cici Wilson smashed a single and advanced to second on a sacrifice bunt from Holly Smith. Goettel coaxed a dropped third strike on Addison Wolf and a lineout by Bri Risley to first base. In the fourth after Sam Gaca reached on a one-out error, Goettel answered with two consecutive strikeouts to limit the Saints' attack.
Goettel also received notable defensive help from freshman shortstop Ginger Ritter, who was responsible for all three outs to open the game, catching a pop fly and corralling two grounders for outs at first.
"I think coming in as a freshman, she had big shoes to fill with [Auburn Robison] playing in college now at a really good school [Wisconsin-Whitewater]," Goettel said. "I think she stepped up to it so well. That diving play she made [in the third inning], off the bat, I thought that was a base hit. ... It was like a deep breath. I feel so confident with Julia [Larson] at third and Ginger at shortstop. They make such a great pair."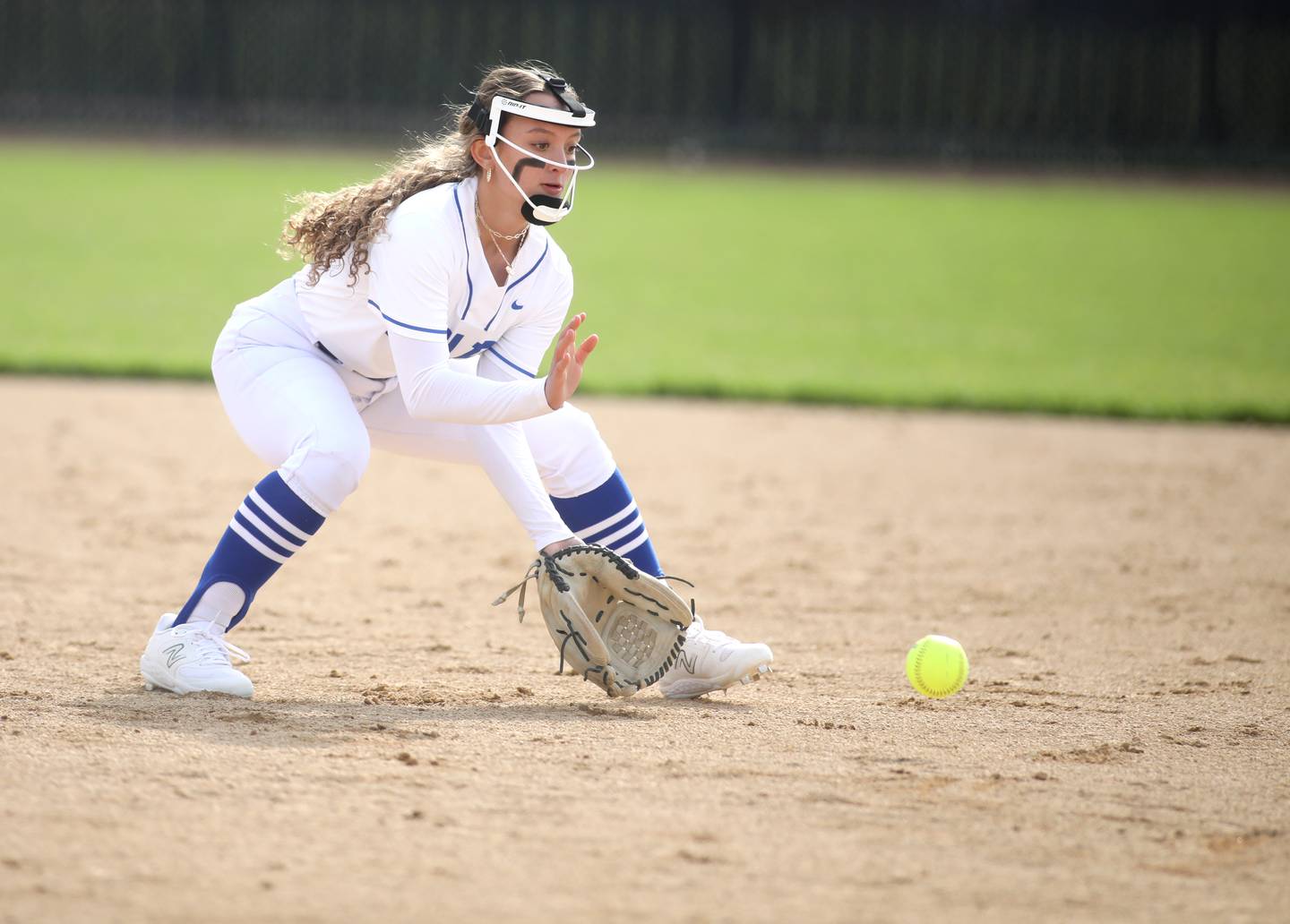 St. Charles East (8-7-1, 2-1) appeared to have a terrific chance to score runs in the fifth. Risley reached on a one-out single, which was followed by Sam Beers drawing a walk. After Abby Arend popped out, Nikki Johnston lined a single to load the bases.
Murray entered for Goettel and managed to strike out freshman standout Hayden Sujack with a riseball to end the threat.
"That's a tough spot to go in," Poulin said. "[Sujack] has what, 10 home runs, and had the bases loaded. As I'm doing it [I thought], 'Thank goodness it's Paige' because she's tough. The batter before, we looked at Ava and it looked like she said she was OK. After that one, I think everyone was in agreement, which is what it takes. I trust these kids: catchers, pitchers, [assistant coach Thijs Dennison]. We all discuss it quickly and make a decision."
The two runs for the North Stars (10-1, 3-0) came on a no-doubt home run from Maddie Hernandez to left field in the first inning off Saints starter Grace Hautzinger.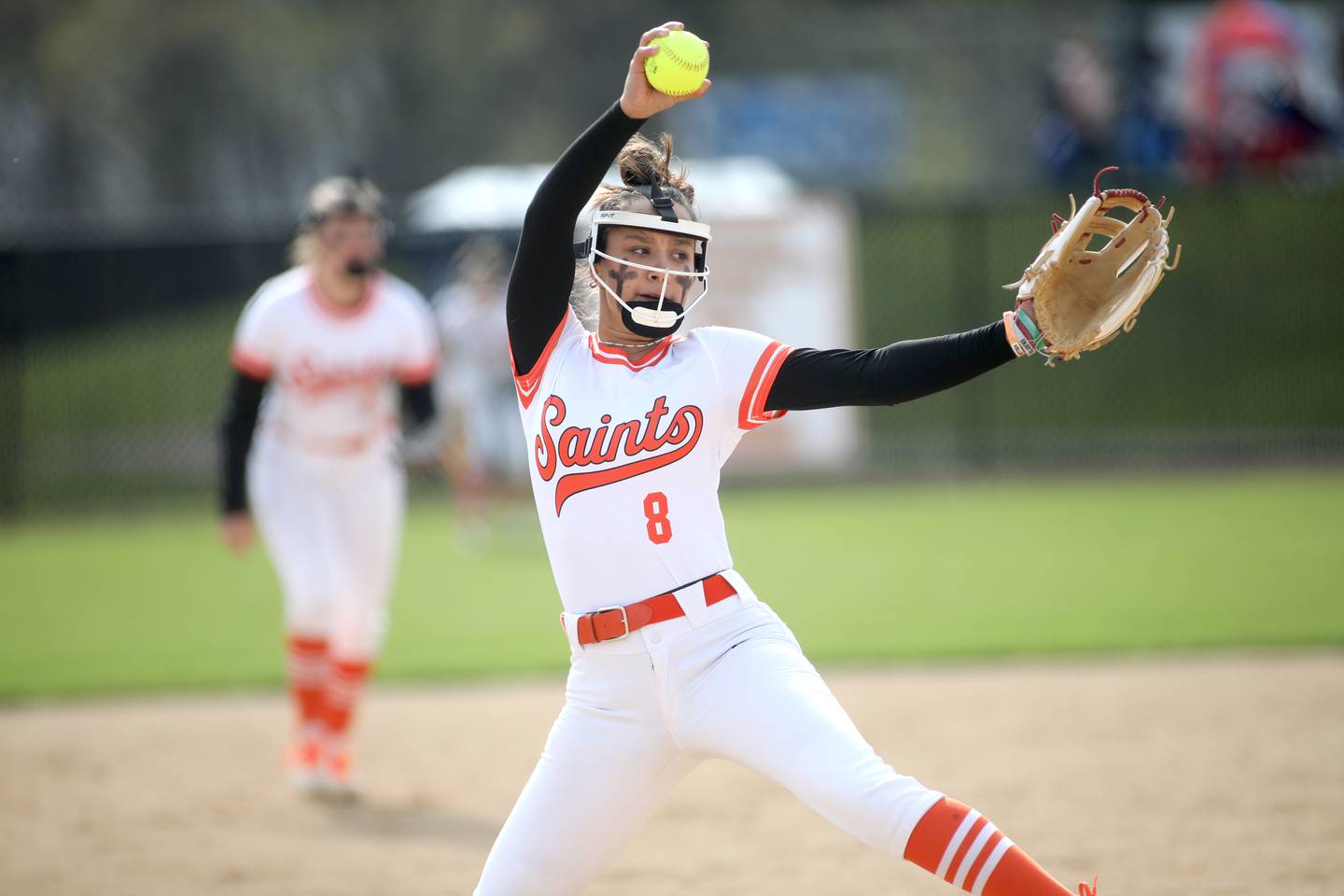 In the seventh, the Saints almost pulled off a comeback with two outs and two runners on. Johnston ripped what would've been a double to right field to drive in the tying runs, but the home plate umpire ruled she wasn't completely in the batter's box during the swing and she was called out to end the game.
"To be the third out, that's a tough way to go," Poulin said. "That's new. That was just a good softball game. That's two good teams."
Hautzinger pitched a complete game with eight strikeouts and three hits allowed.
"[Hautzinger] did a great job," Saints coach Jerod Gutesha said. "She was in control and in command the whole game, so she did a really nice job. That's a fun game to be a part of as a coach, as a player, as a fan. I think everybody here probably walked away enjoying the game."
For Gutesha, his "unsung hero" was Sam Beers.
"She had a couple at-bats where she went deep into the count, fouled off about four or five early on, ended up striking out. But she was battling against Ava. She battled and drew a walk, which was part of the bases-loaded [chance in the fifth]. Then she led off with a walk in the seventh, which puts the pressure on, and then Abby [Arend] put a hit out there [before the game-ending play]."