PEORIA – The tears of joy streaming down Maddie Hernandez's face told their own story.
The hugs exchanged, the beaming faces and the celebration after St. Charles North's 3-2 victory over Marist in the Class 4A state championship game for the program's first-ever state title was all that needed to be said.
[ Photos: St. Charles North vs. Marist ]
Above all, it was a conversation between North Stars coach Tom Poulin and Hernandez before her go-ahead RBI single in the top of the seventh to break a 2-2 tie that was a story perhaps worthy for Hollywood.
"I said [earlier in the game]: 'Today, you're going to get a hit,'" Poulin said. "The moment, it's going to happen."
Julia Larson singled to lead off the North Stars' winning rally and advanced to second on Auburn Roberson's two-out walk.
Hernandez, who had the game-winning hit in the sectional final to defeat Glenbard North, had another chance for glory.
Between pitches of an eventual 2-2 count, Poulin reminded her: "This is that moment I was talking about."
Hernandez then lined Marist senior pitcher Brooke McNichols' pitch into the outfield to drive in the decisive run.
"I have to thank the coaches and the team, first of all," Hernandez said amid a swarm of hugs. "They never once lost trust in me. They knew I could do it the entire time. I haven't had a hit since the walk-off in the sectional and I was in a bad spot. I lost confidence in myself completely, but the team and the coaches never once lost it in me.
"My first two outs of this game, coach Poulin came up to me and he [said], 'I have all the confidence in the world in you. You're going to get a hit this game.' Just them having the trust in me. Just going up there and being able to do that, I felt like I could."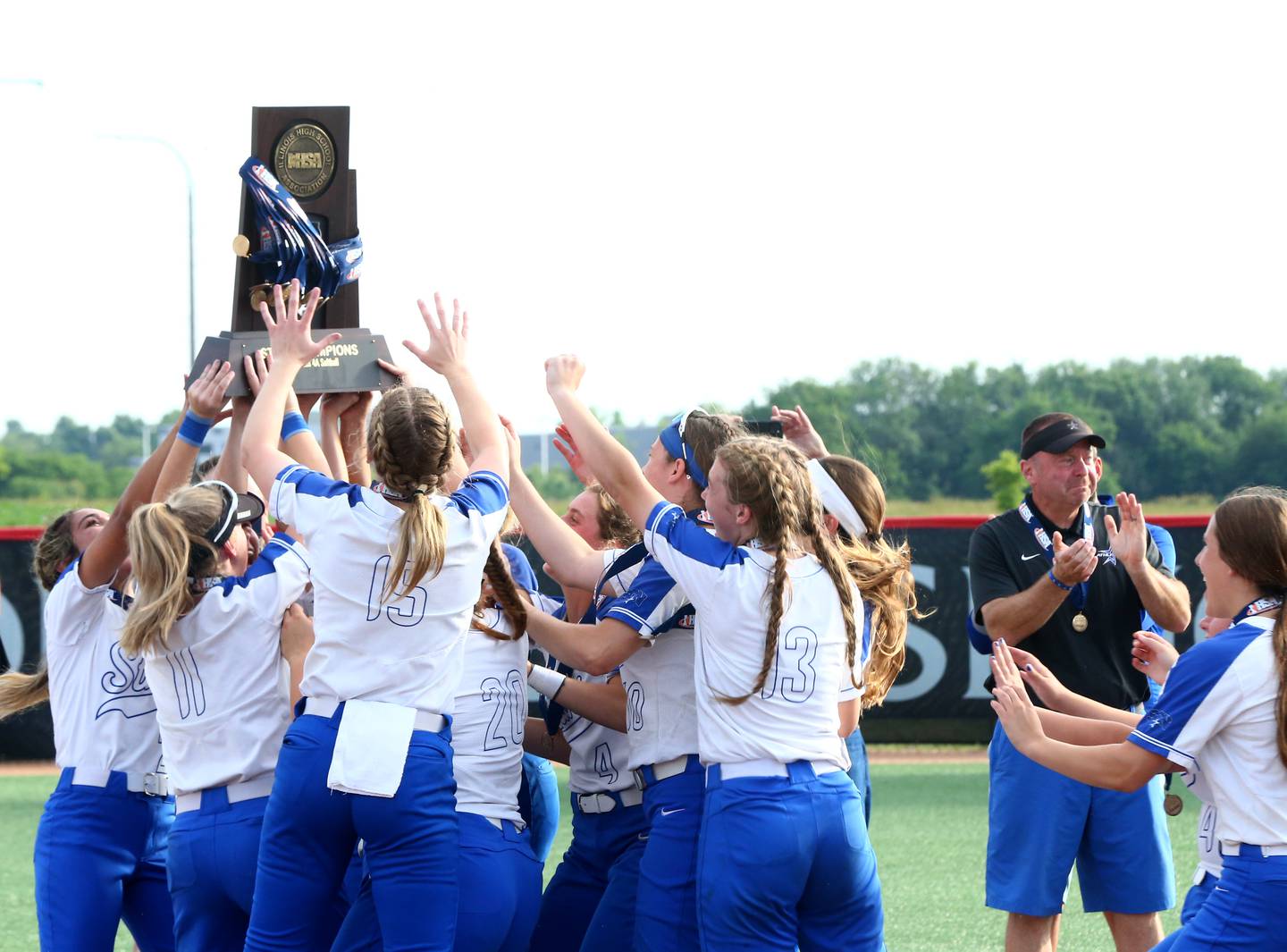 North Stars junior ace Ava Goettel took a no-hitter into the fifth inning and left with a one-hit shutout in the sixth against defending champion Marist (31-6-1).
"It's just a crazy feeling," Goettel said. "When I'm pitching, I don't think about it. I just try to think about one pitch at a time because that's what everyone around me always says. Our coaches walked into this game thinking 'one pitch at a time. That's the only way we're going to win.' That [was] my mentality going into it."
Marist's Isabel Cunnea tied the game in the sixth with a two-run double two batters after Goettel was lifted for freshman Paige Murray with no outs.
After Cunnea's two-run double, Murray coaxed a pop out before Gianna Richy singled. Breanna Hanik popped out to center, allowing Cunnea to advance to third.
Meghan Nicastro's running catch in left on a scorching liner by Caroline O'Brien likely saved a run that set the stage for Hernandez's heroics.
In the seventh, Murray forced two pop outs before surrendering a bunt single to Sierra Sass. Emily Bojan flew out to center field, right to a camping VandeHei, who squeezed the final out.
"[My players] battled their faces off," Marist coach Colleen Phelan said. "They showed up and played for the name on the front here. They wanted it bad, but we came up a little short. I think they should be proud of second place because it's an accomplishment other teams would [do anything] to be here right now."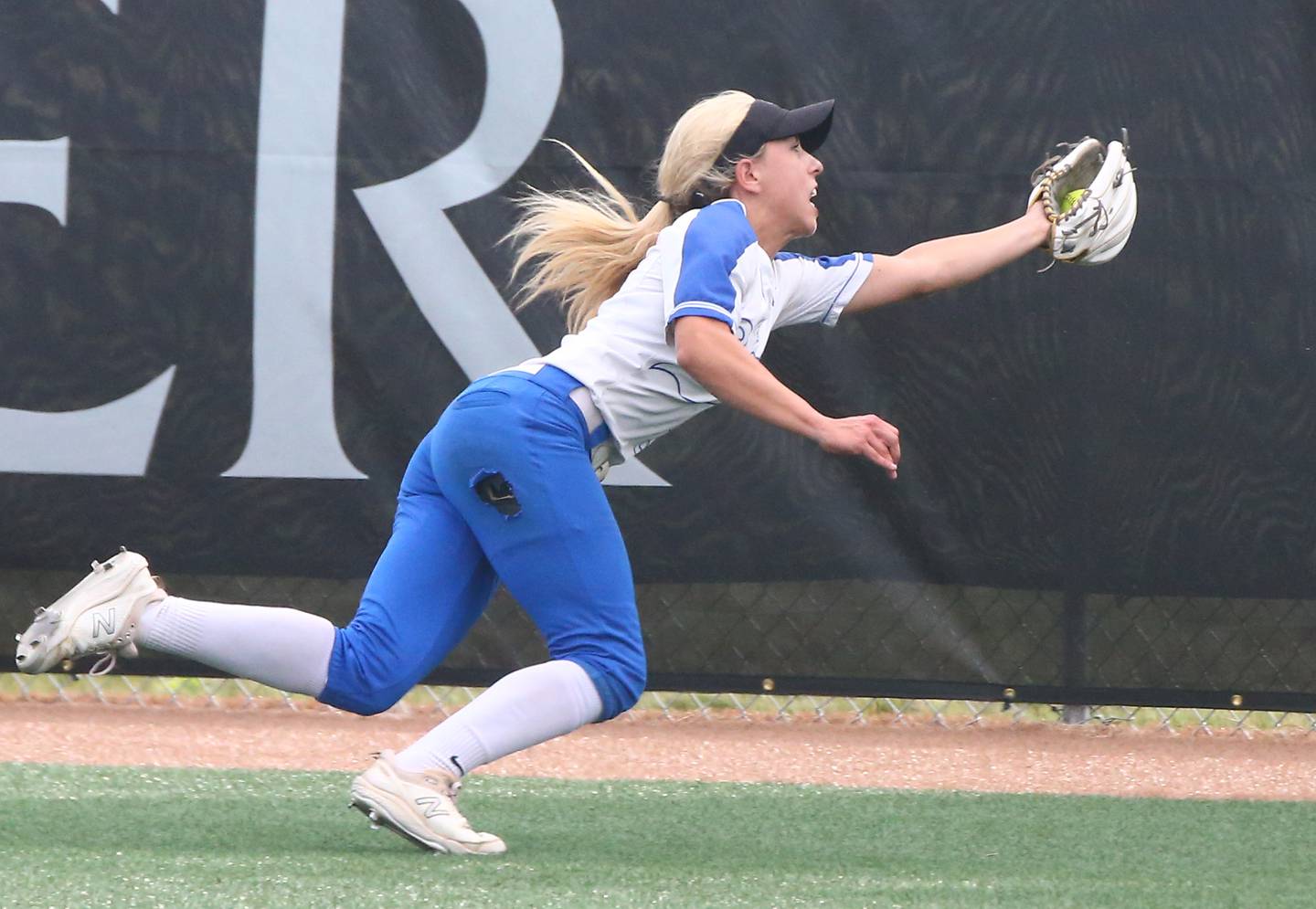 St. Charles North (27-4) scored first in the fifth. VandeHei, Chantos and Larson all singled before Sophia Olman hit a sacrifice fly to score VandeHei. Megan Bauwens followed with an RBI single for a 2-0 advantage.
Goettel surrendered her first hit in the bottom of the fifth, a double to Hanik, but struck out O'Brien and forced two pop outs to get out of the inning.
Perhaps the final image from Louisville Slugger Field that sums up the 2022 North Stars state-winning team is their dugout dry-erase board reminders: "Quality at-bats. Making plays."
And finally: "Enjoy this."