West Suburban Silver
Downers Grove North (4-0, 2-0) at Oak Park-River Forest (1-3, 1-1)
When: 7:30 p.m. Friday
Last matchup: Downers Grove North 20, Oak Park-River Forest 6 (2022)
About the Trojans: Following its watershed win over Glenbard West in Week 3, Downers Grove North showed no let-up with a 49-6 win over Proviso West last Friday. The Trojans are establishing themselves as a team to be reckoned with in the Silver. Noah Battle, who had nine touchdown runs already through three games, is the bellcow out of the backfield. Sophomore QB Owen Lansu has poise beyond his years, with Iowa State recruit Cael Brezina among those to watch defensively. The Trojans can't get caught looking ahead to a huge Week 6 game with York.
About the Huskies: The Huskies come in off a rough 56-28 loss to York. Oak Park-River Forest's only win came against Proviso West. Matt Winkelhake, a junior wide receiver/defensive back, had two receptions for 94 yards and an 80-yard TD and also returned a kickoff 73 yards for a TD last week. It's a young and inexperienced OPRF team taking its licks in the Silver.
FND Pick: Downers Grove North
When: 7 p.m. Friday
Last matchup: York 31, Hinsdale Central 7 (2022)
About the Dukes: York continued to roll last week with its 56-28 win over Oak Park-River Forest, the Dukes' 15th consecutive regular-season win dating back to 2021. The Dukes amassed 546 yards of total offense, with Sean Winton throwing for 203 yards and three TDs and Jake Melion rushing for 156 yards and two TDs. Luke Mailander had five catches for 142 yards and two TDs, including a 94-yarder, and Chris Danko had a 99-yard kickoff return for a TD and caught a TD. Defensively, Cole Ostendorf and the York defense held OPRF to 30 yards rushing.
About the Red Devils: Hinsdale Central finally got in the win column with a 48-13 win over Morton. The Red Devils played a rather strong nonconference schedule, but York presents a step up in class. Carter Contreras is a playmaker for Hinsdale Central catching passes from younger brother Riley Contreras.
FND Pick: York
When: 7:30 p.m. Friday
Last matchup: Lyons 51, Proviso West 6 (2022)
About the Lions: The Lions are licking their wounds after a disappointing 13-10 loss at Glenbard West last Saturday, a game that came down to a blocked field goal in the final minute. Lyons has led at halftime of both of its losses. Travis Stamm had a sensational day in defeat with 15 catches for 178 yards. Quarterback Ryan Jackson was 26-for-35 passing for 214 yards and Danny Carroll ran in a score.
About the Panthers: Proviso West comes in off a 49-6 loss to Downers Grove North. It's been a tough season for the Panthers with program participation numbers way down. Proviso West has been outscored by four opponents 141-36.
FND Pick: Lyons
West Suburban Gold
When: 7:30 p.m. Friday
Last matchup: Downers Grove South 37, Morton 14 (2022)
About Downers Grove South: Long uphill climb, but history has started to repeat itself. Downers Grove South, which started 0-3 for the second straight season, just like last year picked up its first win in its West Suburban Gold opener last Friday, beating Willowbrook 28-21. Deon Davis ran for 168 yards and three TDs, including the game-winner with 1:22 left. First-year starting QB quarterback Will Potter passed for 110 yards and ran for 35, and had a 17-yard TD run in the second quarter.
About Morton: The Mustangs come off a 48-13 loss to Hinsdale Central. Morton has struggled to contain opposing defenses all season, giving up 165 points over four games.
FND Pick: Downers Grove South
When: 7:30 p.m. Friday
Last matchup: Willowbrook 21, Hinsdale South 14
About the Hornets: After an 0-2 start, Hinsdale South has righted the ship with back-to-back wins in the Gold, beating Addison Trail 24-0 last week. Matchups with Willowbrook and Downers Grove South the next two weeks figure to provide an indicator of how much of a factor the Hornets could be in the conference race. The Hornets' defense, with two straight shutouts, seems to be a strong unit.
About the Warriors: Willowbrook is coming off a 28-21 loss to Downers Grove South, as the Warriors couldn't quite punch in a tying touchdown in the final minutes on its last drive. Dual-threat QB Arthur Palicki was stellar in defeat, throwing for 176 yards and a TD to Charlie Siegler and running for 69 yards on 21 carries with a TD.
FND Pick: Willowbrook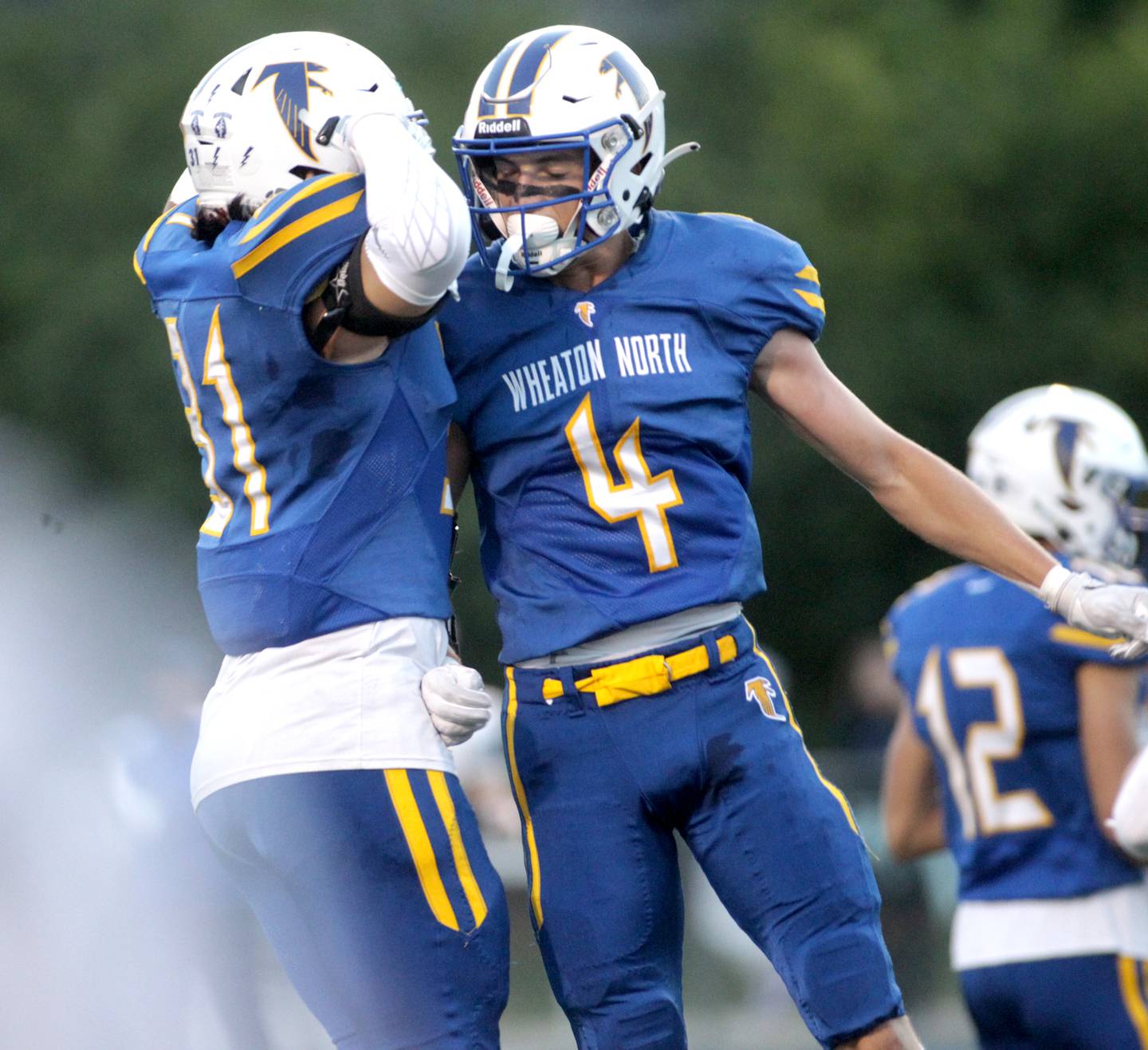 DuKane Conference
Wheaton North (3-1, 2-0) at Batavia (3-1, 2-0)
When: 7 p.m. Friday
Last matchup: Wheaton North 27, Batavia 24 (2022)
About the Falcons: Wheaton North backed up its big Week 3 win over St. Charles North with a 35-14 win over St. Charles East last Friday, setting up its showdown with Batavia for the DuKane lead. Illinois recruit Joe Barna made his presence felt on both sides of the ball last week with a sack, forced fumble and a shoestring TD catch. Max Howser threw for 200 yards and two TDs and Rich Schilling had five catches for 95 yards and a TD.
About the Bulldogs: Batavia's offense continued to hum last Friday with its 45-21 win over St. Charles North. Charlie Whelpley ran for 121 yards, had 53 receiving yards and scored a TD. Batavia's balanced offense has four players – Whelpley, QB Ryan Boe, Nathan Whitwell and Zach Granberg – who are over 100 yards rushing on the season. Boe, a North Dakota State recruit, has completed 67% of his passes for 890 yards and one touchdown and Whelpley has a team-high 21 catches.
FND Pick: Batavia
When: 7 p.m. Friday
Last matchup: St. Charles North 35, Wheaton Warrenville South 20 (2022)
About the North Stars: After a 2-0 start in nonconference, St. Charles North has dropped back-to-back games to Wheaton North and Batavia in the DuKane and is a little banged up. The North Stars' first four games on the schedule have been a bear. Junior QB Ethan Plumb, in his third varsity season, is off to a big start to the season and threw for 237 yards in the Batavia loss. Jake Mettetal, who appears to be Plumb's top target, had 103 receiving yards and two TDs but the North Stars have other threats like Jake Furtney.
About the Tigers: WW South, after consecutive losses, got a much-needed 41-0 win over Glenbard North last week. The scoring output was a welcome sight for a Tigers' offense that had scored a total of 18 points the first three weeks. Two-way starter Matt Crider, who missed the first three games with an ankle injury, provided a big lift with his return and ran for 119 yards and three TDs. Quarterback Luca Carbonaro had a 30-yard TD run. The schedule stiffens the next two weeks with St. Charles North and Wheaton North.
FND Pick: St. Charles North
Southland Conference
When: 7 p.m. Friday
Last matchup: First meeting
About the Bulldogs: The Bulldogs were knocked from the ranks of the unbeaten with a 48-6 loss to Class 6A No. 1-ranked Kankakee last week. An R-B offense that entered the game averaging 39.3 points per game was held to just six points and just one third-down conversion before the clock began to run with the 40-plus point margin. Standout quarterback Diego Gutierrez was held to just 104 yards, a touchdown and an interception on 10-of-22 passing.
About the Warriors: Crete-Monee, after starting the season 0-2 in nonconference, has got back on track in a big way since entering Southland Conference play. The Warriors have beaten Thornwood and Thornton by a combined margin of 103-0. The Crete-Monee program is one of the stronger ones in Class 6A and the south suburbs with at least eight wins in every full season since 2015.
FND Pick: Crete-Monee
Upstate Eight Conference
Bartlett (2-2, 2-2) at Glenbard South (4-0, 4-0)
When: 7 p.m. Friday
Last matchup: Glenbard South 47, Bartlett 6 (2022)
About the Hawks: Bartlett put together its best half of the season last weekend, outscoring Elgin 21-0 in the final 24 minutes during its 35-14 victory. Sophomore backs Isaac Harris (200 yards, 2 TDs) and Joey Caputo (178 yards, TD) sparked the Hawks, while another sophomore, Vincent Yario, had a TD pass and TD run at quarterback. Receiver Nicholas Carlos, inside linebackers Daniel Jasso and Ethan Ratajczyk, and Thorner are also sophomore starters.
About the Raiders: Through their first four games, the Raiders have been nearly unstoppable on both sides of the ball, having outscored opponents by a staggering 204-27 margin. Notre Dame-bound senior WR/KR Cam Williams averages 118 receiving yards per game and has scored 7 touchdowns — in limited time due to the blowout victories. Senior quarterback Michael Champagne leads the team in rushing (67 yards per game) and has thrown 12 TD passes to go with 4 rushing TDs. Tailback Carter London (3 TDs) adds depth to the offensive attack. Senior tackle Jack Everett Anderson (2 sacks) and sophomore linebacker Lambros Ioannou (5.3 tackles per game) anchor the Raiders' defense.
FND pick: Glenbard South
-- Craig Brueske, Daily Herald Media Group
Glenbard East (3-1, 3-1) at Streamwood (1-3, 1-3)
When: 7 p.m. Friday
Last matchup: Glenbard East 42, Streamwood 8 (2022)
About the Rams: Blake Salvino tossed four touchdown passes during the Rams' 49-6 win over East Aurora last weekend. Amonte Cook hauled in a pair of TDs, while Gianbiagio Brusca and Chris Renford each had TD receptions. "Blake has been a rock at quarterback," said Rams coach John Walters. "He has really done a great job of running our system and distributing the ball. With that, he also plays linebacker on defense for us. He has been on point for four weeks on both sides of the ball. I couldn't be more impressed with how he has played."
About the Sabres: Last week, the Sabres jumped out to a 6-0 lead over Glenbard South on a 29-yard touchdown run by quarterback Aden Strong. Streamwood coach Keith McMaster isn't afraid to try anything on special teams. "We've been close to recovering four different onside kicks this season — we came through with two of them last game. Over the past two seasons, our special teams group has excelled at their jobs."
FND pick: Glenbard East
-- Craig Brueske, Daily Herald Media Group
CCL/ESCC crossover
Joliet Catholic (3-1) at Wheaton St. Francis (2-2)
When: 7:30 p.m. Friday
Last matchup: First meeting
About the Hilltoppers: Joliet Catholic earned a 28-13 win over Niles Notre Dame in Week 4. Despite controlling the stat sheet for pretty much the entire night, the score wasn't secured until much later. In the grind, the Hilltoppers may have found a way to balance their offense. With HJ Grigsby slightly hampered by a first-half injury, JCA went to the air and found a potential breakout performer in Adrian Washington, who hauled in three touchdowns.
About the Spartans: St. Francis is finding its first journey through the CCL/ESCC to be an adventure. In Week 4 the Spartans rallied to take the lead against Fenwick before a power failure delayed what turned out to be a game-winning field goal for the Friars, which dropped the Spartans to 2-2. St. Francis has a potent weapon at QB in Alessio Milivojevic, a Ball State recruit, but like any quarterback who opposes Joliet Catholic, he will have to figure out a way to deal with a relentless Hilltoppers line that rarely is kept completely in check.
FND Pick: Joliet Catholic
-- Steve Soucie
When: 7:30 p.m. Friday
Last matchup: First meeting
About the RedHawks: Don't be fooled by the RedHawks' record. Marist has played a rugged schedule, losing to defending Class 8A state champion Loyola Academy (34-7) and perennial powers Glenbard West (7-6) and St. Ignatius (30-27). Marist's lone win was a 30-24 decision against Brother Rice. Senior quarterback Owen Winters averages 91 yards rushing per game, while junior WR/QB/RB John McAuliffe has scored 4 TDs, and freshman receiver Stephen Brown averages 60 yards per contest. Senior linebackers Duke White (8.7 tackles per game) and Jack Tomkins (6.3 tackles per game) anchor the defense. "It's hard not to notice all the talent they have on both sides of the ball," IC Catholic Prep assistant coach Thomas Gibbons said of the RedHawks. "It's a very aggressive group, too. It's important for us to execute our preparation on the practice field and be ready to compete from the start."
About the Knights: Last week, Joey Gliatta's 2-point conversion run proved to be the difference in the Knights' thrilling 36-34 overtime win over Nazareth. Gliatta, who leads the team with eight touchdowns, scored a pair of TDs while gaining 148 yards on 18 carries against the Roadrunners. "It was one of the most physical games I've ever been a part of at IC," Gibbons said. "Our boys prevailed and deserve all the credit. We take tremendous pride in defending our home turf and appreciate all the fans that come out to support us." Sophomore middle linebacker Foley Calcagno (9.5 tackles per game) and senior Nathan Omolo, Jr. (2 sacks) lead the defense.
FND pick: IC Catholic Prep
-- Craig Brueske, Daily Herald Media Group
Montini (4-0) at Marian Catholic (2-2)
When: 7:30 p.m. Friday
About the Broncos: Montini continued its resurgent season with a 21-10 win over Benet last Friday, and can clinch a playoff appearance with one more win after two years without a postseason. Santino Florio had four catches for 130 yards and two TDs in the win over Benet. Nick Irion had 13 tackles, six for loss, three sacks and a fumble recovery. Alex Marre has rushed for 399 yards and three TDs on the season. Irion has a team-high 36 tackles defensively while Sam Hemmersmeier has 29 tackles.
About the Spartans: Marian has had a back-and-forth season so far, two rather convincing wins sandwiched around back-to-back losses in Weeks 2 and 3. But the Spartans are coming in off a high, a 36-6 win over DeLaSalle. The Spartans are no pushovers – few are in the CCL/ESCC – but seem an opportunity for Montini to get that critical fifth win before the schedule stiffens again.
FND Pick: Montini
Benet (2-2) at De La Salle (2-2)
When: 7:30 p.m. Friday
About the Redwings: Benet, after a 2-0 start, has found a tougher go of it since it started in CCL/ESCC play with back-to-back losses to IC Catholic Prep and Montini – by a 21-10 score to Montini last week. The Redwings scored a total of 78 points in two nonconference wins, just a combined 19 the last two weeks. Pat Pitello had another stellar night offensively against Montini with 10 catches for 127 yards anda. 46-yard TD from Ryan Kubacki. Defensively Declan Walsh had two sacks and Daniel Flores an interception.
About the Meteors: De La Salle, like Benet, has found a tough go of it after a 2-0 start in nonconference, back-to-back losses to St. Patrick and Marian Catholic. The Meteors dropped a 36-6 loss to Marian last week. The difficulties in conference is nothing new to the Meteors, who are coming off a 1-8 season. An opportunity for a get-right game for Benet is here.
FND Pick: Benet
St. Ignatius (2-2) at Nazareth (0-4)
When: 7:30 p.m. Friday
About the Wolfpack: The Wolfpack bounced back from back-to-back losses to Fenwick and Brother Rice by beating Marist 30-27 last Friday. St. Ignatius has emerged as a program to watch under seventh-year head coach Matt Miller, reaching the second round of the Class 6A playoffs in 2021 and the quarterfinals in 2022. The player to watch is 6-foot-4, 310-pound senior defensive tackle, an Ohio State recruit and the No. 1-ranked senior in Illinois.
About the Roadrunners: The Roadrunners showed their resiliency last week at IC Catholic Prep, but a 36-34 overtime loss puts their backs to the proverbial wall if they are to make a return to the playoffs and defend their Class 5A title. Junior QB Logan Malachuk completed 28-of-37 passes for 248 yards, tossing two touchdowns to Jaden Fauske and another to Trenton Walker in the loss to ICCP. This game features two of the state's elite defensive lineman, Nazareth featuring junior Gabe Kaminski. The Roadrunners do have the solace of playing their next three games at home after starting the season on the road for four games. All four of Nazareth's losses came to teams with 4-0 records, and the schedule lightens up a bit the rest of the way – but not much.
FND Pick: St. Ignatius
Notre Dame (2-2) at Fenwick (3-1)
When: 7:30 p.m. Friday
Last matchup: Fenwick 42, Notre Dame 7 (2021)
About the Dons: Notre Dame, after starting 2-0, is coming off back-to-back losses to Mount Carmel and Joliet Catholic, 28-13 last week to the Hilltoppers. The Dons' offense was held to to 108 yards, only 11 on the ground. Quarterback Leo Fraterrigo ran for a TD and threw one to Quinten Jackson. Notre Dame has more than two touchdowns in only one game this season, so may prefer a lower-scoring affair.
About the Friars: Fenwick is coming off a dramatic come-from-behind 17-16 win over St. Francis on Noah Sur's game-winning 25-yard field goal in the final 10 seconds. The finish had a little extra drama when the lights went out with 24 seconds left. QB Marek Hill threw for 297 yards with TDs to Nate Marshall and TJ Smith, and ran for 41 more. Marshall is one of the state's top junior prospects with 20 offers including Alabama, Michigan and Notre Dame.
FND Pick: Fenwick
South Suburban Blue
Lemont (2-2, 2-0) at Oak Forest (1-3, 1-1)
When: 7 p.m. Friday
Last matchup: Lemont 42, Oak Forest 0 (2022)
About Lemont: Order has been restored for Lemont once returning to the comforts of the South Suburban Conference that it has dominated for multiple seasons. Lemont dropped its first two games of the season to quality nonconference opponents, but it has rolled to two league wins over T.F. South and Tinley Park, where the running clock has been put in motion in both games. Lemont had some early injuries that it seems to have started to recover from as well.
About the Bengals: Oak Forest has played a rigorous schedule thus far, losing nonconference games to Benet and Sandburg and dropping a shootout game to Hillcrest in Week 4. They've been competitive in those losses, so the Bengals can't be overlooked as a team that can be dangerous at times.
FND pick: Lemont
-- Steve Soucie
St. Bede (2-2, 1-1) at Westmont (1-3, 0-2)
When: 7 p.m. Friday
Last matchup: First meeting
About the Bruins: Quarterback Max Bray leads the Bruins' attack, having accounted for 11 touchdowns — 3 passing, 8 rushing, in the team's first 4 games. Bray averages 123 yards rushing per game. Wide receiver Alex Ankiewicz averages 76 receiving yards per contest. Defensive end Seth Ferrari anchors the squad, averaging 8.7 tackles per game. Following a 54-0 victory over Walther Christian in Week 3, the Bruins lost a 42-27 decision to Ridgewood last week.
About the Sentinels: Lucas Fears tallied the Sentinels' lone touchdown on a 78-yard run in the second quarter during last weekend's 55-6 loss to Ottawa Marquette. Westmont coach Lee Maciejewski realizes slowing down Bray might be the key to success. "St. Bede has a big quarterback (Bray) that throws well and runs hard," said the coach. "Stopping him will be a primary concern." At the near midway point of the season, the first-year head football coach is taking things in stride. "We have a core group of kids that enjoy football and I enjoy coaching them."
FND pick: St. Bede
-- Craig Brueske, Daily Herald Media Group
Chicagoland Christian Conference
Wheaton Academy (3-1, 1-1) at St. Edward (0-4, 0-2)
When: 7 p.m. Friday
Last matchup: Wheaton Academy 38, St. Edward 7 (2022)
About the Warriors: Following a wild 30-29 loss to Hope Academy in their home opener last weekend, the Warriors attempt to rebound against St. Edward. "We're going to St. Ed's for the second year in a row," said Warriors coach Jim Johanik. "We historically don't play well there. They've always been a hard-nosed team that seems to play us tough. It will be a good environment for us to have to overcome." Against Hope, Wheaton Academy mounted an 80-yard drive in the final minute, capped by quarterback Brett Kasper's 40-yard TD pass to Ben DeHaan. However, a pair of celebration penalties moved the PAT try to 50 yards, and the potential game-tying kick fell a few yards short. "Hope has done a fantastic job in building its program," said Johanik. "They're competing in attracting talent with every other private and public school in and around the city, and they've got more skill and size than I've ever seen from them. They outplayed us and we missed some key opportunities to seal the game. This matchup is going to be great for our young conference going forward. The loss, as disappointing as it was, doesn't change much for us. We can still share in the conference title, the playoffs are well within reach, and if anything, it helped us refocus a bit. Learning from the tough losses are more important than getting easy wins."
About the Green Wave: Having been outscored 136-44 through four games, the Green Wave and first-year head coach Shane Finnane look for their first victory against a Wheaton Academy team that suffered its first loss last weekend.
FND Pick: Wheaton Academy
-- Craig Brueske, Daily Herald Media Group
West Suburban Conference crossover
Glenbard West (2-2) at Leyden (1-3)
When: 6 p.m. Thursday
Last matchup: Glenbard West 55, Leyden 8
About the Hilltoppers: Glenbard West, despite missing 10 starters, picked up a huge gut check 13-10 win over Lyons last Saturday. Ben Cesario blocked a field goal attempt in the final minute to preserve the win as the Hilltoppers rallied and snapped a two-game losing streak. Teyion Oriental scored the go-ahead TD in the fourth quarter for Glenbard West. The Hilltoppers' offense issues still are there (a total of 27 points on the season), but the Glenbard West defense appears to have put it back together in holding down a talented Lyons attack.
About the Eagles: Leyden is coming off its first victory of the season, 36-34 over Proviso East. That scoring output was a huge reversal after the Eagles managed a total of six points the first three weeks, and Leyden could be hard-pressed to keep that going against a stingy Hilltoppers' defense. Senior Bryan Gonzalez is a two-way starter at receiver and safety. Anthony Falco is in his first season at QB after playing defensive end previously.
FND Pick: Glenbard West