MORRIS — For most of the young football season, Morris running back Ashton Yard has been very consistent in gaining yards. The one thing missing from the junior's resume has been a long touchdown run.
Yard tacked two long TD runs onto his season's accomplishments Friday night, as he ripped off scoring runs of 49 and 55 yards en route to a 200-yard, three-touchdown performance in a 42-0 Kiswaukee River/Interstate 8 crossover win over Marengo. Yard gained his 200 yards on 21 carries, averaging 9.5 yards per attempt.
"It felt great to get a couple of big runs," Yard said. "We've had a lot of distractions the last couple of weeks, but we had a good week of practice this week and came out and played well tonight. The line did a great job of opening holes up front and the wide receivers did a great job of getting blocks down the field."
While the Morris offense was busy racking up 313 yards on the ground and 166 through the air, the defense stymied a Marengo passing attack that had collected 11 touchdowns in its last three games. Morris (5-0), which became playoff-eligible with its fifth win, held Indian quarterback Joshua Holst to 40 yards through the air on 8 of 21 accuracy and intercepted him twice. Marengo (3-2) did have 128 yards on the ground, led by Dylan Stolz, who had 82 yards on 16 carries.
Morris linebacker Jorge Loza and defensive back A.J. Zweeres had seven tackles each, while Aidan Romak had five tackles, a pass breakup and an interception and Cameron Hatcher had four tackles, a pass breakup and an interception. Ryan Fischer and Ryan Wolenczuk each had a sack as well.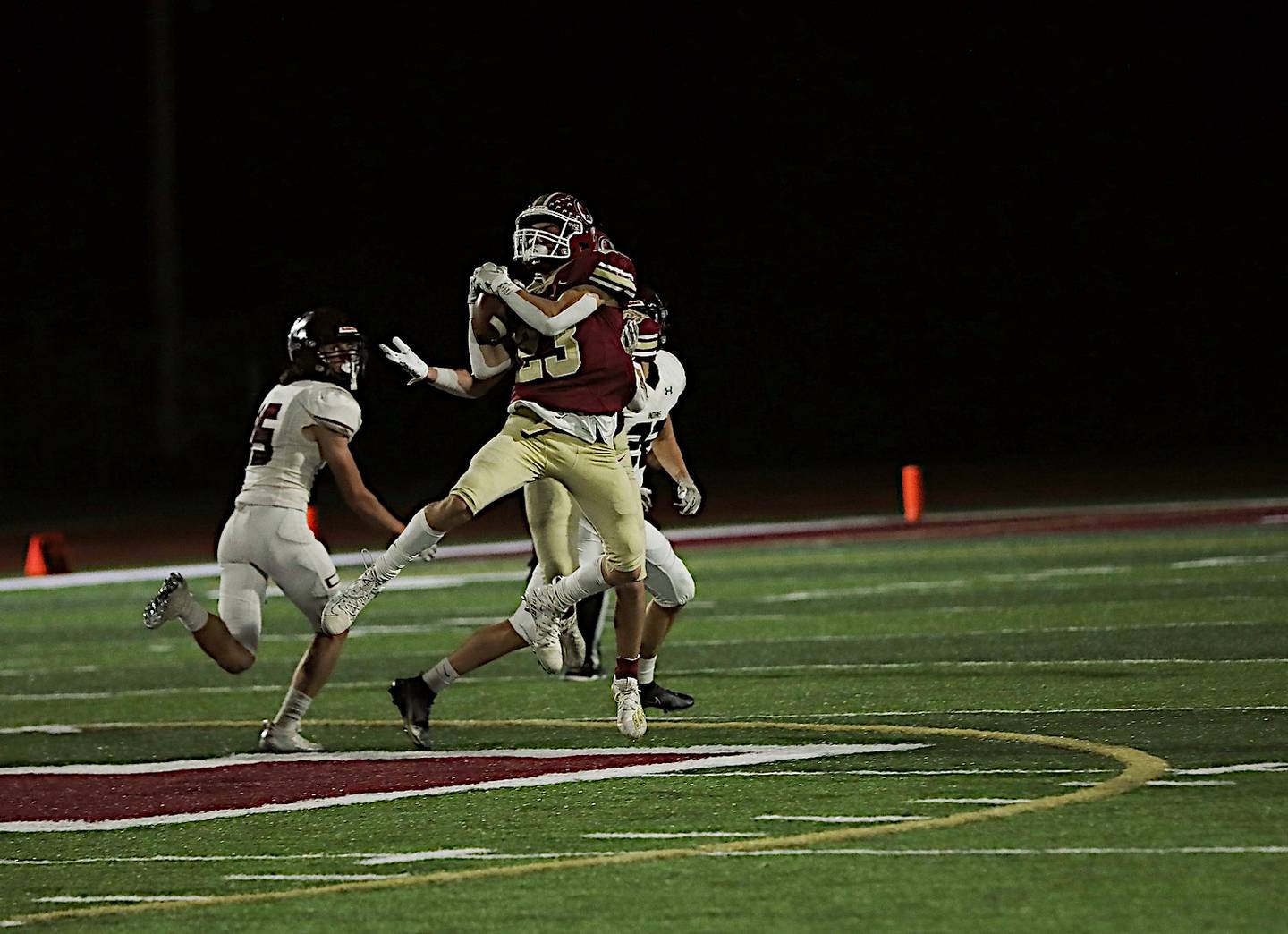 "We knew their quarterback was hyped up as one of the best in the conference," Loza said. "It was the whole defense working as one. From the line getting pressure to the linebackers reading their keys and the defensive backs covering the receivers, it was a total team effort on defense.
"That fifth win is just one of the things we have on our checklist. We know we can't get into the playoffs without five wins, so we have that now. But, we aren't done. There a lot of things we want to check off on the way to DeKalb. That's the goal."
Morris fumbled inside the Marengo 10-yard line on its first possession, but forced the Indians to punt and took over on its own 38. After Zach Romak picked up a first down on 4th and 1, Yard broke loose on the right side and scampered 49 yards for a touchdown. The first of Henry Hansen's six extra point kicks gave Morris a 7-0 lead with 4:56 to play in the first quarter.
Morris again forced a Marengo punt and then, for the first time in three games, had to punt themselves. Romak's kick rolled to the 1-yard line, where it was downed by Myles Johnston. Marengo had to punt again, and Morris took over on the Indians' 26. On the fourth play of the drive, Yard scored from four yards out for a 14-0 Morris lead with 10:14 to go until halftime.
"I wasn't real happy with the slow start offensively," Morris coach Alan Thorson said. "We had the turnover, and we had to punt. But, if you are going to punt, you might as well down it at the 1.
"This was another game where our offensive line dominated and our backs ran hard. It was nice to see Ashton break a couple of long ones because he has been close to doing it all year."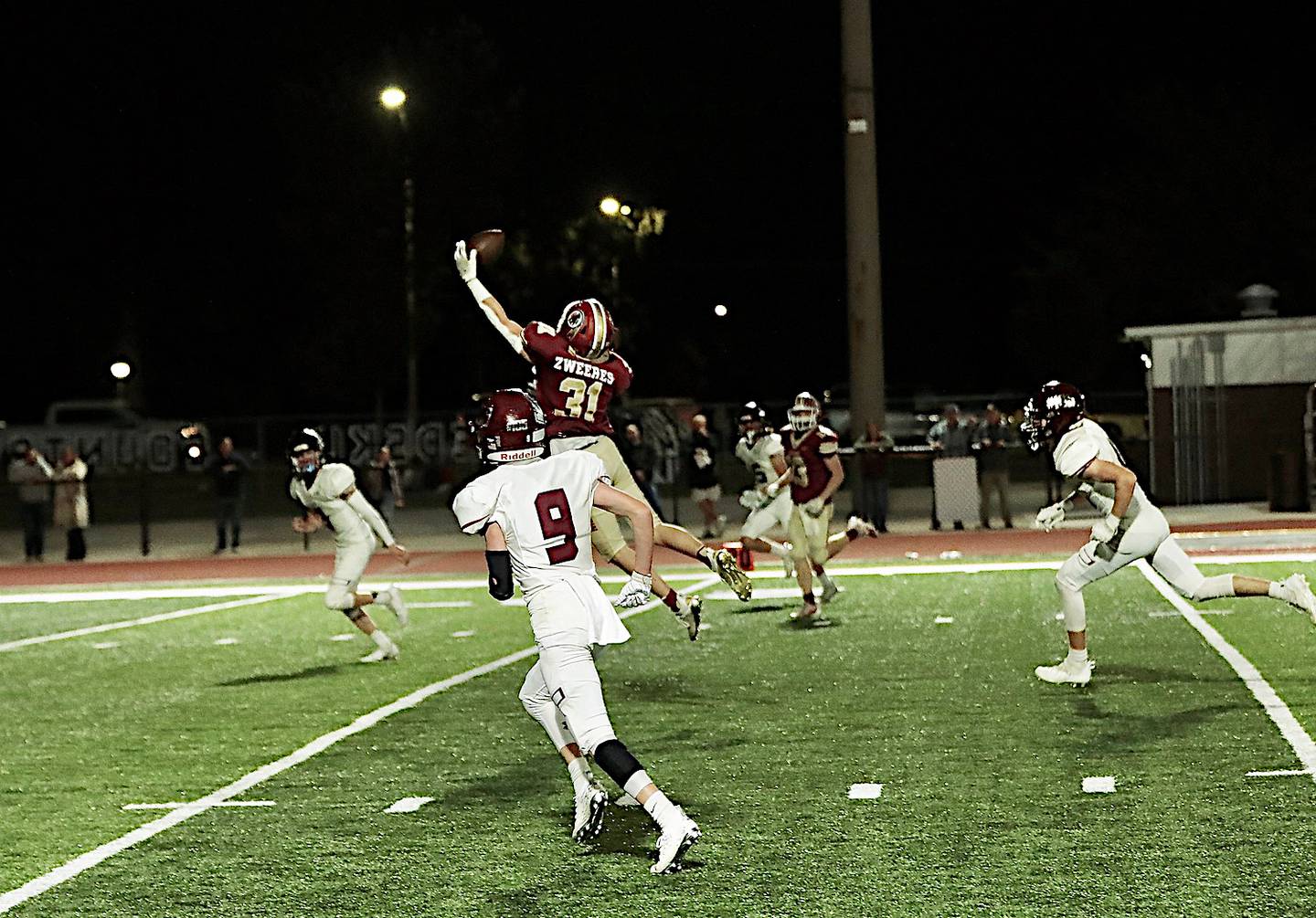 After another Marengo punt, Morris turned it over on downs, but Hatcher got an interception and returned it to the Marengo 41. Romak, who finished 9 of 14 for 156 yards, hit Zweeres with a 25-yard touchdown pass to put Morris ahead, 21-0.
Another Marengo punt gave Morris the ball on its own 34. Romak hit Johnston with a 38-yard pass to start the drive, then finished it with a 10-yard TD run to put Morris ahead 28-0 with 1:08 to go until halftime.
Marengo got the ball to start the second half, and Aidan Romak got an interception at the Morris 43. On the first play, Yard went 57 yards off the left side for a 35-0 lead. The next Marengo punt was downed inside the Morris 5, and Morris went 97 yards on 13 plays, with Loza scoring from three yards out to provide the final score. Key plays in the drive were a 30-yard pass from Zach Romak to Hatcher and a 31-yard completion to Zweeres on which Zweeres made a spectacular one-handed grab.
"Field position didn't help us," Marengo coach Paul Forsythe said. "But we lost a couple guys to injury early. We don't have a lot of guys on our roster, so that really hurt us. We made some mistakes on offense and that put our defense on the field a lot. Morris is very physical. They are a load, and we were not surprised by that.
"I was happy with the way our guys competed in the second half. That was the challenge for us. We competed well and we can take that and carry it over into next week."
Morris, meanwhile, wants to continue its weekly improvement.
"It started with the defense tonight," Thorson said. "Their quarterback had some big stats, and we challenged our defense to step up. The entire defense did a great job tonight. We put Aidan Romak on No. 15 [Collin Aubry], and he didn't have a catch until after we put our subs in. And, Cameron Hatcher was all over the place tonight.
"Offensively, we ran the ball well. Ashton Yard was outstanding. The run right after halftime was perfect. The line opened the hole and Ashton hit it just like he was supposed to. We got playoff eligible tonight, but that's not the end goal. We hope it's one of many goals we hit."