NAPERVILLE – Naperville Central's Seth Lendzion had a grand total of one game of high school football experience under his belt entering Friday night's game with Lincoln-Way East.
Nevermind that. He performed like a seasoned veteran.
Lendzion's 30-yard field goal split the uprights to lift Naperville Central to a 20-17 victory over Lincoln-Way East, handing the Griffins their first defeat since the 2018 Class 8A semifinals.
With the score tied, 17-all, Naperville Central marched methodically down the field, nursing a 10-play drive into the waning seconds of the game. The Redhawks spiked the ball at the one-second mark, sending Lendizon, a converted soccer player, out for the potential game-winner. Lincoln-Way East tried to freeze him with a pair of timeouts, but it didn't hinder him in the slightest.
"I liked the timeouts. It gave me time to settle my nerves," Lendzion said. "I felt completely natural and just put it through the uprights."
His field goal capped what turned out to be a defensive struggle in the second half. Lincoln-Way East (1-1) carried a 17-10 lead into halftime, but the Griffins were completely stymied after the break, not converting a single first down in the final 24 minutes.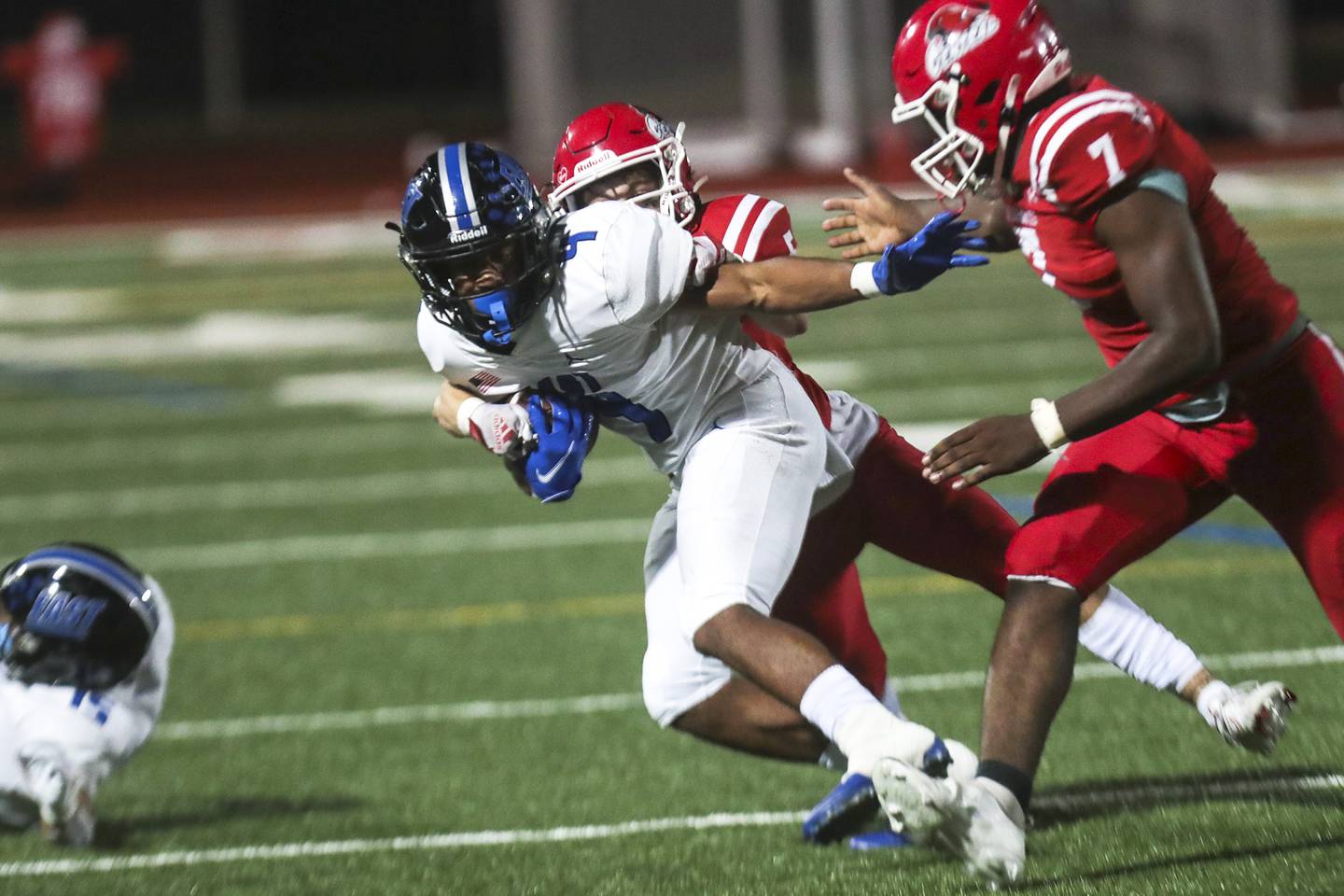 Naperville Central (2-0) wasn't particularly effective offensively, either, but did managed to sustain a somewhat lengthy third-quarter drive that looked to have stalled just inside the Lincoln-Way East 10-yard line. But a gutsy call on fourth down allowed quarterback Owen Prucha to hit Northwestern-commit Reggie Fleurima for a 9-yard touchdown that tied the score at 17.
"Props to Lincoln-Way East. They've got great players on offense and defense," Fleurima said. "They are always well-rounded as a team, and we knew it was going to be a dogfight. And we went into halftime, and we knew this wasn't over. It was going to be a second-half game. I just love our team. We have no quit."
Lincoln-Way East took advantage of a couple of short fields to score two touchdowns in the the first half.
Naperville Central dented the scoreboard first with a 22-yard field goal from Lendzion, but after the Griffins returned the ensuing kickoff to near midfield, James Kwiecinski ripped off a 53-yard touchdown run to put the Griffins in front, 7-3.
After a quick Naperville Central punt, Lincoln-Way East quarterback Brennan Stolarek completed three straight short passes to Trey Johnson to put the Griffins deep in Redhawk territory before Johnson plowed in from the 1-yard line to stretch the advantage to 14-3.
Naperville Central (2-0) answered largely because of the efforts of Fleurima. He picked up 46 yards on a deep ball from Prucha that set up a 2-yard touchdown reception by James Jopes. On the field goal drive, Fleurima also had a 39-yard reception. He finished with eight receptions for 152 yards.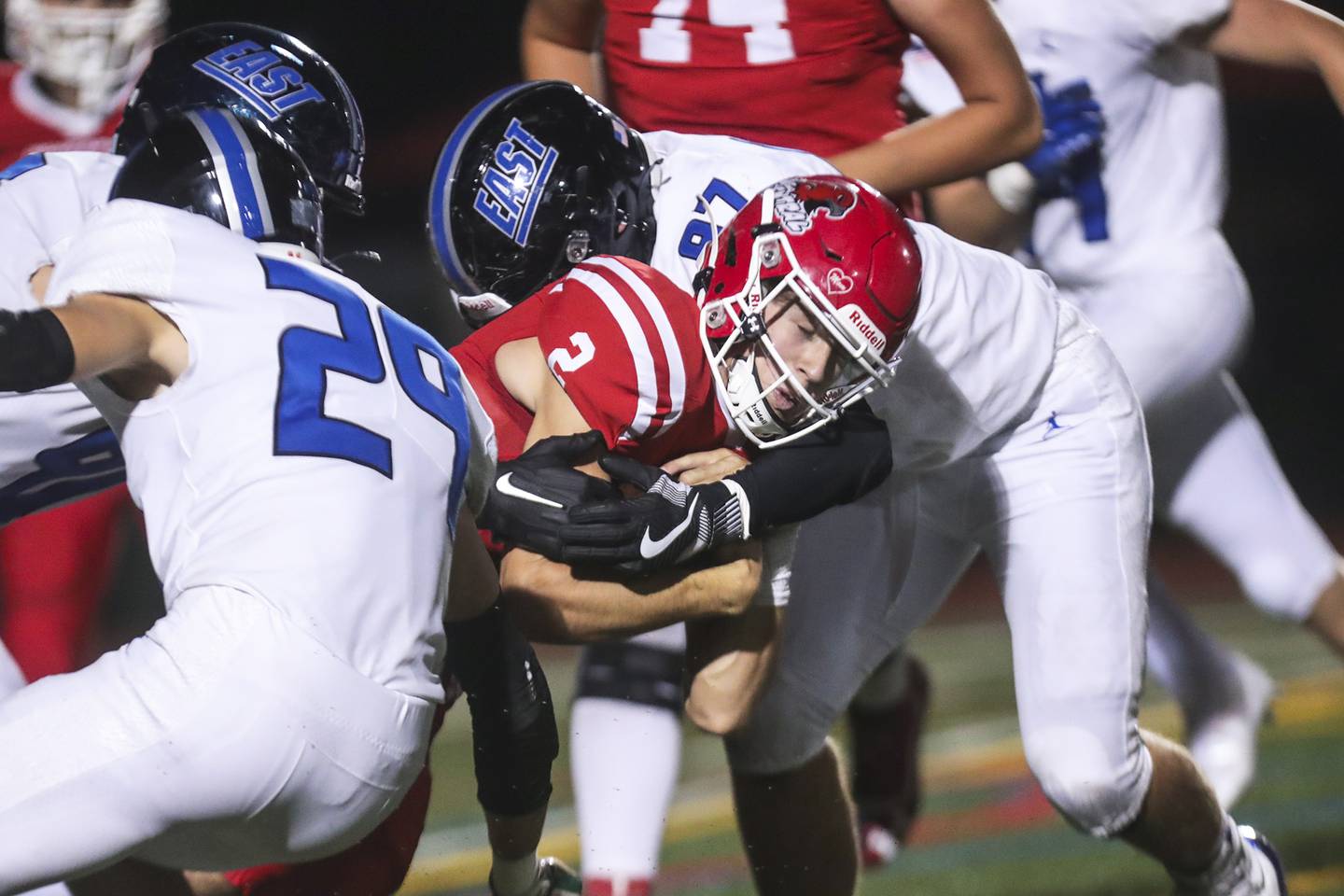 Lincoln-Way East coach Rob Zvonar tipped his cap to Naperville Central for ending the school's 21-game winning streak, but acknowledged that his team left a lot of opportunities on the table.
"There were some red-zone opportunities for us to score more early, and whenever you don't capitalize on those type of drives and come away empty, you always wonder if it is going to come back to get you," Zvonar said. "And certainly we didn't play well on D, and that's a credit to their offense. We tried to bend and not break, but they made the plays."
Kwiecinski finished with 110 yards rushing for Lincoln-Way East.