ST. CHARLES – Will Vaske knew what he was capable of.
The St. Charles North senior quarterback just needed to deliver in his opportunity.
Vaske, in his first varsity start last week in the North Stars' 21-10 victory over Lake Zurich, did just that. Vaske was 9 of 17 for 169 passing yards and made the start in place of sophomore Ethan Plumb, the incumbent starter from last season who started Week 1.
"It definitely amped me up a little bit," Vaske said. "I was glad coach [Rob Pomazak] gave me an opportunity, glad he put his trust in me. It definitely motivated me. I wanted to show off all that work I put in because it's a lot of work."
"Pom told me [I was starting last] Monday morning," Vaske said. "I have a class with him second hour...he thought it would be fair to give the other quarterback who has worked all summer and we've been going at it all summer; he wanted to give me that opportunity similar to [Michigan QBs JJ McCarthy and Cade McNamara splitting starts]. That was how Pom gave it to me...Ethan played a good game [against Palatine] but think he just said we'll give you that opportunity, too, because we think you've earned it."
Upon reviewing film against the Bears, Vaske gave a self-scouting report.
"In terms of my performance, I think I did a good job reading [defenders]. I was picking up the safely's leverage and getting my opportunity to throw the ball deep down the field and not making any bad mistakes," Vaske said. "I think I played a good game but there's a lot better things I could do. Probably got to attack more downhill; maybe set up outside the pocket a little more so I can get the ball downfield...all things I can fix and I know I've done before consistently. There's a lot better for what is to come."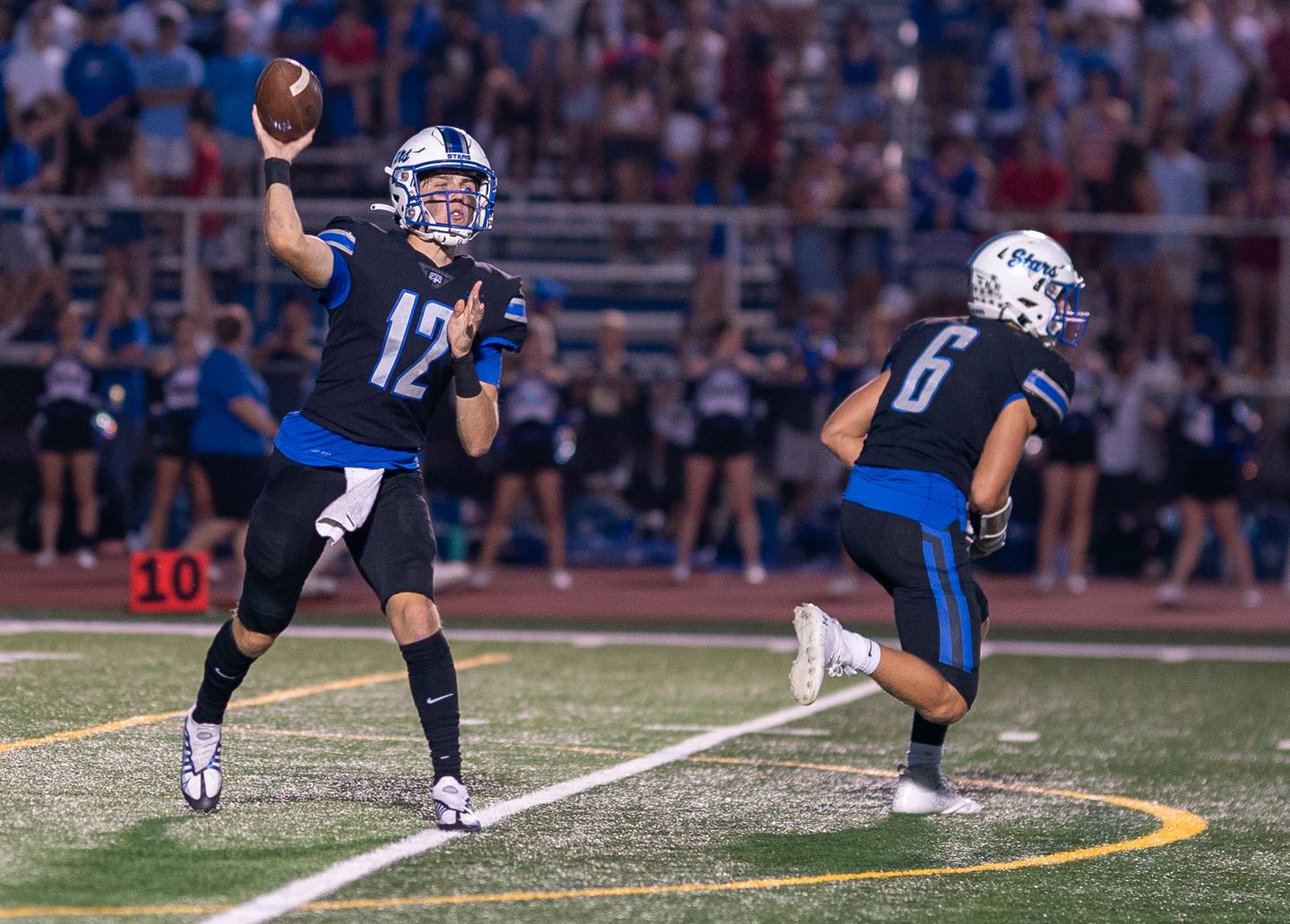 In 2021, Plumb made nine starts, but Vaske also cycled in for moments throughout six games. The unorthodox setup gave Vaske a chance to learn and soak in anything he could.
"I just learned I'm good at taking advantage of my opportunities," Vaske said of the rotation last year. "That's something I want to keep going. Also there was tough situations last year I got thrown into. I think that going through adversity is good. Overall, it was just good learning the offense. I was kind of learning everything on the fly...definitely a good experience in learning how to play through adversity."
"Last year, I feel like I didn't really showcase my ability throwing the ball the ball as much," Vaske continued. "I feel like I was predominantly a runner. I showed some sparks throwing the ball last year, but definitely this year, I knew I could throw the ball. I just wanted to show it on the field. Another thing, just leading by example and push my guys...now that I'm in that situation where I'm in a leadership role, I'm really going to start keep getting on my guys and pushing them."
One connection that seems to be blossoming with Vaske is sophomore wideout Jake Mettetal, who had four catches for 104 yards last week.
That's a relationship that stems back a few years. While they weren't teammates until high school, "we put our minds together, we had the same ideas, thoughts and goals."
"I think it's just the trust we have in each other," said Mettetal, a second-year varsity wideout. "We communicate a lot on the field [about] what the defense is running and what the corners are doing. We work together to exploit that and that's what we were doing last Friday."
Mettetal simply takes his goals and approach week-by-week.
"We're just trying to win as a team. Whatever I can do to help our team win, that's just the main goal. Our team goal is to win."
Stempowski, Geneva offense off to a hot start
Nate Stempowski has yet to throw an interception through two weeks. The touchdowns, however, keep piling up.
Stempowski, the Geneva junior, has thrown eight touchdowns, is averaging 180 passing yards per game and has the 2-0 Vikings rolling early on this season.
Stempowski simply credits the early success to his receivers and coach Boone Thorgesen.
"I wasn't starting off in fall camp very well," Stempowski said. "Thorgesen gave me time and he said reps after reps that'll help. Also, my receivers doing anything to catch the balls that I throw to them. It really helps."
One in particular is sophomore wideout Talyn Taylor, who is armed with multiple Big Ten offers. Through two games, Taylor leads all receivers with nine catches for 118 reception yards and three touchdowns.
"His speed and hands [make him pop]," Stempowski said of Taylor. "His catch-in-traffic is really good. He can catch balls over people, his adjustment, getting open too. He's a special player. He's really fast so he can burn people deep...Just getting him the ball in the open field is something you got to do every game so he can make a big play."