ST. CHARLES – Drew Surges and the St. Charles North defense had a mission.
The goal was to limit Lake Zurich to under 14 points.
Mission, evidently, accomplished following the North Stars' 21-10 victory Sept. 2 in St. Charles.
[ Photos: St. Charles North vs. Lake Zurich ]
"Guys were doing the right things. Guys were in the right place," said Surges, a star running back and safety. "We were just playing hard and fast to the ball."
Lake Zurich (1-1) had 73 offensive yards in its first two possessions, but was forced to punt five times by halftime. Bears senior quarterback Ashton Gondeck was limited to 36 first-half passing yards and had only four completions against the North Stars (1-1).
"We realized what we could improve on," said St. Charles North senior Aidan Zocher, who had five tackles. "We realized [Gondeck] was basically their whole [offense]. He had more rushing yards than [running backs], so our goal was to shut him down and we did that."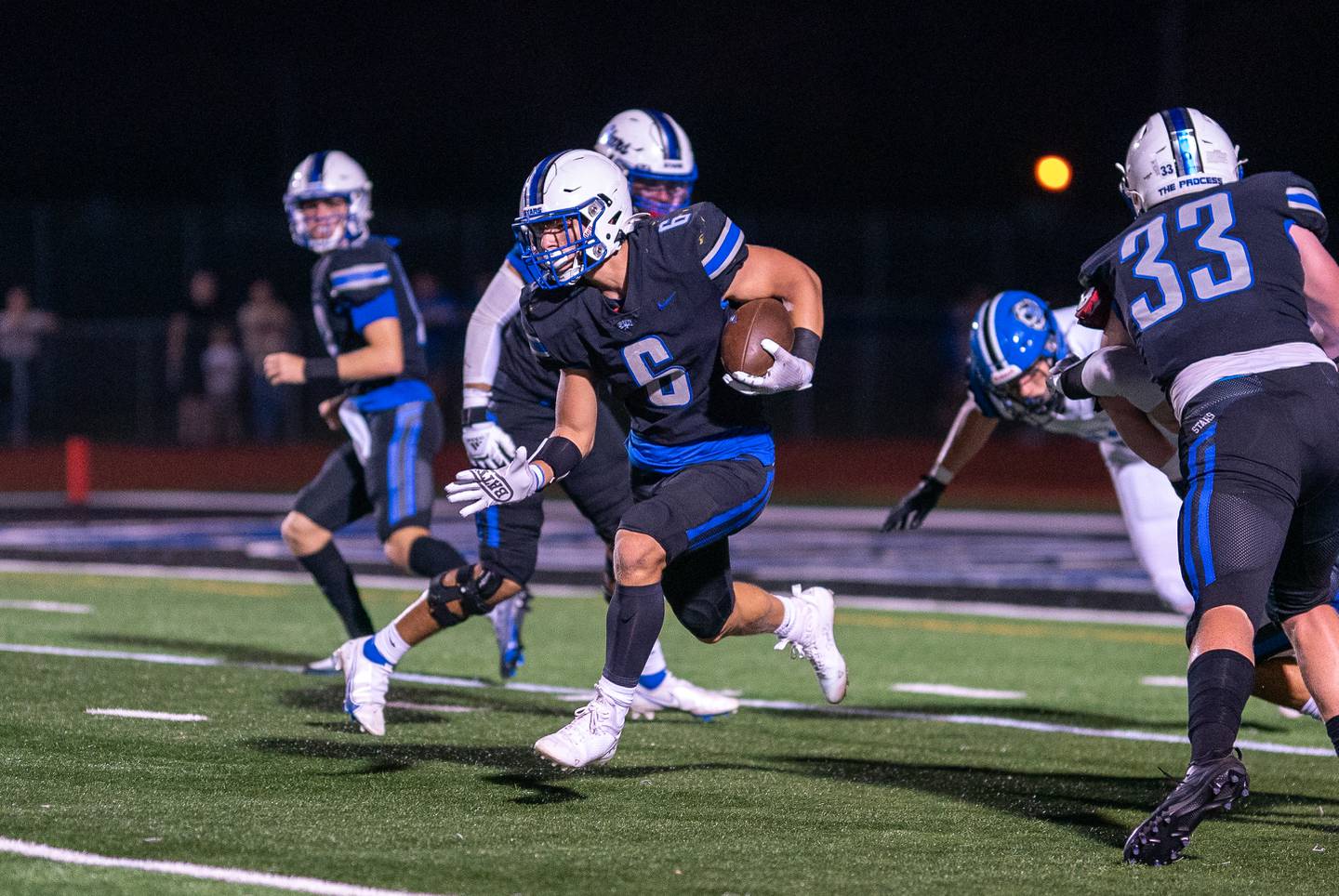 The North Stars' defense forced nine punts and limited Gondeck to 60 rushing yards and 100 passing yards.
"Preparation was exactly the same [from last week]. I just think we had eight guys play their first varsity football game last week, so we just looked at the [Week 1] loss as an opportunity," North Stars coach Rob Pomazak said. "Coach [Keith] Snyder, our defensive coordinator, is going to keep putting in the work that he does. We're going to be a good football team. I don't think anything changed other than the fact that we were playing at home … but they really believed the fact they could win tonight."
In the first half, North Stars kicker Hunter Lizska missed a field-goal attempt on the opening drive. The Bears answered with a 27-yard field goal from Danny Vuckovic for a 3-0 lead with 3:31 left in the first quarter.
Quarterback Will Vaske engineered a 10-play drive that was capped by Surges' 3-yard touchdown run for a 7-3 North Stars lead with 4:38 remaining in the half.
After forcing the Bears' fourth punt of the half, Surges made quick work and had a 36-yard rushing score for a 14-3 North Stars advantage.
In St. Charles North's second fourth-quarter possession, Surges had five consecutive rushes to set up Vaske's 40-yard touchdown to Nathan Carpenter to make it 21-3 North Stars with 8:02 left in the game.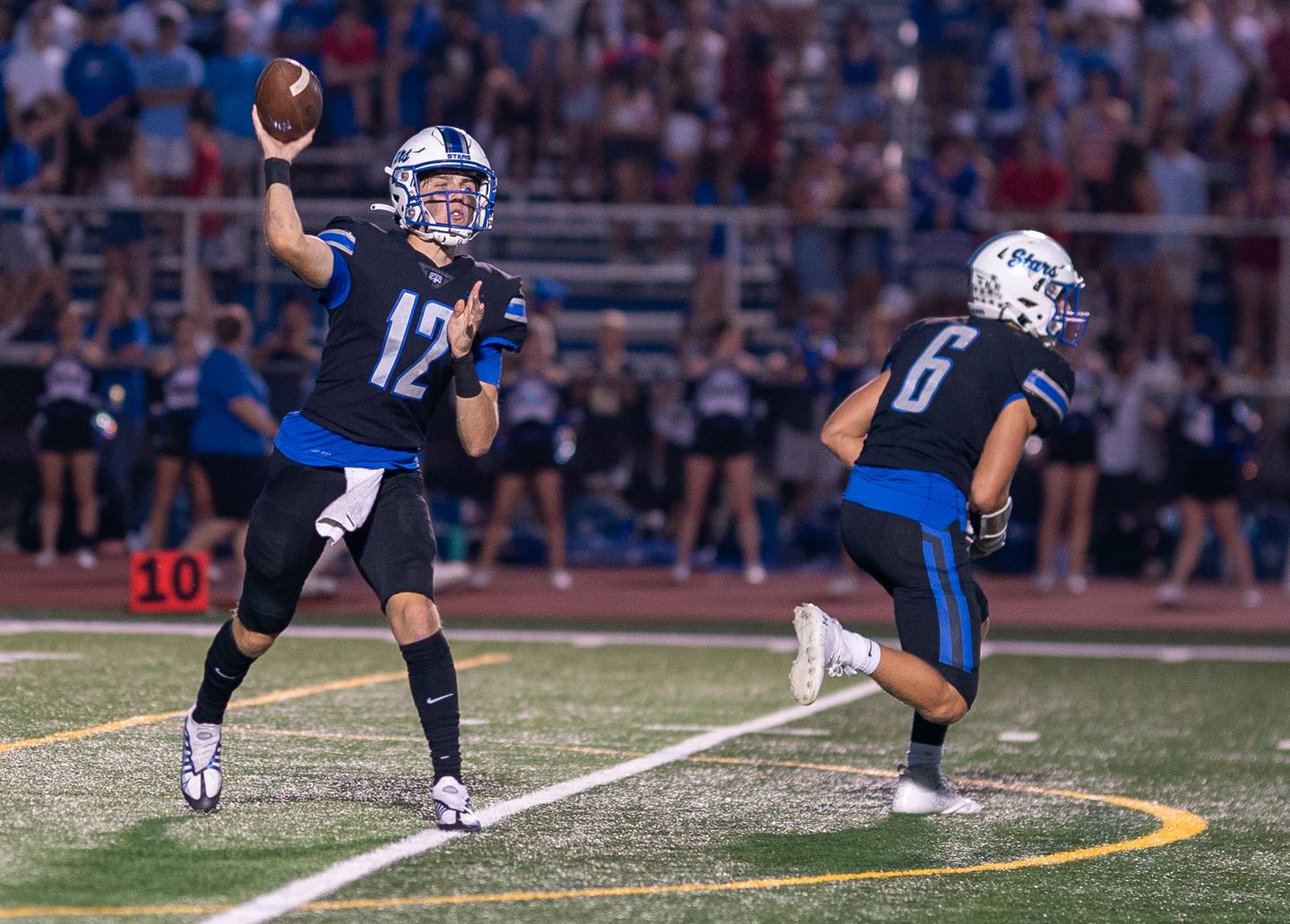 Surges, one week after recording 300 all-purpose yards and 18 tackles defensively, finished with 120 rushing yards and two touchdowns.
Vaske finished 9 of 17 for 169 passing yards in his first start of the season in place of sophomore Ethan Plumb.
"Both of the kids are tremendous competitors," Pomazak said of Vaske and Plumb. "They're both wonderful kids. It hasn't been an easy decision because they both competed so hard, but we felt Will deserved an opportunity to compete and we're going to go into Week 3, kind of look at those numbers and see who was … how we're going to go into that next week. He [Vaske] did a fantastic job. Will and Ethan both want the other to succeed and it's a unique experience that we're all going from. It's fun to watch them compete, but it's also I understand they both want to be out there."
The Bears finished a 15-play drive with Gondeck's 10-yard completion to Conner Clausen to make it 21-10 with 2:36 remaining in the fourth quarter.
"It just felt like we were a little flat [and] kind of waiting for things to happen and not making things happen like we did the week before," Bears coach Ron Planz said. "That's something as coaches we're going to have to go back and look and see what we can do to get our guys more in an aggressive mode than they were this week."