After an 0-2 start with two close losses, a lot of teams might start to think their season was over before it even began.
But those teams don't have Kolby Franks – and luckily for the Erie-Prophetstown Panthers, they did.
The senior quarterback was a big reason why the Panthers bounced back and won their next eight games, claiming the Three Rivers West title and notching the co-op's second-ever playoff win in an 8-3 season. He amassed more than 2,500 yards of total offense with his arm and legs, and stepped up as a leader both on and off the field for his team.
For all of those reasons, Franks is the 2021 SVM Player of the Year.
•••
Two straight losses to open a season can start to show fissures among the players before Labor Day. It takes a special group of players to not tear each other apart after a slow start, but rally around each other and turn things around instead.
Kolby Franks and his Panther teammates were just such a group.
"Growing up with all these kids, I knew that we had something that we needed to work for, and over the summer we put in all the work and we just grew closer together," Franks said. "After the first two games, we were kind of hard on ourselves, but the coaches were always there just to put it in our ear that we don't stop, we're close, we're right there, we just need to get over that hump, and once we're over it, we're going to do great things.
"We all really just bought into the idea to keep working everyday. We knew we could do it, and we proved it to ourselves, mostly, just to go out there and play."
Erie-Prophetstown started with a 24-14 loss at Mendota, then suffered a heartbreaking 15-13 home loss to St. Bede on a Bruins field goal as time expired.
That led to some soul searching by players and coaches alike, and led to a reckoning of sorts – much earlier than most teams would want.
But it also led to much bigger things. A 55-0 win at Sherrard, which finished 0-9, was a good table-setter for the next week, when the Panthers hosted Rockridge. In a back-and-forth game, Erie-Prophetstown pulled out a 50-48 win, and Franks showed the conference what he was capable of.
He threw for 209 yards and three touchdowns on 13-for-17 passing, and ran for 129 yards and three scores on 25 carries, adding four 2-point conversion runs.
"After the first two games, we kind of had to decide if we were going to be the team we expected to be," E-P coach Jesse Abbott said. "Two close losses, and then I think those next two games, Sherrard was kind of a good bounce-back game for us, and then really I think the big turning point of the season was the game against Rockridge. For a lot of that game, we found ourselves behind, or just having to maintain and answer scores; they would get a score, and we'd have to answer back, and back and forth like that. We finally were able to get a couple of stops and get some scores, and we pulled it out.
"I think that was kind of Kolby's coming-out game, too, kind of showing this is the kind of athlete that I am, and now I can let other people see it. I think it proved to the team that we were capable of doing great things, and I think from there, that confidence built, and as momentum goes, it can really carry you."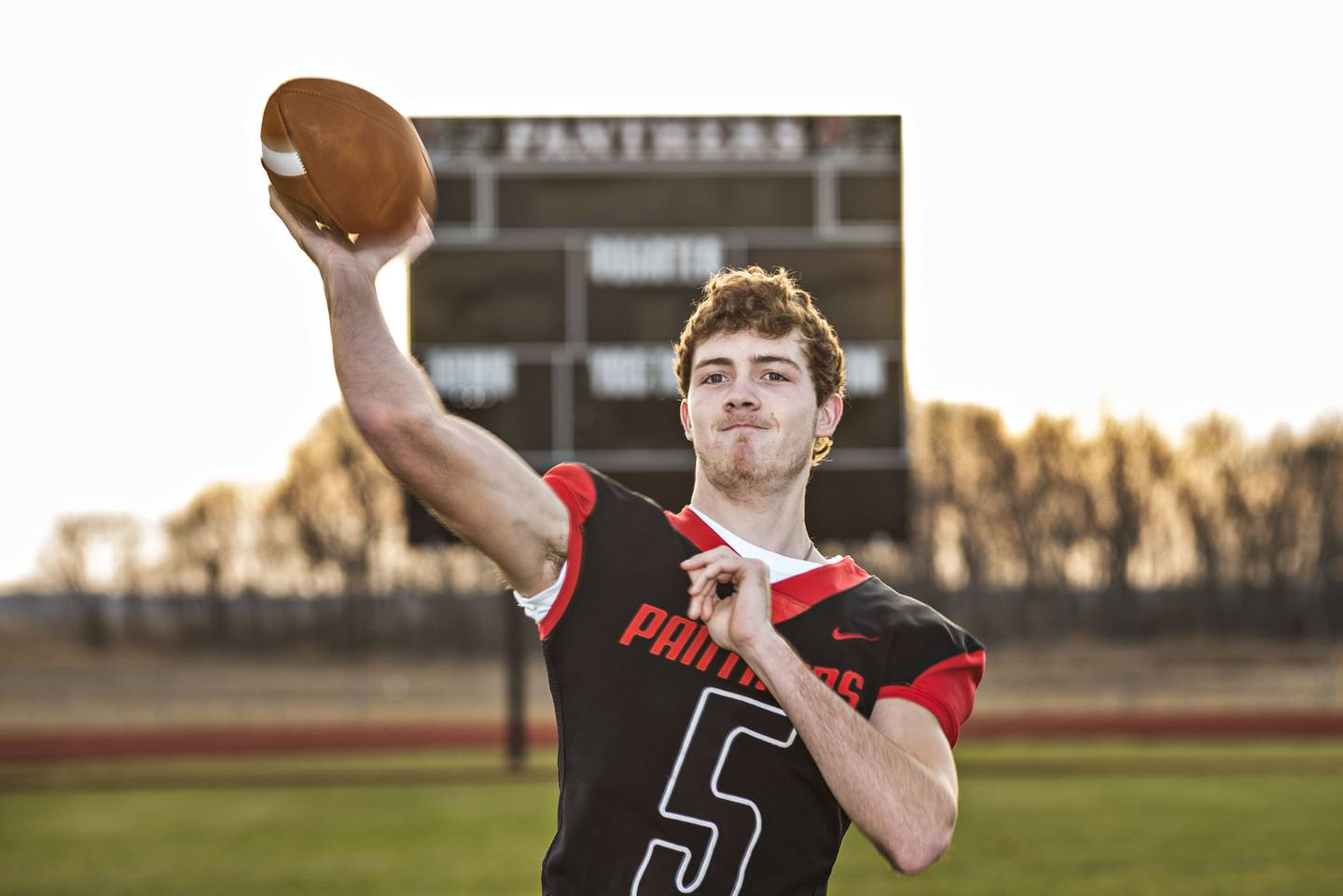 Franks pointed to the Rockridge win as an extension of the Sherrard game, where he felt the Panthers were finally able to put everything together and play the way he and his teammates had envisioned during the offseason.
"The first two games, I felt like nothing was really clicking at the same time," he said. "Defense was OK at that point; offense, the line was missing some blocks and we weren't running as hard as we should've been running. The Sherrard game, it kind of helped us see what we needed to do to just to click all around, that's what we needed to go where we wanted to go.
"After the Sherrard game, we were all really happy, but people were kind of saying, 'Oh, it's just Sherrard, they're not the best this year.' But once we got to Rockridge, we said, 'OK, this is where we need to show our real heart and go out there and play hard,' and that's what we did. They're a good football team, and it was hard to see either team lose, but I was just glad that we came out on top."
As Abbott noted, the Panthers rode the momentum from there. Lopsided wins over Orion and Riverdale, then a 23-point win over Bureau Valley set up a showdown for the TRAC West division title on the road against Monmouth-Roseville.
By that game, Franks and the offense were humming along. With E-P trailing 8-7 at halftime, he had a long touchdown run early in the third quarter, then scored again moments later off a Titan turnover. The Panthers then answered a Monmouth-Roseville score with another touchdown drive to seal the game and clinch a share of the title. Franks finished with 211 yards on 22 rushes, and also hit on two key passes.
The next week, showing no signs of slowing down, E-P defeated Morrison 25-6 to win the first conference crown in co-op history.
•••
Pressure never bothered Kolby Franks and the Erie-Prophetstown Panthers. They didn't have any on them after the slow start, they didn't feel any after the Rockridge win, and it never built up during their eight-game winning streak.
Or, at least it never creeped into their consciousness if it did.
"We just always said that we had no pressure on us. We're coming from the bottom, there's nothing that we need to prove," Franks said. "Ninety percent of the games we played, like the Monmouth game, people expected us to lose those games, so we were just going out there to have fun and play for each other and not anything else. So we didn't really feel any pressure from anybody."
The approach the team took toward the season may have played a part in that, too. Not worried about the big picture much at all, Franks and his teammates focused on each upcoming game, and didn't really spare much thought for what might lie ahead, or what they had already accomplished.
As the wins piled up, the preseason goal of making the playoffs became more and more of a reality. And once they accomplished that, they made sure to enjoy the moment.
Franks remembers how he felt the morning of the playoff opener against Clifton Central, realizing he wanted to soak in the experience as much as possible.
"When we got here in the morning, it was a beautiful day, the sun was out, and we got here and ate breakfast together, and we saw how the field was: all the banners, the people already there setting up for concessions and stuff, and getting excited about the game," Franks said. "We were kind of thinking, 'Wow, this is like a dream.' It just didn't feel real at first when we were going through plays. It was just amazing watching everybody come to watch us. We knew that they were here for us, and that was just awesome."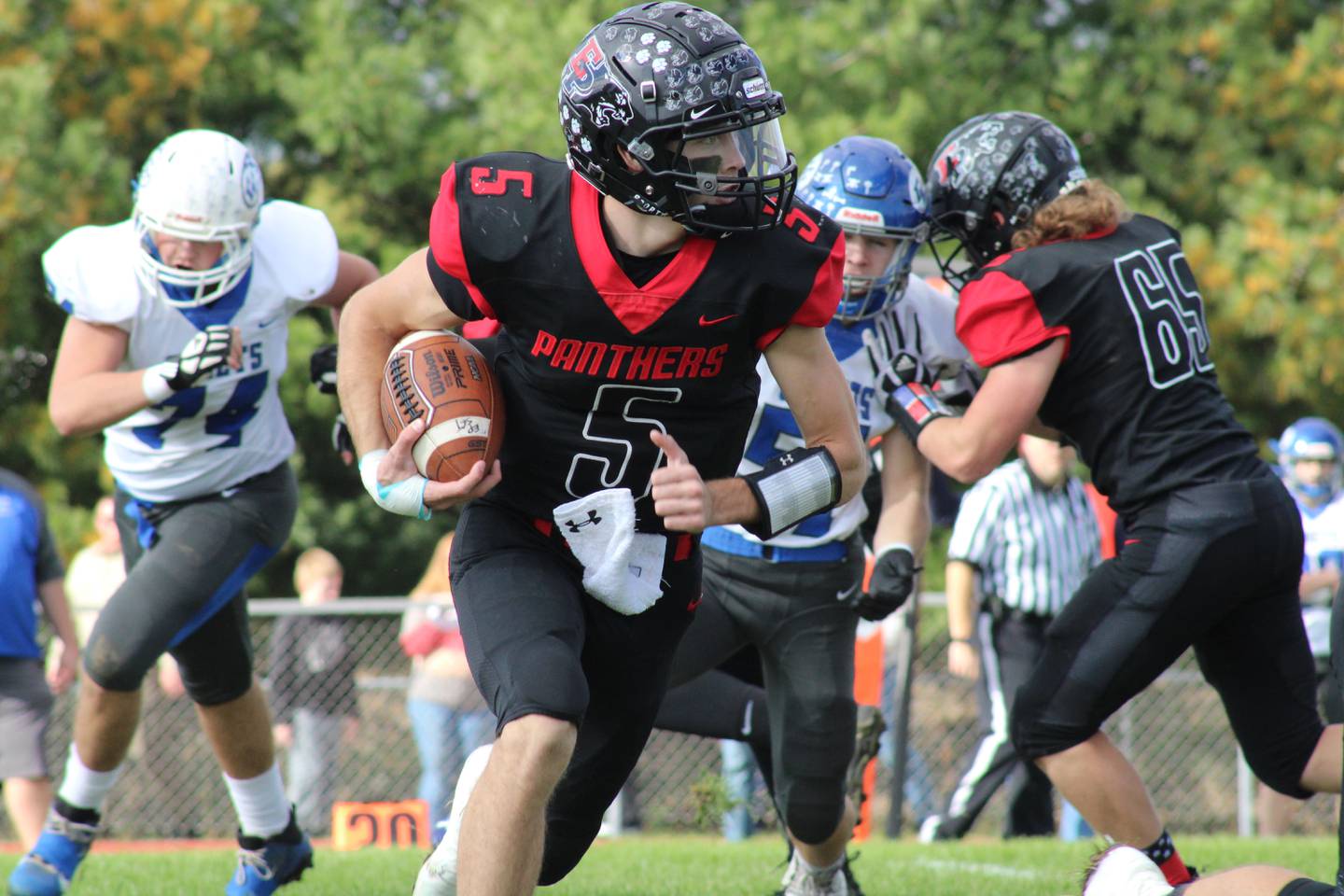 The Panthers put on a show for their home fans, building a 21-0 lead, then answering the bell after Clifton Central pulled with in 21-14 and 28-20. Franks ran for 216 yards and four scores on 23 carries, and also completed all five of his passes for 86 yards and two more TDs as E-P won its first playoff game since 2013.
'We just wanted to go out there, do what we needed to do, leave everything on the field," Franks said. "Of course we wanted to get to the next steps, but we played as hard as we could every game, because you never know when it could be your last."
That came just a week later, in excruciating fashion. Franks threw for a touchdown and ran for two more to give E-P a 21-7 lead over Bishop McNamara late in the second quarter. But two touchdowns in the final 26 seconds of the first half tied the score going into the break, and Bishop Mac pulled away for a 42-27 victory.
In his final game as a Panther, Franks finished with 168 yards and three touchdowns on 26 rushes, and 155 yards and another score on 9-for-12 passing.
•••
Jesse Abbott never expected this much from Kolby Franks. He never thought about 190 rushes, 1,566 yards or 24 rushing TDs. He never envisioned 975 yards and nine scores on 58-for-86 passing. He never imagined Franks would amass more than 150 yards in nine out of 11 games, or more than 200 yards seven times, or more than 300 total yards in three games.
He just wanted his senior QB to do his part to help the Panthers win.
"I think the biggest thing we expected from Kolby was to be able to be that quarterback leader on the team, and to shoulder his share of the offense," Abbott said. "We certainly didn't expect the numbers that came, and the amount of touches. The anticipation was maybe to have it spread out a little bit more, but as things kind of went through the season, we took advantage of the things that were there for us, and it ended up being Kolby. He certainly did a great job of taking advantage of that opportunity as well."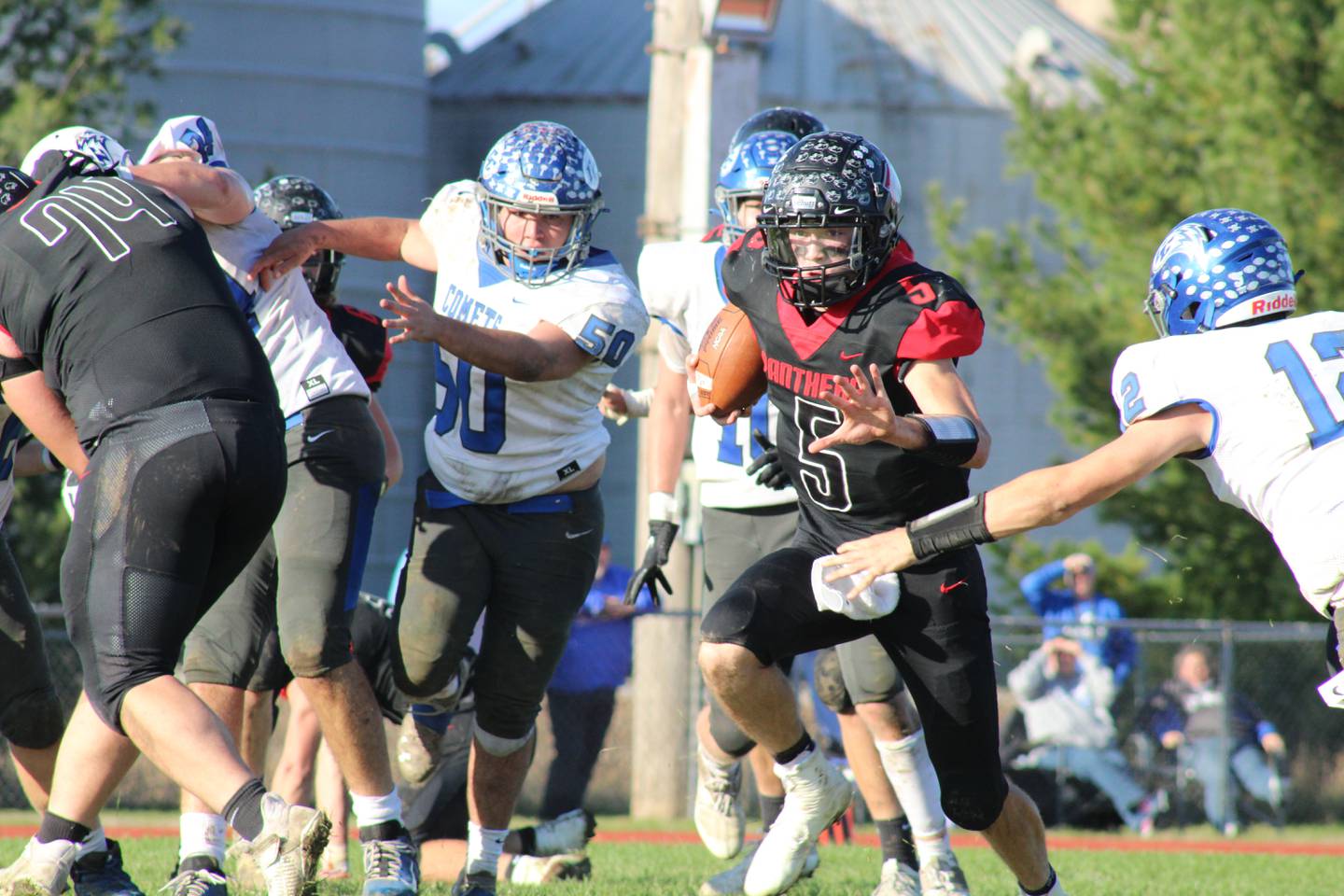 As far as Franks was concerned, he was happy to do whatever necessary to help the team, even if it meant keeping the ball a little more often than giving it away. He looked at it as doing his part to carry on the Panther football legacy from those who came before.
Growing up in Erie, Franks was a big fan of past Panther teams. He and his friends would watch Erie-Prophetstown football and dream of the day when they were the ones donning those all-black jerseys and running out onto Wayne Hein Field.
"We've always looked up to those guys like Dylan Binion and Jack Heflin and Philip Coers, dreamed of playing how they play and winning games and bringing our communities around us together," Franks said. "It was our dream to have the fans support us like we supported them, and have the little kids watching us feel the same way as we did watching the older guys when we were younger."
That attitude of just doing his part to make the team successful, and being proud to be a part of something bigger was something Abbott saw on the sideline and in practice just as much as he did on the field from Franks.
"I think the biggest thing this year with Kolby was emotion, and positive emotion in the right moments, picking up his teammates," Abbott said. "Athleticism has never been a thing that you question with great athletes, but I think one thing that Kolby really grew this year as a leader is showing the right kind of attitude on the field, being a leader by action and by words, and encouragement, taking his teammates along with him and really encouraging them and picking them up when they were down."
The leadership role seemed natural for Franks, and he credits the tight bonds the team built during a crazy 2021 – with a short spring season followed just three months later by the full fall season – as a key factor in his ability to be a more vocal leader with his teammates.
The pandemic also helped him appreciate football more, and the quick turnaround between the two seasons helped served as a jumping-off point for the fall that turned out so special.
"It just made us grateful that we got to play, and we just knew that in any moment, it could be taken away from us," he said. "The spring helped, because it gave us the plays and we already kind of remembered since it was so close to the fall season, we didn't really have that big break where we had to re-learn the plays. Once we got back into this fall, we really could fly through the plays that we had so we could perfect them, and learn some new ones."
All of that helped the team build on its already close chemistry, and it helped Franks enjoy his final high school season on the gridiron with his Panthers.
"Sophomore year, that's probably what drew us really close together, and then the spring kind of gave us a feel of the varsity, because we didn't really get much time there," Franks said. "Just over the summer, knowing what we've all been through these last two years, knowing that we were close as a family and had to play every game like it's our last, it made the fall season so special for us – and to be able to do what we did was just amazing."