West Suburban Conference
Downers Grove South (0-0) at Hinsdale South (0-1)
When: 6 p.m. Friday
Last matchup: Hinsdale South 32, Downers Grove South 27 (2019)
About the Mustangs: This is Downers Grove South's de facto season opener, as the Mustangs lost their Week 1 game due to a COVID-19 quarantine. They were scheduled to return to practice last week, so should have ample preparation time. Senior receiver/defensive back Eli Reed, who runs a 4.40 40, is the man to watch but sophomore tight end/linebacker Mack O'Halloran should be on people's radar. With two-year starting quarterback Cole Warehime not playing this spring to focus on baseball, the Mustangs are looking to senior Max Molinari and sophomore Ryan Dawson to fill the role.
About the Hornets: Hinsdale South's running game was held in check in a Week 1 49-17 loss to York, the Hornets spotting the Dukes a 21-0 lead and shut out in the second half until a late touchdown. Jaylon Smith, who caught a 7-yard touchdown and intercepted a pass, was the Hornets' biggest bright spot. Hinsdale South has won the last three games in its series with Downers Grove South.
FND Pick: Downers Grove South
Glenbard West (1-0) at York (1-0)
When: 7 p.m. Friday
Last matchup: Glenbard West 47, York 7 (2019)
About the Hilltoppers: Glenbard West was all systems go in its 56-0 season-opening win at Addison Trail. Jalen Moore scored on an 81-yard TD, Samson Zander a 29-yarder and Braden Spiech threw TD passes to Shivam Patel and Denin Limouris. With Downers Grove North unavailable to play Week 3 at Glenbard West, this could be the Hilltoppers' last game until April 10.
About the Dukes: York enjoyed a solid start to its season, a 49-17 rout of Hinsdale South last Friday. Patrick Kastner ran for 114 yards and three TDs, and senior senior wide receiver Luke Malaga had six catches for 77 yards in a diversified attack. Sophomore linebacker David Lock, making his first varsity start, led the Dukes' defense with eight tackles, an interception and QB hurry.
FND Pick: Glenbard West
Hinsdale Central (1-0) at Leyden (0-1)
When: 6 p.m. Friday
Last matchup: Hinsdale Central 17, Leyden 3 (2012)
About the Red Devils: The Red Devils audibled into a West Suburban crossover game at Leyden, after Friday's game at Downers Grove North was canceled. Hinsdale Central started its season an impressive fashion, a 42-7 win over Oak Park-River Forest. Quarterback Michael Brescia was 8-for-12 for 185 yards and three TDs and also ran for 75 yards and two scores.
About the Eagles: Leyden struggled to get on track in a Week 1 40-0 loss to Willowbrook, allowing over 400 yards of total offense. Junior Leo Latiker is at quarterback for the Eagles. Leyden's numbers are significantly down from past seasons.
FND Pick: Hinsdale Central
Lyons Township (0-0) at Oak Park-River Forest (0-1)
When: 12:30 p.m. Saturday
Last matchup: Oak Park-River Forest 23, Lyons 13 (2019)
About the Lions: Lyons makes its season debut, as its Week 1 game was washed out due to a COVID-19 quarantine. It was thought that the Lions would miss the first two weeks; Oak Park was not their Week 2 regularly-scheduled opponent. This is Jon Beutjer's first game as Lyons' head coach. Senior safety Jimmy Pouba was the leading tackler on last season's defense, while junior quarterback Joey Antonietti returns for his second season as starting quarterback.
About the Huskies: Oak Park-River Forest dropped its season opener 42-7 to Hinsdale Central, a game that featured a running clock the entire second half. John Landis' 78-yard TD pass to Jemari Smith-Payton accounted for the Huskies' only offense of the evening. Oak Park has won the last two meetings in this series.
FND Pick: Lyons
Willowbrook (1-0) at Addison Trail (0-1)
When: 6 p.m. Friday
Last matchup: Willowbrook 42, Addison Trail 12 (2019)
About the Warriors: Junior Josh Brown, a third-year varsity starter, enjoyed a spectacular debut as the Warriors' lead back with 241 yards rushing and five touchdowns on just 13 carries against Leyden. Incredibly, he had a couple more scores called back. It was a busy night for Brown, with six tackles, 3.5 for loss, and a sack. Willowbrook has won the last four meetings with its District 88 rivals by an average margin of 34 points.
About the Blazers: Quite a first two weeks for Addison Trail and first-year coach Chris Bazant. First, Glenbard West now Willowbrook comes to Addison. Senior running back Eric Reed rushed 14 times for 54 yards in the Week 1 loss to the Hilltoppers.
FND Pick: Willowbrook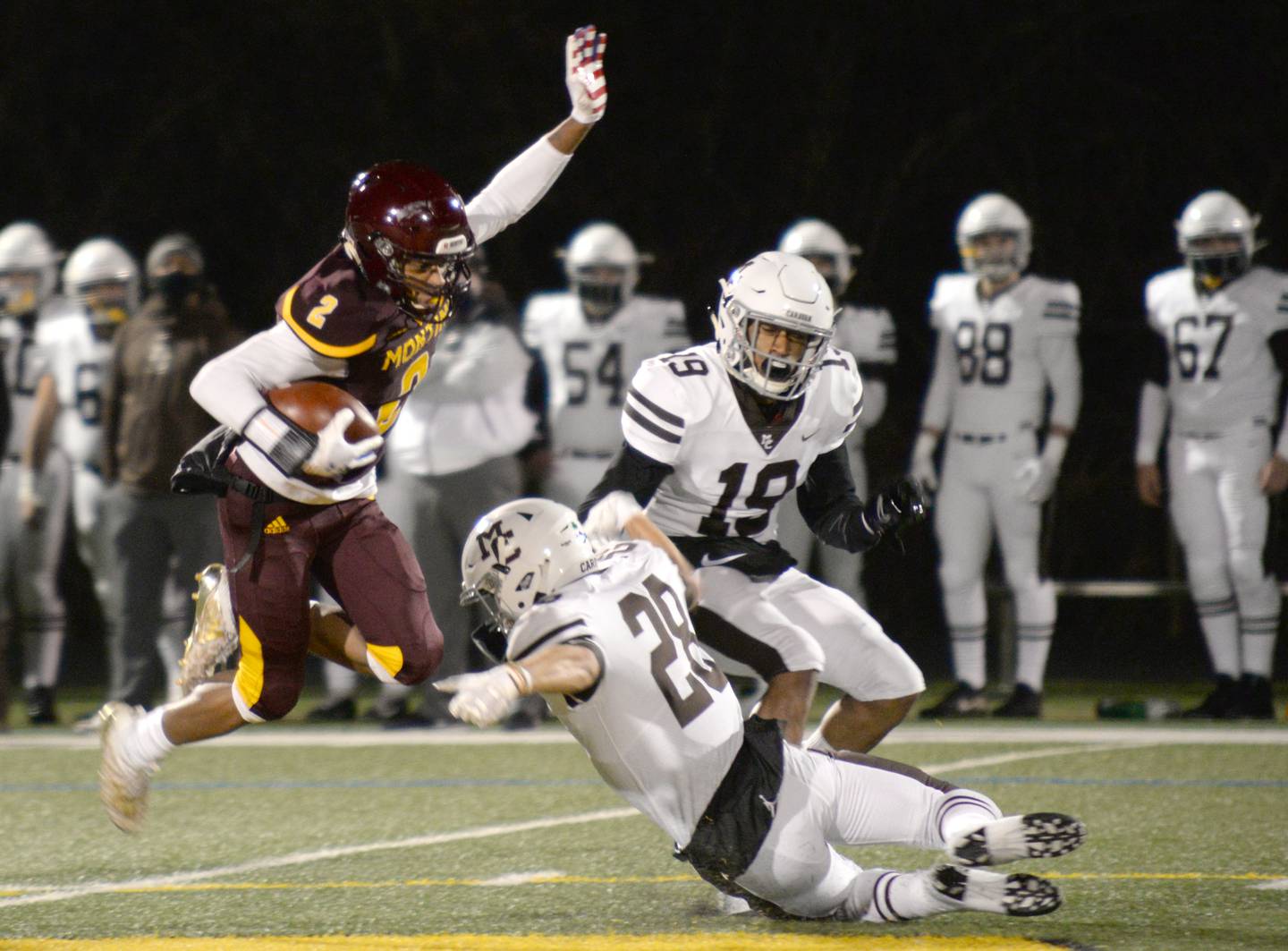 CCL/ESCC
St. Laurence (0-1) at Nazareth (0-0)
When: Noon Saturday
Last matchup: Nazareth 56, St. Laurence 28 (2019)
About the Vikings: St. Laurence had a rough opener, a 49-0 loss last week to Joliet Catholic in a game played under the running-clock rules for the entire second half. The Vikings managed just over 100 yards of total offense and committed five turnovers. Senior QB Darius Wilson is committed to Army and senior DB Aaron Wofford is committed to Western Michigan
About the Roadrunners: Nazareth finally gets on the football field after its Week 1 opener with Fenwick was canceled and the Roadrunners were unable to find a replacement opponent. Nazareth will look different behind center, with J.J. McCarthy moving out of state to play his senior season and now early enrolled at Michigan. Junior Aidan Pieper, a transfer from St. Charles North, is among three quarterbacks that Nazareth coach Tim Racki said he planned to rotate. Whoever is running the show will be looking for junior Tyler Morris, one of the top receivers in the country. Ball State commit Drew Hughes and fellow senior Daine Hanson leads the Nazareth defense.
FND Pick: Nazareth
Montini (0-1) at St. Rita (0-1)
When: 7:30 p.m. Friday
Last matchup: Montini 45, St. Rita 35 (2019)
About the Broncos: The unforgiving nature of the CCL/ESCC is such that the Broncos, who played Mount Carmel tough in a 31-21 season-opening loss, now goes on the road to St. Rita. Sophomore Josh Robinson, stepping in at running back after DiAndre Harris was ejected for a targeting hit, made a strong first impression with 116 rushing yards and a TD in the loss. Sophomore Cole Teschner threw a TD pass in his first game at Montini. Fellow sophomore quarterback Tre Jones, who missed Week 1, is expected back this week. It will be hard for this matchup to top Montini's wild 45-35 come-from-behind win in 2019.
About the Mustangs: St. Rita, the No. 1-ranked team in the preseason Class 5A coaches poll, dropped a 7-3 slugfest to Loyola in Week 1 on a touchdown in the game's final minutes. Linebacker Michael Gaughan was among the stalwarts in a superb defensive effort. Of course, with St. Rita, all eyes are on wide receiver Kaleb Brown, the No. 1-ranked junior in Illinois.
FND Pick: St. Rita
De La Salle (1-0) at Benet (1-0)
When: 7 p.m. Friday
Last matchup: Benet 35, De La Salle 7 (2019)
About the Meteors: De La Salle opened its season with a 33-14 win over DePaul Prep. Outside linebacker/defensive end Aidan Ralph, one of six returning starters on defense, is committed to Iowa State. Defensive back Jason Moore, who also plays running back, is a two-way starter committed to Eastern Illinois. The Meteors also returned three starters on the offensive line.
About the Redwings: Benet won a 14-7 nail-biter over St. Ignatius in Week 1 on senior quarterback Nick Bafia's 21-yard touchdown pass to Nick Johnson on a screen pass with a little over a minute left. Bafia, a converted defensive back, had 215 yards of offense in his debut behind center with 130 yards passing and 85 rushing. Senior defensive back Will Benish led Benet's stout defensive effort with six tackles and two pass breakups. Sophomore Pierce Walsh, a top college prospect, did not play in Week 1 because of an injury.
FND Pick: Benet
Joliet Catholic (1-0) vs. Fenwick (0-0) at Triton College
When: 6 p.m. Sunday
Last matchup: Joliet Catholic 49, Fenwick 14 (2019)
About the Hilltoppers: Joliet Catholic stepped on the gas pedal and didn't let off in its opener against St. Laurence. A powerful attack was on display with RB Jordan Anderson leading the way with 100-plus yards and three touchdowns coupled with a defensive unit that didn't relent all night long. Fenwick will likely provide a much larger test though.
About the Friars: Fenwick is entering this game as a bit of an unknown commodity as it didn't play its Week 1 game against Nazareth because of COVID concerns. It stands to reason that Fenwick might be a little shaky out of the gate from opening-night jitters, but one thing is for certain, the Friars have one of the state's best underclassmen quarterbacks in Kaden Cobb.
Pick: Joliet Catholic
– Steve Soucie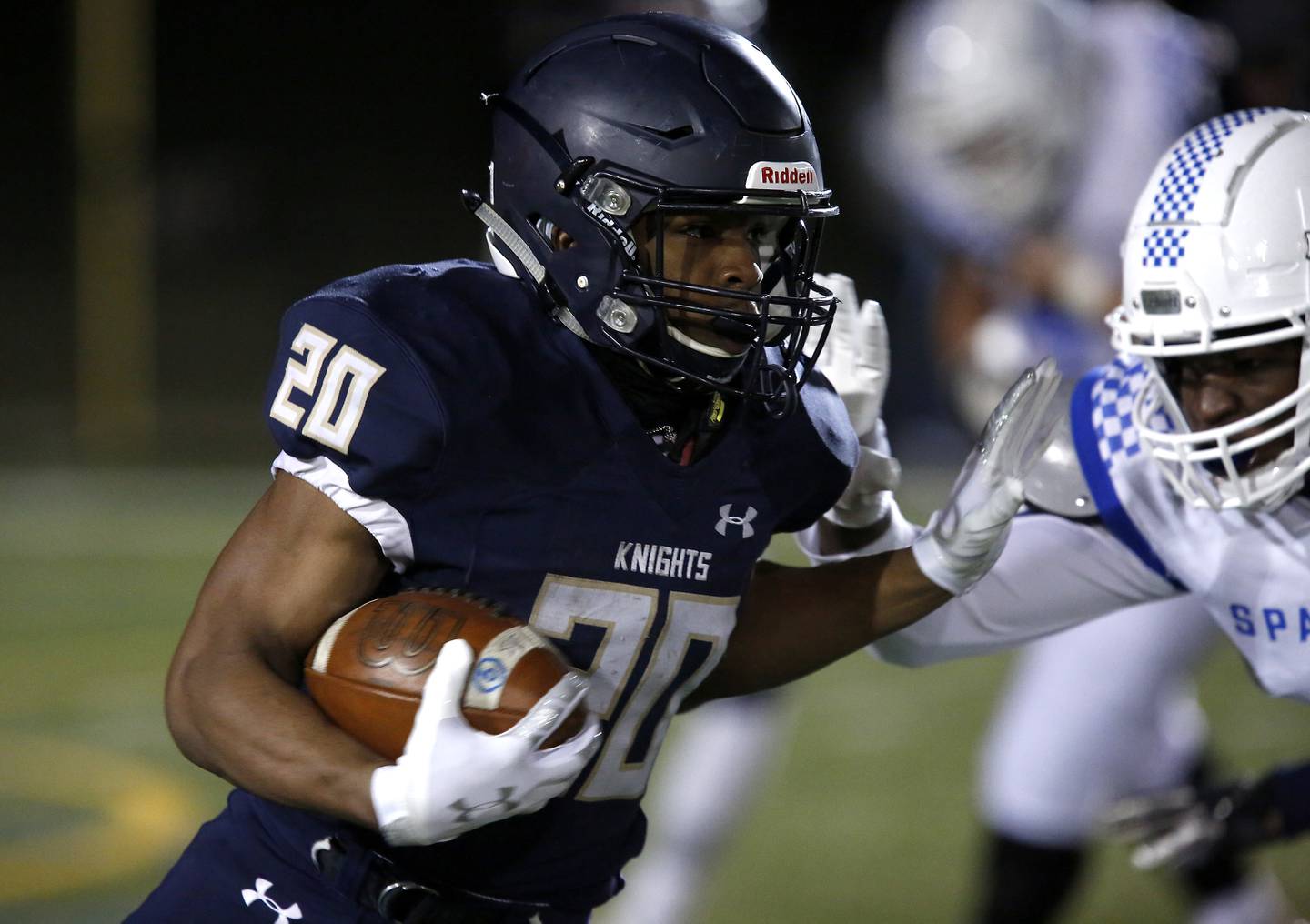 Metro Suburban Conference
St. Francis (1-0) at Wheaton Academy (1-0)
When: 7:15 p.m. Friday
Last matchup: St. Francis 40, Wheaton Academy 0 (2019)
About the Spartans: It doesn't get much more impressive than St. Francis' 28-0 Week 1 win at IC Catholic Prep, arguably the game of the abbreviated season in the Metro Suburban Blue. Illinois State recruit Tommy Rittenhouse looked in midseason form behind center, throwing for 235 yards and three TDs and rushing for 81 yards. He spread the wealth to seven different receivers, Adam Criter catching four passes and a TD in his Spartans' debut. TJ McMillen and Tyler Duzansky each had seven tackles and a sack in a stellar defensive effort, ICCP's first shutout loss since 2014.
About the Warriors: Wheaton Academy posted a rather eye-opening win in its season opener, scoring 43 points in the fourth quarter to storm past usual league heavyweight Bishop McNamara 49-23. The Warriors scored the game's last 49 points after spotting the Irish a 23-0 lead in the third quarter. Trevor Donna ran for three TDs, Joseph Bracy intercepted two passes, and Andrew LaPlant and Liam White each returned interceptions for TDs.
IC Catholic Prep (0-1) at St. Ignatius (0-1)
When: 7:30 p.m. Friday
Last matchup: First known meeting
About the Knights: IC Catholic picked up this replacement non-conference game with St. Ignatius out of the CCL/ESCC White, as Elmwood Park is on pause. The Knights are surely licking their wounds from their 28-0 loss to St. Francis, but pedigree suggests a rebound is in order. Kyle Franklin ran for 110 yards, but the Knights managed just 10 first downs. IC Catholic is never hesitant to play talented youngsters, and freshman Dennis Mandala played well in relief at quarterback last week.
About the Wolfpack: St. Ignatius dropped a 14-7 Week 1 game to Benet, although that margin does seem to portend good things for the Wolfpack. This is a young team, with half the roster made up of sophomores. Sophomore fullbacks Vinny Rugai and John Kemp could be a big part of the Wolfpack's triple-option attack.
FND Pick: IC Catholic Prep
Riverside-Brookfield (0-1) at Bishop McNamara (0-1)
When: 7 p.m. Friday
Last matchup: Bishop McNamara 56, Riverside-Brookfield 26 (2019)
About the Bulldogs: Riverside-Brookfield had a rough opener, a 42-7 loss to Hillcrest in a replacement game picked up when Elmwood Park had to cancel. It doesn't get much easier playing at an opponent this week smarting from its own first loss. The Bulldogs are young up front, with just one starter combined returning on their offensive and defensive lines. Junior quarterback/receiver/defensive back Owen Murphy and senior linebacker/tight end Luke Swiatek are players to watch.
About the Irish: Bishop McNamara suffered a stunning 49-23 loss last Friday at Wheaton Academy, the Warriors scoring the game's last 49 points – six of the touchdowns coming in the fourth quarter. Junior quarterback Brady Bertrand threw two TD passes to Colton Provost and freshman Jaydon Wright scored on a TD run. Linebackers Mel Hay and Caleb Smith lead the Irish defense.
FND Pick: Bishop McNamara
Westmont (0-1) at Aurora Christian (0-1)
When: 7 p.m. Friday
Last matchup: First known meeting
About the Sentinels: Westmont's defense, which allowed nearly 33 points per game last season, struggled last Friday in a 48-24 loss to Chicago Christian. It would not seem to get any easier this Friday against the Eagles.
About the Eagles: Aurora Christian dropped a tough 29-26 loss to St. Edward in its season opener. Trey Beebe, who caught nine passes for 84 yards and a TD from Tyler Brueckner, is a player to watch for the Eagles.
FND Pick: Aurora Christian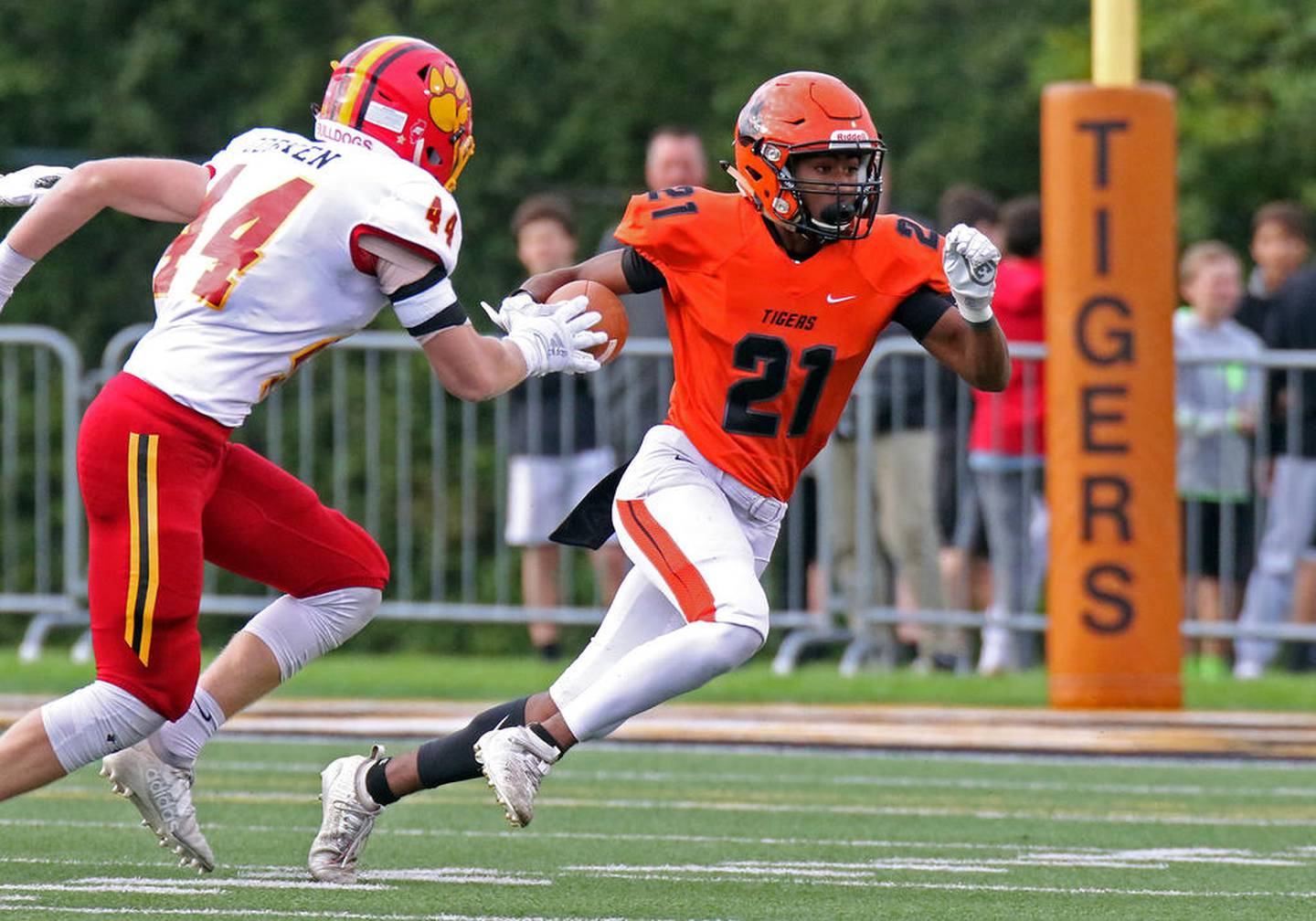 DuKane Conference
Wheaton Warrenville South (1-0) at Glenbard North (0-1)
When: 5:30 p.m. Friday
Last matchup: Glenbard North 23, Wheaton Warrenville South 7 (2019)
About the Tigers: Season debuts don't get much better than WW South's senior receiver Kaleb Clousing. The Grand Valley State commit returned a kickoff 73 yards for a TD and caught two TD passes from Parker Brown, and with it earned Friday Night Drive Week 1 Team of the Week MVP honors. The Tigers forced four turnovers in the first half and outscored the Lancers 28-0 in the second half. WW South knows better than to underestimate long-time rival Glenbard North from their DVC days.
About the Panthers: Glenbard North, 7-4 last season, is surely smarting from its 37-0 loss to Wheaton North in Week 1. Tight end Jake Cicero and defensive back Brandon Smiley are among the Panthers' players to watch.
FND Pick: Wheaton Warrenville South
Wheaton North (1-0) at Lake Park (0-1)
When: 5:30 p.m. Friday
Last matchup: Lake Park 22, Wheaton North 21 (2019)
About the Falcons: A Wheaton North team that at times struggled to score the last two seasons broke out in a big way last Friday in the 37-0 win over Glenbard North. It's the most points scored by the Falcons since the 2014 season. Perhaps it shouldn't be too surprising, as junior quarterback Mark Forcucci leads six starters returning on offense.
About the Lancers: Lake Park and first-year coach Jason Kradman struggled out of the gates last week, managing just 10 first downs with four first-half turnovers in the opening loss to Wheaton Warrenville South. Micah Flagg's 2-yard TD run accounted for Lake Park's only offense.
FND Pick: Wheaton North
Upstate Eight Conference
Elgin (1-0) at Glenbard East (1-0)
When: 7:30 p.m. Friday
Last matchup: Glenbard East 27, Elgin 18 (2019)
About the Maroons: Elgin's opener was a smashing success, a 47-0 win over East Aurora – the Maroon's sixth straight regular-season victory dating back to last season. Quarterback Jeffrey Lomax threw for nearly 300 yards and four TDs. The Elgin defense posted its first shutout since the 2012 season. Glenbard East, defending UEC co-champ, provides a step up in class.
About the Rams: Glenbard East perhaps wasn't in peak form last Friday in a 28-0 win over Larkin, but the Rams were nonetheless effective with a stellar defensive performance. Daniel Schager was all over the field for the Rams, with a kickoff return for a TD, and interception and a TD run.
FND Pick: Glenbard East
Glenbard South (0-1) at West Chicago (0-1)
When: 7 p.m. Friday
Last matchup: Glenbard South 48, West Chicago 7 (2019)
About the Raiders: Glenbard South gave defending UEC co-champ Bartlett all it could handle last Saturday, a 14-7 loss. The Raiders had their chances, with one drive stopped at the 1-yard line and another near the red zone. Cade Hardtke threw for 142 yards and a TD pass to Trevor Burnett, who also ran for 95 yards.
About the Wildcats: West Chicago dropped its season opener to Streamwood 46-8, which isn't a good sign considering the Sabres were the Wildcats' only victories in 1-8 2018 and 2019 seasons. West Chicago did return 15 starters this season, 10 of whom started last year as sophomores, led by all-UEC linebacker Marco Calderon.
FND Pick: Glenbard South
South Suburban Conference
Lemont (1-0) at Hillcrest (1-0)
When: 7 p.m. Friday
Last matchup: Hillcrest 32, Lemont 26 (2019)
About the Indians: Good things were expected from Lemont this spring, but the Indians announced their presence with authority in an easy victory over Shepard. The Indians were expected to have a very good defense led by Al Pontrelli, but the offensive eruption against Shepard might show that this team could be a force on both sides of the ball.
About the Hawks: The Hillcrest-Lemont matchup has now become the premier matchup in the South Suburban. Hillcrest got the better of Lemont last season and still has some dangerous components, most notably standout RB Mar'kiese "Bucky" Irving.
Pick: Hillcrest
– Steve Soucie