PLAINFIELD – Eli Liapis and Plainfield North approached Friday's game with Oswego with the mindset of a clean slate.
The Tigers are back in their league, and plan to defend it.
[ Photos: Oswego vs. Plainfield North ]
Plainfield North took the first step toward that, led by a spectacular defensive effort. In a field-position game with hardly any budge on either side, the Tigers held Oswego to 37 second-half yards. It set the stage for Omar Coleman's 17-yard field goal with 1:47 left that provided the final points in Plainfield North's 10-7 win over visiting Oswego in the Southwest Prairie West opener.
"We had the mindset going in that we were 0-0," said Liapis, a senior defensive back. "Offense finally found that spark we needed. Our defense will protect our offense and give them all the backing they needed. We just need a couple scores."
Treycen Bownes' fourth-down interception turned away Oswego's last-ditch drive in the final minute, and Kyle Darlington had a huge fumble recovery in the end zone in the first half for Plainfield North (2-3, 1-0). Robert Tota ran for 110 yards on 31 carries with a 17-yard TD in the first quarter.
Tota had 38 of his 64 second-half yards on the game-winning drive that started at the Oswego 47-yard line and ended with the only points scored by either side in the second half.
"We got our fire late," Tota said. "I found those holes and hit them hard. Our O-line was kicking it."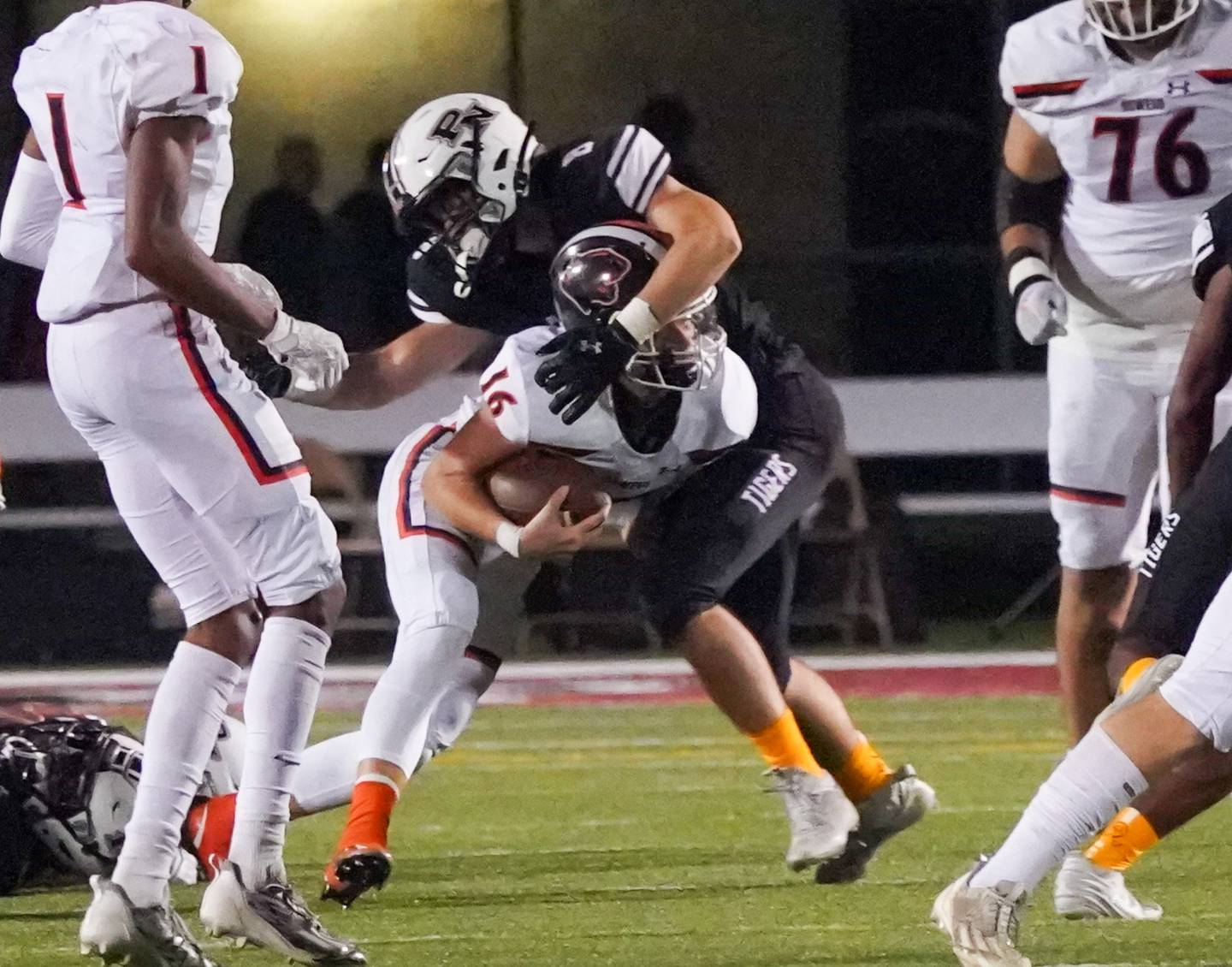 Plainfield North has either shared the SPC West title with Oswego or won it outright in each of the last three seasons, but entered Friday with a 1-3 record.
That record is hardly indicative of the kind of defense the Tigers have played, just 44 points allowed now through five games. That defense kept Plainfield North in it Friday in a game that featured 15 punts. The Tigers had zero first downs and minus-4 yards of offense in the third quarter.
"We needed this, for morale," Plainfield North coach Anthony Imbordino said. "Our kids practice hard, they just kind of got the short end of the stick early on, but there were some formidable opponents. We know that we can compete with anybody.
"Our philosophy since we've been here is play good defense, put a lot of our athletes on defense. Every now and then we get a real good offense like last year, and sometimes you have to grind it out. The guys put a lot of stock in it and thrive in it."
Brett Connolly was 9-for-21 passing for 183 yards for Oswego (4-1, 0-1), 156 of those yards coming in the first half. Connolly's 44-yard TD pass to Michael Kelly with 1:47 left before halftime gave the Panthers momentum and a 7-7 halftime tie, which continued with a superlative defensive third quarter.
But they couldn't turn it into points. Oswego managed just 46 yards rushing on 24 carries.
"We went into the locker room at halftime with full momentum. It was a field-position game," Oswego coach Brian Cooney said. "They were able to cash in on a couple penalties, a couple plays.
"We'll bounce back. Live and learn."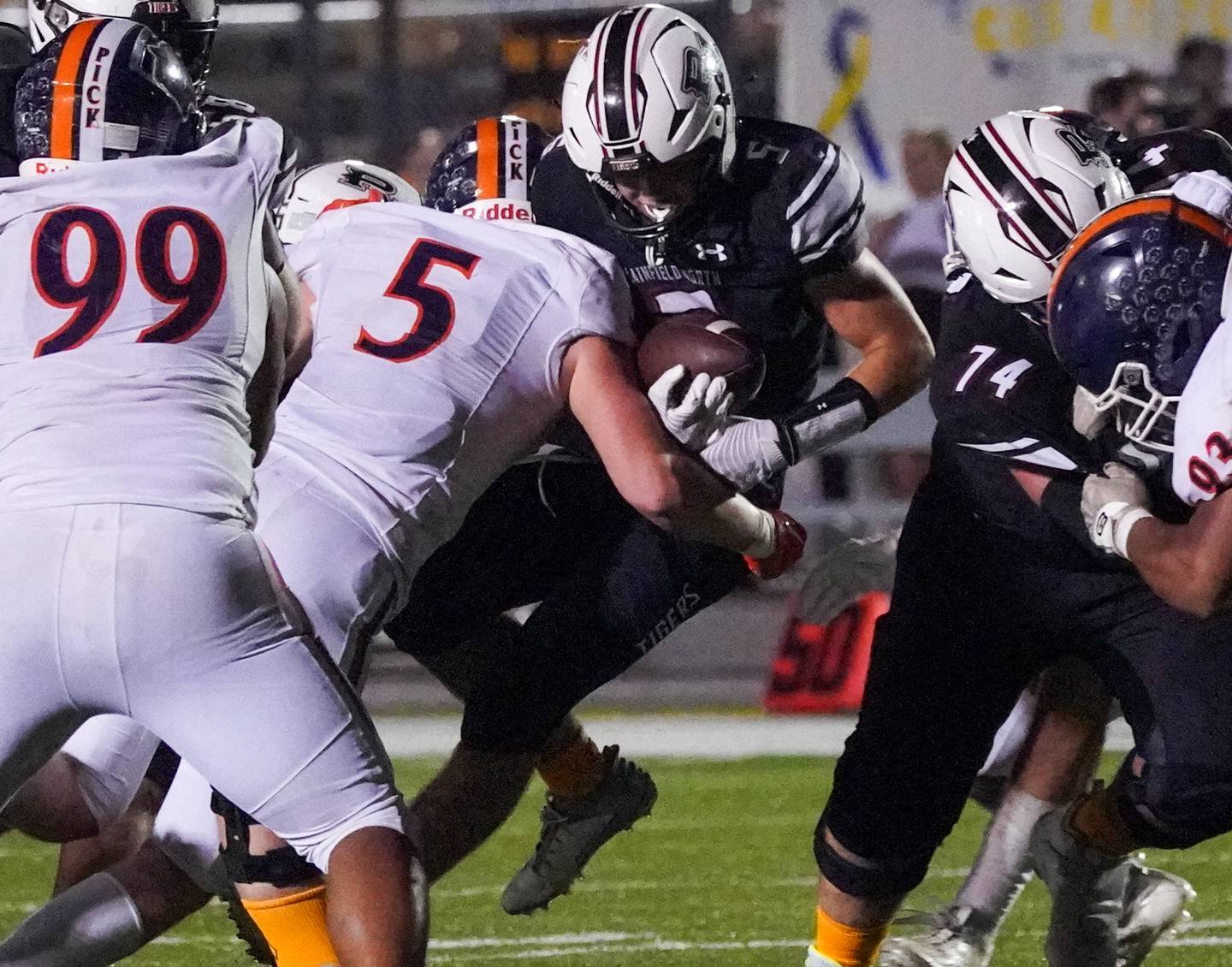 Chances in the red zone were few and far between on either side, but Oswego missed out on two in the first half. A 30-yard field goal attempt went wide left, and a third and goal was fumbled at the goal line. Plainfield North missed a 35-yard field goal on its second-to-last drive of the game.
"That's the kind of game I thought it would be, a one-score, low-scoring game," Cooney said. "A game like that, every play matters. There were some times we shot ourselves in the foot."
Imbordino, who was on the coaching staff at Oswego before coming to Plainfield North, appreciated being on the winning side of a close, hard-fought game with the Panthers.
Oswego beat Plainfield North by one point in 2019 and in double-overtime in 2021.
"Our games have always been close," Imbordino said. "It's always a physical type of game with Oswego, and we like that. Oswego is a great team, a great program – we knew it would be physical, and we had to match that. We had a physical week of practice, because we know the kind of physicality they would bring.
"You just have to be resilient, and that's what our program is."