Southwest Suburban crossover
Bolingbrook (3-1) at Lincoln-Way West (3-1)
When: 6 p.m. Friday
Last matchup: Bolingbrook 46, Lincoln-Way West 6 (2022)
About the Raiders: Bolingbrook is finding multiple ways to win, but in Week 4 a nod goes to the defense. Deadlocked 14-all with Homewood-Flossmoor at halftime the Raiders defense went on lockdown, allowing no points and not many yards. QB Jonas Williams and WR Kyan Berry-Johnson hooked up for the decisive touchdown early in the fourth quarter for a 21-14 Raiders win. That defensive effort is a great sign moving forward for a team that has proven that scoring points is rarely an issue.
About the Warriors: Lincoln-Way West looked like it might be in a tough spot after losing starting QB Cole Crafton for the season to injury. Instead, it seemed to fortify the Warriors' resolve. West stormed out of the gates, building a 21-0 lead against previously undefeated rival Lincoln-Way Central and then hung on for a 28-21 overtime victory. RB Joey Campagna was the driving force, rushing for about 200 yards and a pair of touchdowns.
Friday Night Drive Pick: Bolingbrook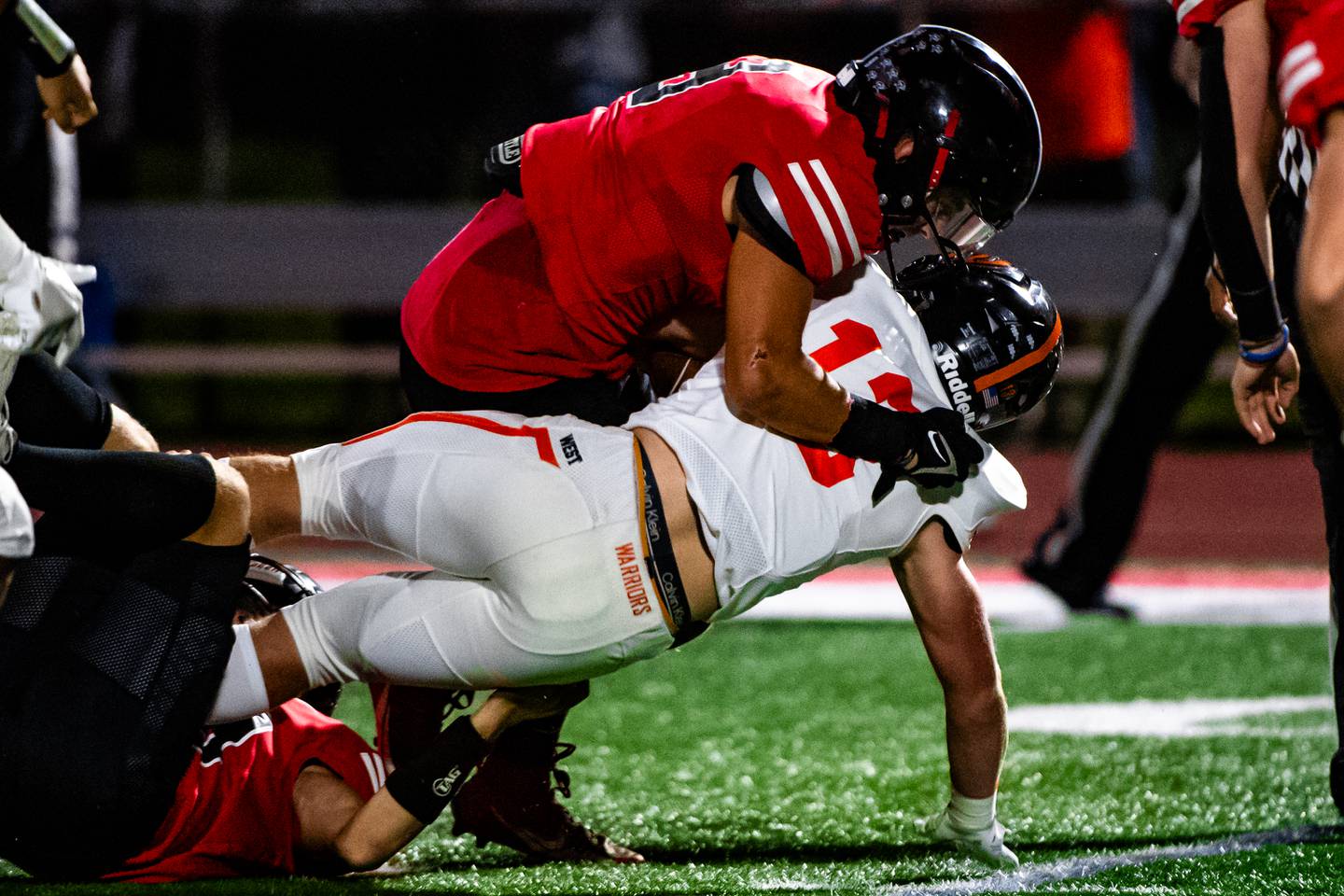 Sandburg (3-1) at Lincoln-Way Central (3-1)
When: 7 p.m. Friday
Last matchup: Sandburg 49, Lincoln-Way Central 21 (2022)
About the Eagles: Sandburg has shown up big the past few weeks, particularly on offense. QB Anthony Sheehan had a 300-yard passing effort in an upset win over Lockport in Week 4, a week removed from another big effort from Sheehan in a wild win against DeKalb. Sandburg appears to be adding more depth to a conference that already was full of high-caliber teams.
About the Knights: The momentum gained by Lincoln-Way Central's 3-0 start came to an abrupt halt in the first half of its lost to Lincoln-Way West. The Knights almost regrouped from that poor effort, but fell in overtime. The loss led first-year coach David Woodburn to question whether or not his team may have entered the game a bit overconfident after its fast start to the season. With that humility check, the Knights will likely get back to the basics of what got them going in the right direction in the first place.
FND Pick: Lincoln-Way Central
Lockport (3-1) at Bradley-Bourbonnais (3-1)
When: 7:30 p.m. Friday
Last matchup: Lockport 23, Bradley-Bourbonnais 22 (2022)
About the Porters: Lockport nearly pulled another win out of the fire in Week 4, but a blocked field goal kept them from being 4-0. Giving up big passing plays was the major culprit in the loss, something the Porters need to resolve moving forward. Lockport has been able to cobble together enough offense. The Porters did get a 100-plus yard rushing effort from Jordan Kemp in the Week 4 Sandburg loss, which could mean they are developing a capable lead running back.
About the Boilermakers: Bradley-Bourbonnais got jolted back to the reality of the rigors of the SouthWest Suburban Conference in Week 4, as Lincoln-Way East brought its defensive hammer down, holding what had been a high-octane Boilermakers offense to just three points. Bradley had outscored its first three foes [Kingdom Prep Lutheran, Thornwood and Plainfield East] 149-34, but those teams currently are 1-11. Bradley is, however, a tough team to beat at home.
FND Pick: Lockport
Lincoln-Way East (4-0) at Andrew (3-1)
When: 7 p.m. Friday
Last matchup: Lincoln-Way East 42, Andrew 0 (2022)
About the Griffins: It probably took a little longer than Lincoln-Way East hoped, but it was eventually able to get Bradley-Bourbonnais to succumb. It was a battle of field goals early, and after leaving the first quarter with a 6-3 lead, East rattled off the final 27 points. East opened the game up a bit with a pair of long touchdown passes, and that seems to be the way the Griffins gain separation in most games, as its running game isn't quite the dominant force it has been. But either method has seemed to work, and the Griffins have only been seriously pushed in one game thanks largely to its defense.
About the T-Bolts: Andrew quietly has put together a 3-1 start, as it steamrolled previously undefeated Stagg in Week 4. Andrew's lone blemish is a loss to Oswego in Week 2, and considering Oswego's start, that doesn't look like a bad loss. QB Drew Desilvia has Andrew's offense running well, as the T-Bolts often show a triple-option look that gives most defenses fits.
FND Pick: Lincoln-Way East
Southwest Prairie East
Joliet Central (0-4) at Joliet West (3-1)
When: 11:30 a.m. Saturday
Last matchup: Joliet West 50, Joliet Central 6 (2022)
About the Steelmen: Divisional play might provide a little welcome relief for Joliet Central, but the defensive woes simply have to be corrected if the Steelmen are to have any chance of finding the win column. Joliet Central already has allowed 222 points this season and no less than 49 in any of its four games.
About Joliet West: Joliet West has been one of the bigger surprises, winning not one but two crossover games against Yorkville and Plainfield North of the Southwest Prairie West Division. That's a rarity since the league split into two divisions. Joliet West's success in those games makes it the clear favorite in the SPC East Division, where none of the other teams came close to a crossover win. The Tigers might have to move forward without starting QB Juan Rico, who left the Plainfield North win with what appeared to be a serious injury.
FND Pick: Joliet West
Plainfield Central (1-3) at Plainfield East (0-4)
When: 7 p.m. Friday
Last matchup: Plainfield Central 29, Plainfield East 6 (2022)
About the Wildcats: Plainfield Central's run through the crossover portion of its SPC schedule was particularly cruel for the Wildcats offense, as it mustered just three total points in back-to-back losses to Yorkville and Oswego. The units season high in points scored is 15 in its lone win (15-12) over Metea Valley in Week 2. Defensively, Plainfield Central has put forth a good accounting of itself, and that will serve it well in division play, which currently holds a less than robust 4-20 collective record.
About the Bengals: It's been a rough go for Plainfield East through four weeks, but things might start to turn positive for the Bengals. Although they lost to undefeated West Aurora, they were much more competitive in Week 4, and the defense limited the Blackhawks to just three touchdowns, a massive improvement over the first three weeks where East surrendered 110 points. The Bengals still have to figure out the offense, however, as it has scored a touchdown or less in all but one game.
FND Pick: Plainfield Central
Romeoville (0-4) at Plainfield South (0-4)
When: 7:30 p.m. Friday
Last matchup: Plainfield South 42, Romeoville 6 (2022)
About the Spartans: Romeoville just missed establishing some real momentum in the first two weeks of the season with one-touchdown losses, but the SPC crossover games weren't all that kind to the Spartans as they took a pair of lopsided losses. The offense has been a little better, averaging about two touchdowns a game over the first four. Divisional play should help the Spartans bridge the competitive gap, but little progress can be made until things are tightened up defensively.
About the Cougars: Traditionally this where things usually turn to the positive for Plainfield South once it reaches divisional play. But a dramatic uptick in offensive productivity is going to have to happen quickly for the Cougars, because four single-digit scoring games [16 total points] simply isn't going to get it done.
FND Pick: Plainfield South
Southwest Prairie West
Minooka (3-1) at Oswego East (2-2)
When: 7 p.m. Friday
Last matchup: Minooka 16, Oswego East 13 (2022)
About the Indians: A six-point showing in Week 2 by Minooka is starting to look like a hiccup. The Indians have scored 163 points in their other three games and have won those comfortably. RB Joey Partridge scored three of Minooka's six rushing touchdowns in a Week 4 win over Romeoville where the Indians had 400-plus yards of offense. Although the SPC West will provide more stern challenges, the Indians are rightfully confident on both sides of the ball. Even in its loss, Minooka only allowed 10 points, and the experienced and talented group of defenders can keep opponents in check.
About the Wolves: The last two weeks of crossover games have breathed new life into Oswego East, as it has climbed back to the .500 mark after back-to-back losses to start the season. The Wolves are rotating quarterbacks. Niko Villacci and Armon Holmes will likely be challenged to find seams to exploit in the Minooka defense. Villacci shined in the Week 4 win over Plainfield South, as he tossed three touchdowns during his seven-completion stint.
FND Pick: Minooka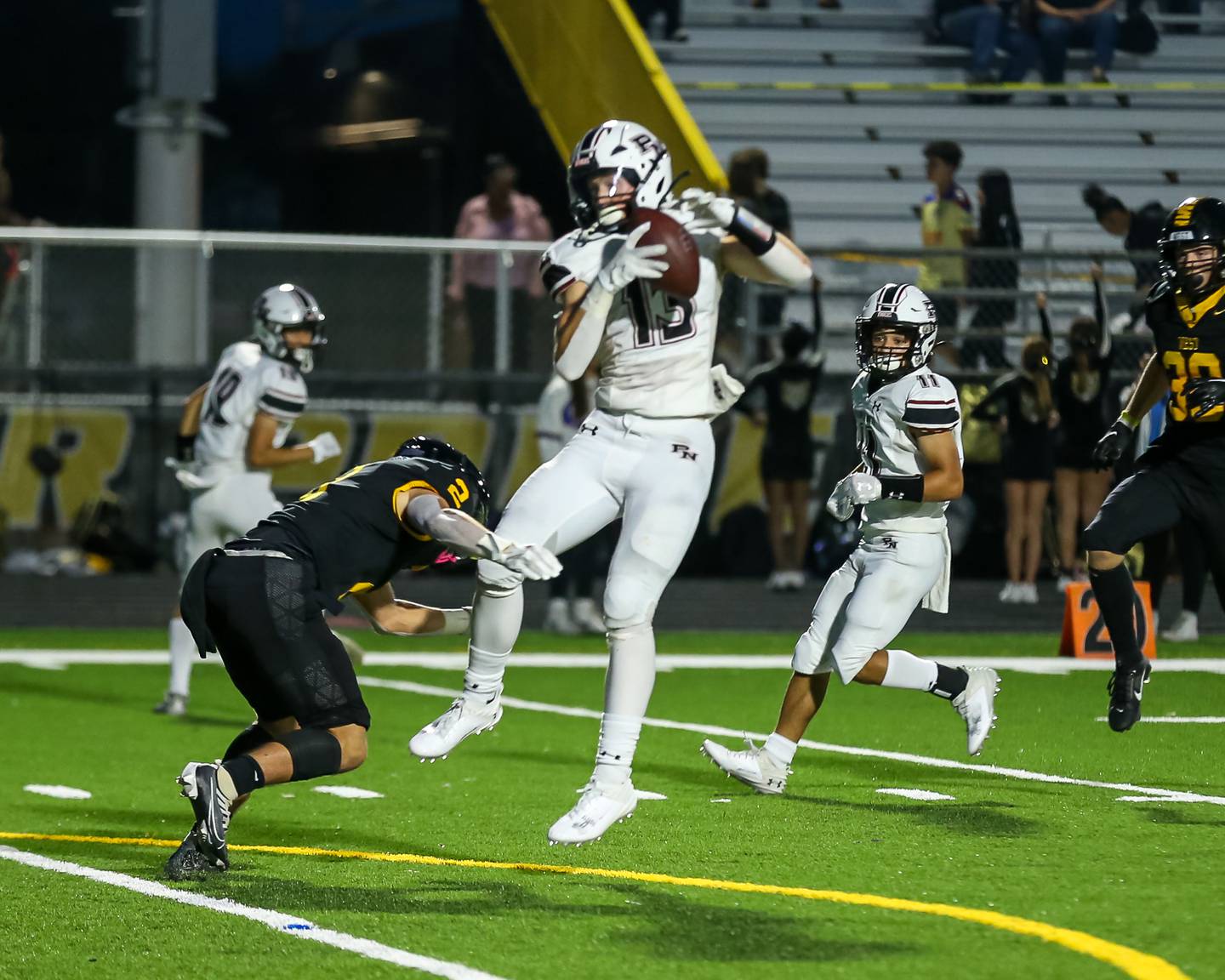 Oswego (4-0) at Plainfield North (1-3)
When: 7 p.m. Friday
Last matchup: Plainfield North 31, Oswego 3 (2022)
About the Panthers: Oswego usually is at the top or at least near the top of expectations for teams in the Southwest Prairie Conference. Faith wavered outside of the Oswego camp if that was still the case after a 3-6 season in 2022, but the Panthers clearly want to restore the roar to previous levels, as they have been dominant through four games. With playmakers on both sides of the ball such as WR Jeremiah Cain, RB Dylan King and DE Taiden Thomas, Oswego seems to be peaking at the perfect time.
About Plainfield North: Plainfield North has gotten the defensive it counts on having for the first four weeks of the season. The Tigers are allowing fewer than 10 points per game, a number almost any team would be fine with. The problem is whatever they've tried on offense simply has not clicked. The Tigers have had three of its four games with 10 points including a Week 4 loss to Joliet West, where its lone touchdown was scored by WR Omar Coleman, a player the Tigers would clearly like to get the ball more often.
FND Pick: Oswego
CCL/ESCC crossover
Joliet Catholic (3-1) at Wheaton St. Francis (2-2)
When: 7:30 p.m. Friday
Last matchup: First meeting
About the Hilltoppers: Joliet Catholic earned a 28-13 win over Niles Notre Dame in Week 4. Despite controlling the stat sheet for pretty much the entire night, the score wasn't secured until much later. In the grind, the Hilltoppers may have found a way to balance their offense. With HJ Grigsby slightly hampered by a first-half injury, JCA went to the air and found a potential breakout performer in Adrian Washington, who hauled in three touchdowns.
About the Spartans: St. Francis is finding its first journey through the CCL/ESCC to be an adventure. In Week 4 the Spartans rallied to take the lead against Fenwick before a power failure delayed what turned out to be a game-winning field goal for the Friars, which dropped the Spartans to 2-2. St. Francis has a potent weapon at QB in Alessio Milivojevic, a Ball State recruit, but like any quarterback who opposes Joliet Catholic, he will have to figure out a way to deal with a relentless Hilltoppers line that rarely is kept completely in check.
FND Pick: Joliet Catholic
Providence (2-2) at DePaul Prep (2-2)
When: 7:30 p.m. Friday
Last matchup: Providence 49, DePaul Prep 0 (spring 2021)
About the Celtics: Providence has to regroup from a gut-wrenching loss to St. Laurence in Week 4, where the Vikings punched in a touchdown with less than 30 seconds to play to claim victory. Further compounding the frustration of the loss was the fact the Celtics rallied from an early deficit to get back in the game. Special teams continue to be stellar for the Celtics, but continuing to count on them to provide the lion's share of points isn't sustainable.
About the Rams: DePaul Prep has shown signs of improvement over the past few years, as enrollment in the school has been rising at a rapid rate and increasing the football program's numbers. But the Rams still haven't been able to do much outside of the Red Division in the CCL/ESCC, and it seems unlikely that they will be able to topple this week's opponent.
FND Pick: Providence
South Suburban Blue
Lemont (2-2, 2-0) at Oak Forest (1-3, 1-1)
When: 7 p.m. Friday
Last matchup: Lemont 42, Oak Forest 0 (2022)
About Lemont: Order has been restored for Lemont once returning to the comforts of the South Suburban Conference that it has dominated for multiple seasons. Lemont dropped its first two games of the season to quality nonconference opponents, but it has rolled to two league wins over T.F. South and Tinley Park, where the running clock has been put in motion in both games. Lemont had some early injuries that it seems to have started to recover from as well.
About the Bengals: Oak Forest has played a rigorous schedule thus far, losing nonconference games to Benet and Sandburg and dropping a shootout game to Hillcrest in Week 4. They've been competitive in those losses, so the Bengals can't be overlooked as a team that can be dangerous at times.
FND Pick: Lemont
Kishwaukee River/Interstate 8
LaSalle-Peru (3-1, 1-0) at Morris (4-0, 2-0)
When: 7 p.m. Friday
Last matchup: Morris 42, LaSalle-Peru 17 (2022 playoffs)
About the Cavaliers: La Salle-Peru has a bit of theater this season, booting a last-minute field goal to beat Plano in Week 4 and mounting a second-half rally to beat Woodstock North. The Cavaliers likely won't have the luxury of making up a late deficit this week, but experienced players such as QB Brendan Boudreau will try not to be rattled by Morris. They have played them four times in the past two years, including opening-round playoff losses to Morris in each of those seasons.
About Morris: Morris continues to run through the opposition, averaging more than 400 yards of offense per game. QB Carter Button has been sound, throwing for 710 yards with 10 touchdowns against one interception. RB Jacob Swartz has been a battering ram. Swartz has 660 rushing yards with seven scores. Morris' has a trio of offensive standouts, WR AJ Zweeres has caught 19 passes, six of which have gone for scores.
FND Pick: Morris
Illinois Central Eight
Peotone (2-2, 1-1) at Coal City (3-1, 2-0)
When: 7 p.m. Friday
Last matchup: Coal City 28, Peotone 14 (2022)
About the Blue Devils: Peotone goes as its ground game does, and when going right the Blue Devils can be potent. But that attack is tough when trying to rally, as Peotone fell behind 34-0 against Wilmington before finally getting on the board. RB Jayden Rodriguez will likely need another big effort if the Blue Devils are to make a serious run at toppling the Coalers.
About the Coalers: Instead of licking its wounds after a lopsided loss to Morris, Coal City strapped up its helmet and has got back to work. The Coalers have strung together three straight victories over Canton, Streator and Lisle, outscoring them 137-13. The Coalers historically have relied on a strong defense and a powerful running game, and both appear firmly in place as the Coalers offense is keyed by the hard-running Landin Benson.
FND Pick: Coal City
Reed-Custer (2-2, 1-1) at Wilmington (3-1, 2-0)
When: 7 p.m. Friday
Last matchup: Reed-Custer 50, Wilmington 5 (2022)
About the Comets: Reed-Custer has been game in the early going, but still is adjusting to the fact that a huge chunk of the high-powered squad from a year ago isn't there any more. The Comets still are doing some nice things on offense as RB Rex Pfeifer is having a big season.
About the Wildcats: The rivalry between these two schools has long been dominated by Wilmington. Last year's game was a far cry from the result that Wilmington is accustomed to, and those that remain from that team likely will be dead set on revenge. Wilmington's offense looks primed for the matchup. The Wildcats ran for about 10 yards a carry in the victory over Peotone in Week 4, while Kyle Farrell stacked up 248 yards rushing and five touchdowns on 17 carries.
FND Pick: Wilmington