SYCAMORE – The road outside the DeKalb County Courthouse was filled with hundreds of people eager to kick off the 2021 Sycamore Pumpkin Festival and trick-or-treat downtown.
"I feel happy, and excited," said Harper Freiberg, 9, the winner of this year's festival theme, which will be showcased throughout week with a Sycamore Lions Club pumpkin display contest on the DeKalb County Courthouse lawn.
Freiberg, a fourth-grade student at North Grove Elementary, was joined Wednesday by her parents, Jenny and John Freiberg. Her submission, "Old-Fashioned Pumpkin Festival" was chosen out of 108 other entries from Sycamore schoolchildren from kindergarten through fifth grade. Entries include those submitted by seven Sycamore schools and homeschooled students.
"I'm pretty excited. She is a pretty creative kid," said mom Jenny Freiberg.
[ North Grove student excited for 'Old-Fashioned Pumpkin Festival' in Sycamore ]
Children and families came dressed up also to partake in the downtown business trick-or-treating event hosted by Discover Sycamore. Participants could collect their Halloween candy early by visiting downtown shops, showcasing their costumes and enjoying the festive frenzy that will settle over Sycamore through Sunday.
The centerpiece for the 2021 pumpkin festival was sliced into Wednesday with an annual giant cake-cutting ceremony. The cake was decorated and donated by Hy-Vee. After the long list of volunteers, helpers and community members were thanked by the festival committee, the focus shifted to Freiberg.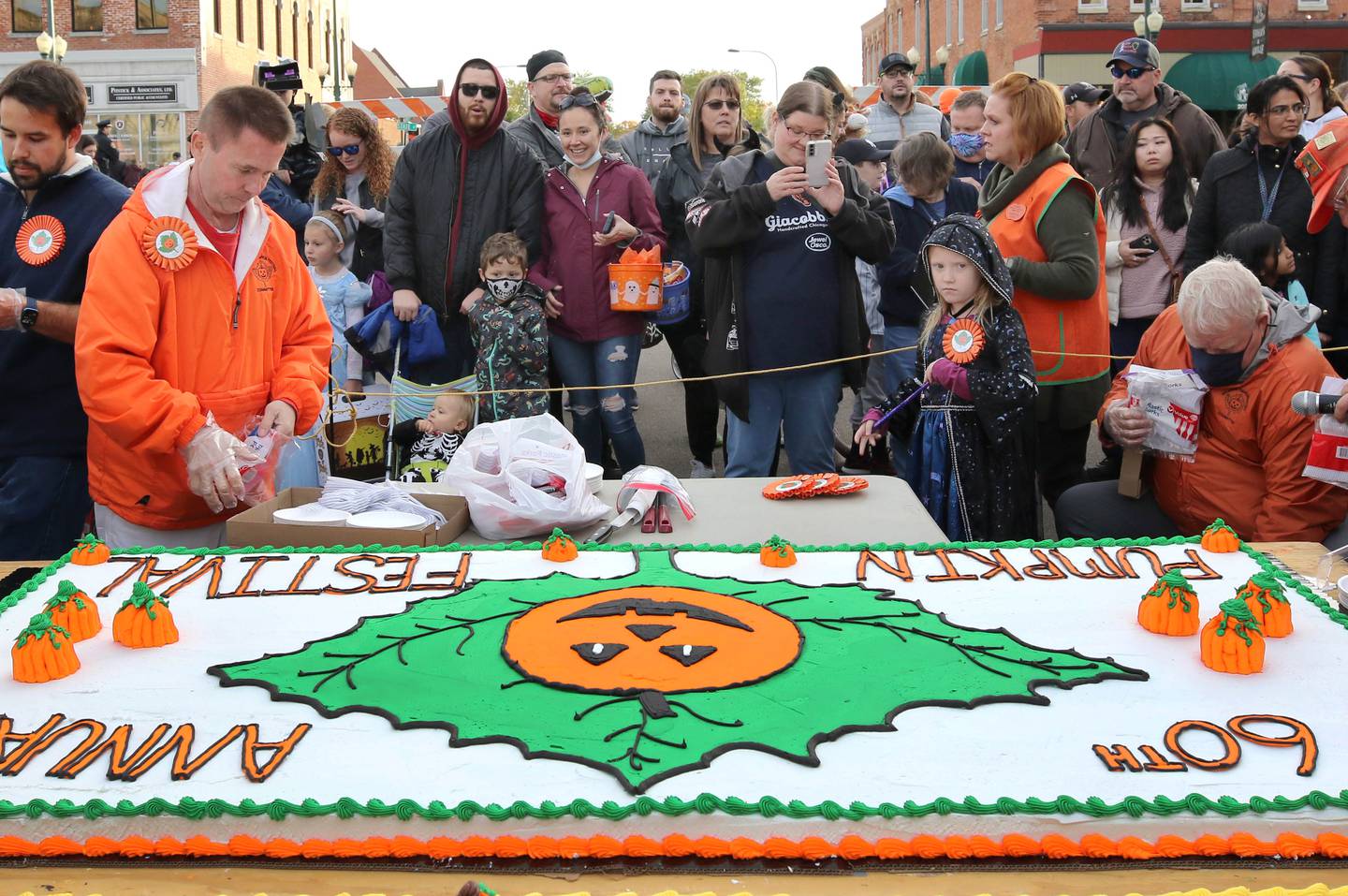 "This festival is a true testament of the community and volunteers that make Sycamore the perfect community to host this festival," said Jennifer Diehl, president of the pumpkin fest committee.
Diehl also gave a shout-out to the two honorable mention award winners: Elyce Marie Smith, a homeschooled second-grader, with her entry "Pumpkin Explorers," and Brody Caldwell, a kindergartner at North Elementary School, with his entry "Hometown Pumpkins."
The committee is made up of volunteers who serve a 3-year term. Board members may be affiliated with a non-profit organization in DeKalb County, the city of Sycamore, or even an interested member of the community, according to the Sycamore Pumpkin Festivals website.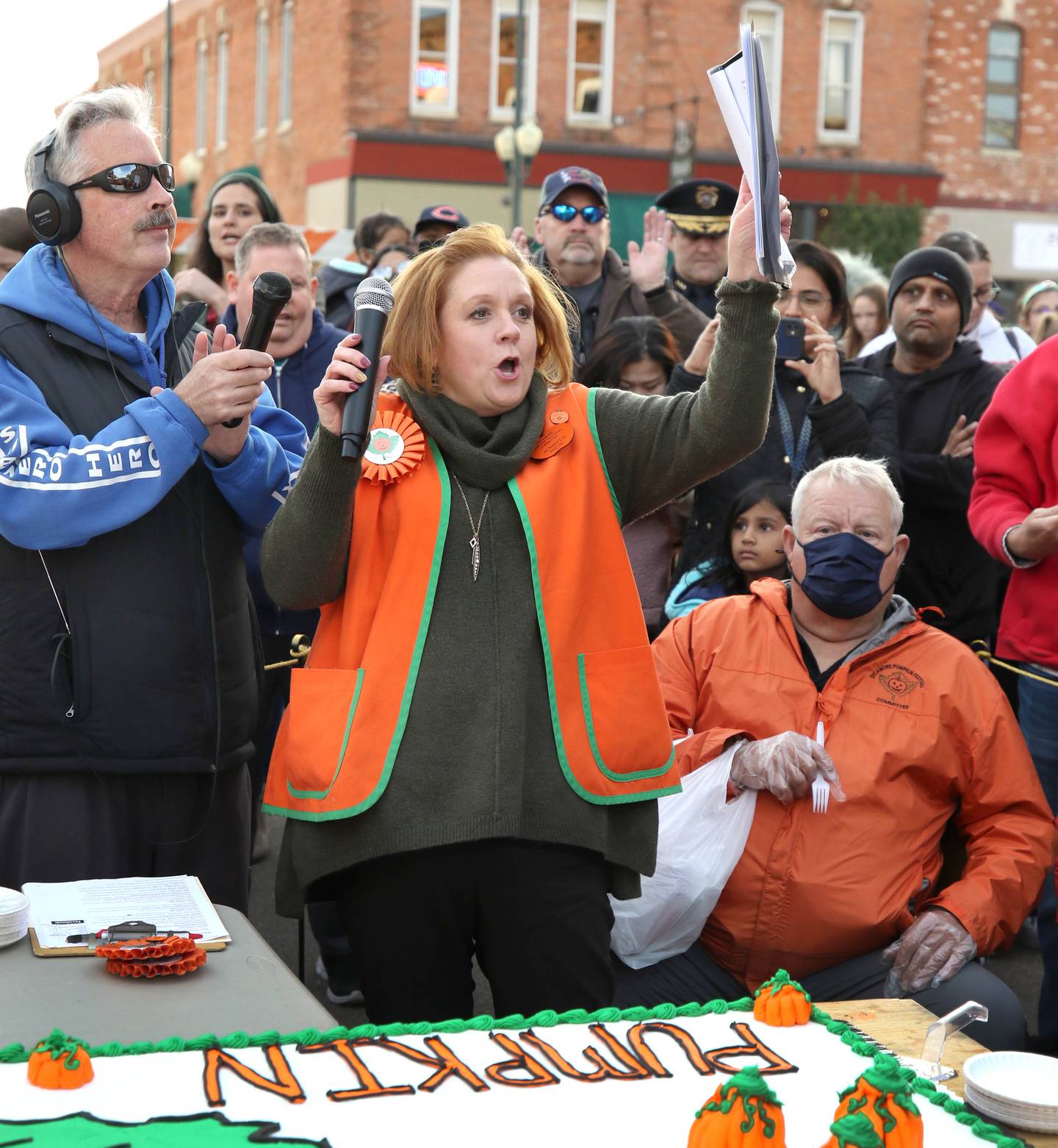 Freiberg's reward – beyond the theme that will guide the festival this year – was to cut the first slice out of the massive Hy-Vee cake. After the initial slice, the festival committee took over, passing out a seemingly endless supply to eager festival-goers.
"Hopefully it's a sign we are getting back to normal, and we are happy to be able to provide this opportunity for nonprofit groups to come make money for their groups," said Bart Desch, committee vice president. "We are happy to get back to that mode."
[ Detours, no parking zones announced for Sycamore Pumpkin Festival events ]
The festival, celebrating its 60th anniversary, will run through the end of the week, continuing at 7 a.m. Thursday with a Kiwanis Prayer breakfast at United Methodist Church.
Events throughout the weekend include carnivals, face painting, craft shows, an Autumn Craft and Treasures Market, a pie-eating contest, food and more festivities.
The Pumpkin Festival parade, sponsored by Ideal Industries, will begin at 1 p.m. Sunday on Halloween. For the parade map, go to sycamorepumpkinfestival.com/parade.html.
For a full schedule of the events, go to sycamorepumpkinfestival.com/Events.html